Posted in
Of all the things that Facebook's billion+ users have been requesting, arguing, clamouring and signing petitions for, nothing is more prevalent and has gained more support than their cries to include a "Dislike' button. And to a point, it's with good reason. If, for example, a friend was to post something tragic on their wall, "liking" it doesn't really seem like an appropriate response.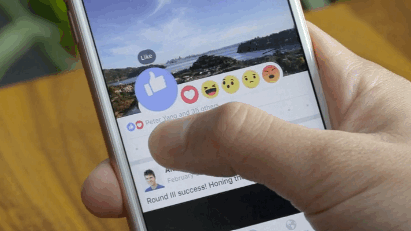 As the debate raged on, Facebook's CEO Mark Zuckerberg finally reacted. "I think people have asked about the dislike button for many years," he acknowledged. "What they really want is the ability to express empathy," he said. "Not every moment is a good moment."
In spite of this, he admitted that he was not comfortable with the amount of negativity that such a button could promote. He and his team also felt that emotions couldn't simply be restricted to the binary of "Like" and "Dislike".
To find a common middle ground, last year Zuckerberg assembled a team that included scientists and sociologists, who came together to study people's emotions on a broader level. The result is Facebook Reactions.
Reactions is a set of six emoticons that will soon come to replace the singular Like button. In addition to the "Like" option, the button with also feature added options for "Angry", "Sad", "Wow", "Haha", "Yay" and "Love". These emojis can be accessed by long pressing on (mobile) or hovering your mouse over (PC) the Like button at the bottom of every Facebook post.
While some are overjoyed and some placated, others are not pleased. While "Angry" does come closest as an opposite to the original Facebook Like, others feel that none of them have the raw effect of a simple "Dislike" button. But, from Zuckerberg's comments above, we feel that this is exactly what Facebook was aiming for.
But before you roll up your sleeves and get ready to show out your Anger and Joy to the world, to let them truly feel what you feel, it may be wise to know that you might have to wait from anywhere between a few days to a few weeks to test these out. Keeping to its history, Facebook is determined not to rush the process. The testing process started out in Spain and Ireland, before growing to include Chile, Portugal and Columbia. To be followed by countries like the U.S. and India, which account for the largest share in Facebook's user base and then the rest of the world.
Now, if you are a business leader and need to understand how this change can come to affect your marketing efforts on Facebook and what you should do to cope with this change, we can help out. With many years of experience and tons of satisfied clients behind us, GMI is your perfect social media partner. Talk to us today.
« The rise and rule of ...
Facebook Going Truly... »