Posted in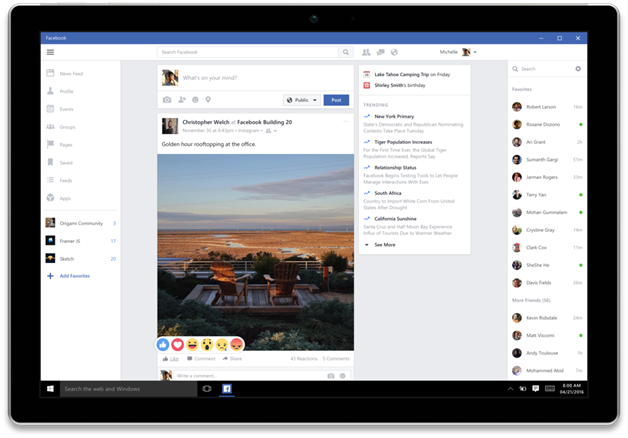 Nine months after Microsoft rolled out Windows 10, Facebook is officially taking it on. The social networking giant is bringing Facebook and Messenger to Windows 10 desktop, and Instagram to Windows 10 mobile. The apps are designed for the operating system and will display as Live Tiles.
Here's a quick rundown:
Facebook
The Windows 10 app includes all the latest features like Reactions, comment stickers, desktop notifications and in-app browser for News Feed. It's integrated with Windows apps including File Explorer, so you can share photos to FB from your favorite apps.
Messenger
Similarly, Messenger for Windows 10 supports the newest features like group conversations, stickers and GIFS. The app's Live Tile shows the number of messages as well as incoming chats.
Instagram
Instagram for Windows first arrived in 2013, but the new version has all the key features including video functionality, direct messages and Explore. The Live Tile displays photos and updates.
According to Facebook, FB and Messenger will come to Windows 10 mobile later this year. This might be a much-needed boost for the Windows phone which currently has a puny global market share of 1.1%. Microsoft's goal is to encourage developers to make universal apps for Windows 10 across all devices, and it appears they've gotten their first major ally. "Facebook is all in on Windows 10," according to a quote attributed to Mark Zuckerberg.
Facebook and Messenger are currently available at the Windows App Store for devices, while  Instagram can be downloaded from the Windows Phone Store.
In a digital world that changes at warp speed, you need a partner to help you out. With years of experience and lots of happy clients, GMI is your perfect social media partner. Get in touch today.
« Android 6.0 Marshmal ...
7 Most Popular CMS P... »