Posted in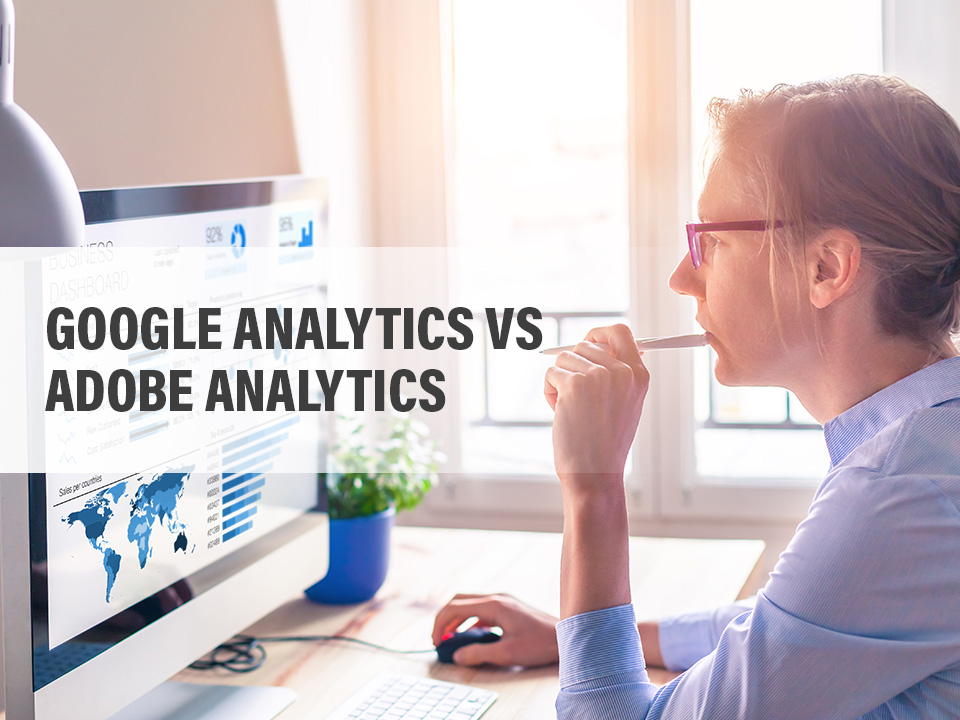 The importance of website analytics is increasing by leaps & bounds in the digital world. This is because more businesses are reaping the benefits of implementing powerful web analytics tools to get real-time insights into their website performance.
Website analytics helps you gain insights and data that can be used to create a better user experience for website visitors. You can measure traffic and analyze popular trends, which can be used to achieve business growth. Also, you can analyze the results of advertising campaigns, and their impact on the overall website traffic.
Google Analytics tool is currently dominating the market with 56.5% of users. But, how is it different from Adobe Analytics? Basically, both platforms offer more or less the same features, like custom variables, eCommerce tools, classifications to address audience segments, cloud integration, etc. But, there are some other features that are unique to each platform and that influence you to choose one over the other.
According to W3Techs, Google Analytics is the most used analytics platform, its Adobe counterpart is a close competitor. While each tool has its own pros and cons, you will have to figure out which one can bring the most value to your business. To help you out in your decision, here we summarise some of the key differences between each of them.
No
Metrics


Google Analytics
Adobe Analytics

1
Real-Time Data


Real-time data can be accessed in a few seconds after data generation, which is limited to a group of built-in metrics/dimensions.
You can access real-time data within seconds, including different metrics and dimensions which can be configured for instant review. Conversion data is generally not used for real-time exploration. Usually, current data is available within 30 minutes of data generation. Fully processed data is generally available around an hour after the data has been generated.

2
Ease of Implementation


Google Analytics implementation is comparatively easier and you need no developer skills. You can choose either manual or automatic tag manager, and the basic events can be implemented on your website easily.

Adobe Analytics implementation requires a lot of upfront efforts and you need the skills of a professional.
3
Tag Management Tools
Google Tag Manager is one of the tag management tools that help you easily implement Universal Analytics/Google Analytics. You can manage tags and track website data on your own. There are plenty of other third-party tools available to help you with tag management.
Implementation can be done using different tag management tools to configure complex tracking. DTM (Dynamic Tag Management) is a tool to implement Adobe Analytics.

4
Integration with Other Platforms & Tools


Easily integrates with popular Google services like Google Ads, Google Optimize, AdSense, and Google Search Console.
Has built-in data connectors that help you access data from emails, e-commerce platforms, advertising platforms, SEO tools, etc. The tool is a part of Adobe's Experience Cloud.


5
Data Schema


Organizes data in the following hierarchy: User > Session > Hit.

Hits can be divided into two groups:
Page Views & Events and Events can be classified into interaction vs. non-interaction events. The non-interaction flag can be applied to Page Views also.
Groups data using a standardized schema with a hierarchy of Visitor > Visit > Hits.

Hits can be further divided into two categories: Page Views and Non-Page Views (downloads, custom links, and exit links).

6
Bounce Rate

Bounce Rate is calculated with the formula single-page sessions divided by sessions.
Bounce Rate is analyzed by calculating the formula Bounces divided by Entries.


7
Advertising Systems Integrations

Google Analytics does a great job of completely integrating all tools (such as AdWords and DoubleClick products) within the Google product realm.
You can add an extended set of metrics and dimensions to Adobe Analytics reporting. With the integration, you get access to Google and Bing paid search data points like clicks, impressions, average position, cost, keywords, campaigns, etc.

8
Campaign Tracking
Google Analytics' campaign tracking uses five campaign parameters (utm_medium, utm_campaign, utm_source, utm_term, utm_content)
Adobe's standard is decided by a single campaign query parameter. There is built-in support for "cid", but for javascript modifications or processing rules, any parameters can be used.
9
Cross-Domain Tracking


To activate cross-domain tracking, Google Analytics offers a similar functionality that appends the _ga query string parameter.
Adobe's method for cross-domain tracking involves the decoration of URLs through the use of a specialized JavaScript function that passes visitor identifiers to the target domain.


10
Data Backup

The maximum amount of time Analytics will retain user and event data is 26 months, regardless of your settings. However, for Universal Analytics properties, the setting is applicable to user-level as well as event-level data. You can choose from:
-14 months
-26 months
-38 months
-50 months
This doesn't expire automatically.
The default data retention policy is 25 months. Extending this requires purchasing extensions. The extension can be bought in increments of 1 year each, and you can purchase up to 8 extensions for a total of 10 years.


11
Reporting


Reporting is enabled by the Google Data Studio tool. With it, you can connect to Google Analytics data and other data sources.


Reporting is enabled by the Adobe Analytics Workspace tool, which allows for drag-and-drop report building. Moreover, the Adobe Analytics Report Builder can be used as a plugin tool for MS Excel data.


12
Customer Support


Google Analytics has an official User Forum, Help Center, and a "Digital Analytics Fundamentals" course. The three-week course helps you understand the core principles of digital analytics, and how to use them for enhancing business performance.


Adobe Analytics offers 24/7 support and account management, but there is an additional fee for training. If you need to track down solutions online, a wealth of adobe analytics videos, guides, and tutorials are offered for free.


13
Cost
Google Analytics is free. It can process up to 10 million hits per month. Analytics 360 begins at $150,000 a year (billed monthly). The cost increases after your website receives more than one billion monthly hits. At the same time, if you are marketing a small and medium-sized business, the free version of Google Analytics provides more than enough insights.


Adobe's pricing depends on the number of hits per year, and the specific tier/SKU. Different tiers/SKUs unlock different slots and features.

Unlike Google Analytics, the pricing structure is not transparent. It is normal for a contract to run many hundred thousand dollars per year, usually sold on a multi-year term, with SKUs for professional services.

So, which tool should you choose – Google Analytics or Adobe Analytics?
It depends on your business requirements.
Google Analytics and Adobe Analytics, as we've seen, are very strong in particular areas. You'll need to figure out what your business needs, and which tool can help you get the answers related to your marketing strategies. If you want only the basic level of tracking and implementations, Google/Universal Analytics is the right choice, as it's very easy to implement. Furthermore, your website starts showing the basic site metrics to the reporting page of your Google Analytics account instantly. The free version of Google Analytics has a big role in enabling data analysis for a wide range of small-scale developers, as well as individual web designers.
On the other hand, if you want to retain your analytics data for long, Adobe Analytics is the right choice. Google has a fixed cost for premium service whereas the cost of Adobe Analytics varies depending upon your data needs. A complex level of data tracking can be easily done with Adobe Analytics and the reports look better than Google Analytics.
« YouTube SEO - Your M ...
How To Choose The Ri... »