Social Media monitoring, or listening as it often called, is carried out to get an understanding of the conversations taking place in the social ecosystem. Regardless of you listening or not, conversations about your brand, competitors, industry are and will continue to take place. So it makes perfect sense to listen to what people have to say about you and your competitors. However, like all other online efforts, listening too needs to help take business decisions. This is where most brands hit a ceiling. Metrics like buzz, share of voice, sentiment, conversation cloud etc. are great, but stands useless if it doesn't aid decision making. Therefore, it is imperative to put conversations or mentions under various buckets. Clubbing conversations under buckets makes your efforts more objective driven. Following are a few buckets commonly used, but they could be created based on business needs:-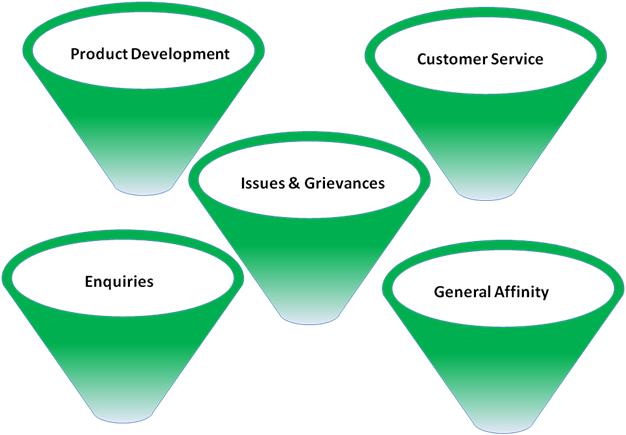 Upon creation of buckets, conversations should be identified and placed under buckets. Reporting should be done for each of the buckets. This will help the management & key stakeholders understand how their brand and competitors are faring in each of the buckets. For instance, taking cue from mentions with the key phrases "I want", "I wish", "I would like" etc in relation to the brand, competitors, or industry chatter, changes could be brought in to the existing products. These insights can also help in developing new products. Similarly understanding what people hate about your product can also help in refining the product.
Using twitter and other social assets for customer service has become the norm today. Let's look into it from the Middle East market's perspective. UAE based banks like RAK Bank; Emirates NBD etc. have joined the twitter bandwagon. A peek into their twitter profiles, suggests customer service (or Twervice as its evocatively called) is one of the primary objectives of their twitter presence.
They receive a steady stream of tweets, usually from aggrieved customers. Let's consider one of their recent interactions with a customer:-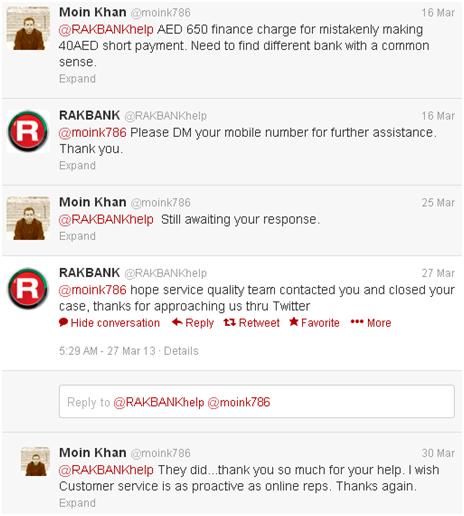 Now, how this instance is reported in the listening report determines whether the bank would be able to take business decisions. The regular listening format will report this as a case of customer ire to customer delight. Sure enough, it should be reported that way, but then the bigger picture could be lost after that report is read. We all know, a report usually goes into oblivion once it's read/presented.
However, taking a bucketed approach ensures the bigger picture, of social listening helping in taking decisions, is not lost. If conversations like these are bucketed under issues & grievance we find one key insights that can drive business decisions:-
• Online reps are more proactive than Customer service.
Of course, we cannot conclude taking one conversation into account, but if continue to find similar conversations month over month then conclusion becomes easier. If conversations like these keep reoccurring it indicates at the customer service reps non-proactive approach. Business decisions to rectify this could include, further training to customer service professionals, strengthening online reps count, the possibilities are immense.
The possibilities are many, but it depends on how you choose to bucket conversations. This scenario might not hold good for other industries, but the point is to make listening more objective driven. All conversations of the brand should drive home some insight that helps in taking a business decision.
(Visited 3 times, 1 visits today)