The internet era has spewed creative ideas by the dime a dozen. And terms like "innovative" and "extraordinary" have to come to be freely used on almost all new developments. This can be counterproductive, building up a kind of indifference among observers, and leading them to distrust new ideas. That is until a technology so disruptive and powerful comes along that it shines through and refuses to remain unnoticed.
Progressive web apps belong to this category. In fact, as some observers have noted, progressive apps could sound the death knell for a lot of major tools on the mobile web today. One of the most innovative web technologies in recent times, they have the power to change the way we look at apps and how we interact with brands, companies and social media and e-commerce platforms on our mobile devices.
What are Progressive Web Apps?
Progressive web apps can be a complicated idea to understand, considering how it uses some really advanced background processes to make its features possible. For our purposes, we shall define it as an amalgamation of native mobile apps and mobile web apps. Progressive web apps can be accessed on a mobile browser and offer an app-like experience.
Why we need them
Native apps offer a rich and content-heavy experience that can be accessed even offline. But for this, they require users to go through several steps – from finding the app on the app store and installation to tutorials and sign up – before they can actually be used. Native apps also take up device space and require to be constantly updated to offer any new technology or security changes.
Mobile web apps on the other hand are always updated and, since they open up in a browser, require little to no device space. But they are never able to offer the same smooth and feature rich experience as an app. Further, as they can never be accessed offline, they are unreliable for customers living in areas with spotty internet connections.
Progressive web apps combine the best of both of these. They require little or no device space; they can work offline, send push notifications, and offer a much smoother experience when compared to accessing content rich, interactive websites on a mobile browser.
Service Workers
Service Workers are what make progressive web apps possible. They are browser scripts that run in the background and help developers bridge the gap between native apps and mobile browser apps.
The scripts work in between the device and the network, intercepting network requests and triggering actions – thereby providing accurate push notifications. They also cache retrieved content and make it available for when the user is offline.
Few examples of Progressive Web Apps
To better understand the technology, below we take a look at examples of a few websites that have built progressive web apps.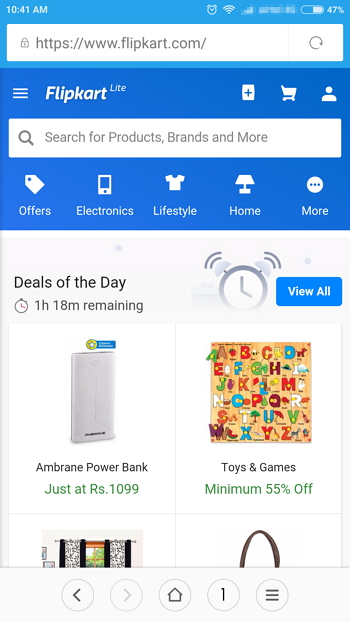 • Flipkart – A popular Indian e-commerce website. One of the first major adopters of progressive web technology. Users visiting flipkart.com on their mobile devices are automatically redirected to the Flipkart Lite page.

• Washington Post – The American newspaper's progressive web app looks more or less like its mobile website, but allows users to log in and set their individual news settings.

• Telegram – The anti-WhatsApp messenger for those who are paranoid about privacy. The official Telegram web-client works both on mobile and desktop. It requires a one-time login using your phone number. The web app's design theme is dominated by the brand's official blue.
The Two Sides
We have listed out the advantages and disadvantages of choosing Progressive Web Apps over native apps and responsive mobile websites.
The Plus Points
• Progressive Web Apps offer easy accessibility from a browser without the need to download an app.
• Shortcuts can be added on the home page so that it can be accessed just like an app.
• Thanks to service workers allowing cache storage, Progressive Web Apps can be used offline.
• PWAs can offer the same smooth functionality as a native app.
• Push notifications.
The Negatives
• Very limited support – As of now, PWAs can only be used in Opera and Chrome browsers in Android. Microsoft is still developing support for Edge. No expected support in the near future for iOS.
• Sometimes mobile browsers aren't powerful enough or don't have enough permissions to access all the hardware on a phones, as apps might need to, occasionally.
Whichever side of the argument you find yourself on, the reality is that progressive web apps and those of the same ilk, are here to stay. This is exhibited by how major internet companies have been making significant strides towards adopting Progressive Web Apps on a large scale. Case in point is Google's strong push for Instant Apps.
An offshoot of progressive app technology, Google's Instant Apps permit users to access certain parts of different Play Store apps on their browser. This allows users who might need only a section of an app for a single instance to access that module of the app on their mobile browser, without ever having to download and install anything.
If you are an individual or a business looking to better attract and engage with your clients online using powerful and effective internet technologies like progressive web apps, we, at Global Media Insight, can help you out. With over 16 years of experience in digital technologies, website designing in Dubai, we excel at driving engagement by optimizing your business's online appeal, reachability and connections. Get in touch with GMI to establish effective and robust digital marketing strategies that span platforms and channels.
(Visited 26 times, 1 visits today)