Posted in
The year 2015 has proved to be a time of social media prominence with phenomenal digital growth in UAE and across the world. We have seen mobile devices dominating the digital world in 2014 and this omnipresent instrument is slated to gain further precedence in 2015



UAE has seen stupendous growth in Internet and mobile usage in the past few years. Let us take a look at how the figures stand in the first quarter on 2015. The Infographics below depicts Population, Internet, Social & Mobile Statistics of UAE as on January 2015

Click to copy the code below to display this Image on your Blog or Website
Internet Penetration stats of UAE

Of the total of 9.58 million people, around 8.81 million are active internet users. That is an amazing 92% of the population, a figure that is beaten only by Canada and is significantly higher than countries such as USA, UK and Germany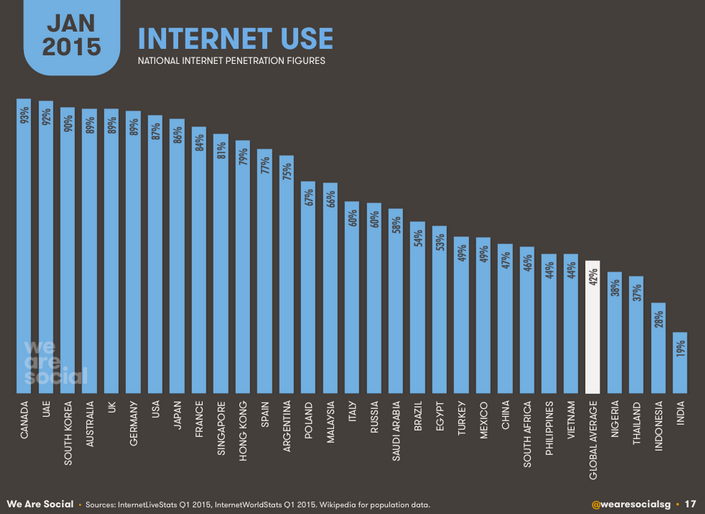 Internet Usage around the Globe – Source :- WeAreSocial.com
Social Media in UAE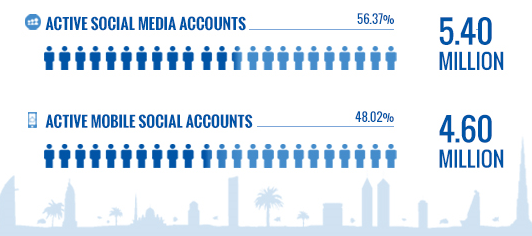 More than 56% of people in the UAE are active in the social media, whereas the global average stands at a paltry 29%. Of more than 5.4 million active social media accounts in UAE, close to 4.6 million are mobile accounts. That means close to 85% of social media user's access their accounts through their mobile devices
Web Traffic across Devices
Now let's take a closer look at the usage patterns across devices and average time spent

More and more people across the UAE are hopping on the smartphone bandwagon, with 50% of the internet users browsing with the help of their mobile devices. But mobile users spend only 3 hours 45 minutes online on average. The PCs and laptops are not far behind, with 44% of internet users still using them to access the net. PC and laptop users spend more time online, on an average more than 5 hours.
Tablet usage is slowly gaining momentum as witnessed by the 6% of internet users who go online using a tablet. But tablet users spend on an average 3 hours and 35 minutes online.
Mobile Internet Usage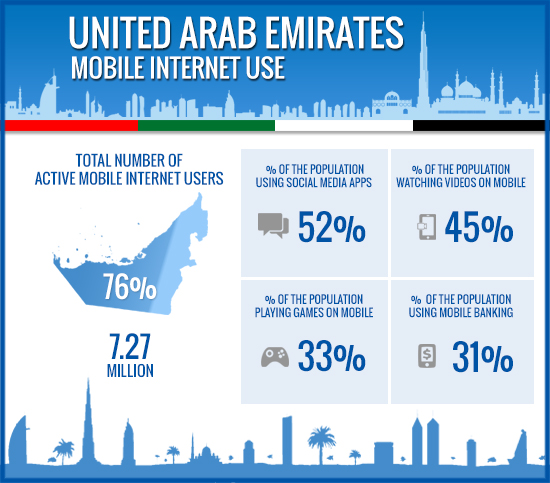 Did you know there are more than 7.27 million active mobile internet users in UAE? This constitutes about 76% of the total population of 9.58 million. Of these, 52% use social media apps, while 45% regularly watch videos on their mobile phones. The percentage of the population who play games on their mobile phones stands at 33%, and nearly 31% use mobile banking services.
Additionally, mobile apps such as WhatsApp, Viber, Skype, WeChat and Facebook Messenger have shot to the top ranking, indicating that our digital behaviour is shaped around the mobile. With all this data in hand, we expect that the mobile will further push the internet penetration to its peak in the days to come
If you have not yet joined the mobile bandwagon and created a mobile responsive website for your business, then you are missing out on large chunk of your target audience. Give us a call today to discuss how we can support your organizational goals
URL References
https://wearesocial.net/blog/2015/01/digital-social-mobile-worldwide-2015/
https://www.dubaifaqs.com/population-of-uae.php
https://data.un.org/CountryProfile.aspx?crName=United%20Arab%20Emirates#Social
https://www.escwa.un.org/popin/members/uae.pdf
« Whats App - UAE's ...
Periscope in Dubai »