Posted in
Social Media has swept UAE like a sandstorm, permeating every aspect of daily life for the average Emirati. Aspiring home cooks post their best dishes, moms post pictures of their little ones, and friends share thoughts with each other, as if they were all in the same room. Since January 2014, UAE has experienced a phenomenal 23% growth in active social media accounts.



With a population of 9.58 million people, UAE is a melting pot of cultures and people from across the world. There are over 5.4 million active social media accounts which amount to more than 56% of the population, a figure that is higher than Canada, Germany and South Korea. On an average, UAE residents spend close to 3.6 hours on social media.
Social Media Infographics 2015

Copy the code below to display this Image on your Blog or Website
Social Network Platforms in UAE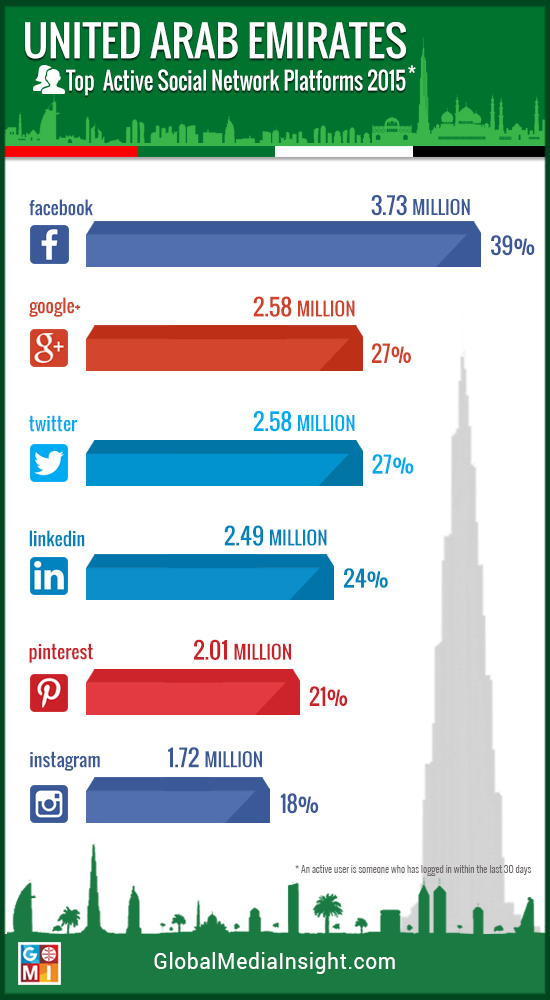 The most popular social media platform in the UAE is Facebook. It still enjoys immense popularity in the country and approximately 39% of the population use it actively. The 3.7 million Facebook users in the UAE is testament to the continued popularity of the platform. The high demand for Facebook has been attributed to the fact that the platform meets two basic social needs – the need to belong and the need to attract attention.
Google+ and Twitter are quickly catching up with Facebook, already capturing 27% of UAE's Social Media pie. Linkedin and Pinterest are not far behind, with 24% and 21% of people using it across the Emirates. Instagram seems to have a slow start in the UAE, as only 18% of the population use the platform actively.
Social Media and Mobile
How people access their social accounts is also very significant. With the advent of cheaper and more efficient smartphones and better internet and mobile connections, social networking has migrated to the mobile device. There are about 4.98 million active social media apps in the UAE, which accounts for 52% of the population. This means that 1 in 2 people prefer to access their social platforms through mobile apps.


Social Media Chat Apps & Messengers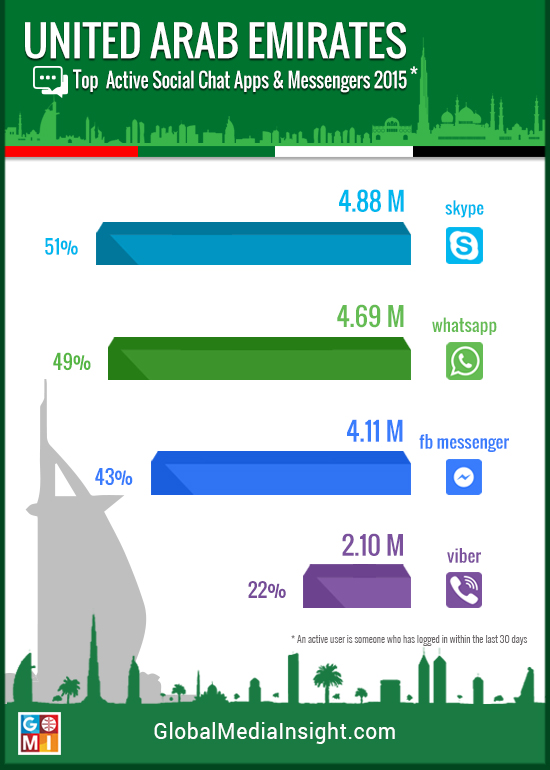 Another rising star in the social media world is the mobile social messaging apps such as Whatsapp, Skype, and FB Messenger. The number of active messaging accounts has crossed 4.6 million, falling just short of hitting the 50% mark.
The most popular amongst the mobile social messaging apps in the UAE is Skype with more than 4.8 million social users. WhatsApp is not far behind at 4.6 million. FB Messenger has not had the same success as Facebook, with only 4.11million users. Other social apps such as Viber and Instagram are used by less than 25% of the users.
Future of Social Media
It has become evident that social media in UAE is here to stay, and that social platforms play a significant role in shaping the opinions and habits of UAE residents. It has therefore become very important for digital marketers and advertisers to understand the driving force behind social networks and to tap the potential of this highly influential and powerful medium.
If you are looking for an entry into the Social Media market, or want to ensure that your message reaches the right people, then Global Media Insight has the answer. We have been working in the digital medium for over 14 years and we understand the social and digital markets in UAE like no other. Our  Social Media Marketing team  focuses on driving engagement through conversations and connections. Talk to us today on how to develop social media strategies that span platforms and channel.
Reference URL : We Are Social Blog
« Periscope in Dubai
Contextual Advertisi... »