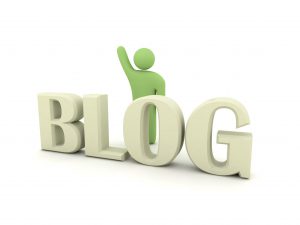 Whether you agree to the above or not, you would certainly agree that a website is important for a business in today's world. The rationale you would be having a website would include the following viz. (do read on, because there is a reason these are listed..)
a) It's a kind of default requirement in today's world.
b) It conveys that you are serious about your business & you mean business.
c) It's a kind of online brochure detailing about the goods & services offered by your company, which you can share with any prospective client/consumers.
d) While each time you change the products & services you offer, its cumbersome to print a brochure, the website can be updated with relative ease.
e) If your website is search engine optimized, your site becomes an efficient sales outlet to substantially increase business revenue.
If you agree on these, it's easier for us to convince you about the importance of blogging. Without a blog, your business website is bound to miss many opportunities to engage your potential clients/consumers. Engagement with clients/consumers is an important aspect of increasing conversions. A blog also contributes in increasing relevant visitors to your website. In a static website (website in which content remains the same and doesn't feature new content periodically) the size of the net with which your website can fish around for potential visitors to your website remains same. By the blog, where you post regularly, you can increase the relevant visitors to your website & thus increase the business enquires you get.
In today's world, where social media's potential to increase or adversely effect your business is a well-accepted fact. When online engagement with your customers is expected, having a blog has become essential to marketing your business.
Consider you are an interior designer and your business has a website. When people visit your site, they would read typical information expected from an interior designer's website. They may also read a few testimonies and other standard content which they would be seeing in other interior designer's sites as well. Hence they could possibly leave your site without being totally convinced about engaging into a dialogue. Whereas consider if the client considers checking out your blog. Wow, they can get awed by the various insights you share about interior design. They see what kind of thinking and rationale you have. They get to know your talents & your approach to a far greater extent by reading your blogs. Some posting which speaks to them in a special way, they would consider leaving a comment. More likely this could followed by a email/telecom..and a meeting for business.
There are various readymade blog options, you can checkout either WordPress.org, Typepad.com or Blogger.com. Note that if you set up your blog under a different domain your main website won't benefit from the added traffic. Thus it's best to get your blog hosted on your existing business website domain itself. If you are particular to have a very distinguished blog, which reflects your companies branding guidelines or your personality, you can consider contacting us & we will get all the above requirements including incorporating into current website domain carried out.
Search engines like Google, Yahoo, etc. love fresh content. Hence a blog which gets regularly updated by fresh content gets visited by search engine crawlers more often. As a result of this, your site increases the potential of attracting more visitors.
Google likes blogs because content is updated frequently. While millions of websites on interior designs remain unchanged each day, blogs offer up fresh information—and Google & other search engines recognizes that by giving that content higher placement when users search for related topics. To put it short, blogging is the most natural way to optimize your site for search engines.
Each new blog post you publish creates a new doorway way for prospective clients to find you. For example, you write a post about the best places to buy art in Dubai or Abu Dhabi. When someone searches for "where to buy art in Abu Dhabi"? If you're blogging on a regular basis, there's a good chance that Google is going to serve up your post in the search results.
So all the best..Start blogging..Let your business grow.
Some tips
Ensure you are regular in blogging. Say 3 times a week.
Blog about information likely to be useful to your clients – people whom you target.
Consider providing helpful tips, shortcuts if relevant.
Sharing the latest trends, industry research, photos (if relevant before & after), client success stories, and how-to guides.
Get your blog to reflect the culture of your company and it should be infused with personality.
If people like what you write, you will get comments… a good barometer to continuously evaluating & improving your blogging.
Ideally blogging should be at the heart of your social media strategy. Thus when you publish a new post, shares the title and a link to the post with your social networks. This drives traffic back to your site and creates a snowball effect. Your readers can then opt to share the content with their social networks, if they liked what you wrote about. As blogging becomes an habit, you will notice your website traffic numbers increase as well as the leads you get.
Read related services offered by us :
Social Media Marketing | Search Engine Optimization
(Visited 18 times, 1 visits today)