Have you taken a Selfie lately? Chances are you have. If you are in UAE, Saudi Arabia or any other GCC country, the probability is still higher, as these countries boast of people having 2 or more smart phones!! The term selfie sky rocketed into usage and fame in 2013. Although the word seems to have originated in 2005, it was in 2013 that the Selfie – the buzzword of current Social Media Campaigns. Oxford English Dictionary announced that "selfie" was the word of the 2013.  get to know more from our Blog.
Before selfie usage became popular on Facebook and Instagram, MySpace was its breeding ground.
To those of you who have not tried taking selfies yet, the news coverage received by selfies is enough reason to try. The selfie during the memorial service of former South Africa President Nelson Mandela & the selfie by David Ortiz was enough to prompt many of us to experiment with it.
Want to see more to get convinced, check out  https://statigr.am/tag/selfie, https://www.facebook.com/hashtag/selfie 

Selfie tweets #nomakeupselfie  Selfie tweets have been around for years and nobody gives them a second glance now. Then why did the #nomakeupselfie meme go viral?
For those of you not in the know, this particular viral tweet featured women posting their photographs without wearing any makeup, apparently in support of cancer research, although Cancer Research UK denied initiating the social media campaign. They were, however, quick to cash in with a request asking people to add a donation and text code to their posts. Since then, an amazing AED 50 million was donated to the UK charity organization, Cancer Research UK.
Cancer Research UK is dumbfounded; they do not understand it, nor do digital marketing executives and experts all over the world. There are meetings happening in every marketing office on how to replicate the success of #nomakeupselfie. Nobody knows when or how the post linked itself with cancer or why it gained so much momentum. You cannot really say that fighting cancer is on the same level as posting makeup-less selfies, but clearly the campaign struck an emotional chord in many women.
Cancer and Cancer Research are the buzzwords of the year, and that combined with the feel-good factor of donating to a worthy cause has resulted in thousands of tweets and millions of pounds. According to studies conducted by Buzzfeed on emotions that prompt sharing on Facebook, Twitter and Pinterest, positive emotions like happiness and awe are right in front.
While all of these reasons can be cited for the popularity of the post, that still does not explain the overwhelming contributions made by the public to a charity that they have nothing to do with. The only other rationale for this can be that it was super easy to contribute and be a part of the growing movement. Donation only with a text message – forget filling up forms or using credit cards!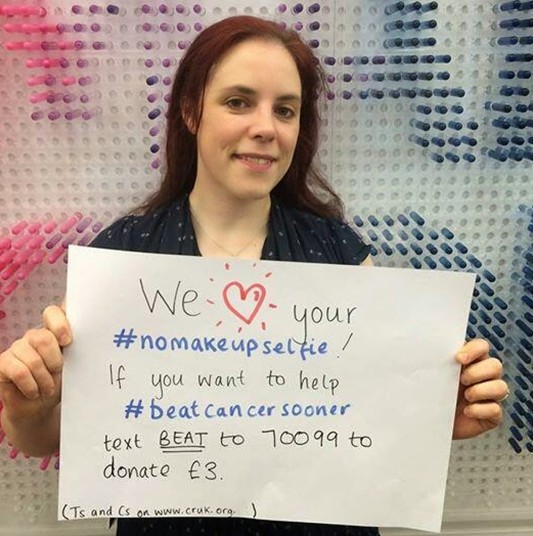 So the lesson here for all fundraisers is this; if you want your message to go viral, work on the way it will apply to the mobile networks. Also remember that people don't fall for marketers' tricks any more. If you try to push sales or contributions, they will baulk. The success of the # nomakeupselfie hinged on the fact that it was not the brainchild of Cancer Research UK, but rather pure authentic virality.
Replicating the success of the #nomakeupselfie might be a tall order for marketers, fundraisers and publishers alike. But they are certainly going to try. Meanwhile, check out https://www.facebook.com/hashtag/nomakeupselfie
Do you wish to leverage Social Media for your brand in a creative way? Drop a line to our social media team. We can meet, discuss & come out with a unique campaign to leverage your brands USP. Contact Us Now Read related services offered by us : Social Media Campaigns
(Visited 29 times, 1 visits today)