Did you know Facebook attracted 100 million new users in 2020, amidst the COVID-19 pandemic? If at all the year 2020 offered something good to someone, it is certainly to the social media industry. Read our blog to find out more about the impact of COVID-19 on businesses.
2020 has been a year of trials and tribulations for people as well as for the social media networks like Facebook. The social media giant was summoned by the U.S. court for its questionable acquisition of Instagram. But, apart from that and the one-month-long advertiser boycott, Facebook has succeeded in adding millions of new users to its global community.
Now, let's see how the UAE interacted with its favourite social network during the pandemic. Here's the snapshot of the user statistics for 2020.

Click to copy the code below to display this Image on your Blog or Website
Copy
Key Statistics for 2020
90,000 new active users got added in 2020
Dubai remains the biggest market for Facebook in the UAE
50% of UAE Facebook users are married people
89% of users access Facebook via mobile phones
83% of Facebook users log in through android devices
UAE Facebook User Statistics & Population 2020
The UAE's Facebook user base in 2020 stands at 9.09 million, meaning 92% of the current UAE population consumes Facebook content. Back in 2018, the platform claimed to have only 9 million Facebook users out of the population of 9.54 million. This shows a growth of 90,000 new accounts in a span of two years.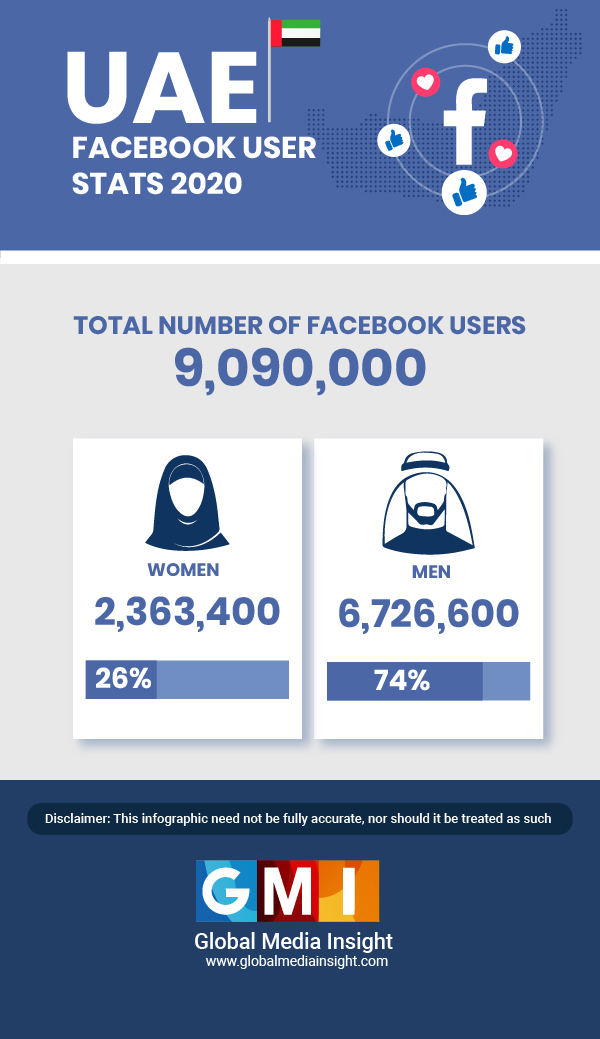 As is the general norm seen across social media in the UAE, the gender gap is apparent in Facebook with men thrice as much as women. The current male and female Facebook users are pegged at 74% and 26% respectively.
Age Demographics of UAE Facebook Users

Like in 2018, 25-34 age bracket dominates the platform with 4.47 million users. 35-44-year-olds and 18-24-year-olds are the next biggest group of Facebook users with 2.1 million and 1.4 million users respectively. It is important to note that male users outnumber females in each of the six age groups.
Facebook User Distribution in Major UAE Cities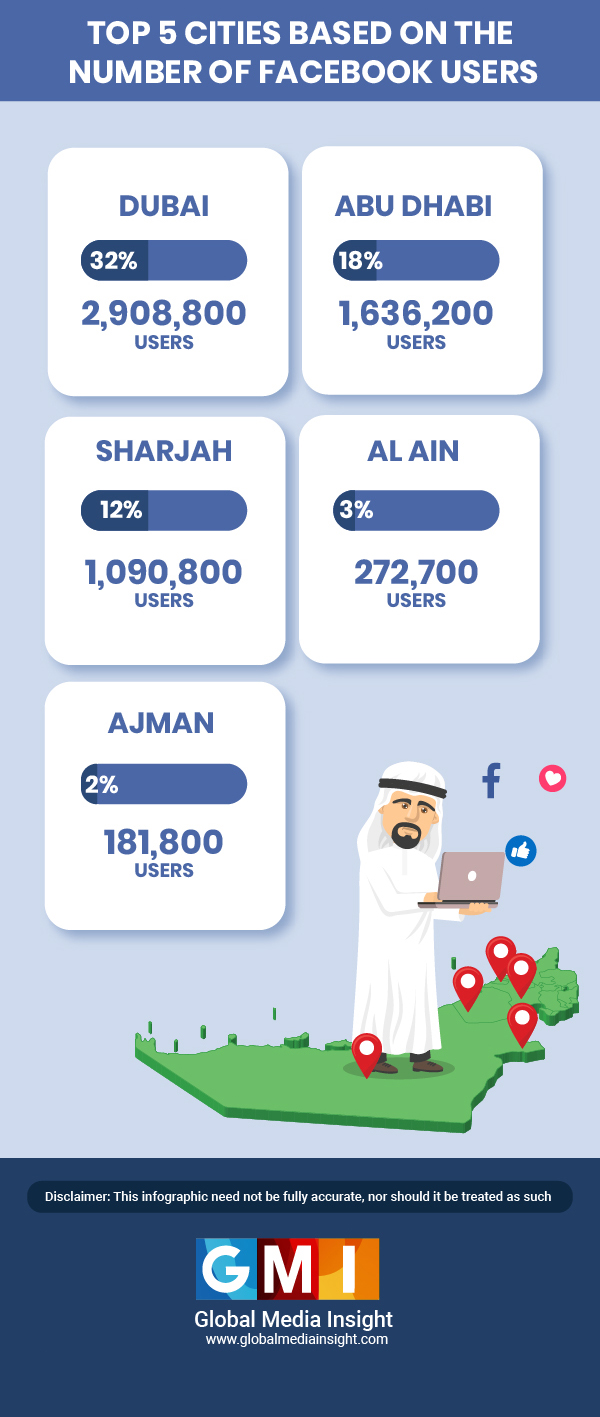 Among the cities in the UAE, Dubai continues to be the biggest market for Facebook in 2020. There are 2.9 million users in Dubai city alone, which is more than the total Facebook users of Abu Dhabi and Sharjah, taken together. When combined, the three cities account for 62% of the total Facebook population in the UAE.
Facebook User – Age Group by City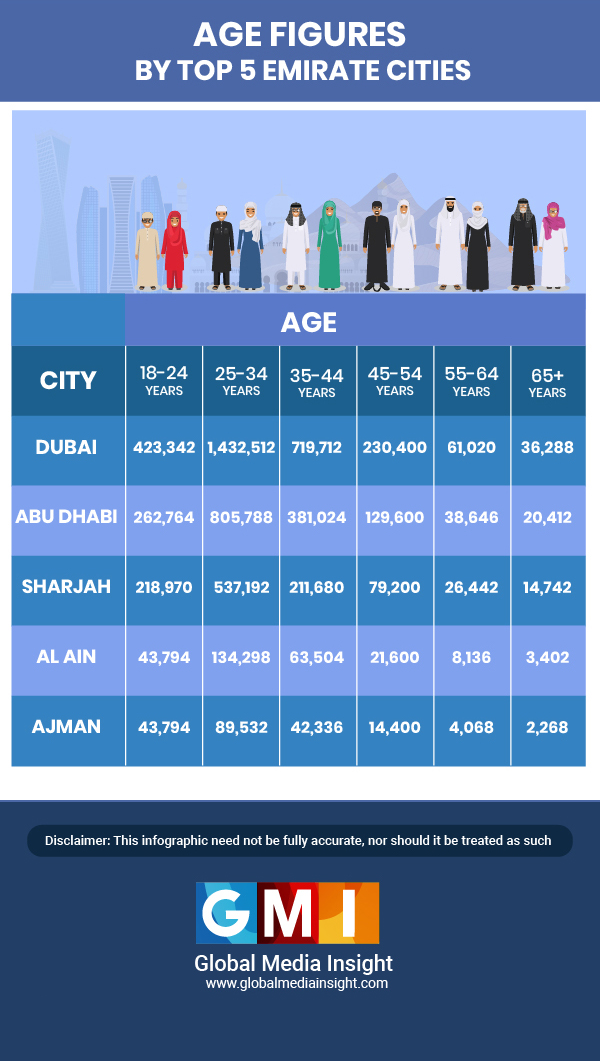 Taking the age demographics of each city into account, Dubai has the highest user representation in all age brackets. Facebook usage is more pronounced in the 25-34 age group and minimal in the 65+ group. This trend remains the same in all cities, Dubai, Abu Dhabi, Sharjah, Al Ain and Ajman.
User Devices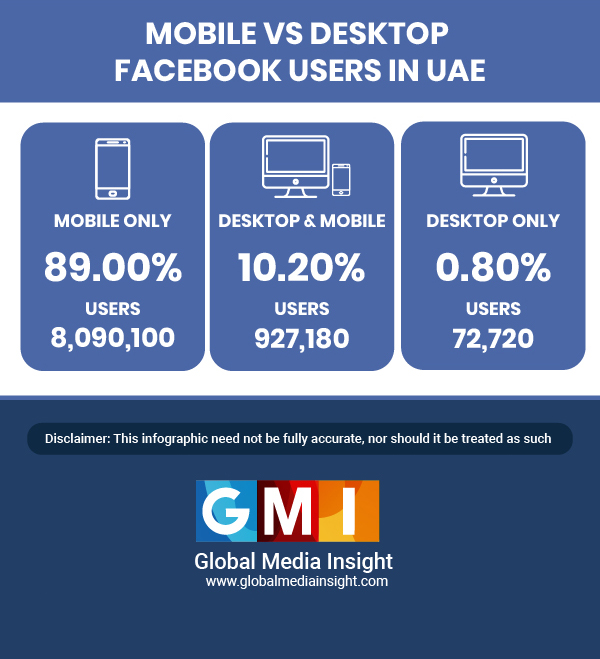 With the wide popularity of its mobile app, Facebook users now access the platform through mobile devices. Over eight million people log in to Facebook through smartphones in the UAE. Compared to 2018, there is a 7% increase in mobile Facebook users in 2020. However, there is a steep decline in the number of desktop Facebook users.
Devices Used to Access Facebook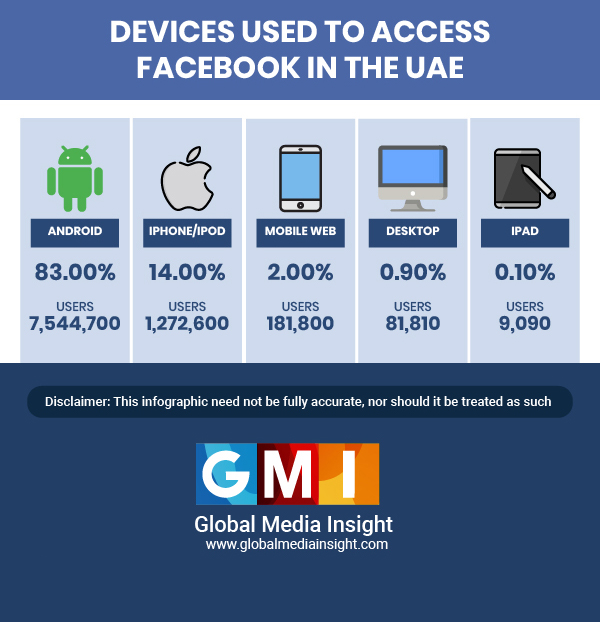 In 2020, 83% of Facebook usage is detected from android devices, which is a clear indication of the growth of mobile users. Though the number of iPhone and iPad Facebook users remain unchanged for 2018 and 2020, desktop usage is at an all-time low with a meagre 0.90% in 2020.
Educational Qualification of Users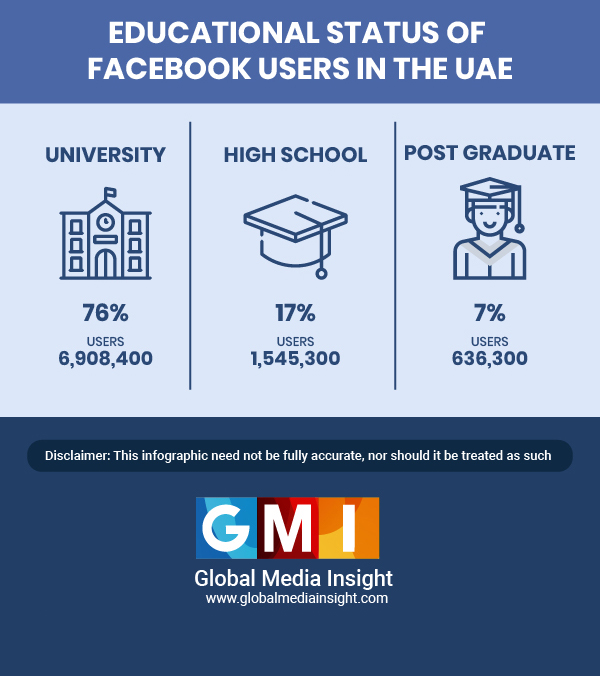 With the data obtained from Facebook, it is evident that the UAE has an educated Facebook community. 76% of 2020 Facebook users are either studying in a university or university educated. 17% have a high school education and 7% are postgraduates.
Relationship Status of Users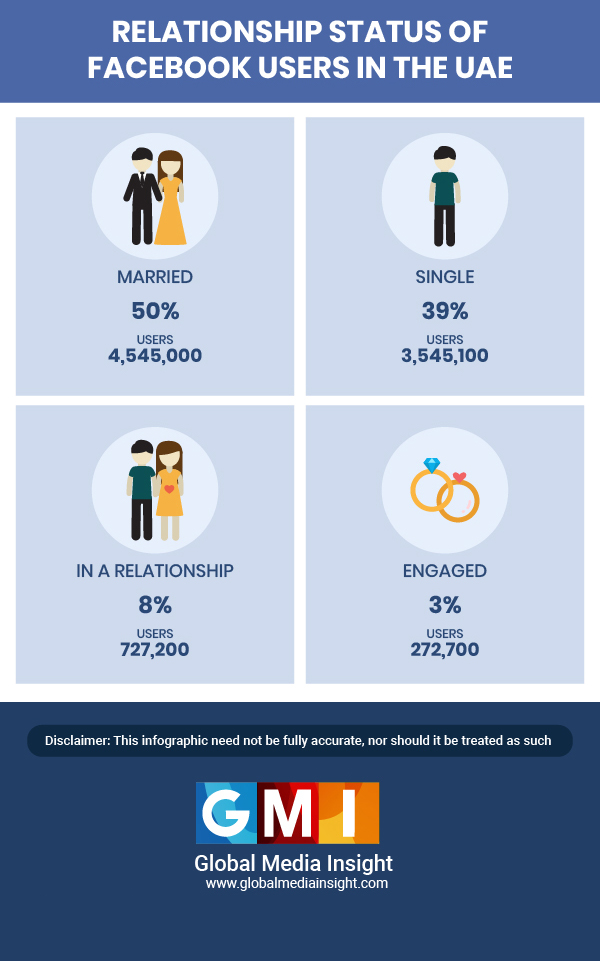 The 2020 relationship status of Facebook users is more or less the same as that of 2018. As per the 2020 data provided by the platform, 50% of UAE Facebook users are married. 'Single' users constitute 39% while 'engaged' and 'in a relationship' users are 3% and 8% respectively.
It is true that the growing apprehensions of people about their future and their desperate need to connect with friends and family have triggered the growth of Facebook usage in 2020.
As a marketer, your path is clear and straight. You can now reach out to 9.09 million UAE users through Facebook alone. There is no better time to post on Facebook than now. Talk to our social media experts today to craft the right communication plan and campaign strategy that will yield tangible results for your company.
(Visited 365 times, 3 visits today)