Posted in
Click here to log in to the Facebook Pixel homepage
On your home-screen click "Create a Pixel"src="http://www.globalmediainsight.com/blog/wp-content/uploads/2017/09/Picture1.png" alt="Picture1″ width="653″ height="290″ />
Two ways to create/install this pixel:
a.Google Tag Manager (We'll explain in a later post)

b.Copy/Paste the JavaScript code
Name your pixel and agree to the Facebook Pixel Terms
Follow the instructions to copy-paste the JavaScript code to your website (There is no harm in enabling the "advanced matching")
a. This piece of code is to be placed on each page of your website, as this is meant to track page views to your website

Now that you are done tracking page views, let's start with tracking some events

Once you click, "Next" you will find a screen which contains event-code
In the screen, you will find three options – "Basic", "Recommended" and "Advanced"

Basic: Contains basic-code only. Does not contain any additional parameters to capture advanced elements
Recommended: Contains basic-code and couple of additional parameters
Advanced: Contains basic-code and few more parameters

If you are unsure about which code to choose from, we suggest you to use the "Basic" code
If you need to learn about which code would work for you refer this article.
In this example, we'll go with the recommended example

Here, "search-string:" is the additional parameter added to the event "search"
The parameter needs to have a value, which in this example is "leather sandals". Assume that when someone in the website does a internal search for this keyword, the page is exactly "www.yourdomain.com/?s=leather+sandals". So you will place the above piece of code on this page. Thus, the event fires every time  someone searches for the keyword "leather sandals" and the search-results page loads
If you use the "Basic" code, then you will place the code on all pages containing"www.yourdomain.com/? s=".

Similar to the above exercise, Facebook Pixel allows you to track many other events called "Standard Events". In addition to these 9 "Standard events" you also have the option to track "Custom Events". These are also known as "Conversion Events" or as some people refer to these as "Custom Conversion Events"

Few points to remember while copy pasting the "custom events" tags

Always add event codes outside of the <head> tags
If the event is based on page-load, then it doesn't matter if you place the code outside of the head tag. But, it's recommended that you place it as close to the closing "head" tag.
If the event is based on specific inline action, then add the code within the html elements of this particular action. The intention is to make sure the "custom event tag" fires when the inline-action is triggered or is completed
Now you are all done here

Use "Facebook Pixel Helper" chrome-plugin to check if the pixel is installed properly.
Those are the very first steps you need to take before moving to the advanced sections of Facebook Pixel.
Now that you have set-up the Facebook Pixel, it's time to make the most of it. Facebook Pixel's most important job is to remarket your marketing ads to the Facebook users who have visited or have taken specific action on your website. You will be able to do this the same way you set-up your Facebook Pixels using different type of events.
So far your retargeting is based on custom-actions on your website which helps Facebook identify the audience to be targeted.
However, imagine if you already have a database of the audience which you have identified as potential customers. You can now use this target audience list, share it with Facebook Pixel and make the most of the re-targeting campaign.
Here is a walk-through of how you could set this up:
Go to Ads Manager
Build Custom Audiences from your website for remarketing.
Once your customer file Custom Audience is created, use it as a source for a value-based Lookalike Audience.
Use this audience for your remarketing.
Optimize ads for conversions.
Tracking conversions and attributing them back to your ads.
Building Custom Audiences from your website for re-marketing.
Step 1: In your Ads Manager, under Tools, select either Audiences or Pixels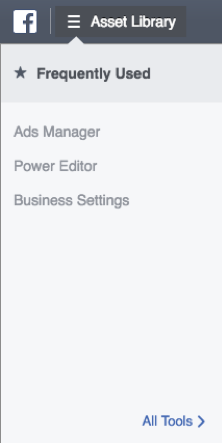 If you click on "Audiences" you will see the following screen

However, if you click on "Pixels" you will see the screen below.
Step 2: In either case, we will start by Creating a Custom Audience:
There are various options available for creating "Custom Audience"
a. Using "Customer File"
b. Website Traffic
c. App activity
d. Engagement with Facebook or Instagram
e. Import from MailChimp

After you select the preferred option from step 2, follow these: –
a.If you choose "MailChimp", "App activity" etc., then just follow the on-screen instructions to connect

b.In this help-book, we will use "Customer File" for creating custom audience:

Download the sample "template"

Your downloaded file will look something like this
You can learn more about the column headers here. But here is a small table to help you.
In the downloaded template, you can add your customer list which you might have collected in your CRM software or any other in-house customer database.
Save the file and then upload the file through the option shown in the screen (refer the image from "b.i"
Once uploaded, preview the column headers with the data. If there is any mismatch you  could use the drop-down menu options to match the column headers (as shown in below images).

Alternatively, you can also copy/paste the table from your csv file into the option as shown in the below images.

In the next step, you will need to select the option to select the type of website traffic, from the drop-down menu options. Alternately, you could also use the "custom combination" option to select the traffic which best describes your website-marketing-audience



Choose the duration for which you want to track people who visit your website or landing page. It is 30 days by default and can go up to 180 days. This means that people who visit your tracked pages are kept in the Audience for a maximum of 30 days. After 30 days from their first visit, they are removed from the Audience list. You can adjust the retention window from a minimum of 1 day to a maximum of 180 days.
Give an appropriate name for this new audience list and click "Create Audience"
Create your ad using Facebook ads creation tool on your Facebook business manager

Create your Facebook ad
Choose the custom audience you want to target in the Targeting section and select the audience name from the list of audiences you have created

"Facebook Pixel" now allows you to use life-time-value for each custom audience member in order to prioritize the ad targeting. To leverage this, in the STEP 2 (point 1) use the option "Pixel" to select the "Create Audience". You will then find the option to create the customer list using lifetime-value. The template which you will upload will contain one additional column-header called "value"

Step 3: Creating a lookalike audience

To create a lookalike audience, go to the "Audience" section.
a. "Check" an existing audience from the list of the audiences you have created
b. From the drop-down called "actions" select "Lookalike audience"
c. Select the options which suits your marketing needs and click on "create audience" button

NOTES:
Facebook allows lookalike audience for a custom audience only if you have over 100 "add-to-cart" or "purchases" recorded in your pixel
 It's mandatory to select "Location" when creating a lookalike audience. And the condition is that whichever country or group of countries or regions you select, you need to have a at least 100 people belonging to each country in your pixel or your custom-audience-customer-list
Step 4: Use this audience for your re-marketing.
Facebook Pixel is very useful for re-targeting for:-
List of users who have visited your checkout page but abandoned the process before converting
People who showed interest in your email marketing campaign but did not convert after they visited your website
People who subscribed to your newsletter only and you want them to take up one of your subscription plans
Users who have watched the video on your website but did not respond to the call-to-action
Users who have done combination of actions on your website and thus have high lifetime-value scores
Audience who is similar to an audience which you have identified and created over a sufficient period of time
Similarly, there are various other scenarios where you could use Facebook Pixel for retargeting
So far so good! Now if you want to make more out of your Facebook ads, you would need to do the following:
Step 5: Optimizing ads for conversions.
Step 6: Tracking conversions and attributing them back to your ads.
This is where seasoned professionals can give you the edge over your competitors, so that you make the most out of your remarketing campaigns. Talk to GMI's team of expert analysts today.
« E Commerce Best Prac ...
How Can Analytics Im... »