Starting a new business or expanding an existing one can be difficult. Almost everything in business is based on uncertainty. If you are thinking about starting a business but are nervous about it, the best business setup consultants in Dubai can help you get started by guiding you through the entire process and taking care of most legal formalities.
Business Setup in UAE
Over the years, Dubai has emerged as the commercial heart of the world. The progressive business laws of the UAE have successfully attracted several business enthusiasts from across the world to set up shop in Dubai. If you are looking for trade liberty, then Dubai should be the best place for your business.
Theoretically, setting up a business seems very easy. Rookies believe that all you need is an idea and a license, and you're good to go. While in reality, the actual transformation of a business plan into a reality can be tricky, especially if you are unaware of a country's business laws and procedures; hence getting an appointment with one of the best business setup consultants in Dubai can come in handy.
Difference between Mainland, Offshore and Freezones
Setting up a business in the UAE is quite hassle-free if you have the right consultants with you. There are three business ecosystems in the UAE; Mainland, Free zone and Offshore. Before choosing the right one for your business, you must understand them perfectly.
1. Mainland
Mainland companies have access to both local and foreign markets. A license from the Department of Economic Development will be required to operate as a Mainland LLC Company. Opening a mainland LLC company can be beneficial since:
Mainland companies are free to do business anywhere in the UAE and can also conduct trade activities in the UAE's free zones.
As per the law passed by the government of UAE in 2020, mainland companies are now permitted to have 100% foreign ownership. Before the implementation of this rule, expats needed to have local sponsors who would take 51% of shares and liabilities. Thanks to the new rule, Foreign investors can now enjoy 100% ownership of their company if their activities fall under specific sectors like education, agriculture, Food and Hospitality, etc.
The number of residency visas issued depends on the office space size. Bigger the office space higher the number of residency visas. Currently, it is calculated as 1 visa per 80sqft. Thus there is no visa limitation here.
Mainland companies suffer from only one drawback, i.e. they aren't allowed to have virtual offices and must have an office space of about 200sqft in the UAE.
2. Freezones
The government introduced Freezones to boost investment in the UAE. Currently, the UAE offers more than 40 free zones, with at least 30 in Dubai.
The benefits of opening a business in one of these free zones are as follows:
You will have 100% ownership of your business.
100% repatriation of profits and capital.
You can own multiple businesses here.
You will be exempted entirely from corporate taxes.
The government shall exempt your business from paying import and export taxes.
Although Freezone offers such immense benefits, it has a few drawbacks.
Companies set up in Free Zones suffer from the following demerits:
A company in a free zone will be restricted from conducting trade activities outside the Free Zone in the UAE. However, international trade is encouraged.
Companies willing to expand onshore will be restricted from doing so.
The activities of free zone companies are limited.
3. Offshore
Offshore refers to any investment that is made out of your country. Offshore companies can be registered in free zones enjoying all the benefits of free zones. However, they are not considered a direct substitute for free zones.
The benefits of setting up a business offshore are as follows:
There is no minimum capital requirement.
No compulsion for the company to physically exist in UAE.
Companies aren't subjected to financial reporting
Setting up companies offshore comes with one colossal demerit, you won't be authorized to issue a visa. If you cannot choose the right ecosystem for your business, approach business setup consultants in UAE; they will help you understand the business system of UAE and guide you throughout your setting up process.
Why do you need Business Setup Consultants in Dubai?
You may feel that hiring top business setup companies in Dubai might be an unnecessary cost, but they can be beneficial to you. Here's why you need to hire a consultancy:
Cost-effective business setup
Consultancies can help you economically set up a business. They usually know the spaces available for setting up factories, warehouses, and offices. This significantly reduces the cost and time to find subletting spaces.
You might have conducted your own research about the business scene in the UAE before choosing it as an ideal location for your business. However, no matter how thorough your research is, only the company formation consultants in Dubai will be able to give you a clear picture of the Arab business environment.
Think of these consultancies as your business's assistants. The best business consultants in Dubai will handle all the paperwork for setting up your business. They will see that your business is at par with the legal and financial rules of the UAE. This will save an immense amount of time, letting you focus entirely on your business.
Legal and financial formalities:
Business consultancies play a crucial role in getting your business's legal and financial formalities in order. Non-abidance of laws could be fatal for your company. Hence it is recommended to hire a consultancy since they are pretty well versed with the laws and can help you adhere to them.
People in the UAE mostly converse in Arabic and English. If you aren't fluent in either language, your business consultants will act as a trustworthy mediator between you and any local vendor or government officials.
Top 16 Business Setup Consultants in Dubai
There are many business setup companies in Dubai today. Finding the right one can be challenging, so based on their popularity, we have shortlisted some to make your job easier! The top business set up consultants in Dubai are:
1. Riz & Mona consultancy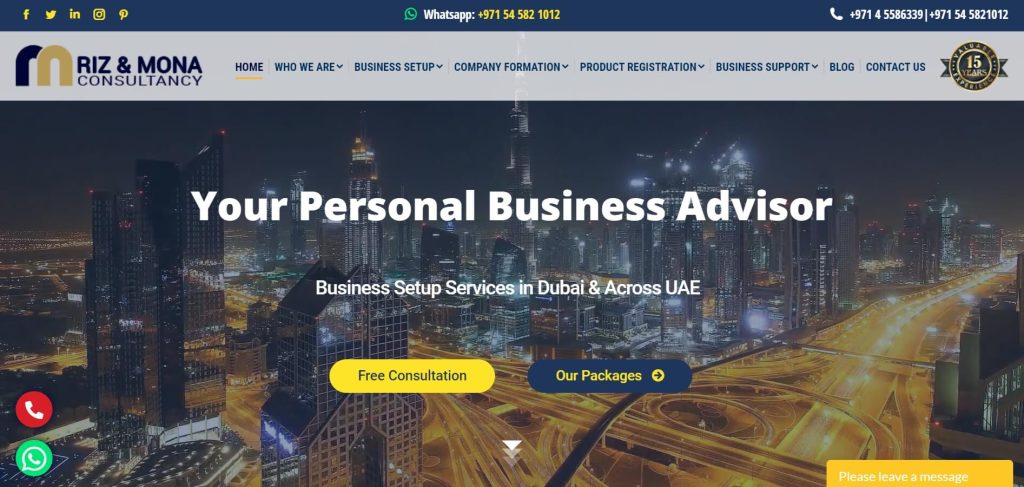 Founded in 2014, Riz & Mona Consultancy has served around 1600 clients with just 20 members on its team. Their specially curated business services begin at the rate of AED 1000. In addition, each client receives one free consultation. This allows everyone to get familiarized with their services. Some of their key services are:
Business Setup in the Free zone, Mainland and Offshore areas, as well LLC Formation, Branch Office Setup etc.
Business Licenses e.g. Professional, Trade, Commercial, Industrial, E-Commerce, Crypto, Meta-verse Licenses etc.
Business Support Services e.g. Trademark, VAT registration, Local sponsors, Company liquidation, etc.
Product Registration e.g. Cosmetics, Food, Health, Medical Devices etc.
Bank Account Opening, Visa Services, Pro Services and Special Licenses.
Bookkeeping, Accounting, Attestation, Translation Services etc.
Email ID: info@rizmona.com
Contact: +971 54 5821012
2. Shuraa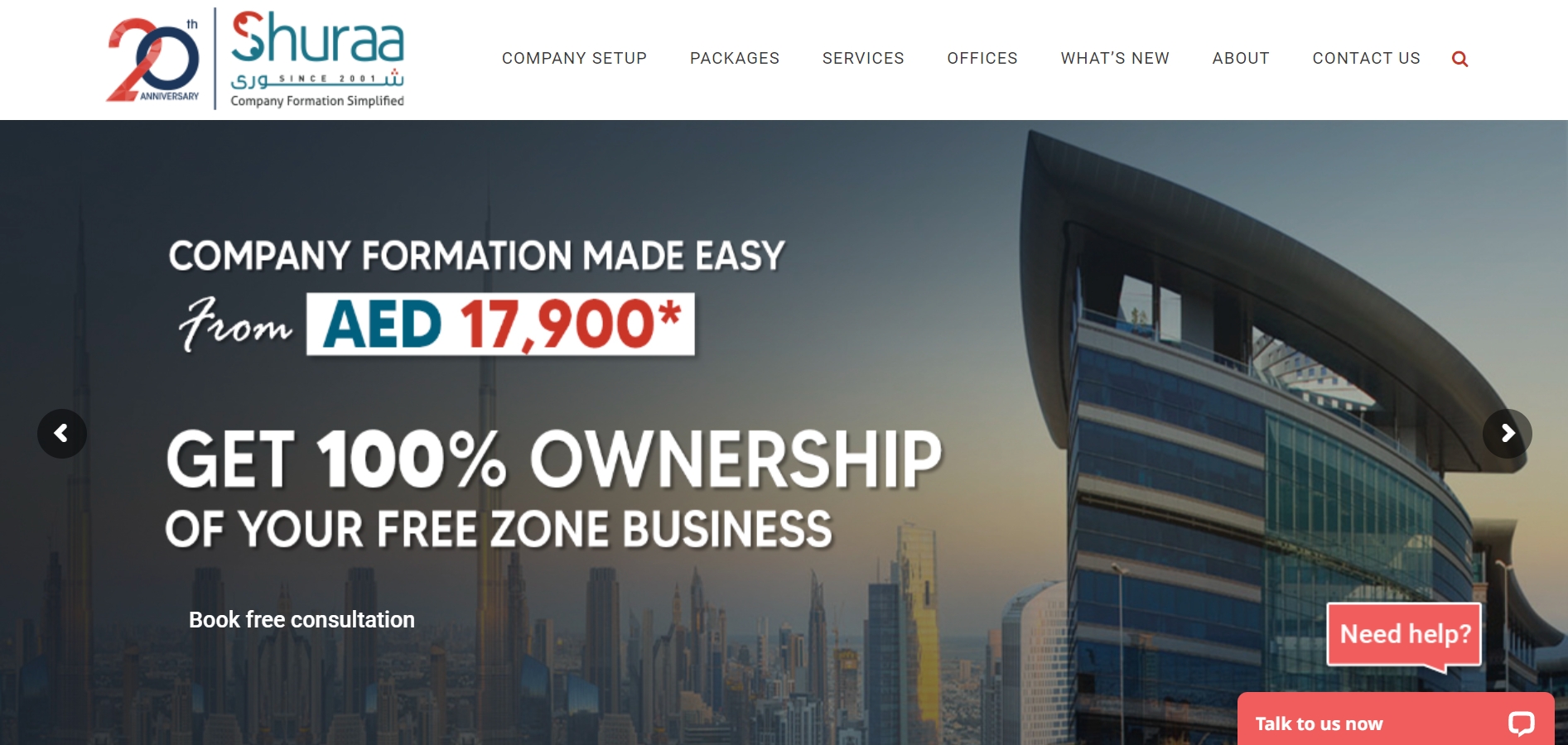 Founded in 2001, Shuraa has registered over 35,000 companies in the UAE. Their business setup packages start from AED 14,500. Shuraa is one of the best business setup consultants in Dubai because it offers services like bank assistance and PRO services at very low rates. Their services include:
Licenses like Industrial, Commercial, Tourism
Sponsorship and Investor's Right Protection
Email ID: info@shuraa.com
Contact: +971 44081900
3. Commitbiz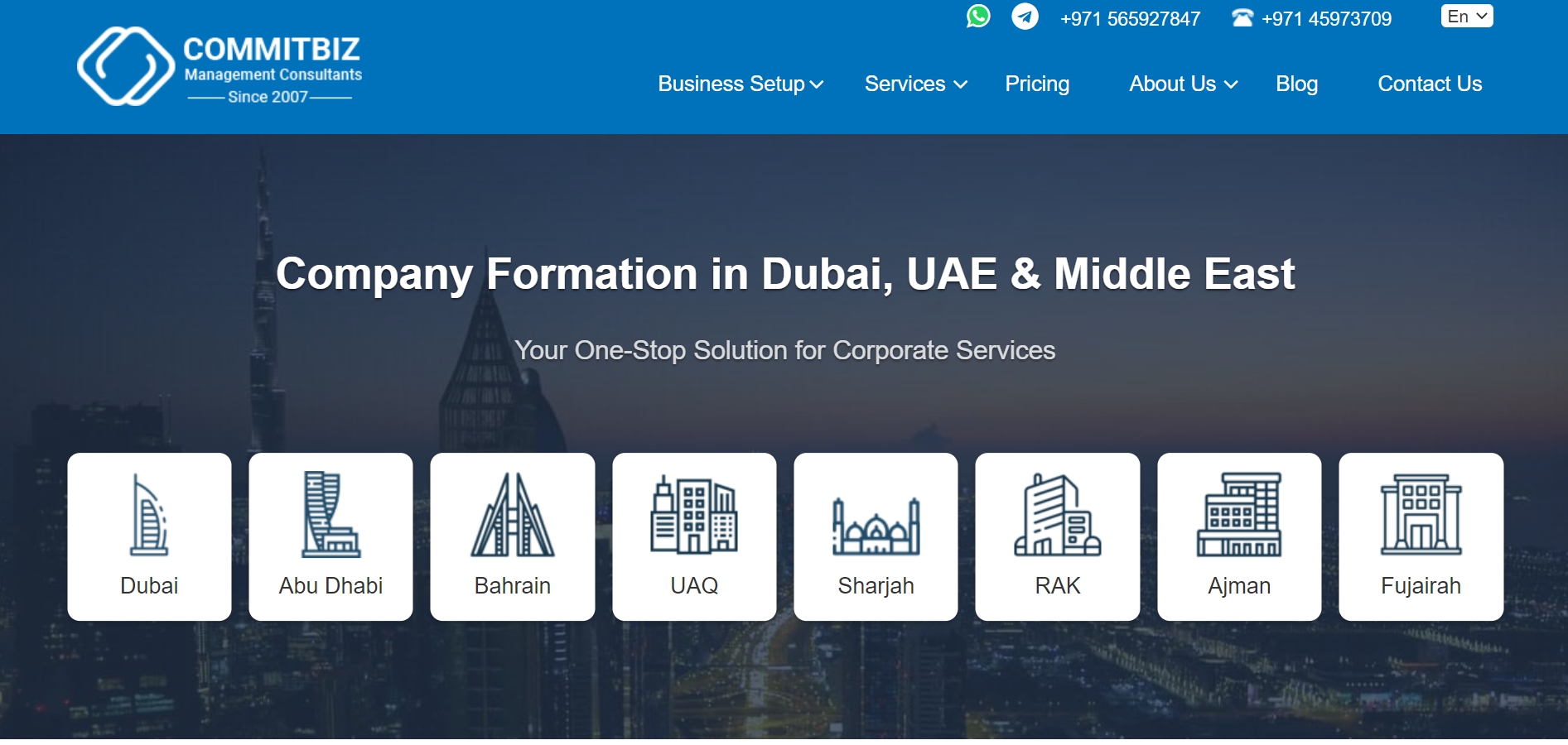 A consultancy division of JAXA Chartered Accountants, Commitbiz has maintained quite an impressive portfolio of services over the years. Their services are cost-effective and helpful in setting up businesses in a wide range of sectors. Currently, the company formation packages of commitbiz begin at a mere AED 5500. They provide services like:
Asset management services
Email ID: info@commitbiz.com
Contact: +971 45973709
4. Kiltons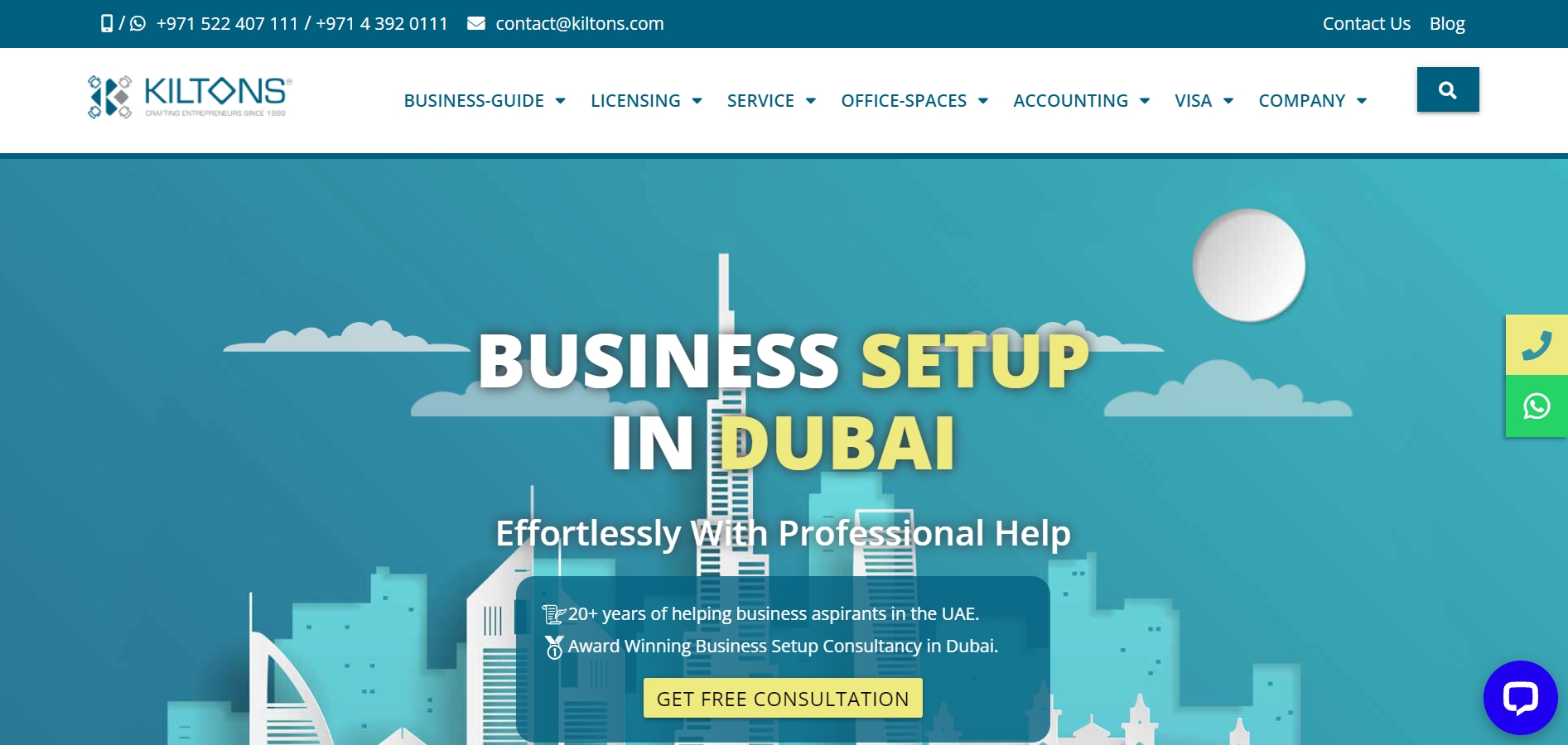 Kiltons is the type of consultancy that can help you even after setting up a business with its branding and marketing services. They've been recognized as one of the top business setup agencies in the UAE for their meticulous professional services. Set up in 1999, they boast of being the first ever consultancy service in UAE to set up a credit card system solely to set up businesses. Kiltons has a company size of 11-50 employees who are experts in their field and can provide the best services. The cost of the service packages varies depending upon your requirement. Presently they are offering packages beginning at AED 5650. They offer:
Company formation in the Free Zones, Mainland and Offshore areas
Licenses like professional, commercial and industrial
Email ID: contact@kiltons.com
Contact : +971 522407111
5. Aurion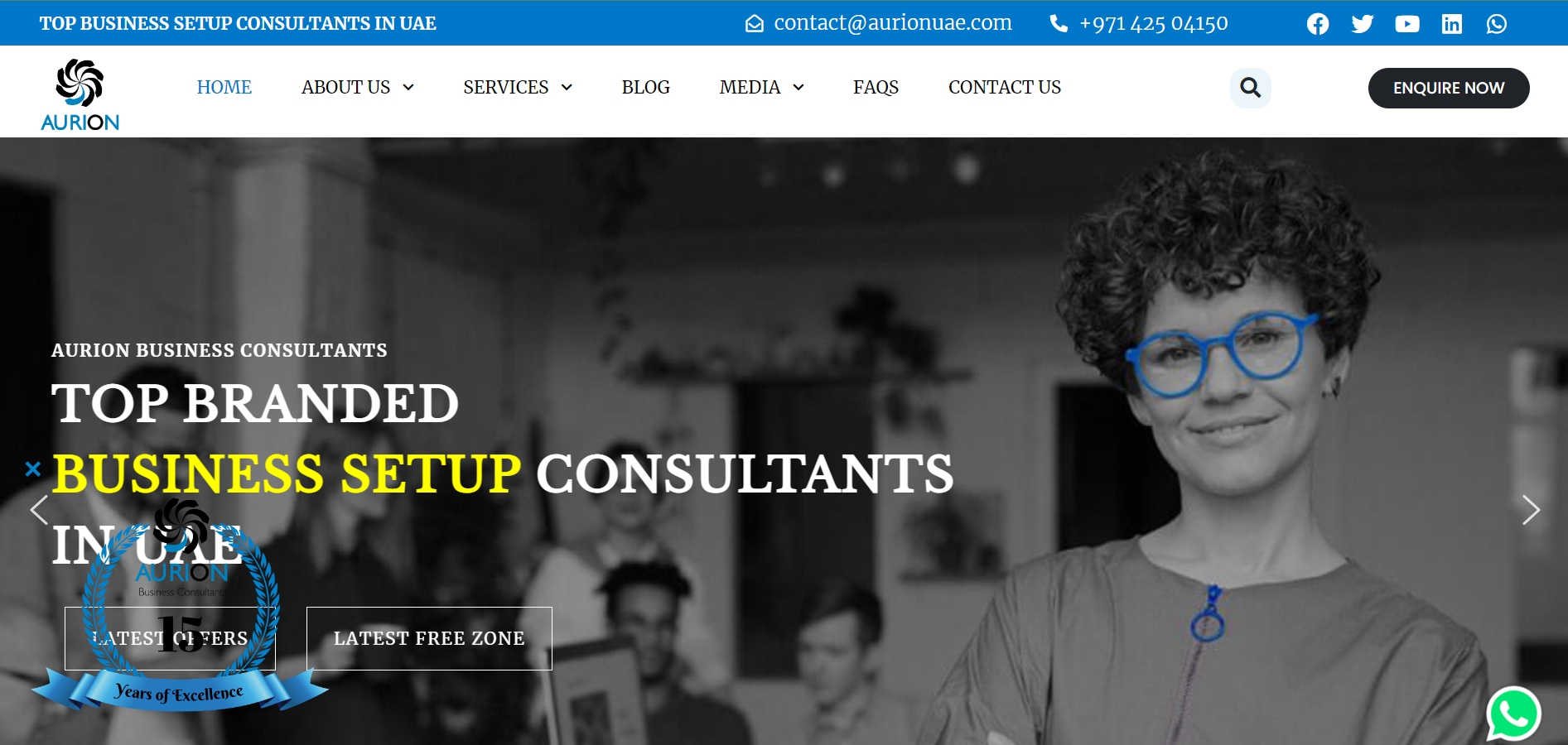 Aurion has a marvelous portfolio of 4500 incorporated companies with clients from 80 countries. They have been providing quality services since 2007 and currently have a team of 11 experts at your disposal. They provide all the required services to set up a business at reasonable costs. Currently, they offer yearly business setup packages beginning at AED 17,900. Their key services are:
Company formation in all the areas
Assistance in opening a bank account
Email ID: contact@aurionuae.com
Contact: +971 42504150
6. Worldwide Formations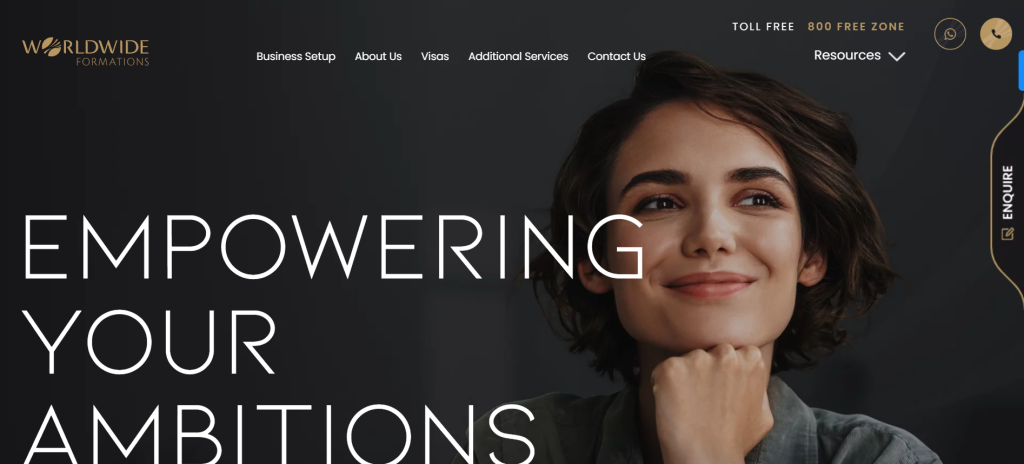 Worldwide Formations Ltd. has been around as a corporate advisory service provider since 2008. With several awards and certifications to its name, including the Outstanding Performance Award from Dubai Airport Freezone and the Top Agent Award from RAK ICC, WWFL is touted as one of the top business setup consultants in Dubai. WWFL is registered with 22 free zones in the UAE and provides services for mainland, free zone, and offshore setup. They have served over 10,000 clients in over 90 countries. Some of their key services include:
Mainland, free-zone, and offshore setup support
VISA registration services
Second citizenship services
Legal freelancing services
VAT registration and services
Accounting and bookkeeping services
Trademark and IP services
Brand development services
Email ID: ic@worldwideformations.com
Contact: +971 43555700 / +971 558197999
7. NEX Consultants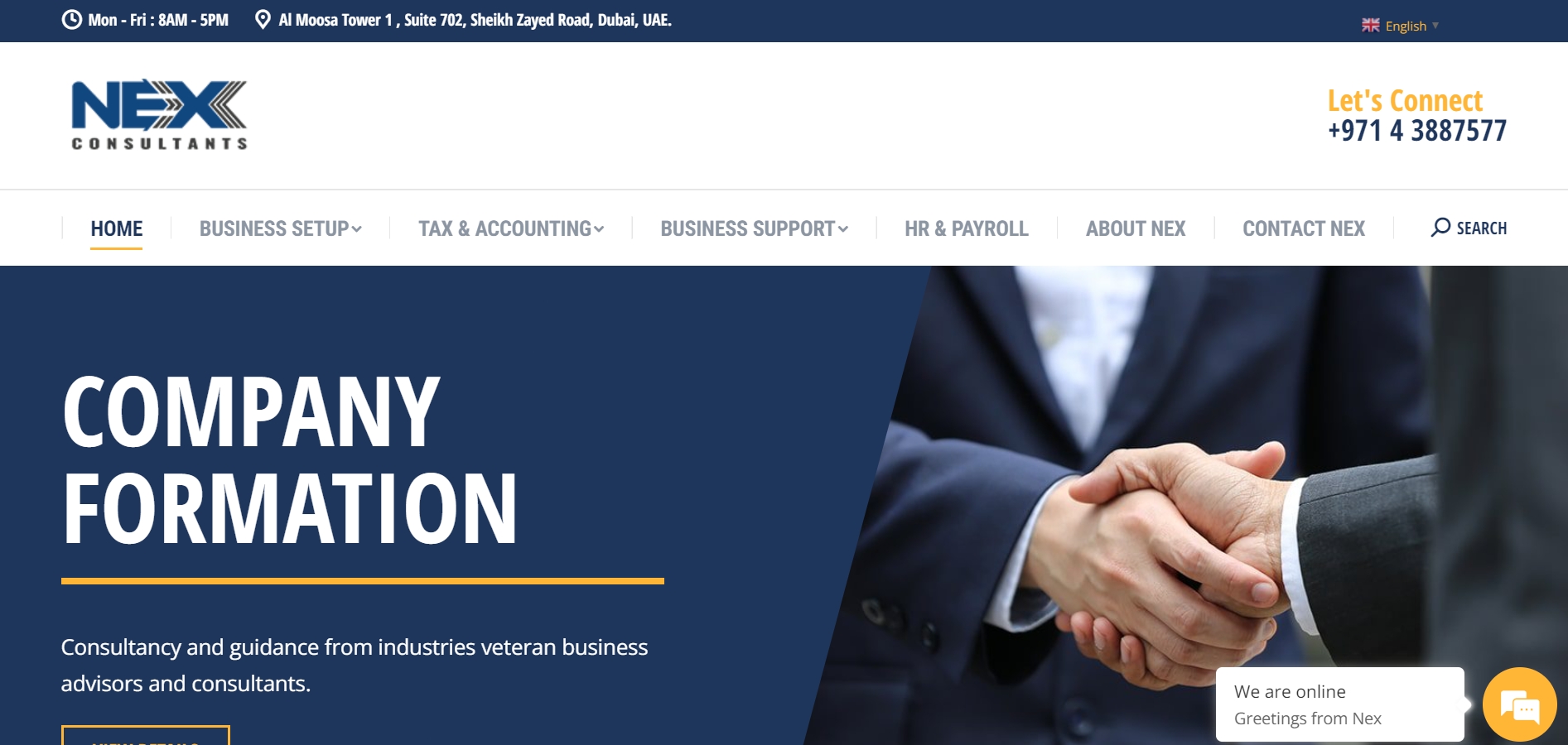 NEX consultants provide their services at extremely affordable rates, which makes them the best choice for startups! They have been in business since 2016 and are a team of four experts. They can help you with tax matters, accounting, and auditing of your business, among other things. NEX Consultants provide services like:
UAE Tax residence certification
Assistance in opening a bank account
Email ID: info@nexconsultants.com
Contact: +971 43887577
8. KWSME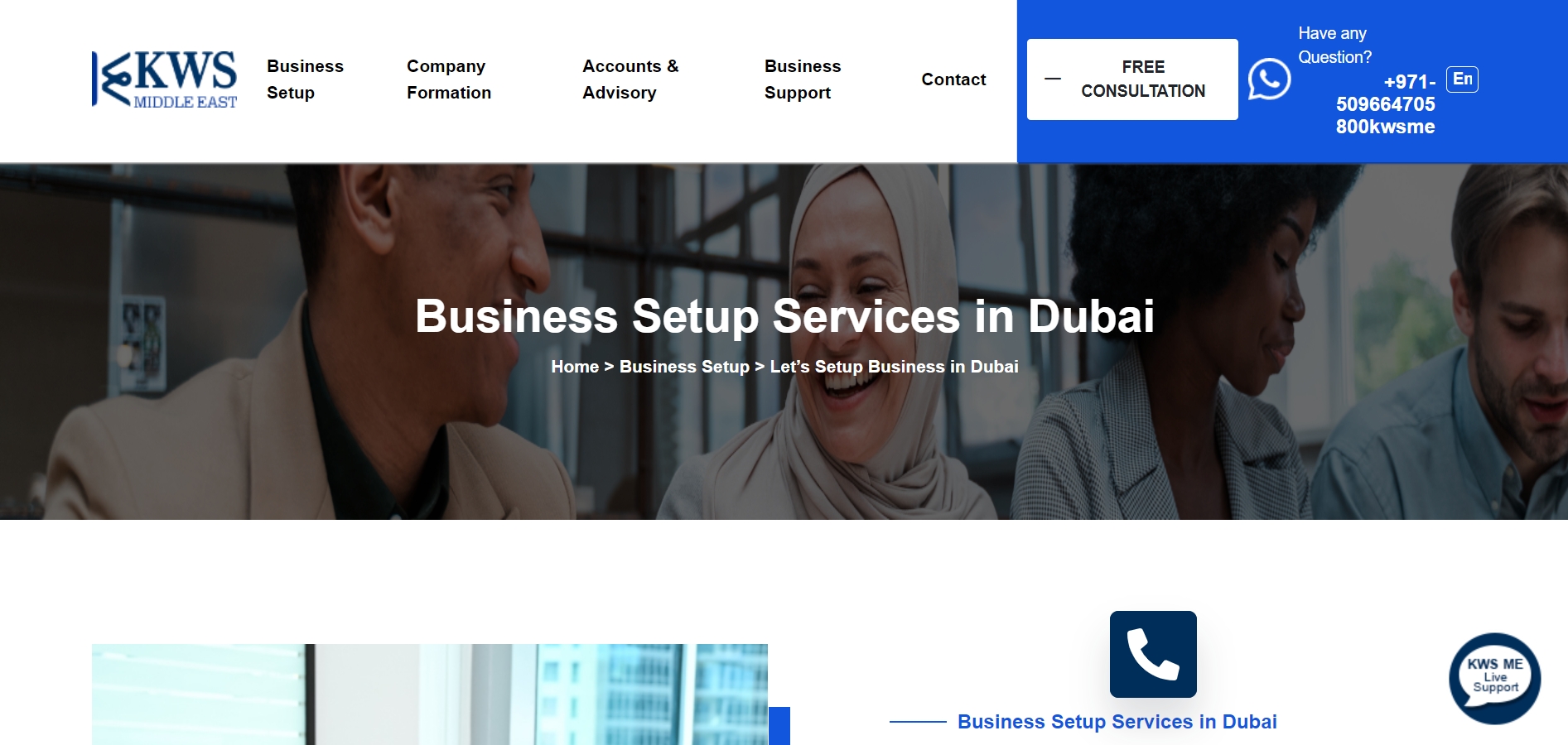 Established in 2010, KWSME has emerged as one of the elitist players in the game. They have catered to 567+ clients during this tenure. Their team, which currently consists of 11 members, strives toward making company formation in the UAE as simple as possible by providing qualitative services at reasonable rates. KWSME tries to provide business setup services all across UAE at a rate of AED 18000. All of this, along with their exemplary customer satisfaction, has made them one of the best business setup consultants in Dubai. KWSME provides services like:
Assistance in creating a bank account
Email ID: info@kwsme.com
Contact: +971 509664705
9. Business Link UAE: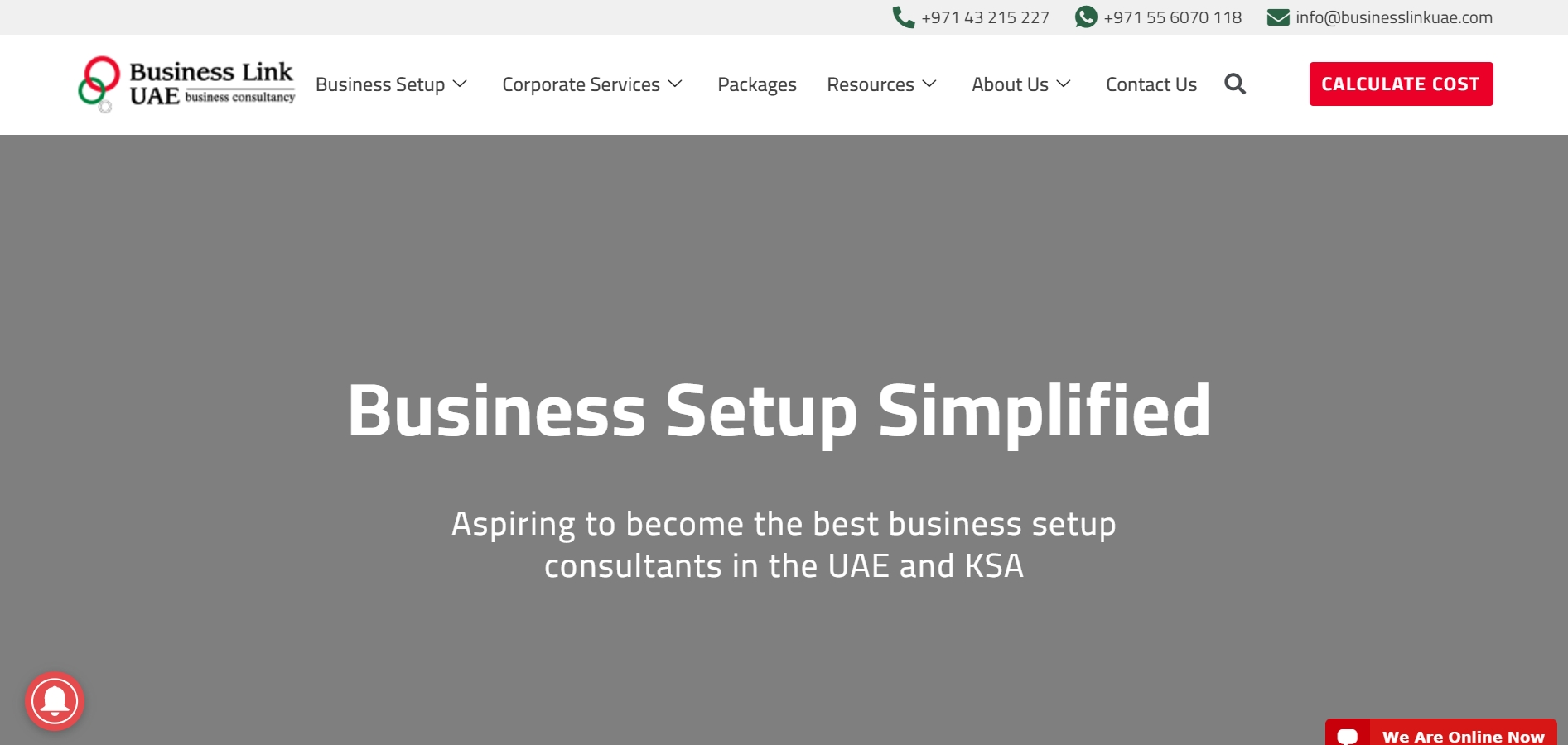 Business Link UAE is a well-known name in the business consultancy industry. They have been providing business setup services since 1999. To date, they have assisted over 20,000 entrepreneurs. They have tailored packages to meet all your needs; these packages begin from AED 7,999 and may increase based on your requirements. Their team has 26 experts who can help you with company registration, bookkeeping, legal typing, etc. Apart from this, they provide business setup services like:
Assistance in opening a bank account
Business solutions like professional business email registration, business setup packages, etc.
Email ID: info@businesslinkuae.com
Contact: +971 556070118
10. Virtuzone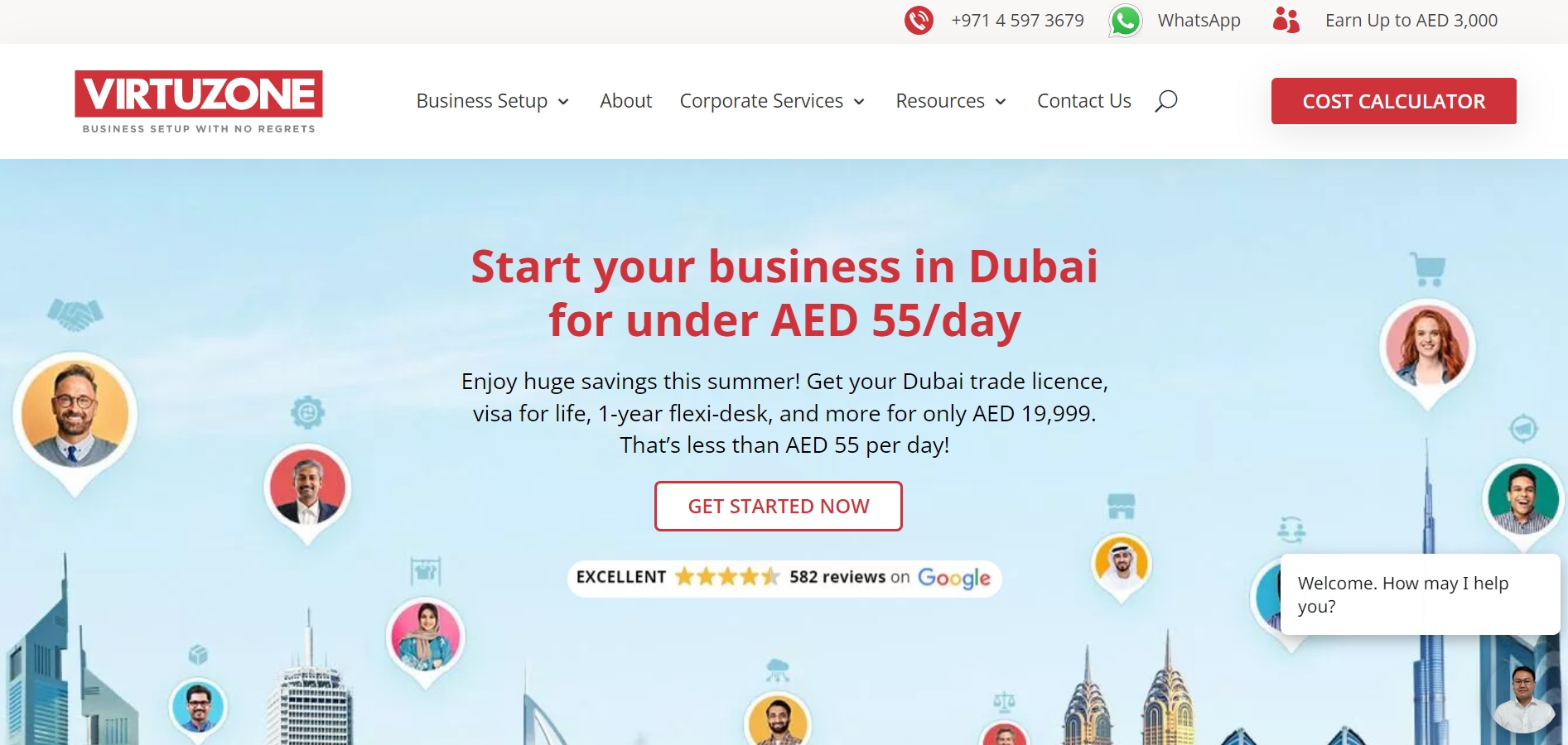 VirtueZone has been in business since 2009 and currently has around 60,000 clients. All of these clients are expected to be renewing their membership with the consultancy because their services are simply unmatchable. They provide services like:
Assistance in opening a bank account
Contact: +971 45973679
11. Jumeira Consultants: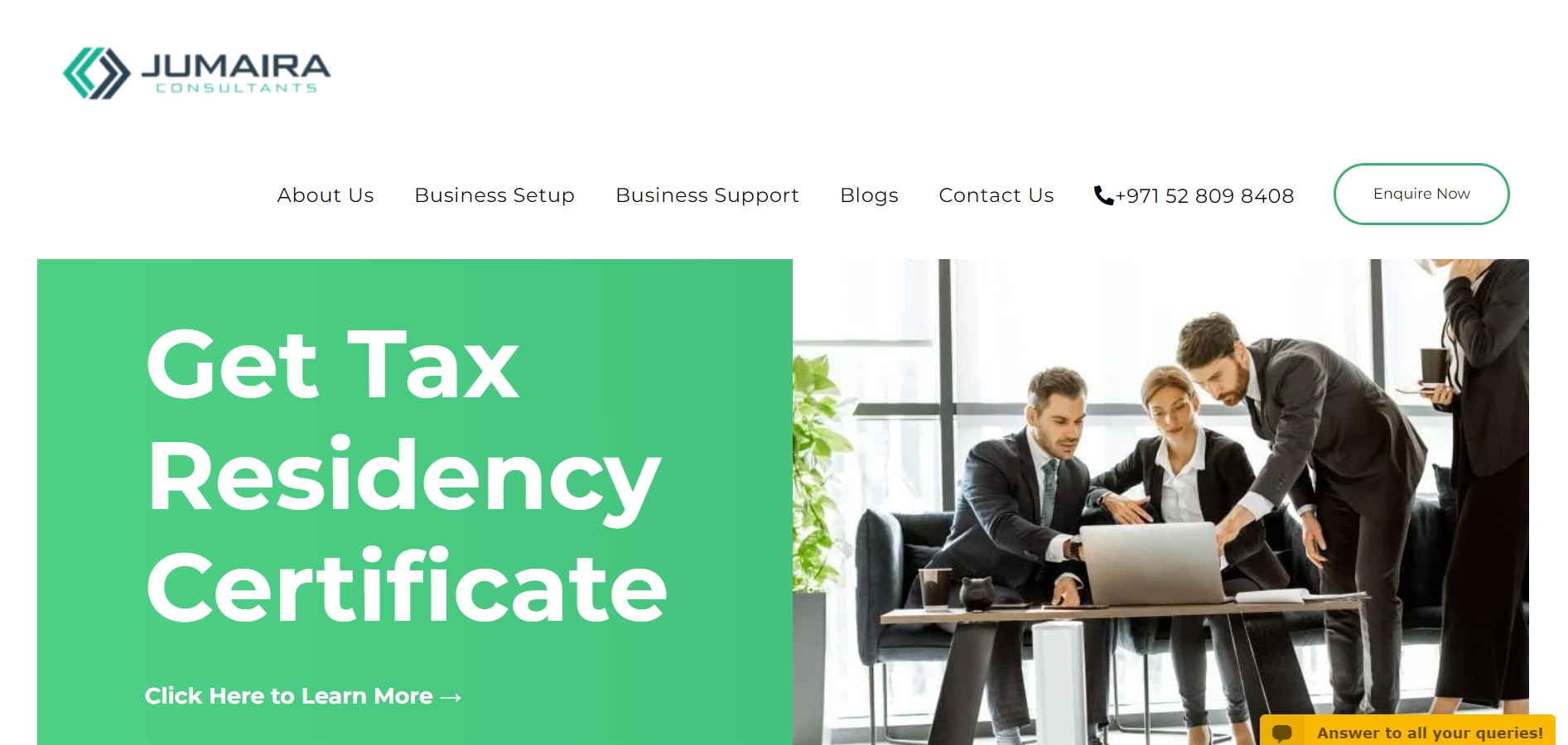 Jumeira consultants has been in operation for 22 years and is one of the most well-known names in the industry. Their services are available across the UAE – for mainland, offshore and freezone business setup. They have successfully incorporated around 700 companies and have helped about 800 entrepreneurs in attaining their business goals. They can help you with your taxes and set up your business. They have expertise in services like:
Tax residency certification
Email ID: info@jumeiraconsultants.com
Contact: +971 528098408
12. Start Any Business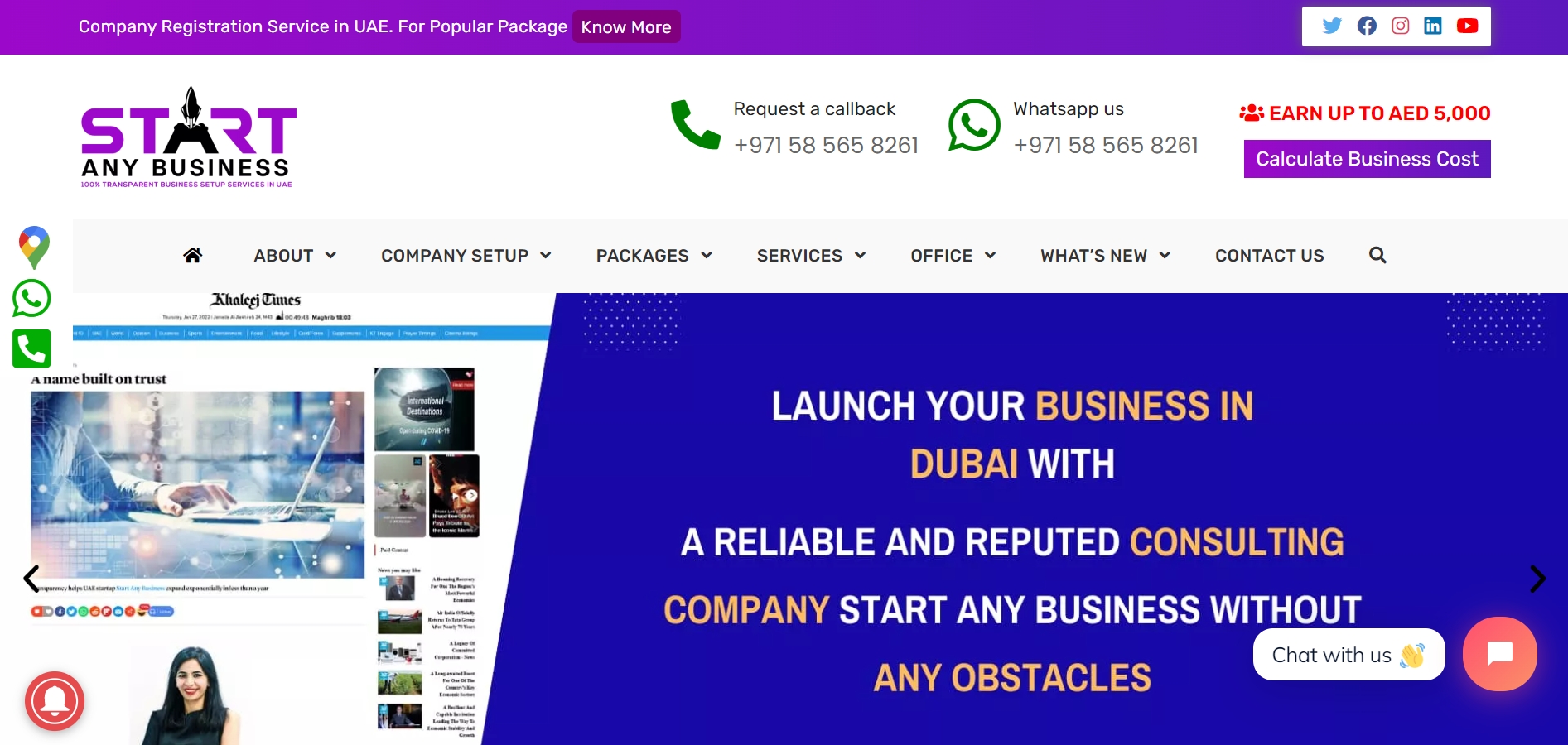 Start any business consultants, as the name implies, can help you set up any business in the UAE. Despite the fact that they were founded in 2019 and are a relatively new consultant agency, their services make them one of the best business setup consultants in UAE. Start any business is a part of the JMM group, which has incorporated around 250+ companies to date. They have curated packages based on the company's location in the UAE, particularly in Dubai. Their packages, particularly in Dubai, begin from AED 14,199. They provide all necessary services such as:
Investors and partners' protection contract
Email ID: info@startanybusiness.ae
Contact: +971 585658261
13. Creative Zone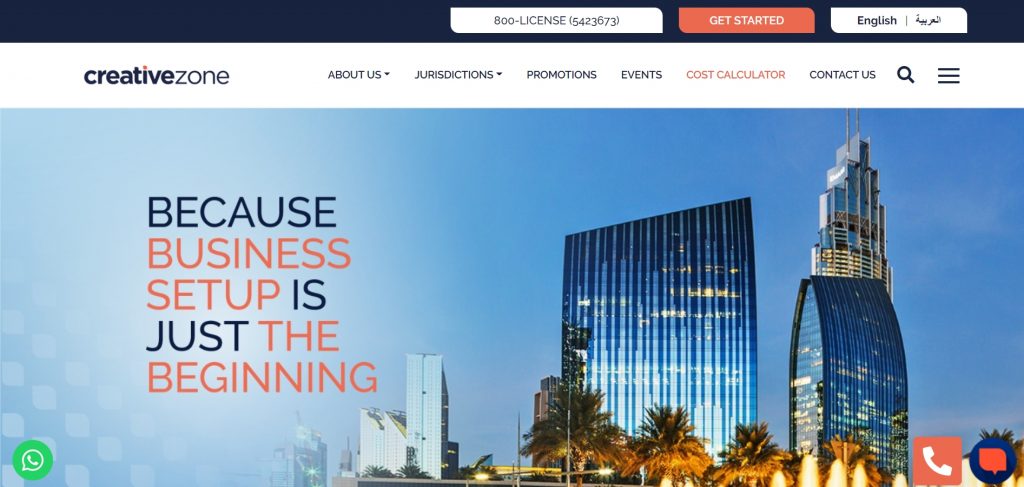 Creative Zone has been around since 2010 and has successfully helped more than 45,000 aspiring businessmen start their entrepreneurial journey. From visa services to guiding you through the registration process, Creative Zone's expert team of 9 members can help you with everything related to business! They provide services like:
Assistance in applying for the right insurance
Email ID: setup@creativezone.ae
Contact: +971 45677333
14. Biztrack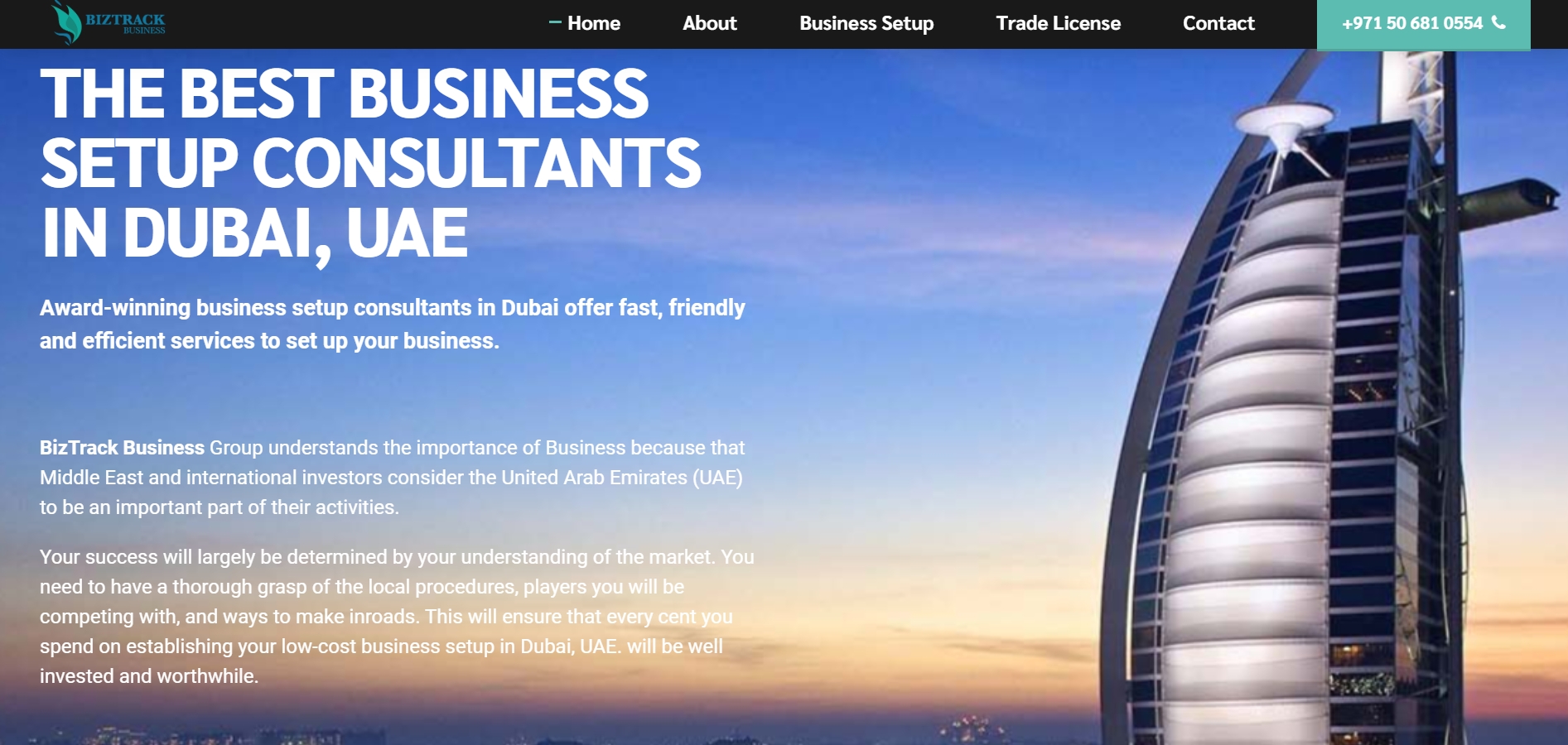 Company formation in the Mainland, Free-Zones and Offshore areas
Creation and renewal of establishment cards
Arrangement of local sponsor
Email ID: info@biztrack.ae
Contact: +971 506810554
15. RadiantBiz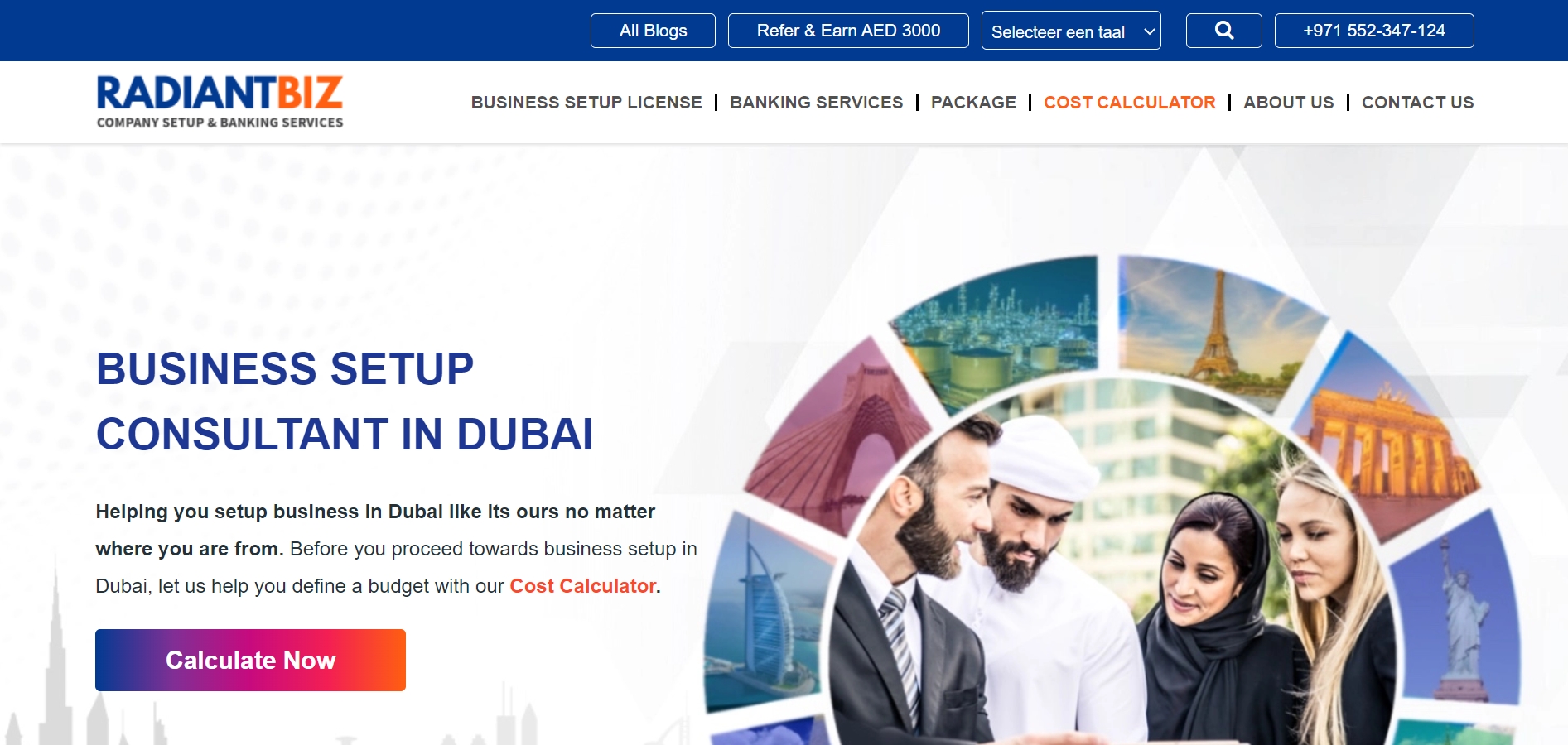 Radiantbiz consultants are one of the best company formation agents in Dubai, and are preferred by startup entrepreneurs. They've been around for about 12 years and have assisted in the establishment of several businesses.They have catered to at least 15,000 customers hailing from 134 different countries. They are experts in their field and can help your business develop comprehensive plans and strategies. They provide services such as:
Real estate and construction finance
Email ID: info@radiantbiz.com
Contact: +971 552347124
16. Decisive Zone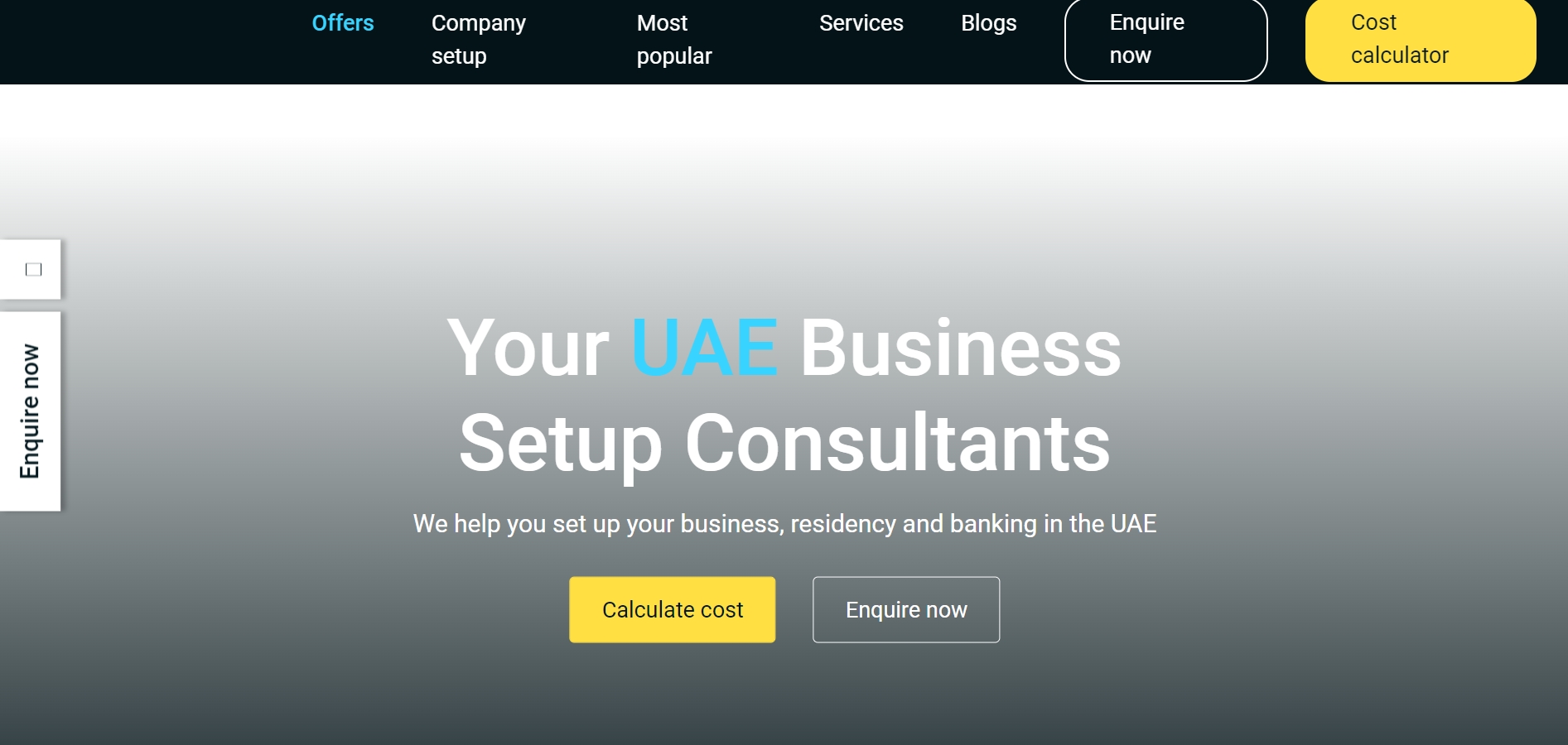 Decisive Zone is a potential go-to consultancy for services ranging from finance and banking to visa assistance. They have attractive offers with packages starting as low as AED 6,500. Decisive Zone has been operating since 2015 and employs 50+ specialists who can meet all of your company formation needs. Their services include:
License modification, renewal and cancellation
Emirates ID and VIP medical test
Email ID: hello@decisivezone.ae
Contact: +971 45813618
All of the businesses listed above are expert business consultants in Dubai who offer professional services at reasonable prices. You can contact them based on the services they provide and choose one that understands your needs the best.
(Visited 258 times, 1 visits today)