Posted in

For sharing videos or advertising, there exists no other platform as rewarding as YouTube on the planet now. There has never been a website in the past decade that gives us opportunities to become popular overnight and make money online by just uploading videos.
Now the question is, is YouTube a good marketing tool to promote your business in 2020?
Here's an infographic narrating the overall user statistics, mobile user statistics and user demographics of YouTube to help you make an intelligent decision.

Click to copy the code below to display this Image on your Blog or Website
Basic Facts
YouTube has been a part of our lives since 2005, entertaining us with videos, ranging from web series to news, product reviews, music, movies, how-to videos, unboxing and vlogs, uploaded by individuals and organisations from various corners of the world.
In the year 2006, Google bought it from its founding fathers, Jawed Karim, Steve Chen and Chad Hurley for a whopping $1.65 bn.
Now, a decade and a half later, with 2bn users, this video sharing site is the second-most-visited website after Google and holds a second position in Alexa's global ranking of websites.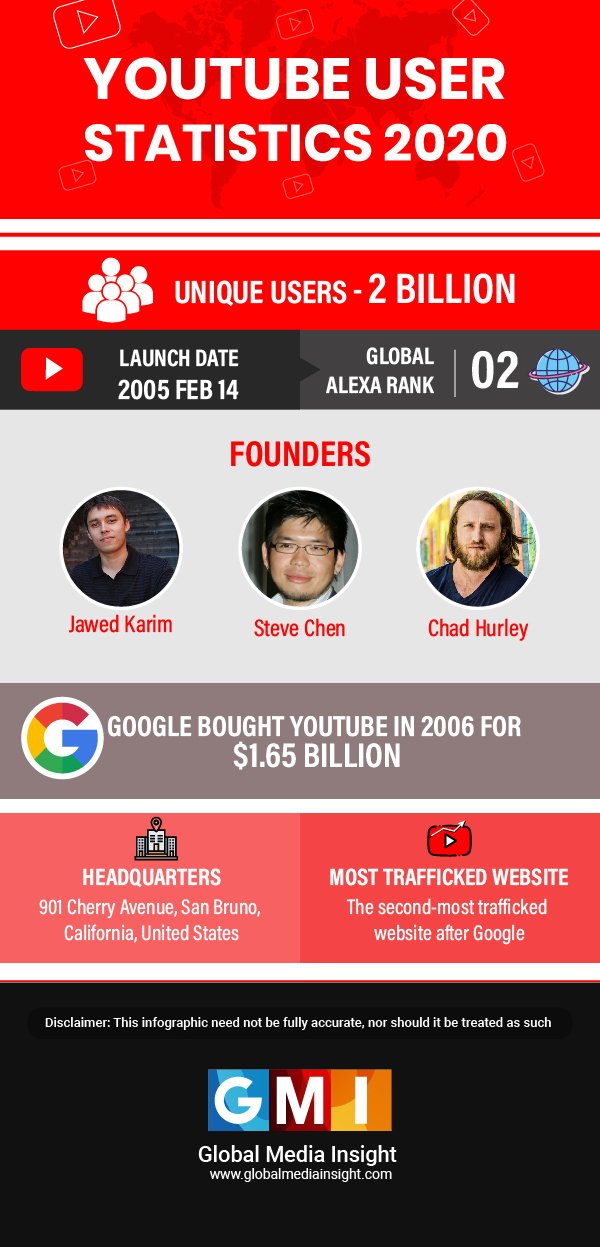 User-base
YouTube tops the chart of video hosting sites with the highest number of visitors. There are currently 30mn daily user logins on YouTube everyday. If you're thinking of ways to cater to a large audience defying geographical boundaries, you could preferably choose YouTube as it is where 95% of the global internet population visits. Also, it is available in over 100 countries and 80 foreign languages.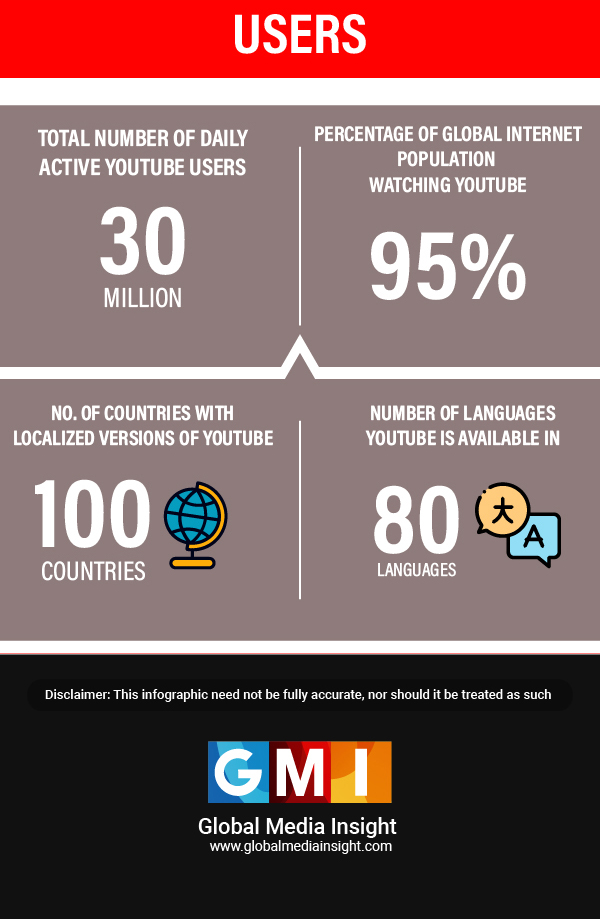 User Engagement
User engagement on YouTube is reportedly high when compared to other websites like Facebook, Twitter and video streaming sites like Netflix. YouTube users consume over 1bn hours of videos daily, which roughly equates to 5bn videos. According to estimates, a user sticks to the platform for about 11mins and 24 sec on average.
Looking at the frequency and volume of uploads, over 500 hours of video uploads happen every single minute on YouTube. This makes the platform a warehouse of videos with more than 5 bn videos shared so far. Every single visit that happens on YouTube is counted as 6.95 page views approximately.
YouTube is quite democratic in the sense that it offers its visitors the freedom to express their 'likes' and 'dislikes' for videos uploaded. The video that has garnered the most number of 'likes' so far is "Despacito" while "YouTube Rewind 2018: Everyone Controls Rewind" bags the credit of being the most-disliked video ever on the platform.
By the way, "Me at the zoo" was the first video that appeared on YouTube and it was uploaded on 23 April 2005.

Mobile YouTube Stats
YouTube has become one of the most favourite platforms for watching interesting videos on the go. Almost every mobile phone (and browser) has got a YouTube application to keep their users engaged. Today, more than 70% of users access YouTube on their mobile devices. This is facilitated by the YouTube app, which, as of Dec 2018, has been installed on over 5 bn Android devices. There are more than 1 bn mobile YouTube views happening every day and an average mobile YouTube viewing session spans more than 45 mins.
YouTube Demographics
Considering the gender of the users, YouTube is more popular with men than women. Male users amount to 62% of the YouTube viewing population, while female users account for only 38% of visitors.
According to the US internet population statistics, the 18-25 year age category makes up the largest visitor base of YouTube with 81%, followed by 26-35 years with 71%. 36-45 and 46-55 age groups come in third and fourth positions with 67% and 66% users respectively. The last place being given to the 56 year and upwards category with 58% visitors.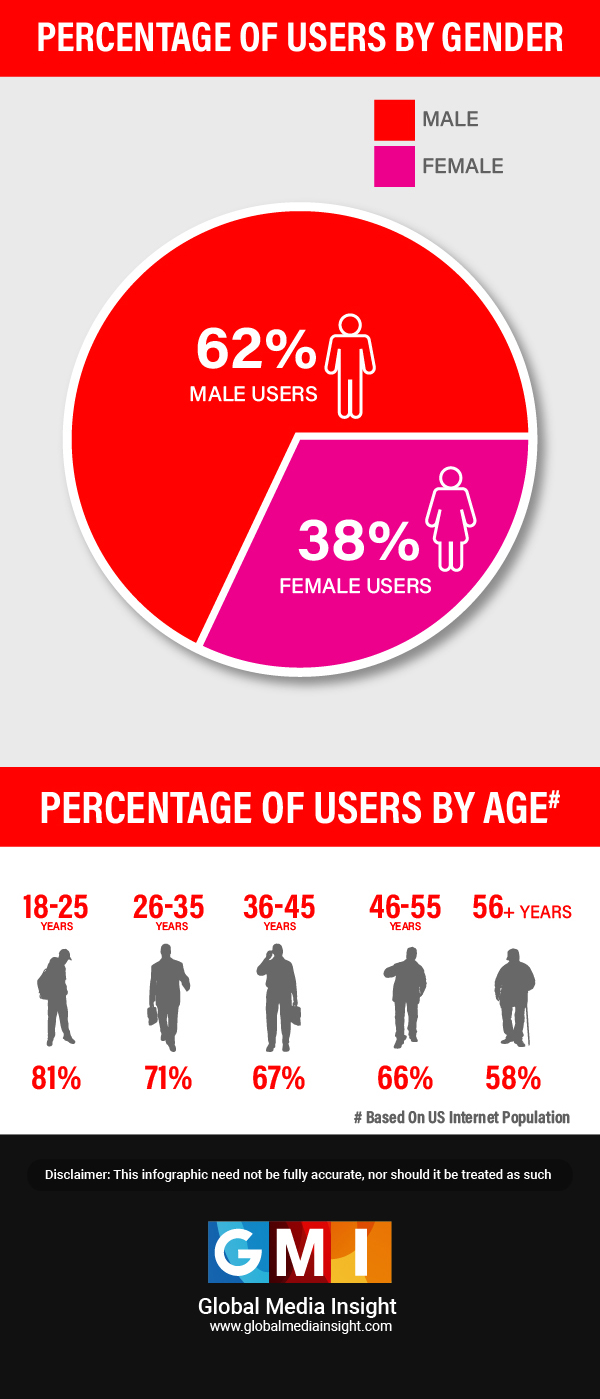 Top 5 Regions
YouTube's user population is scattered across all the world with a large slice falling in five countries viz. India, USA, Brazil, Japan and Russia.
The highest user base is reported in India totaling to over 225mn, followed by the USA with 197 mn users. Brazil takes the third place with 83mn users and Japan and Russia having 60mn and 58mn users respectively.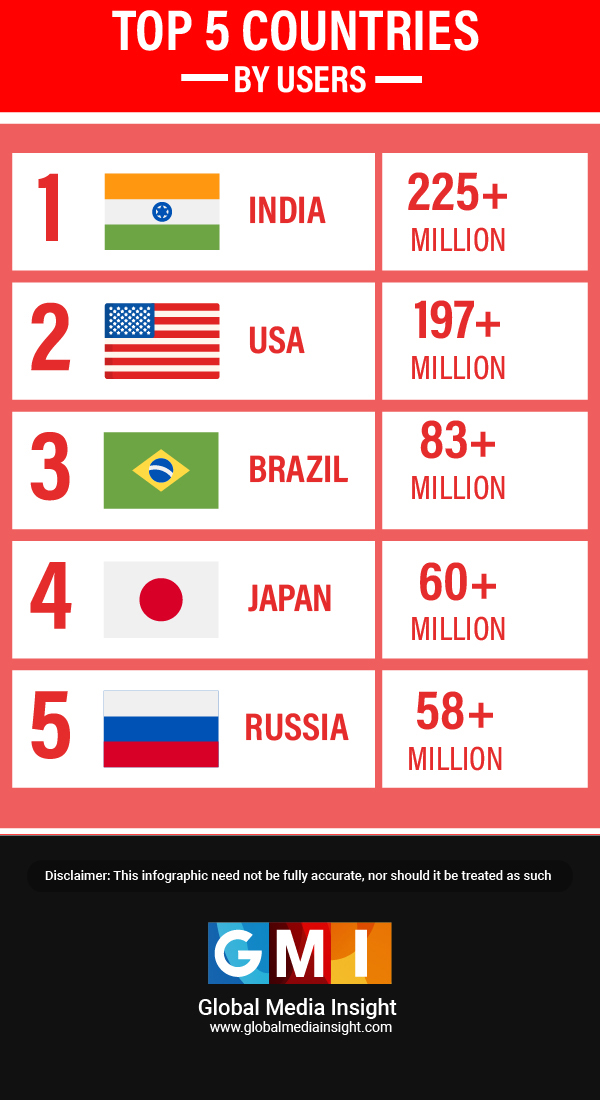 Top 5 Channels
There are hundreds of thousands of YouTube channels created by both individuals and brands. Based on their subscriber following, the channel that comes first is T-Series (130mn). Pewdiepie secures the second place with 103mn subscribers, followed by Cocomelon with 74.1mn subscribers. Set India takes the fourth position amassing 65.9mn subscribers and 5-Minute Crafts, the fifth with 64.7mn subscribers.

Top 5 YouTube Celebrities
YouTube has helped many a celebrity to grow and identify their fan base. The top five among them are Canal Kondzilla, a music video director from Brazil. He ranks top with 54,000,000 subscribers and 27,683,764,917 video views. Justin Bieber, the Canadian-born singer, is the next popular celebrity on the platform with 33,100,000 subscribers and 19,278,046,786 video views.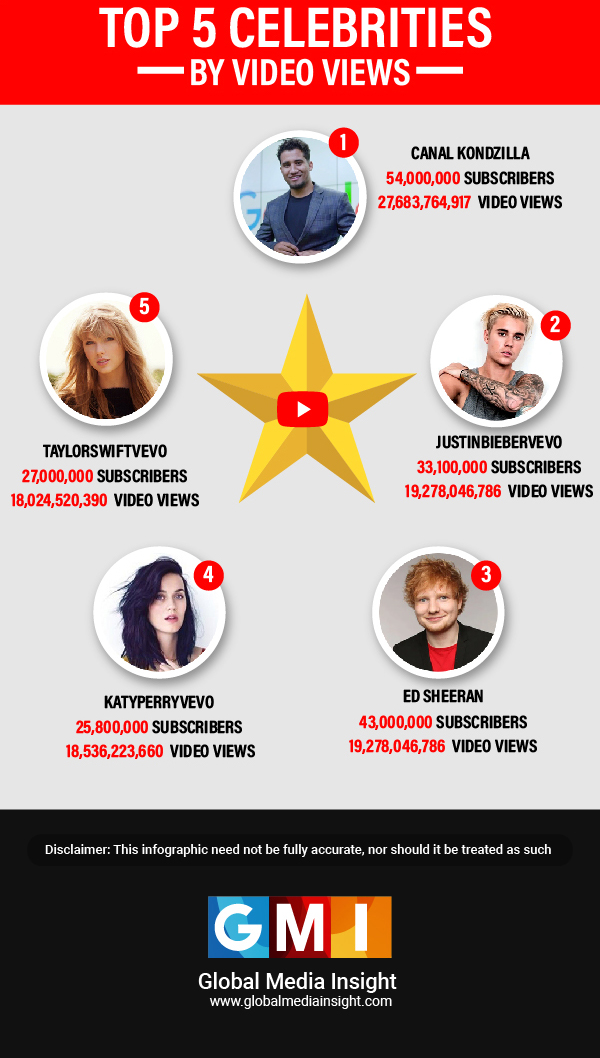 Ed Sheeran of the "Shape of You" fame, comes in third with 43,000,000 subscribers and 19,278,046,786 video views. The fourth place is occupied by Katy Perry, the California-based singer, with 25,800,000 subscribers and 18,536,223,660 video views. The fifth-place again goes to another singer from Pennsylvania, Tailor Swift with 27,000,000 subscribers and 18,024,520,390 video views.
Conclusion
Now, coming back to the question…should you be using YouTube to market your business? Of course, it's an emphatic yes!
When studies say that 95% of internet users watch YouTube, you're missing out on incredible opportunities if you don't include video marketing in your digital marketing mix. Recent research also reveals that YouTube has compelled 6 out of 10 people to give up TV shows, it's time to jump on the YouTube wagon. Build your video marketing strategy with us. Video production and YouTube advertising are two of our fortes and we've been offering these niche services ever since we discovered their enormous potential for business growth. As a digital marketing agency operating in Dubai for more than 20 years, we can assure you YouTube can help propel your brand to the next level. Call us today and we'll help you get started.
« The Impact of COVID- ...
Saudi Arabia Faceboo... »