The Central Bank of UAE (CBUAE) has taken a keen interest in issuing a central bank digital currency (CBDC). The issuance of digital currency is one of the top priority objectives of the country's 2023-2026 roadmap. The latest roadmap aims to revolutionize the country's financial sector by implementing digital transformation with the use of advanced technologies.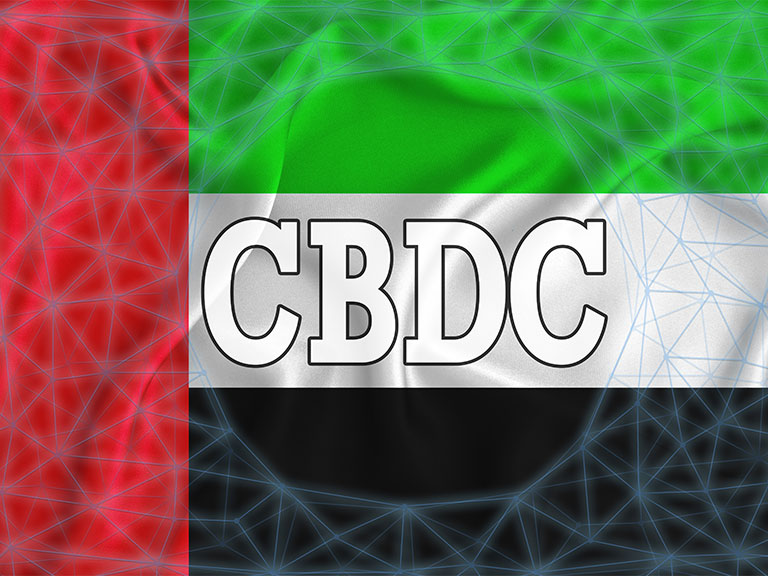 According to reports by the Atlantic Council, 109 countries are taking initiatives to create a central bank digital currency (CBDC). This accounts for more than 95% of the global GDP. As the popularity of digital currencies is increasing, the global finance sector is preparing for a transformation. Today, 11 countries have fully launched a digital currency. 14 countries are in the pilot stage with their CBDCs and getting ready for the launch, of which one is the UAE. What are CBDCs and how are they beneficial? In this article, we will explore CBDC in detail and also discuss UAE's interest in the same.
Table of Contents
What is a Central Bank Digital Currency (CBDC)?
A central bank digital currency is virtual money that is issued and regulated by the central bank of a country. It can be seen as a digital form of the country's fiat currency and can be used as a legal tender for the exchange of goods and services. With a CBDC in place, the traditional forms of money such as banknotes and coins can be replaced and countries can move towards a cashless society with the full backing of the government.
What is the Difference Between a CBDC and Cryptocurrency?
Cryptocurrencies run on decentralized blockchain technology which means that it's not regulated by one central hub but rather by multiple hubs all over the world. This means that owners have direct access to the coins, CBDCs, on the other hand, exist under the central bank's authority. This means that owners can access it through a centralized authority.
While dealing with popular cryptocurrencies like Bitcoin, you need to use a wallet address for the transaction. This means that you can remain anonymous and do not need to reveal any personal information. But in the case of CBDCs, this anonymity is not possible since your details are attached to your CBDC asset. All the crypto transactions are available to the public while in the case of CBDCs, only the sender, receiver and the bank can access the transaction details.
Types of CBDCs
CBDCs can be categorized into two types – wholesale and retail.
1. Wholesale CBDC
Wholesale CBDCs are aimed at financial institutions. It is like having reserves in a central bank. That is, the central bank will provide the financial institutions with an account to deposit funds or perform transfers.
2. Retail CBDC
Retail CBDCs, on the other hand, are for consumers and businesses. It can be used similar to physical currency. Retail CBDCs can either provide users cash-based access (through digital wallets) or account-based access (through bank accounts).
Potential Benefits of Adopting CBDCs
CBDCs have many characteristics that make implementing this currency format immensely beneficial.
They have reduced transaction costs and hence are more effective than physical currency.
Since they are legal currencies, they provide safety against cyber-attacks and threats.
They support financial inclusion making it easy and convenient for everyone to access money on their phone with or without bank accounts.
They can make monetary policy flow swift and easy.
They enhance the efficiency of digital payment systems with fast and low-cost exchange mediums.
They improve transparency in transaction tracking making it easy to limit illicit activities.
Challenges of CBDCs
Some countries like Ecuador and Denmark have discontinued their plans to implement CBDCs due to the various drawbacks the idea poses. Some common challenges that countries may have to address with implementing CBDCs are:
It can impact the entire financial structure of a country and create drastic changes in areas like investments, interest rates, banking reserves, etc.
Privacy is a major area of concern when it comes to digital currencies. The authorities will have to implement strict security measures and constantly monitor to avoid system penetration, thefts, etc.
The bank structure of a country may be upset because there are chances of deposits being transferred from commercial banks to central banks.
Commercial banks may experience a loss of income and borrow money internationally to carry out their operations which could become a threat to the national banking sector.
Banks may compete with each other and introduce strategies like competitive interest rates or bank deposits, which can be detrimental in the long run.
CBDC Status in Different Countries – Key Findings
According to the IMF, nearly 100 countries are planning to develop CBDC and some of them have already launched it.
Countries that launched CBDCs
So far, 9 countries have launched CBDC successfully, and they are:
Nigeria: In October 2021, Nigeria launched eNaira for in-store contactless payments and money transfers.
The Bahamas: Sand Dollar- the world's first CBDC to cover an entire country was launched by the Central Bank of the Bahamas in October 2020.
Eastern Caribbean Union: Dominica, St Kitts, Antigua and Barbuda, Grenada, Saint Lucia, Montserrat, Grenadines and St Vincent are amongst the 7 countries of the Eastern Caribbean Union to have developed their own CBDCs.
Countries where CBDCs are in the Development / Testing / Research stage
Below are countries that are still evaluating CBDCs:
Russia: Bank of Russia completed initial trials of the Digital Ruble in February 2022.
Sweden: E-krona, a digital currency developed in Sweden, has reached its testing stage.
Jamaica: Andrew Holness, the Jamaican PM has announced that the Bank of Jamaica will launch a digital currency in 2022.
Mexico: There are plans to launch a CBDC by 2024.
Pakistan: The Pakistan administration has set a timeline till 2025 to issue a CBDC.
Ukraine: A two-month pilot run for e-hryvnia was successfully completed by the National bank of Ukraine in February 2019.
South Africa: In February 2021 Project Khokha explored the use of blockchain at the wholesale level and in May 2021, the South African Reserve Bank announced a study of digital currencies at the retail level.
South Korea: In February 2019, a 22-month programme was launched to study the implications of CBDC.
Hong Kong: Hong Kong Monetary Authority and the People's Bank of China began testing digital yuan under the project name- e-CNY.
Thailand: The Central Bank will launch a retail CBDC pilot in the second quarter of 2022.
Malaysia: Bank Negara Malaysia joined Project Dunbar led by BIS in September 2021 to test the use of CBDC in international settlements.
Singapore: In 2019, Singapore and Canada conducted the first successful international transaction of CBDCs.
Canada: Timothy Lane, Deputy Governor of the Bank of Canada, in May 2021, said that they were researching the potential of CBDC including its environmental impact.
Haiti: The Bank of the Republic of Haiti is planning to test the digital version of the Haitian Gourde in 2022. The project name is Digital Gourde
Venezuela: In October 2018, Petro was launched – a digital currency, which is not active today. This was followed by Digital Bolivar, which was launched in October 2021.
Brazil: Pix, an instant payment system, launched by the Brazilian Central Bank in November 2020, had a successful run. Following this, the Bank is exploring the possibility of digitizing its national currency-real.
Switzerland: Project Helvetia- a wholesale digital currency trial was successfully completed by the Swiss National Bank in December 2022.
Euro Area: The ECB launched an investigation into CBDC. The project name-Digital Euro (Retail) and Project Stella (wholesale).
Turkey: The Central Bank of Turkey, in December 2020, announced a pilot form of digital lira to be rolled out in the second half of 2021.
Lebanon: A debut of the digital currency was expected in 2021, however, no further updates have been provided.
Israel: In June 2021, the Bank of Israel said that the preliminary pilot test of the digital shekel had been conducted.
Bahrain: In May 2021, the Central Bank of Bahrain started a collaboration with JP Morgan and Bank ABC to develop a cross border digital currency settlement pilot program.
Cambodia: The National Bank of Cambodia launched Bakong, in October 2020. This is a DLT based interbank payment system that has received widespread acceptance.
U.S.A: The Biden government signed an executive order on digital assets on Mar 9, 2022.
Belize: The National Bank of Belize has planned to launch an e-wallet on the bank's mobile payment networks.
Honduras: Banco Central de Honduras announced research plans on digital currency in June 2021.
Trinidad and Tobago: The CBTT with assistance from the IMF continued its research on CBDCs in 2021.
Let us further explore the development plans of CBDC in some other countries:
India's Roll Out Plan for CBDC
In the Union Budget 2022 announcement, India's finance minister Nirmala Sitharaman announced India's plans for launching CBDC. India expects to launch its digital rupee in the 2022-23 fiscal year. With the introduction of CBDC, the currency management system is expected to become more efficient. CBDC will be issued by the Reserve Bank of India and will boost the country's digital economy.
With the introduction of CBDC, India aims to enhance access to digital payments. India is currently under the "Development Phase" category in the global CBDC race along with countries like Russia, Japan, Australia, etc. To handle project CBDC, RBI has launched a separate department called the Fintech Department, which will take care of all things related to CBDC execution.
China's Digital Currency Roll Out
China will become the first major economy to launch a nationwide CBDC. At the 2022 Beijing Winter Olympics, China will roll out the digital yuan. China has been exploring digital currencies since 2014. Over the years, it has run several trials across several Chinese cities. In preparation for the CBDC launch, people from overseas are given the provision to convert foreign currencies to digital yuan starting from February 4.
UAE's Stake in CBDC
UAE has been encouraging digital currencies from early on with the support of cryptocurrencies and initiatives taken on CBDC development. "Besides seeking to develop advanced and secure cloud infrastructure to operate financial and insurance services, the strategy aims to support the UAE's green economy efforts and continue work to develop more innovative financial infrastructure to boost the UAE's competitiveness in this field," says a statement released by the UAE Central Bank on CBDC development.
Timeline UAE Launch of CBDC
As a part of its 2023-2026 strategy, The UAE Central Bank (CBUAE) is preparing to launch its digital currency. The move is also expected to help CBUAE's goal to be among the top ten central banks worldwide.
In 2019, the CBUAE also collaborated with its peer in Saudi Arabia for a cross-border payment project using blockchain technology in a project called Project Aber. The project concluded that distributed ledger technology can be used to facilitate cross border transactions successfully.
In 2021, it was announced that the CBUAE was working with three central banks from China, Hongkong and Thailand to test cross-border transactions. The Bank of International Settlements was also reported to collaborate on the project. This "Multiple Central Bank Digital Currency (m-CBDC) Bridge" is expected to test the use of distributed ledger technology for foreign currency payments.
In the 2023-2026 roadmap, along with CBDC the UAE central bank aims to promote digital transformation in the entire finance sector. To foster financial inclusion, it plans to take measures such as the use of digital IDs, AI and ML to improve inspection and monitoring.
What is The Future of CBDC?
Till February 2022, 9 countries have launched CBDCs. 78 other countries are going ahead with their CBDC initiatives in full swing. These include the UAE, India, Jamaica, Sweden, etc. Although CBDCs are still evolving, they offer a wide range of opportunities to the finance sector. With the central banks ready to adopt innovative technologies, CBDCs will be the future of finance.
Frequently Asked Questions (FAQ's)
1. Is CBDC a cryptocurrency? 
CBDCs are digital currencies similar to cryptocurrencies but issued by a central bank.
2. How are CBDCs different from other forms of digital payment?
CBDC is a direct liability of the Central Banks and unlike other forms of digital payment, a person need not have a bank account to make digital payments with CBDCs.
3. How are CBDCs different from fiat money?
CBDCs are a digital form of fiat money. They are not different from hard cash except in their form.
4. How would a CBDC transaction work?
Central banks can use three operating models for CBDCs:
Unilateral CBDC: Central bank issues money as well as carry out all functions.
Intermediate CBDC: Central bank issues money but the functions are carried out by non-central media intermediaries.
Synthetic CBDC: Non-central banks issue money backed by central bank assets.
5. How many countries have launched CBDC?
To date, 11 countries have launched CBDCs. It is in the pilot phase in 14 countries.
6. Has the UAE adopted CBDC?
Yes, in fact, The Central Bank of the United Arab Emirates has stated that the issuance of this digital currency is a part of its roadmap for 2023-26.
7. What is the mCBDC Bridge?
The multiple CBDC bridge (aka mCDBC bridge or mbridge) is a project aimed to facilitate payments across borders. It is a joint initiative by the BIS Innovation Hub, the Hong Kong Monetary Authority, the Bank of Thailand, the Digital Currency Institute of the People's Bank of China and the Central Bank of the United Arab Emirates.
8. What is Project Aber?
Project Aber is a joint effort that started in 2019, between SAMA (Saudi Arabia Monetary Authority), CBUAE (Central Bank of United Arab Emirates) and six commercial banks, three from each country. The project made use of real money and studied the effect of a single cross-border dual-issued currency. The research revealed that Central banks can use DLT (Distributed Ledger Technology) for domestic and cross-border transactions in new ways.
(Visited 150 times, 1 visits today)