Last year, Facebook's live streaming was allowed only for popular faces but this has drastically changed now. Anyone with an iPhone can broadcast live videos through Facebook's new live streaming feature.
Though this feature is implemented for US iPhone users currently, Facebook live streaming  is expected to reach the rest of the world within a short while.
How does the new Facebook live streaming work?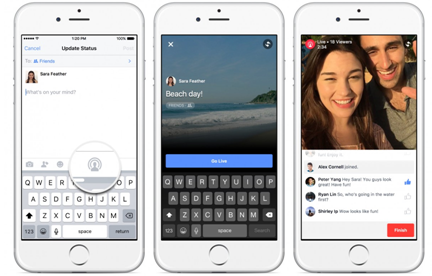 You will be able to see a new 'Live Video' icon (see image above) under your status update bar on Facebook. Once clicked, it takes you to the next screen where you will be asked to write a description about the video you're going to broadcast. Once that's done, you can go ahead and select your audience, and simply click 'Go Live' when you're ready to broadcast. You will also be able to see who's viewing your broadcast and receive real-time comments. When you're done, your video will be saved to your Facebook stream.
Allowing live stream access to iPhone users drives more users to Facebook since people enjoy watching and sharing certain out of the ordinary moments. When videos of others are real attention grabbers, the chance of self-made videos making it to the most 'Liked' and 'Seen' ones is even higher.
Facebook Sports Stadium
To add to the scope of Facebook live streaming, Facebook has now announced the launch of another new hub, Facebook Sports Stadium.  This is expected to satiate the demand for a live sports
broadcast platform.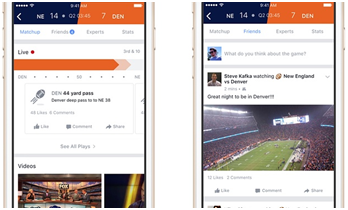 With Facebook Sports Stadium, people can closely follow game events, receive live statistics, and get special commentaries from media people, opinion from friends and more. This newly designed feature therefore has the potential to reach a wide audience during a sports event- a boon for the advertising world. Though Facebook is initially launching the tool for football lovers, it may later expand to other popular sports events like basketball and soccer.
While announcing the launch, Facebook product manager Steve Kafka commented in a blog, "Sports is a global interest that connects people around the world. This product makes connecting over sports more fun and engaging, and we will continue listening to feedback to make it even better."
 Our team of social media experts at Global Media Insight UAE would be glad to help your brand and business to stay updated with the latest trends on every social media platform. Give us a call or drop a line today.
(Visited 48 times, 1 visits today)