It's 2023 and Dubai's real estate market is shining bright. Visionary initiatives by the UAE government, such as golden visas, 100% ownership for foreigners, low investment threshold, and Dubai 2040 Urban Master Plan have succeeded in painting Dubai as an ideal investment landscape. As the real estate companies are preparing for this boom, a key area they are focusing on is their digital presence. Real estate websites in Dubai are the step up to the next level. To create a distinctive identity in the competitive Dubai real estate sector, websites are a must.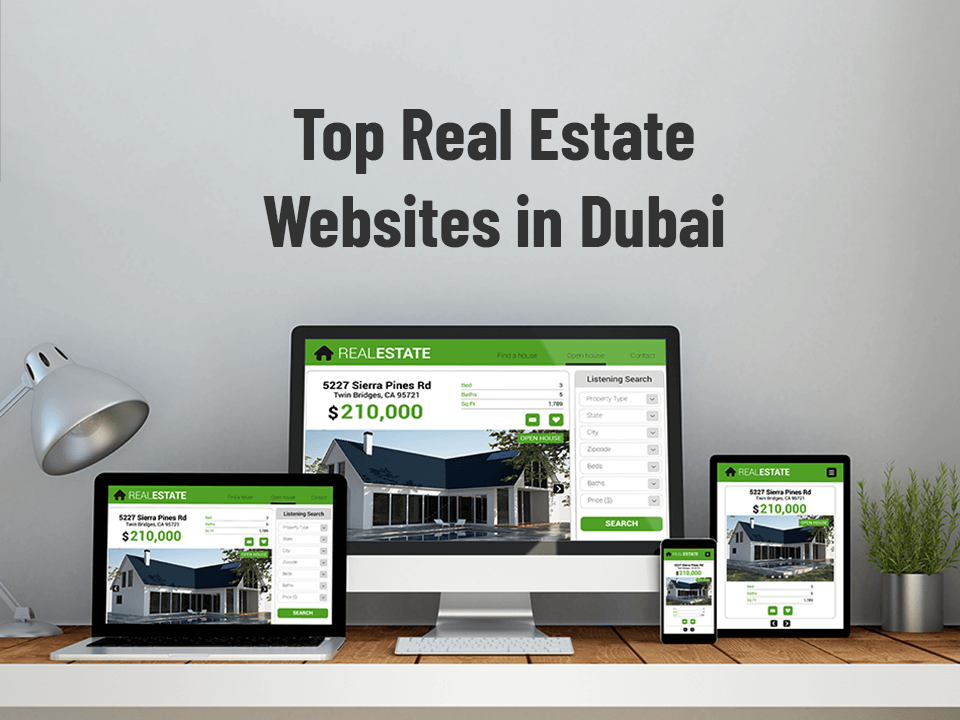 With so much in store for the real estate market in Dubai in 2023, we decided to take a look at the websites of leading real estate companies in the UAE. We created a list of the top 10 of our favorites based on usability, functionality, and aesthetics. Want to know who uses the latest real estate techniques to catch customers? Take a look! Also, keep reading to know what are the eight must-have features that we think every real estate website should have. 
10 Top Real Estate Websites in Dubai
One of the largest real estate developers in UAE, with projects like Burj Khalifa and The Dubai Mall to their acclaim, Emaar properties undoubtedly rule the real estate landscape in the country. They are an award-winning, multinational company and their website top our list, owing to its clarity and amazing user experience.
The website is simple and engaging. An interactive homepage that showcases the Emaar properties greets the website visitor. The search feature is prominently located and includes key search options like property type, bedroom numbers, price range, and preferred community. The visitor can easily switch between English and Arabic languages, which is an important aspect given the company's multinational presence.
Three features of the Emaar website that truly impressed us are:
Interactive map: A smart interactive map shows all Emaar homes across Dubai. You can choose your preferred community and filter projects by types, like apartments, offices, villas etc. You can also view nearby public transport, education, health and shopping facilities.
Virtual tour: You can tour Emaar homes with interactive, 3D walkthroughs. Choose a property and explore everything about it. The virtual tour is exceptional with a floor plan, dollhouse view, and measurement tool, which gives you an accurate perception of the property.
Instant video call: In case of enquiries, no need to fill out a form and wait for the company to contact you. You can just schedule a live meeting with the sales team on any day of your choice.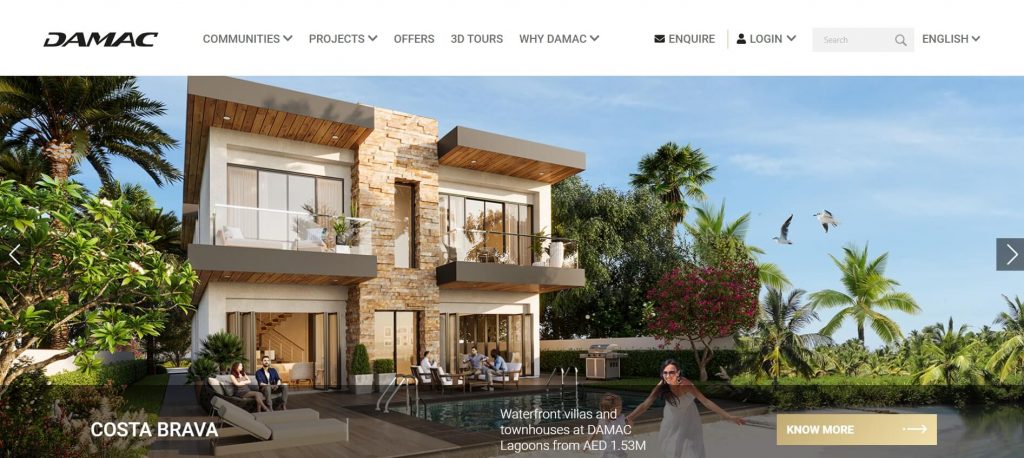 Damac Properties is a luxury real estate developer based in UAE, with its presence spanning across the GCC, Levant, and UK. Their website is clean, well-organized, and available in three languages – English, Arabic, and Russian.
You can easily browse through the Communities tab to find luxury homes for sale. The "Find Properties" feature allows you to search for properties of your choice by entering options like property type, price range, country, etc. It is also possible to search for different projects of the Damac group and get details regarding each. Easy navigation is a plus point of this website.
Three features of the Damac website we found interesting are:
3D Tours: You can experience Damac properties with the interactive 3D tours which have some amazing visuals. It has a floor plan, 360 degree views, measurement tool and you can also view the space in VR!
Sticky footer: The contact options are displayed on a sticky footer making it possible for the visitor to access the contact details anytime during their browsing.
Credibility: Sections like "Damac in the News" and "Working at Damac" add to the credibility of the company and impress potential customers.
Masters of the iconic Palm Jumeirah, Deira Islands, Al Furjan and many other landmark projects, Nakheel is a world-class property developer that has contributed immensely to the present day Dubai landscape. Their website is minimal, aesthetic and well-organized.
An interactive video showcasing the different Nakheel properties in UAE welcomes users on the website. A neatly arranged menu makes it easy for users to navigate through the website. Their verticals include residential sales, home rental, hospital & leisure, and malls – all of which can be explored easily from the top menu. They also provide virtual tours for selected properties.
Some notable features of the Nakheel website are:
Online services: The website offers e-services such as enquiries, direct online applications, supplier registration, online payments, etc.
Live chat: To receive quick assistance, you can utilize the online live chat feature which will instantly connect you with a representative.
Online meetings: You can book online meetings for sales offers, customer services, real estate agency services and more from the website by choosing the desired category, picking a suitable date and time, and entering details.
Dubai Properties is the name behind the world's largest single-phase residential project, Jumeirah Beach Residence. They are a leading real estate developer in the UAE with commendable expertise in the residential sector.
Through their simple and information-rich website, they convey their experience in the real estate field in Dubai eloquently. The website supports both English and Arabic. Their comprehensive portfolio is accessible from the main menu, which gives details of all their projects. Users can also explore their properties through virtual tours, which gives a good idea about the different settlements. Apart from the virtual tour, they also have a gallery for each property with images from multiple angles.
Some interesting features we found on the Dubai Properties website are:
Quick register: A quick register feature to know more about properties that you are interested in.
RealConnect: A one-stop portal that helps to manage all properties easily and conveniently. It supports service requests, service tracking, payments, and invoice management.
Live chat: A readily accessible live chat feature with a virtual agent.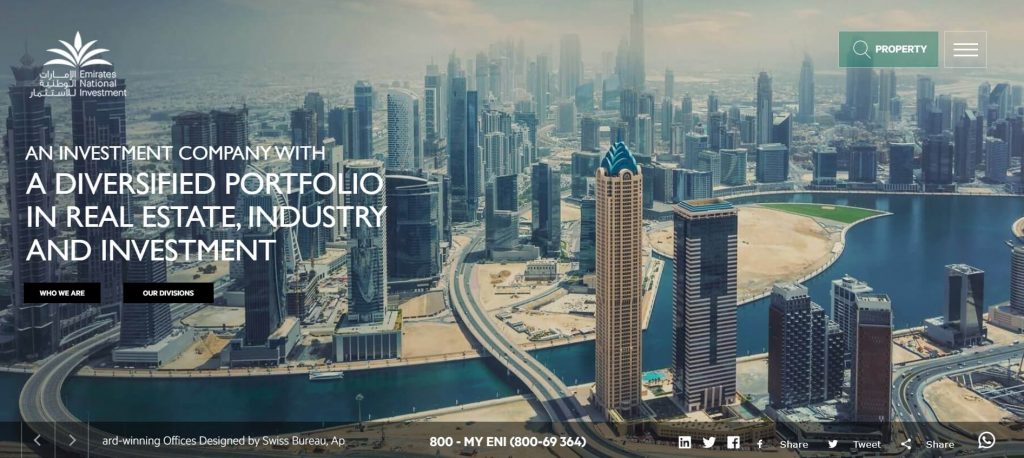 Emirates National Investment (ENI) is an investment company based in the UAE with a diverse portfolio including real estate, construction, and agriculture across the MENA region. Their website is one of the most visually appealing websites among all real estate companies in the UAE. A visitor can easily navigate through the website and explore ENI's divisions (real estate development, property management, investment) and properties through the well-organized menu.
The website is interactive, smooth functioning, and imparts a luxury feel. Good use of the content, images, and design paves way for a great user experience, making the website stand out. It does not overwhelm visitors with information, but at the same time allows users to access any information easily when required.
Three features that caught our eye on the ENI website are:
Search: The property search option located on the top right will definitely catch your attention and make your search easier.
Featured properties: All the featured properties are displayed in a well-organized list and for each property, images, product description, and location map are provided.
Booking: You can make an appointment to visit a property, directly from the website, by picking your convenient day and time.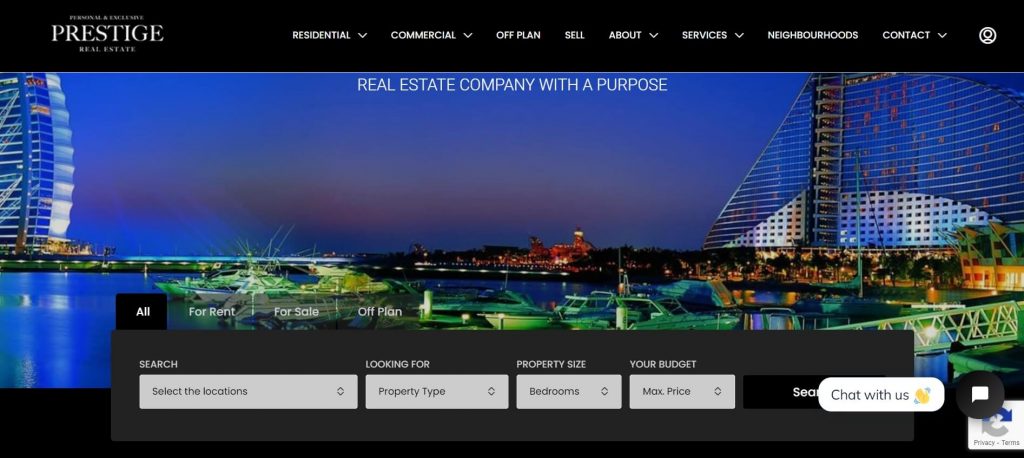 Prestige is a luxury real estate company in Dubai and their website reflects this identity. Their services include property management, residential sales, residential leasing, commercial sales, commercial leasing and market appraisals. The website is set in a black background, making the images pop out beautifully and compelling the visitor to take a look at them.
A detailed search feature located prominently on the website allows users to search for properties based on location, property type, property size, and budget. To sell properties with Prestige, users can simply click on the Sell menu and book a free valuation. They provide advertising and marketing support to enhance the selling process.
Some features that caught our attention on the Prestige website are:
Featured listing: A featured listing of all properties, which is updated every day. It helps users to identify the best properties and get detailed information about them in a quick view.
Customer reviews: The website showcases reviews from customers, which helps to add credibility to the company and build trust in its services.
Chatbot: A live chat feature that assures immediate response. It is quite useful for urgent queries.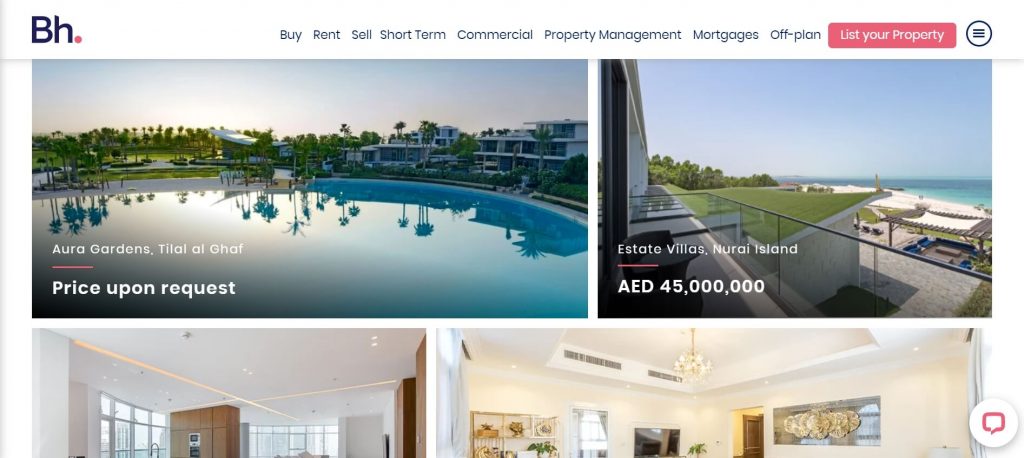 Founded in 1986, Betterhomes is a well-established real estate agency in the UAE for buying, selling, and renting homes. They also specialize in commercial real estate and provide property management and mortgage services. Betterhomes website is beautifully designed with a catchy colour scheme and plenty of white space, making the browsing experience very satisfactory.
A detailed search feature on the homepage with advanced search options makes it easy to find exactly what you are looking for. The properties are displayed well and upon clicking each property, you are presented with options to view photos, maps, videos, and 360 views of the property. You can also book an appointment to visit the property from the same page, after which an agent will contact you to visit the property.
A few features on the Betterhomes website that we loved are:
Property details: Excellent presentation of property details including photos, videos, map, written description of the location, facilities, amenities, monthly cost estimation, and contact agent details.
Share option: You can share property details through social media channels like WhatsApp, Facebook, Twitter or through email.
List property: Easy to list your properties for selling or renting with a free valuation to find your property's worth.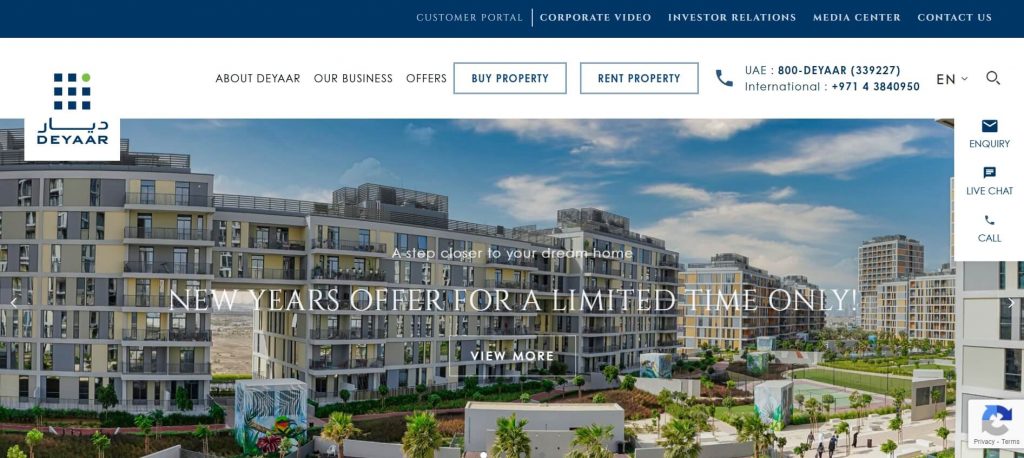 Deyaar is one of the largest property developers in Dubai with landmark projects spread across the emirate. Their website, which is available in English and Arabic, is well-organized into different sections with clear call-to-action buttons. A well-defined search option makes it easy to search for properties. For each property, an overview is given with property details, images, and a map. Moreover, separate CTAs are given in the main menu for buying and renting, which simplifies user navigation extensively.
Three notable features on the Deyaar website are:
Interactive map: You can search all Deyaar properties through an interactive map which allows you to filter by location, type, and property name.
Featured properties: Trending properties are marked with a "Hot" icon, helping users know the properties that are in demand.
Live chat: You can register for a live chat anytime during the website browsing as it is accessible from all pages.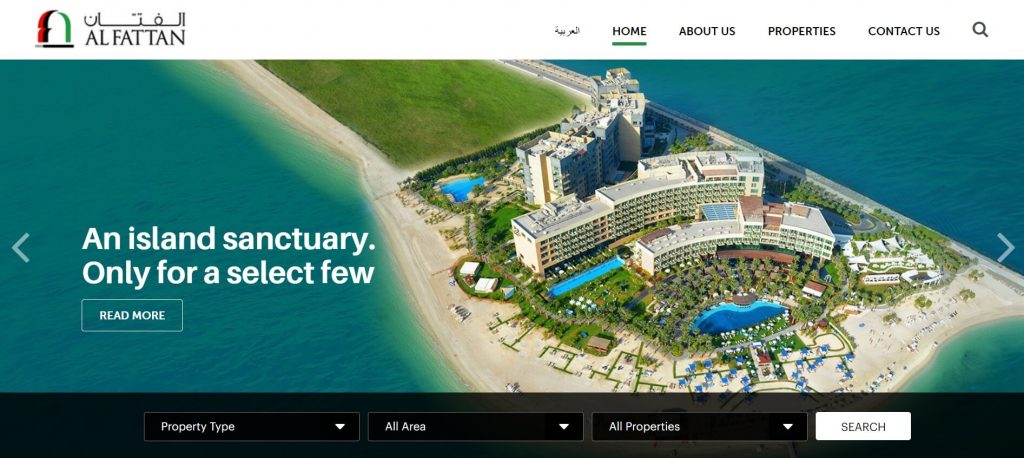 A well-established real estate company in UAE, which was founded in 1974, Al Fattan Properties has played a distinguished role in the development of Dubai. This Dubai real estate company's website stands out for its simplicity. The visitors can switch between English and Arabic, and explore different properties like residential, commercial, and mixed units with just a click on the main menu. The website is subtle, informative, and offers intuitive navigation guiding visitors to their goals easily.
Some interesting features we noticed on the Al Fattan website are:
Property descriptions: Informative property descriptions, which includes an image-rich gallery, layouts, facilities, and map view.
Search: Simple search feature visible above the fold of homepage, which improves its usability and accessibility.
Satellite view: A satellite view of property locations and nearby amenities.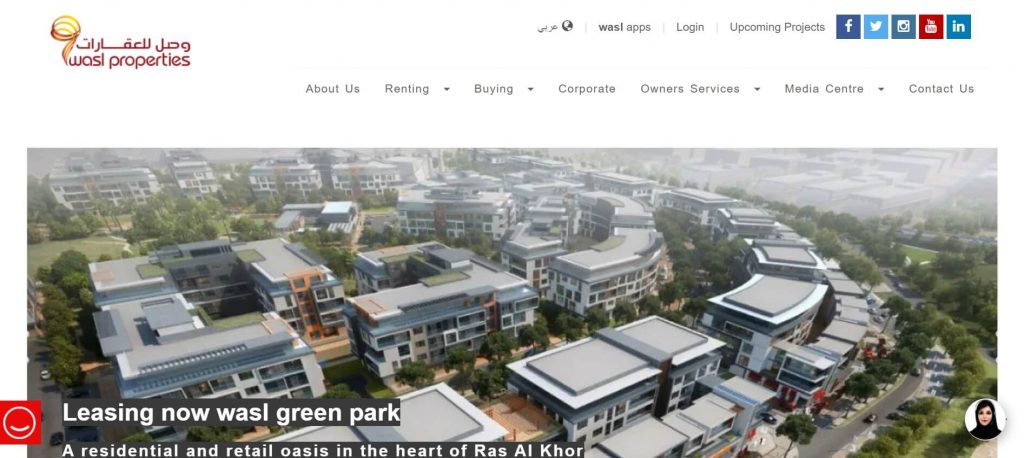 An established real estate agency in Dubai, with an extensive portfolio of over 5000 residential and commercial properties, Wasl Properties is a key player in the real estate market. Their Dubai real estate website is simple and to the point. It's available in Arabic and English, and the clear menu makes it easy for users to access any service they desire. Whether you want to rent a home, need space for commercial purposes or are looking for a freehold plot, the website's intuitive navigation will guide you to the exact sections.
Three beneficial features we noticed on the Wasl Properties website are:
Virtual Assistant: You can make use of the virtual assistant to search properties, raise service requests, or request status updates.
Reservation: You can reserve any property directly from the property details page by creating an account and making a payment.
Quick search: A quick search feature allows you to quickly search for any property you have in mind. If needed, you can also refine the search with additional filters.
Bonus: Haus & Haus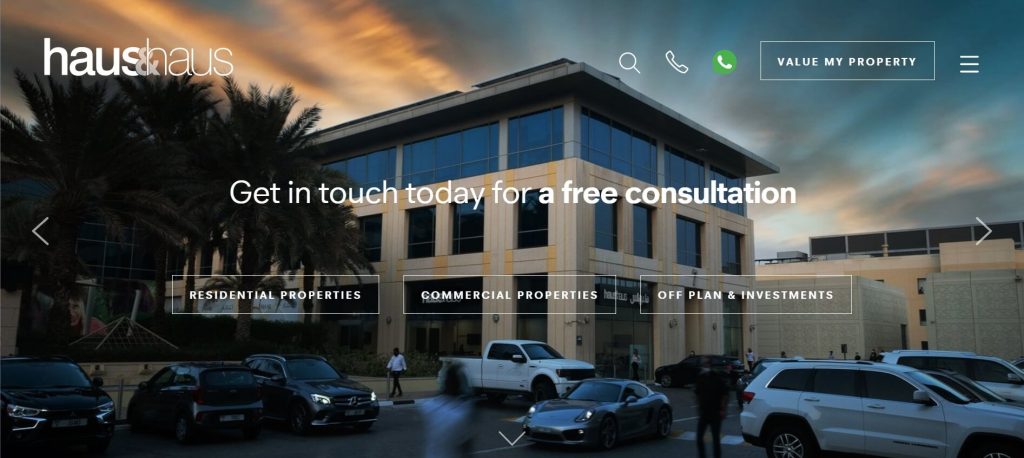 We looked at the top 10 real estate websites in Dubai. As a bonus, we have one more website for you, a recent entrant into the real estate sector in Dubai – Haus & Haus. They are experts in residential, commercial, and investment properties and also offer property management, sales, and leasing services.
They have a very efficient website with clear and prominent call to action buttons. You can check out properties, do a search, or request a property valuation right from the homepage. A call enquiry option, as well as a WhatsApp chat option, is prominently displayed. The website, set in black and white, is easy on the eyes. Featured properties are listed on the homepage. For each property, descriptive details and images are provided.
Some features we loved on the Haus & Haus website are:
Credibility: The website has separate sections for testimonials and awards, which greatly adds to the credibility of the agency. Both written and video testimonials are provided and help to increase the trust factor. The Awards section brings attention to the amazing performance of the company.
Finance calculator: For each property, a finance calculator is provided to help potential buyers figure out purchase costs, required upfront, etc.
Simple Menu: The menu is displayed as white text on a black background, is written in a clear font, in a simple and straightforward design. It takes the users where they want to navigate easily and smoothly.
8 Must-Have Features for a Real Estate Website
While analyzing the websites of different real estate companies in Dubai, we felt some of them excelled in providing a satisfactory user experience while some were difficult to navigate. Our analysis helped us conclude eight must-have features that every real estate website should have.
1. Advanced search
A search option is essential to help users find what they need easily from the large number of properties listed on the website. The search should contain filters such as property type, neighborhood, number of rooms etc. It's best to locate it on the homepage where users can notice it right away.
2. Images and videos
High-quality images and videos of properties help users know more about a property. The user interaction will increase for properties that have good images and videos. If you can also provide a virtual tour, it will be the best!
3. Contact methods
Make it easy for users to reach out to you when they are interested in a property. Some websites give contact forms for instant enquiry while others provide their number or email id. On some websites, users could schedule appointments for real visits from the website itself, which we thought was pretty useful.
4. Map view
Map view is a must-have as it helps users explore the neighborhood of properties and figure out the amenities and services available nearby.
5. Featured properties
Providing a list of features properties can greatly help to attract the attention of users. This could be properties in the most sought after neighborhood or properties that are available on a huge profit margin.
6. Customer testimonials
Nothing speaks as powerfully as good words from previous customers. If your website has a testimonials section with positive customer feedback, it will build credibility and also make potential customers trust you.
7. Mobile compatible
Today, half of the website traffic comes from mobile devices. So, having your website to be mobile responsive is essential if you don't want to lose out on potential customers.
8. Chatbot
A live chatbot, available 24*7, will be a great asset to your real estate website as it can contribute to solving user queries at all times. Your website may get visitors from all over the world and a virtual chat assistant can cater to their needs efficiently.
How to Choose a Web Design Agency for Your Real Estate Website in Dubai
Our list of top 10 real estate websites in Dubai must have given you a good idea about the features that a real estate website should have to meet user expectations. The visitors should be able to search and explore all properties easily. The design, navigation, loading speed, functionality – all of these criteria must be met for the website to be successful and stand out in the Dubai real estate market.
A professional web design agency in Dubai can help you develop a website as per your requirements. When choosing an agency, you should take care that they tick the following three points:
Experience: Do they have considerable experience in the web development industry? Choose an established firm over newcomer agencies.
Expertise: Have they done similar projects in the past? Relevant expertise means they will be able to contribute meaningful insights which can greatly help you.
Communication: How effectively can you communicate with them? Communication is a key deciding factor. Pick an agency that speaks your language and listen to your needs.
Global Media Insight is a leading digital marketing agency and web development company in Dubai, UAE, and across the Middle East. We provide best-in-class web design and development services keeping with the latest trends. We are the finest choice for building your real estate website in Dubai because we don't just develop a website, but also provide SEO for real estate. Our SEO services are top-notch and have helped several businesses rank first on Google search. Do you want to build a website and get it to rank high on Google search results? Get in touch with us right away! We would be happy to hear from you.
(Visited 2,111 times, 16 visits today)