What is content Marketing?
A web site can be promoted in many ways. Advertising used to the most common option. In the beginning there was banner advertising. Then came search marketing – search engine optimization and search advertising. As search engines evolved, the importance of content in websites increased. What initially started as a sub set of SEO, is growing steadily in importance. By and by, Content marketing evolved. Content marketing is a technique used by organizations to distributing relevant information to a target audience. In the process the organization, its brand or its products or services get marketed. The purpose of content marketing is to attract customers with valuable and reliable information and ideally without them realizing it. You establish a rapport with your customer, one step at a time; eventually grow it to a long-term relationship. Building trust by providing them with the information they require is certainly a major agenda. Customers in turn will reward you with their business and loyalty.
Why do you need Content Marketing?
Let us analyse what compels a customer to buy online. Previously, it was all about the sales pitch. You listen to the most persuasive argument and buy the product. Now customers have become more discerning – while a few may still fall for it, vast majority are not willing to fall for that trick anymore. The internet has turned the traditional sales and marketing strategies on their heads. Customers are not waiting around to be sold a product. They have all the information at their fingertips from product specifications to user reviews and competitive pricing. So how do you sell your business? The best tactic is not to sell your product or services outright. Seems rather strange, but trust me, it works out on the long run. What you need to do is build a loyal audience for your website. How do you do that?
Smart Content Marketing
The best method is by providing your customers with information not just about your product or service, but the entire range of knowledge that encompasses their interest. For eg. If you market a brand of baby products, then your website should give the customer generic information on pregnancy, child birth, child development and so on. This approach provides prospective clients with what they want while making you the expert resource on the subject matter and people always want to do business with the leading authority in the field. When planning your content marketing strategy, it is best to consider content, social media and SEO as primary parts of the sales process. In the real world, you may avoid buying products and services from the stiff necked sales executive who is well stuffed with marketing jargon. But you would prefer to interact with a well natured, considerate, salesman who has enough product knowledge. He is also aware about the practical benefits, pros and cons of the products he sells. He is also aware of the practical difficulties when you buy the competitor brands, which he casually shares with you. He also tries to personally meet and greet you, when you step in to the retail outlet. Do you notice official website communication, the slightly informal blog post and the very informal & direct relational social media conversations all rolled up in this sales man!! Similarity, on your website , the content should be valuable and reliable. It should answer questions and encourage your audience to accept changes in their lives and be open to new experiences. Invite your audience to share their new experiences via social media, thereby creating a social network involving your business. Google and other search engines refer to these social indicators while crawling for authoritative links. Once you have established valuable content and a strong social media presence, it is time for search optimization. Edit your website copy to make sure it contains enough content with strategically placed keywords that refer to the topics you want.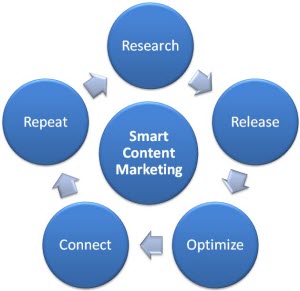 Smart Content Marketing Steps The steps towards smart or agile content marketing are 5-fold. Research– Conduct your own market research into what your target audience is searching for and buying. Release– Upload new content on your website on an experimental basis and try to generate meaningful feedback. Optimize– Rework your content based on new research and customer responses. There are bound to be early mistakes, so be open and willing to make changes. Connect– Build long-lasting relationships with your target audience with valuable and reliable content, blogs and social networks. Repeat– Do not rest on your laurels once you have attained a good result. Content marketing is a continual process, analyzing latest results, evolving trends and emerging markets. With all these points in mind, you are now ready to optimize your website and business with Smart Content Marketing. Should you feel that you lack time and want the experts to do it. Just drop us a line with your contact details. We can carry out an effective content marketing campaign for you. Our content team, is supported by a website analytics team who would measure the impact of content marketing and provide you with periodic reports. Contact Us now >
(Visited 28 times, 1 visits today)