You might have seen the term "Staycation" pop up frequently in recent times. Let's find out more about this new kind of vacation.
What is a Staycation?
Staycation is when you choose a local stay over a foreign trip. The idea is to spend quality time with friends and family indulging in various leisure activities.
A Staycation can also be about exploring or experiencing indigenous things that are new to your knowledge.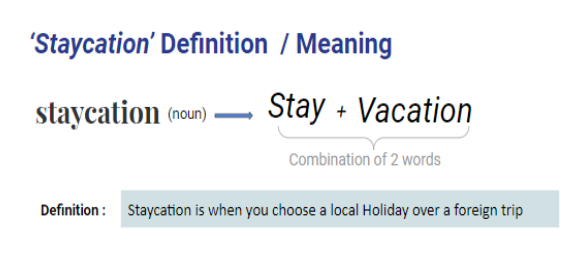 Why is Staycation trending in the UAE?
According to Google Trends, internet searches for 'Staycation in UAE' increased significantly in the past year, thanks to the global pandemic. In view of the current travel restrictions, it is still considered the best holiday option for travel lovers.
And of course, it's safe as long as you stick to the protocol. Staycation is looked up as the "next big thing in tourism", as you can go on a break without compromising on your health or safety. Also, there are plenty of hotels and resorts strategically promoting their all-inclusive staycation deals.
At the same time, a staycation has numerous benefits – the best part is staying at a luxury hotel, soaking up all the comfort it offers. The advantages are endless. Let's look into some of them!
Advantages of a Staycation
Safety
The pandemic has taught us a couple of lessons. One, that travel is more a necessity than a luxury. Two, the awareness that the safest place on earth is one's own home. At the same time, you need occasional breaks from your daily chores to eliminate stress and reboot your system. So, choosing a staycation helps!
Economical
Staycations are of course cheaper than abroad trips. You are aware of the expenses that you're likely to encounter, which is not the case when you go to a foreign place. Since Covid-19 has cost us all financially, opting for a staycation can be a thrifty decision. You can enjoy the fun of a vacation without burning a hole in the pocket.
Convenience
A staycation is more convenient than a holiday abroad. You don't have to think about unnecessary things like currency, language, culture, etc. Also, you don't have to carry big luggage. Just pack the bare essentials and go!
Less Planning
You don't need so much planning for a staycation. The chances of your trip being canceled are very slim. Also, you can do away with the stress of keeping up to date with the latest developments on travel regulations and announcements on halting or resuming flights. With less planning, you can have a relaxing vacation away from your home.
Eco-friendly
s you are not taking flights and using other long-distance transport systems, carbon emissions remain low, which is a great thing. You are happy, and nature is happy too. Just another reason why a staycation is a cool choice!
Things to do on a Staycation
Well, you can do a wide array of things on a staycation. But the most important of all is choosing the right accommodation. Since you've saved a lot of money by deciding not to go on a holiday abroad, you can certainly go for good accommodation for your staycation. The place you choose to stay will provide the base for your entire adventure.
Here are some of the typical staycation activities people do in Dubai.
Booking a hotel or a resort for a couple of days
Going on an adventure like horse riding or desert safari
Visiting a hill station or attending an event/festival
Booking tickets for games and activities
Strolling on a beach, or taking a countryside walk
Watching a live show or a movie
Visiting a theme park or museum
Booking a spa
Hiking or camping
Staycation – Search Volume in the UAE
According to Google trends data, the demand for staycations in the UAE is on the rise. You can see from the table below that 2020 saw a significant search volume for the term. This is mainly due to the pandemic, subsequent lockdown, and travel restrictions.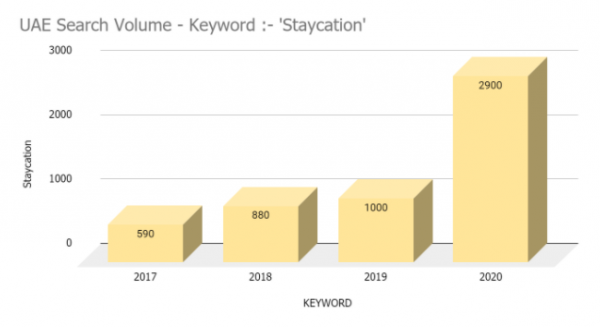 In the past 5 years, Dubai had the highest search volume for staycations and staycation deals in the UAE, followed by Sharjah, Ras Al Khaimah, Abu Dhabi, Ajman, and Fujairah.
Staycation – Google Search Trends in the UAE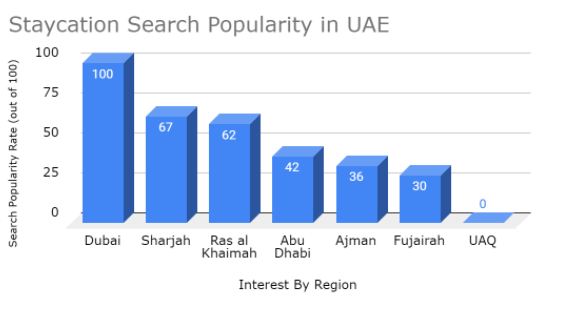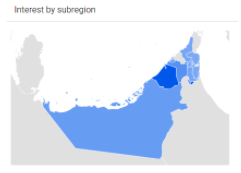 The trend remains the same even in the middle of the pandemic last year, with Dubai having the highest search volume.
Staycation Deals
According to Google search data, the keyword "staycation deals" had a whopping 2833% growth in the last three years.

Popular Staycation Destinations / Hotels
As the concept of a staycation is gaining widespread popularity, many hotels and resorts are offering amazing deals and offers.
Here's an emirate-wise list of the most popular staycation destinations:Show 102550100 entriesSearch:
| Emirate | Staycation Destinations / Best Staycation Offers & Deals |
| --- | --- |
| Dubai | Anantara The Palm, Sofitel The Palm, Caesar's Palace, Fairmont The Palm, Atlantis, Palm Jumeirah, Grand Hyatt, Le Royal Meridien Beach Resort, etc. |
| Abu Dhabi | InterContinental Abu Dhabi, Fairmont Bab Al Bahr, Traders Hotel, The Ritz-Carlton, Qaryat Al Beri, Sofitel Abu Dhabi Corniche, etc. |
| Ajman | Ramada by Wyndham Beach Hotel, Radisson Blu, Wyndham Garden Ajman Corniche, etc. |
| Fujairah | Fairmont Fujairah Staycation, Fairmont Fujairah Beach Resort, Sandy Beach Hotel & Resort, Ja Hatta Fort Hotel, etc. |
| Ras Al Khaimah | Hilton Ras Al Khaimah, Rixos Bab Al Bahr, Waldorf Astoria Ras Al Khaimah, Hilton Ras Al Khaimah Resort & Spa, Doubletree By Hilton Ras Al Khaimah, etc. |
| Sharjah | Sheraton Sharjah, Crystal Plaza Sharjah, Pullman Sharjah, Four Points By Sheraton, Radisson Blu Sharjah, etc. |
Popular Staycation Keywords in UAE
KEYWORD


Monthly
Searches


anantara the palm staycation


30
sofitel the palm staycation


30
palm jumeirah staycation


30
caesars palace dubai staycation


20
fairmont the palm staycation


20
atlantis dubai staycation


20
grand hyatt dubai staycation


20
le royal meridien dubai staycation


20
yas island staycation


20
fairmont ajman staycation


20
fairmont fujairah staycation


20
Staycation Tips
Whether you are new to the idea of a staycation, or a seasoned traveler, here are a few tips that can help you during your next trip.
Plan the budget
Even though you aren't paying for flights or travel, don't think that there is no planning required. It's worth keeping a note of how much each activity costs, as you might be spending randomly.
Make use of deals
As staycation is gaining popularity, many residents hotels in the UAE are providing great offers. Make use of the deals, and plan an amazing staycation.
Think about self-catering
If you're planning for a fun time with your friends, choose accommodation with a kitchen. It will be fun cooking together, and also helps you save a lot of money.
Go offbeat
You might not be holidaying abroad, but there is no reason you cannot do something different. Pick a local adventure spot, visit a theme park, or go camping. Make the most of your staycation!
Packing & Preparation for a Staycation
As you know, packing for a staycation is easier compared to a foreign trip. Moreover, there are no weight restrictions, and you could take whatever amounts of liquids with you – yay! Also, the weather will be pretty similar to where you live, so there is no need for additional holiday clothes.
Your choice of accommodation can make your staycation more special. As you saw, there are leading hotels/resorts in the UAE offering amazing staycation deals. Choose a hotel or resort with enough luxury amenities to elevate the holiday experience. For the ultimate staycation experience, check into a fancy resort or hotel for at least 2 to 4 days.
Conclusion
As we saw, the concept of a staycation is trending, and it's here to stay. Whether you choose a holiday in your hometown or the nearest city, there are plenty of staycation deals and packages offered by leading hotels and resorts in the UAE. So there is no better time for a staycation than now.
Sharing is caring!
(Visited 117 times, 1 visits today)