Posted in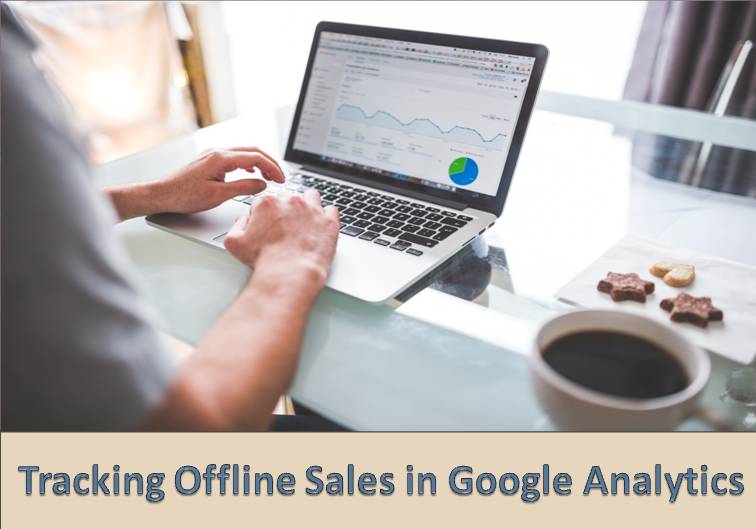 Most of your important offline customer interactions happen at the store, over the phone, through e-mail communications or possibly even at an event kiosk. With the marketing teams becoming more and more digitally savvy and depending on a single platform for their data needs, it becomes even more imperative to link all your data to a single platform. If Google Analytics is your primary web analytics solution on the website then you are in luck, as Google Analytics provides some amazing options to link all your offline data to its online companions.
With the advent of Universal Analytics, Google Analytics has brought in the flexibility to send custom hits even with transactional numbers although no pages were involved. Through this guide, we will look at shedding some light on what can be achieved through Measurement Protocol, the feature that allows us to sync offline data, and the practical applications of this feature in Google Analytics. A general disclaimer – this is an advanced feature of GA and might require some knowledge about how GA functions and also about how a request is sent with payload data.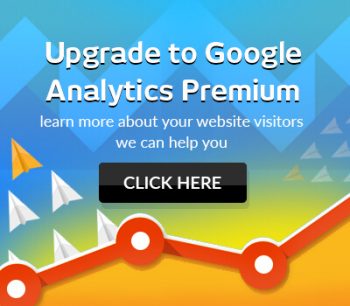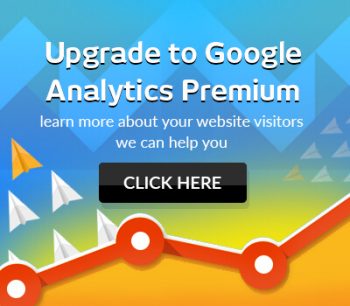 What Are Some of the Possible Offline Interactions?
Some examples of possible offline interactions by the user are given below, but do note that these are just use cases and does not cover the entire spectrum of possibilities.
– A Phone call to confirm and complete a sale that started online
– An email to avail a product with a COD request
– Return of a product at a store that was purchased online
– Provision to order a product through live chat
Apply the measurement protocol to any use you deem fit and gain insights in the order of the user journey towards conversion. It can be a step towards a conversion or an engagement of the user away from your website.
Measurement Protocol – A Brief
How does it work? It's a simple GET/POST HTTP request to the Google Analytics server with key value pairs attached to the URL. An excerpt from Google on how to structure the URL: –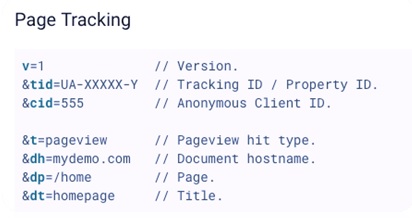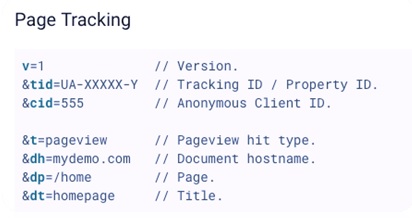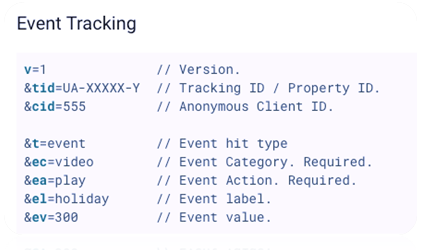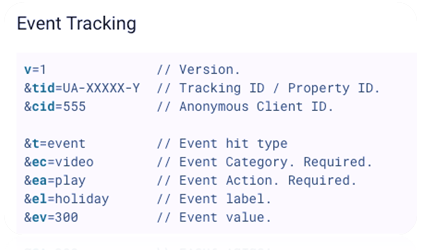 The simplest way of understanding and learning the measurement protocol and the ways of framing the HTTP request is to use the hitbuilder. Also learn about the different parameters that one can send across through the measurement protocol here.
The hits sent using measurement protocol will have the current timestamp and this cannot be overridden – for instance, you cannot insert a hit for a session that happened weeks back. Since by default Google Analytics has the attribution model of a last non-direct click, any hit with no medium specified would be assumed to be a direct hit and if a customer id is provided along with the hit, the previous interaction is rightly given the credit.
Use Case 1: Can I use Measurement Protocol when a customer returns a product at a Store?
Most definitely! The known parameters in this case would be the product name, product ID, date & time of transaction, total transaction amount and transaction ID. If the user does not interact with the website while refunding the product, it is important to consider having the hit sent as a non-interaction hit. This will prevent metrics such as bounce rate, session duration, etc. from being affected by the event. When we fit all the known parameters into the measurement protocol and send a hit to the GA profile the transaction automatically gets reverted. There are two ways of using the measurement protocol when a refund happens, one is when enhanced e-commerce is enabled and the other is when it is not. When enhanced e-commerce is enabled, the excerpt for the format to be followed would be as given below: –
In case of the enhanced e-commerce not being enabled, the transaction and item hits sent to the GA profile, like the ones given below, need to be provided as is but the prices and revenue figures need to be provided with a negative sign for the product that is being refunded.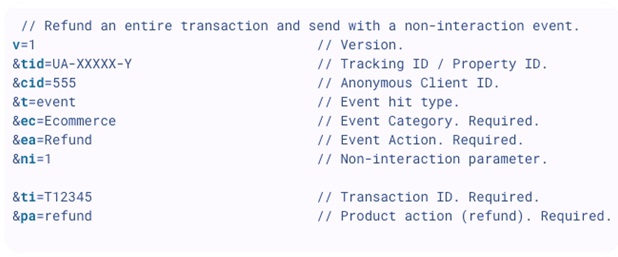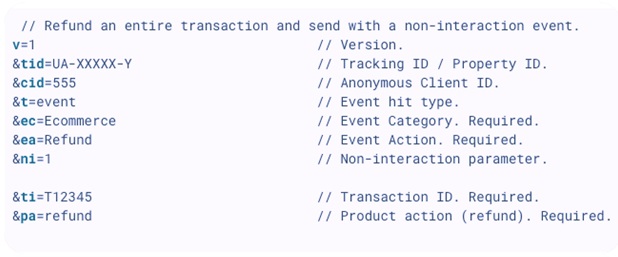 fig. a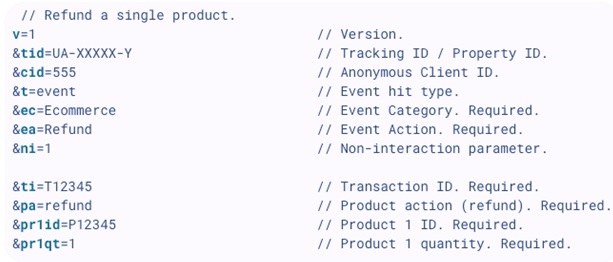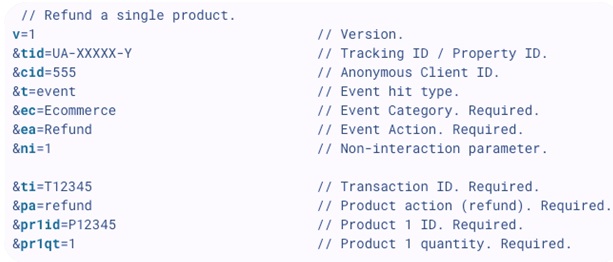 fig. b
Use Case 2: Can I use Measurement Protocol for a conversion that happened through a call or an e-mail communication?
This is an important use case too! For any offline activity that resulted in a conversion or engagement Measurement Protocol can be a good fit. The same principles apply as the previous use case in determining which format to pick. The enhanced e-commerce profiles pick the format as in "fig a" and profiles that do not have enhanced e-commerce enabled pick the format as in "fig b". The parameters known in this case could be the campaign medium and source of the previous touch to attribute the conversion where it deserves.
Measurement Protocol Caveats
1. Measurement protocol hits are seen as actual sessions by Google Analytics and hence can impact the session duration, bounce rates, etc. thereby leading to misinterpretation of the actual website metrics. It is only in the case of passing the values as events that you have an option of triggering the non-interaction clause but when they are sent as transaction or item hits, Google Analytics treats them as sessions. So it would be advisable to have a separate view or an advanced segment for these measurement protocol hits, to not skew up the website metrics when considering them for reporting.
2. One of the major limitation of recording measurement protocol hits is the lack of time stamping option. This means the conversion or engagement is recorded at the time the hit is sent and cannot be over-ridden. So it is vital that all offline conversions and refund information are passed to the GA profile with little or no lag. Reporting for a quarter or defined period of time could be affected when the hits are not recorded against the right date ranges. The way around this would be to build a spreadsheet add-on to pass the information then and there, when the conversion or engagement happens offline.
Global Media Insight has been involved in measurement protocol for a while and has built custom spreadsheet tools for clients that help sync their offline efforts with their online siblings. A snapshot of the tool built is given below: –


The use cases are just the tip of a massive ice-berg awaiting to be uncovered. All these measures and methods help discover data that you knew was there but had no way of synchronizing with your existing data. Talk to the experts at Global Media Insight for Analytics services that help you understand the impact of your improving your data quality. Talk to us today!
« Social Media Users S ...
Google's 12 Most P... »