WhatsApp, the most popular mobile messaging app in UAE has become more user- friendly. With an avid user base of 63% of UAE's mobile phone users, the latest feature has certainly been welcomed by users across Dubai, Sharjah and Abu Dhabi.
After acquisition by Facebook in 2014 for $19 billion, the revenue for the app crossed the $25 million mark. With over 750 million users this new feature is bound to increase & deepen engagement of user base with the App.

Unlike many other apps, WhatsApp supports all major platforms like Android, BlackBerry, iPhone, Nokia, and Windows Smartphones. The expected user base is expected to increase with the introduction of this new feature. For all those who are using desktop computer along with their Mobile devices, with this update one can interact with their WhatsApp contacts and groups from the Computer itself.
How to use Whats App on your Computer?
Prerequisite's for using Whats app on  your Computer


1. Active WhatsApp account with Camera on your Mobile
2. Chrome Web browser(At the time of writing this blogpost, only Chrome browser supports the Whats App web version. We will have to wait for a couple of fortnights for Firefox, IE and Safari version of the web App)
3. Stable Internet Connection on your computer and Mobile device. (Wifi is preferred)
Steps to use Whats app from your Computer
Step 1. Open the URL https://web.whatsapp.com in your Desktop or Laptop's Browser
Step 2. Open Whats App on your mobile and select the 'WhatsApp Web' menu option (Ensure your WhatsApp is updated to the latest version. If you cannot find "WhatsApp Web", you need to update it from your App Store. If you are using Android phones go to  Google 'Play Store' and update the Whatsapp in your mobile to the latest version. In Android this current update size ranges around 15 MB)
Step 3.  Scan the QR code on the website from your mobile's "WhatsApp Web" option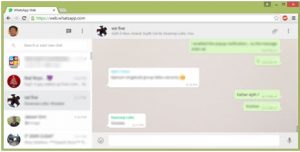 Scanning the QR code directly takes you to the Whatsapp web interface of your Chrome browser
Now you are logged in and active on both your computer as well as your mobile device. On both devices you will receive the messages, photos, videos and voice messages as usual.  You can do all your communications from your web interface now. For all those who dislike typing from your Mobile, this Web Application is a blessing.  From this interface you can directly download the Photos and Videos to your Computer, get alerts whenever a user or group communicates as browser popup message, share photos, record Audios from your interface. Make sure that your phone internet connection is active in order to use the web interface.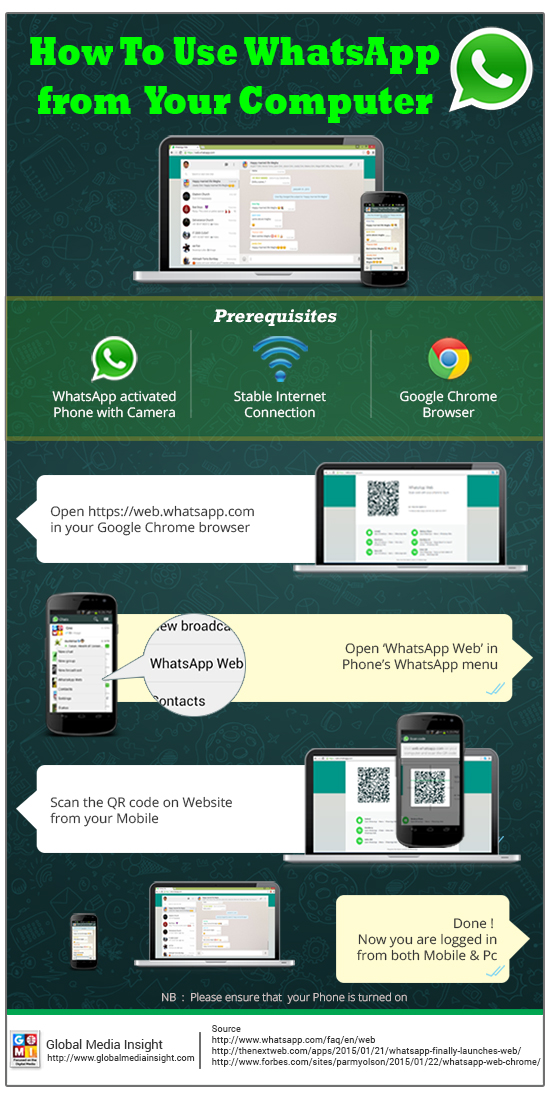 Copy the code below to display this Image on your Blog or Website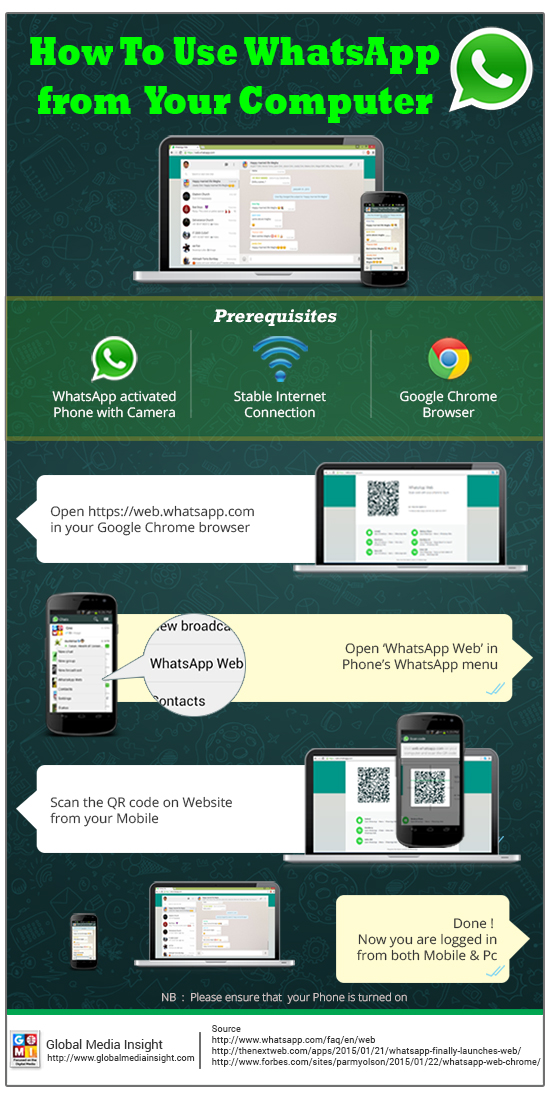 Few Limitations of Whats App Web Interface
The Profile Photo and Status message cannot be updated from the web interface
The Web Interface user cannot initiate a new Group Chat nor allows to Exit from the active Groups
You can neither share your Contacts nor Maps with other in the Group
You can only be active from one Computer browser at a time
Easiness and benefits of using a web interface exceeds the minor limitations mentioned above
Tips to make you Whatsapp web interface savy
What if your Mobile Internet connection goes down?
The Whats App automatically gets disconnected from the browser too. As mentioned earlier, you need constant communication with your Phone
Unread messages from Group / is displayed on the Chrome browsers title

Please do not confuse this number with the number of unread messages, as displayed on your mobile WhatsApp interface.
For e.g : 1 person sends 4 messages and another Group sends 2 messages. In your Mobile device, above the Whats App Icon the number 6 will be displayed. i.e number of unread messages. But in the browser it will be shown as 2, which denotes the Number of People/ Group who has communicated and are in unread status
How to "Log out" from the Computer?
Proceed to Menu > 'WhatsApp Web option' once again. And click on 'Log out from all computers' to disconnect your mobile from the Computers to which it has been connected.
This interface also displays your location from where you have logged in and the computers where your App is active.
Conclude
If you are an Active Whats App user, the new Web option is a feature that you certainly cannot miss to try out. It will definitely be a good experience. If you encounter any technical issues, do visit Whats App FAQ page. If you do not have the Google chrome browser we encourage you to download it to get started with the Whats App Computer app
At Global Media Insight, we explore every opportunity which makes an App more user-friendly. We thank Facebook for bringing in this innovation. As a leading Mobile application development Agency based in Dubai, we would be more than glad to develop a mobile app or to make it a greater success. Give a shout or drop a line and we can discuss matters & evolve a meaningful mobile app strategy for your brand.
(Visited 368 times, 3 visits today)