Posted in
Covid-19 was a major blow to the economies around the world. However, Dubai seems to be fast recovering with activities all being restored and rescheduled events happening in full swing. 
And now, the world's greatest show, Expo 2020 Dubai has also started. It has everything to entertain, inform and engage you, as a visitor. Here's a comprehensive guide to everything you need to know about the Dubai Expo 2020.
Table of Content
Click to copy the code below to display this Image on your Blog or Website
What is Dubai Expo 2020?
Expo 2020 Dubai is the latest of the World Expos taking place in the United Arab Emirates, now. It is a mega international event in terms of scale, duration, and visitor count. Expo Dubai is the first World Expo to be held in the Middle East, Africa and South Asia (MEASA) region, as well as the first to be hosted by an Arab country. It is a celebration and a venue that brings individuals from all over the world together to connect, share ideas, learn, and invent.
Expo 2020 seeks to raise awareness about the worldwide issues that mankind faces. It provides several possibilities for networking and the promotion of international connections. Individual pavilions will be set up at Expo 2020, with countries exhibiting their unique cultures and technical innovations. Dubai is expecting 190 nations to participate, with a projected 25 million tourists from all around the world. Visitors will be able to experience Emirati hospitality as well as the UAE's principles of inclusiveness, tolerance, and collaboration during the Dubai Expo 2020.
What is the Purpose of an Expo?
An expo's goal is to bring countries together for collaborative initiatives that help to accelerate and promote ideas that enhance people's lives while also conserving the environment. Moreover, an expo attracts tens of millions of people, providing opportunities for countries to erect spectacular pavilions, and alter the host city for years.
Expos are unrivalled among international events in terms of size, scope, duration, and visitor numbers in the contemporary period. They are large-scale educational and development platforms that act as a link between governments, businesses, international organizations, and individuals.
Impact of COVID-19 on Dubai Expo 2020
Dubai Expo 2020 was scheduled to begin in October. When the pandemic shut everything down, the BIE General Assembly voted remotely for a postponement of the expo, as suggested by the UAE government. Expo 2020 organizers stated that their collective goal is to deliver an expo that is true to its time, but only when the time is right. After the discussions, they decided that the Dubai Expo's opening should be postponed by a year to allow them to overcome the challenge.
Expo 2020 Dubai Date
Expo 2020 Dubai was originally scheduled from October 20, 2020, to April 10, 2021. Due to the Covid-19 pandemic, the exhibition will now take place from October 1, 2021, to March 31, 2022, with a one-year delay. 
Expo 2020 Dubai Timings
Dubai Expo 2020 will be open seven days a week. You can enter from 10:00 AM to 12:00 AM on Saturday to Wednesday, and 10:00 AM to 02:00 AM on Thursdays, Fridays, and on special days.
Theme
"Connecting Minds, Creating the Future"
Expected Visits
25,000,000
Website
https://www.expo2020dubai.com/
Facebook
https://www.facebook.com/Expo2020Dubai/
Twitter
https://twitter.com/expo2020dubai/
What is a Global Expo?
World Expos, also known as International Registered Exhibitions, are a worldwide gathering of nations dedicated to finding solutions to today's most urgent issues by taking visitors on a journey through a universal theme via engaging and immersive activities. The Global Expos which are conducted once every five years is an amazing opportunity for the host country to attract visitors and engage with countries worldwide.
First held in London in 1851, it is now governed by the Bureau International des Expositions (BIE) and serves as a platform for countries to display their most recent technical, scientific, cultural, social, and economic achievements. An expo is not only a fantastic way to meet people from all over the world, but it's also a great place to see the finest of art, culture, geography, science, technology, innovation, and invention.
Famous Innovations launched at the World Expo
The first expo witnessed the debut of steam engines, as well as a variety of other innovations that would go on to characterize the age that followed. Following that, each expo has witnessed innovations that have astounded audiences and altered the globe as a whole.
The washing machine debuted at the 1855 Paris expo, whereas the telephone debuted at the 1876 Philadelphia expo. Many contemporary comforts, such as the x-ray machine, the diesel engine, broadcast television, the first touchscreen gadget, and even humanoid robots, were first introduced to the public during the expos.

Expos Over The Years
The previous global expo was held in 2015, in Milan, Italy. "Feeding the Planet, Energy for Life" was the topic of that year. Representatives from 145 nations were among the attendees at the exhibition. The theme of the 2010 Expo in Shanghai was "Better City, Better Life." 192 countries participated in the 2010 Expo, which set a new record for participation.

In the year 2000, the exhibition was held in Hanover, Germany. Almost 180 countries were represented at this exhibition. The expo was held in Seville, Spain, in 1992, with the theme "The Age of Discovery." The exhibition in 1992 drew representatives from nearly 100 nations. In the year 2025, the next World Expo will be held in Osaka, Japan.
The Bids for Dubai Expo 2020
Several cities, including Yekaterinburg in Russia, Izmir in Turkey, Sao Paulo in Brazil, and Dubai competed to host the 2020 Expo. On November 27, 2013, Dubai defeated Yekaterinburg in a popular vote. The city will host the Middle East, Africa, and South Asia's first Expo.

Three Core Themes of Expo 2020 Dubai
The theme for the event is "Connecting Minds, Creating The Future" and Sustainability, Mobility and Opportunity are the sub-themes.
1. Sustainability District
Grimshaw Architects designed the sustainability pavilion 'Terra' at the Sustainability District. Terra encourages guests to explore the depths of the ocean, deep woods, and creative renditions of the world's natural treasures. The pavilion seeks to motivate visitors to take little and large steps toward a more sustainable future in order to combat climate change.
2. Mobility District
'Alif', a pavilion dedicated to future travel options, space exploration, and how digital integration allows guests to explore new horizons. The pavilion contains a 330-meter circuit called the Mobility Track, which features demonstrations of modern mobility technologies.
3. Opportunity District
'Mission Possible', the opportunity pavilion focuses on making connections and connecting visitors to social innovators who have made a difference in people's lives across the world. Visitors will also discover a youth empowerment initiative in the pavilion, which aims to encourage young creators.
Logo of Expo 2020 Dubai 
The logo of Expo 2020 Dubai was unveiled in March 2016 by His Highness Sheikh Mohammed bin Rashid Al Maktoum. The ring-shaped logo was inspired by an ancient gold artifact, which was unearthed at the archeological site of Saruq Al Hadid in 2002. The site from where the 4000 year old ring was found was discovered by Sheikh Mohammed himself after he noticed the terrain differences of the area while he was flying over it. 
By choosing this logo for Expo 2020, the host country hopes to convey the connection between the past and the future of the UAE. While it pays a tribute to the country's past, it also emphasizes the nation's extraordinary vision for the future. The logo is a symbol of heritage, connectivity, and resilience. 
Mascots for the Dubai Expo 2020
The mascots for the Expo 2020 Dubai are Salama, Rashid, Latifa, Alif, Opti and Terra. Also, to carry on the legacy of the expo, more than 80% of the site will be retained and maintained as a city called 'District 2020.'
Dubai Expo 2020 Facts and Statistics
Expo 2020 is a once-in-a-generation opportunity to celebrate ideas, culture, cooperation, and innovation. This is the first World Expo to be hosted in the Arab world and is also the largest event ever held in the region. Everything about the event is in superlatives since it is truly a gigantic scale and dimensions event. The pavilions are the size of 600 football fields, and the projected number of attendees is estimated to be 25 million.
Click to copy the code below to display this Image on your Blog or Website
Dubai Expo 2020 – Area & Location
The exhibition site is spread out over 438 hectares, or the equivalent of 600 football fields, in Dubai's South region. The property is in close proximity to Al Maktoum International Airport. The region measures 4 kilometers in length and 1.8 kilometers in width.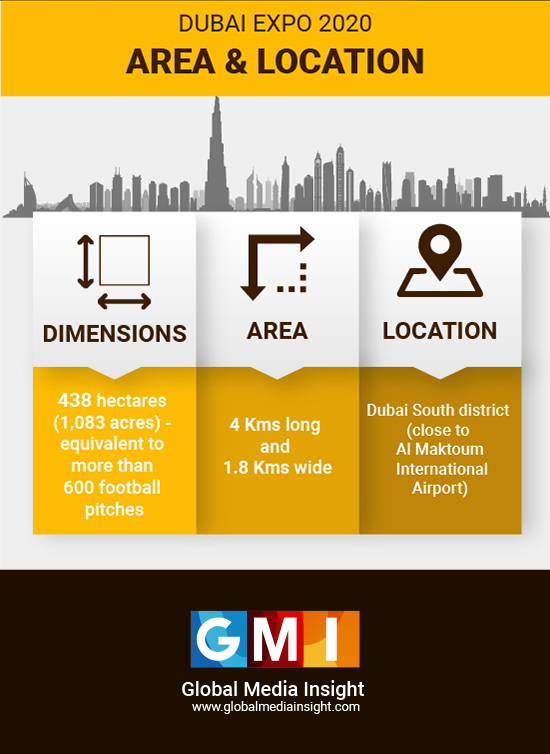 How Can You Reach The Location?
You can reach the expo location by Metro, bus, taxi, or car. However, vehicles are not allowed inside the Expo site. The visitors will need to park their vehicles at the parking lots allotted for the Expo from where they can reach the nearest gate using shuttle service. There are three main entrances, which are only a 20-minute drive from Dubai Marina. The Metro takes you directly to the expo site. Take a look at how you can reach the expo through different transport means.
1. Metro Station
The quickest and most eco-friendly way to get there. The Dubai Metro Red Line connects the city of Dubai with the Expo 2020 entrance. The Expo Station opens at 06:15 a.m. on Saturdays and Thursdays, and at 09:15 a.m. on Fridays. The Expo Station's latest departures are at 00:00 Saturday to Wednesday and 01:00 Thursday to Friday.
2. Expo Rider Buses
A dedicated public bus service will transport you to and from the Expo 2020 venue. It's free for Expo 2020 guests, and you can catch it from a variety of sites around Dubai and the United Arab Emirates. Just keep in mind where it leaves you off because you'll have to return from the same gate!
3. By Taxi
Taxis and automobile rentals are numerous in Dubai. Taxis may be hired over the phone, however, downloading the Careem or Uber app is the most convenient option. For rides departing from the Expo grounds, there will be a beginning flat cost of AED 20.
4. By Car
If you're driving to Expo 2020, you may access the site from all main highways. Parking is free. Entry times are 08:30 to 00:30 Saturday to Wednesday and 08:30 to 02:30 Thursday to Friday and special days. Here are the four main parking zones at the expo. 
– Opportunity parking zone (from E77 Expo Road)
– Dubai Exhibition Centre parking zone (from E311 Sheikh Mohammed Bin Zayed Road)
– Mobility parking zone (from E311 Sheikh Mohammed Bin Zayed Road)
– Sustainability parking zone (from E77 Expo Road or D54 Zayed Bin Hamdan al Nahyan)
Things to do at Expo 2020 Dubai 
When it comes to the question, what can I do at Expo 2020, there is no shortage of options. 192 countries will have their country pavilions at Expo 2020 and each of them, designed to be rich in culture, history, and hospitality, will give you the feel of a real visit to the countries. Moreover, the pavilions in themselves are architectural marvels and will leave you spellbound with their innovative design and construction.
But keep in mind that you may have to wait in long queues to enter some pavilions. So, it's best to plan in advance about the pavilions you want to visit. We suggest you download the Dubai Expo 2020 app so that you can find your way through the Expo site conveniently. 
If you are an art enthusiast, you can watch several live shows which will be conducted every day. There will be musical events, theatres, sports events, and national day celebrations! For tech enthusiasts, Expo 2020 will be nothing less than an island of treasures. With the event showcasing augmented reality, robotics, autonomous vehicles, and other futuristic technologies, you will have a chance to experience the tech of tomorrow. 
For kids, the Expo site will have two parks. And you can also take your tastebuds on a ride around the world with the diverse cuisines from different countries that will be available at Expo 2020. Moreover, a special sector called "Eat At Expo" lets food lovers learn to bake bread on their own apart from providing different cuisines to enjoy.
Event Details of Expo 2020 Dubai

Over a million people have signed up to attend the event, and over 25 million people are expected to attend, with over 70% of attendees coming from outside the UAE. The event is projected to result in the creation of 270,000 new employment in the country.
More than 200 restaurants from across the world will be represented, as well as more than 60 daily live events. On weekdays, the hours will be 10 a.m. to 1 a.m., and 10 a.m. to 2 a.m. on weekends and special days. The Chairman of the Expo 2020 Dubai Higher Committee is Sheikh Ahmed bin Saeed Al Maktoum. The event's main website is https://www.expo2020dubai.com. 
Theme Weeks
During Expo 2020's six months run, 10 theme weeks will explore humanity's most pressing issues and opportunities through cultural, social, and economic perspectives. Visitors can participate in the making of a new world via discussions on issues that decide the future of the planet. Here are the 10 theme weeks:
| | |
| --- | --- |
| Week | Theme |
| October 3 to 9, 2021 | Climate and Biodiversity |
| October 17 to 23, 2021 | Space |
| October 31 to November 6, 2021 | Urban and Rural Development |
| November 14 to 20, 2021 | Tolerance and Inclusivity |
| December 12 to 18, 2021 | Knowledge and Learning |
| January 9 to 15, 2022 | Travel and Connectivity |
| January 16 to 22, 2022 | Global Goals |
| January 27 to February 2, 2022 | Health and Wellness |
| February 17 to 23, 2022 | Food, Agriculture and Livelihoods |
| March 20 to 26, 2022 | Water |
Dubai Expo 2020 Pavilion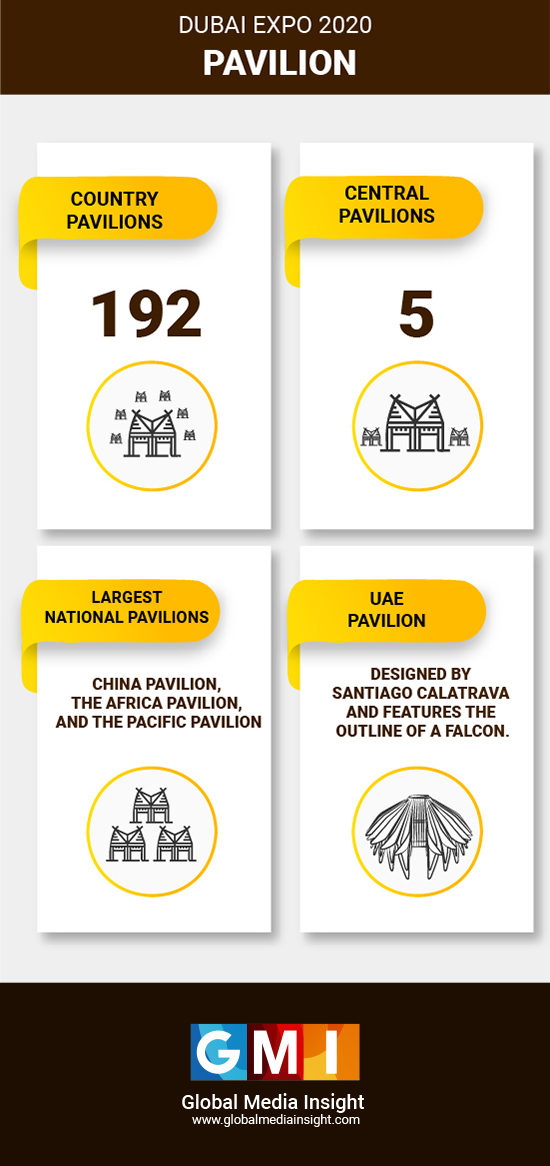 Pavilions from 192 nations will be present during the event. There are five pavilions in the Centre. China, Africa, and the Pacific area will have the largest pavilions. One of the biggest attractions will be the UAE pavilion. It depicts the silhouette of a falcon, the UAE's national bird. Santiago Calatrava, a Spanish architect, designed this pavilion.
Impact on the Economy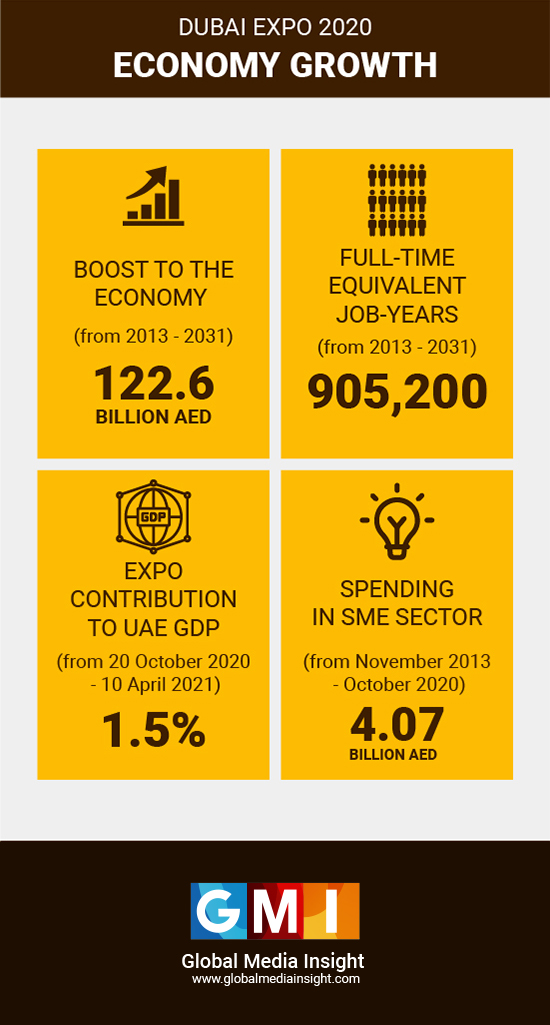 Between 2013 and 2031, the Dubai Expo is expected to boost the UAE economy by AED 122.6 billion, resulting in the creation of around 905,200 job-years. The UAE's GDP will increase by 1.2 per cent in 2019-20 as a result of this occurrence.
The initial economic benefit is due to the event's building activities, but the expo's legacy will be a huge boost to the economy it will offer through supporting infrastructures developed particularly for the event, such as roads, bridges, and the Dubai Metro Route 2020 line. In the pre-expo period, the UAE's small and medium industries got AED 4.7 billion as an investment.
Dubai Expo 2020 Ticket Price
The daily ticket costs AED 95 and is valid for just one day. Season passes which provide unlimited access for the whole six months of Expo 2020 are available at AED 495. Multi-day tickets are priced at AED 195 and offer unrestricted entry for 30 consecutive days. Children under the age of 18, people who are determined, students with valid ID cards from recognized academic institutions, and individuals aged 60 or above will be admitted free of charge. A premium experience pass intended for business people costs AED 1750.
Master card debit and credit card holders can obtain a 25% discount on Season passes. Family packages are also available for AED 950, which include unlimited access for two parents and a nanny, as well as discounts on food and drinks, a 25% discount on five additional tickets, and a photography voucher.
The October Pass, which costs the same as a day ticket, grants visitors access to 192 country pavilions, up to 60 live activities per day, and more than 200 food and beverage outlets for 31 days. This offer is valid till October 15th, 2021.
How to get Tickets for Dubai Expo 2020?
You can get tickets from the official website of expo 2020 Dubai (https://www.expo2020dubai.com/en/tickets-and-merchandise/tickets). 
Expo 2020 Dubai Facts that might Surprise You
In 2013, Dubai won the bid to host Expo 2020, which made UAE the first nation in the Middle East, Africa and South Asia region to host a World Expo.

Expo 2020 Dubai site is equivalent to the size of 600 soccer pitches.

Dubai Expo is the first World Expo in history to have the policy One Nation, One Pavilion – which means every nation has its own pavilion. Thus, countless guests can visit the unique beauty and culture of each nation.

An AIoT-powered golden robot 'Opti' serves as the guardian of Opportunity Pavilion at Expo 2020 Dubai.

All countries participating in Expo 2020 Dubai will be permitted to celebrate their national day or honour day during the 6-month event hosted in Al Wasl Plaza.

Over 30,000 volunteers form the backbone of Expo 2020 Dubai, Emiratis constituting 61 percent and UAE residents of various nationalities comprising the remainder.

The Disc-shaped Sustainability Pavilion designed by Grimshaw Architects is entirely powered by solar energy.

Expo 2020 Metro station features an aircraft wing design and transports visitors to the Expo entrance gate. This is the final station on Dubai's new Route 2020 and can hold 29,000 passengers per hour during peak hours.

Expo 2020 Dubai will host the FIDE World Chess Championship Final from November 24 to December 16, 2021.  Reigning world champion Magnus Carlsen and challenger Ian Nepomniachtchi will compete for prize money of 2 million euros.

UAE is all set to celebrate its Golden Jubilee week at Dubai Expo 2020 from December 5, 2021 to December 11, 2021.

Expo 2020 Dubai is all set to run 10 theme weeks addressing global challenges.

On Thursdays and Fridays, the Dubai Expo 2020 site will remain open later, with music concerts and events starting as late as 10.30 p.m.

The Austrian pavilion is composed of 38 cones that are lined with clay and reeds on the inside to keep visitors cool during Expo 2020 Dubai.

The rapid-response ambulance centre at Dubai Investments Park is equipped with 5 emergency vehicles to serve people visiting Expo 2020.

Expo 2020 Dubai in conjunction with International Youth Day features a Youth Pavilion designed and managed by Youth.
What COVID Rules are in Place for Expo 2020 Dubai?
To ensure visitor safety, the expo organizers have implemented a number of precautionary measures across the site. Check out the Covid rule in place for the Dubai expo.
Before coming to Expo
If you have any COVID-19-related health problems, have been in direct contact with someone who has been confirmed as COVID-19 positive, or is under any quarantine/self-quarantine orders, please do not attend Expo 2020.
Entry requirements
Visitors must show confirmation of any immunization recognized by their national government or a negative PCR test conducted within the last 72 hours if they are 18 or older.
Testing
Non-vaccinated ticket holders who have not been tested within this time frame can use the testing facility located near the Expo 2020 site. The results take around four hours. On presentation of any valid ticket, the PCR test will be provided free of charge.
On-site measures
Face masks must be worn at all times

Individuals should be separated by at least two meters.

All venues and common areas are cleaned and sanitized on a regular basis.

Hand sanitizer stations are located throughout the facility at regular intervals.

On-site medical facilities and specialists are ready to deal with any potential medical concerns.
What are the Visa Regulations for Dubai Expo 2020?
From 30 August 2021, the UAE has begun issuing tourist visas to vaccinated visitors from all countries who have received complete doses of the covid-19 vaccine approved by the World Health Organization. Tourists would also be required to take a quick PCR test at the airport.
Expo 2020 does not require a separate visa; instead, Dubai e-Visas are utilized to go to the expo and may be obtained in 3 to 5 working days. The expo just requires expo tickets and a Dubai tourist visa.
What are The Attractions Guests Can Enjoy? 
The Dubai Expo has something for everyone – whether you are looking for business opportunities, wish to channel your creativity, unleash your inner techie, or dive into a world of flavors. Take a look at the main attractions at the expo.
1. Theme Weeks that address global issues
Join an exciting exchange of new views on the world's most pressing issues and possibilities, ranging from climate change to connectivity, space exploration to the future of human health, and more.
2. Technology and innovation
Unleash your inner techie, learn about life-changing technologies, and immerse yourself in a high-tech world that is truly connected.
3. Entertainment
From opera to A-listers, pop-up theatres to flash mobs, parades to national day festivities, there's something for everyone.
4. Food and a way of life
Enjoy a culinary universe where flavor knows no bounds. Learn how everything from climate change to technology is affecting the way we source and cook.
5. Architecture
See a variety of architectural marvels in one location, including the world's biggest 360-degree projection surface and over a hundred different country pavilions.
6. Business and entrepreneurship
Schedule worldwide investment forums, investor pitching conferences, motivational speeches, and more.
7. Education programmes
The expo brings kids and instructors from all across the UAE together for a once-in-a-lifetime educational and cultural exchange.
The city of Dubai will be the focus of the world during the period of this expo and this is the perfect time to boost your marketing activities in the city. If you are looking to maximize the efficiency of your marketing campaigns you need to look no further. With over 21 years of experience in running digital marketing campaigns in the UAE, Global Media Insight can be the perfect partner for all your marketing activities. Get in touch with your requirements today!
What Will Happen to the Expo Site After March 2022?
Keeping up with the message of Expo 2020 regarding sustainability, the Expo site will be maintained even after the Expo is over in March 2022. Around 80% of the Expo's infrastructure will become a part of District 2020. The Sustainability Pavilion will be transformed into a Children and Science Centre. A commercial building will be made out of the Mobility Pavilion. And the UAE Pavilion will remain as it is, under the management of the UAE government. In essence, the Expo site will become a symbol of innovation and pioneership.
 Expo 2020 Dubai – Latest Information
To commemorate UAE National Day, Expo 2020 Dubai has made an announcement on its website that all visitors will get free entry tickets to Expo on December 2, 2021. 

In the World School Chess tournament that was being conducted at Dubai Exhibition Centre, the Indian team Velammal Nexus School came out as winners after defeating the Peruvian School Saco Oliveros in the finals. 

Expo 2020 Dubai launches an exclusive Dh95 pass for December, a month that will be packed with events associated with the UAE at 50 and Christmas celebrations. The pass will include access to a concert performed by American singer-songwriter Alicia Keys. 

On December 10, Grammy winning artist Alicia Keys will be performing a musical event at Al Wasl Plaza from 22:00 UAE time. She will be the first global music star to perform at the Expo 2020 and will be unveiling material from her new album at the event.

The Swiss pavilion at Expo 2020 is hosting a "No Time To Waste" exhibition focusing on sustainable waste management. The exhibition will take place till December 10, 2021. 

The World Chess Championship match happening at Dubai Exhibition center between Magnus Carlsen, four-time Fide world champion and Ian Nepomniachtchi, challenger, concurred in a draw in Game 3. 

More than 3.5 million visits are recorded at the Expo 2020 during the period of 6 weeks spanning between Expo inauguration on October 1st till mid-November. 

A star studded ceremony will take place at the Al Wasl Plaza, the heart of Expo 2020, on December 27, when the 12th Dubai Soccer Awards will be held at the location. International footballers, celebrities, and guests are expected to attend the event.

The India Pavilion at Expo 2020 will organize a "textile week" starting from Friday. India's Minister of State for Textiles, Darshana V Jardosh, will inaugurate the program virtually. 

An educational program called "Enhancing Student Skills" aimed to help students be more creative and innovative, was launched at the UAEU Pavilion at Expo 2020. The program will extend during the period of November, 2021 to March, 2022.

Saudi Arabia's Expo Pavilion will showcase a "16 Windows" program to familiarize visitors with the diverse culture of Saudi Arabia Kingdom. For the next 16 weeks, every Wednesday, a specific cultural sector will be celebrated as a part of the program. 

As Dubai is getting ready to celebrate the UAE National Day holidays, Expo 2020 will be home to exciting events, including fireworks and entertainment shows. 

Flying Piano, a unique musical attraction, is adding wonder to Expo 2020. The Opportunity Pavilion Plaza will host the delightful Flying Piano shows until February.

The Dubai Expo 2020 will be screening a multi-award winning documentary 'Son Rise' created by Vibha Bakshi at the jubilee stage on November 26th.

The Morocco pavilion will be showcasing a beautifully crafted unique collection of Moroccan caftans by top Moroccan fashion designers. You can discover these collections on November 26th.

Car enthusiasts can now see the world's fastest electric hypercar,  Nevera, manufactured by Rimac Automobilis at the Croatia pavilion of the Dubai Expo 2020.

The Spain pavilion will be hosting the world school chess tournament from November 25th to 29th.

At Jubilee gastronomy, a special evening will be hosted with award winning Indian chef, Manish Mehrotra. The menu will consist of nine courses along with his signature dishes. The event will be held on November 23.

A two day event based on the theme ' Persons with disabilities' will be held at the France pavilion in  the Dubai Expo 2020 on December 3rd . World renowned actress Gal Gadot will make an appearance for the same.

The third annual 'Safety at Sea' conference will be conducted by the Tristar Group ( a Dubai based logistics company) at the Indian pavilion in Dubai Expo 2020 on December 8.

2 lucky visitors to the Indian Pavilion stand a chance to win a free round trip ticket to their choice of destination in India. This initiative is sponsored by Air India Express in connection with the Dubai Expo 2020. 

The 15th edition of the DIFSC(Dubai International Food Safety Conference) opened at the Dubai Expo 2020 on 18/11/21. 

The visitors at the Pakistani pavilion were enlightened about the energy potential of Punjab. A seminar covering this topic was hosted jointly by the Punjab Energy Department and the PBIT (Punjab Board of Investment and Trade).

Atif Aslam, a Pakistani pop singer, gave a sensational performance at the Dubai Expo 2020. The performance was staged on Wednesday (17/11/21) night.

The eighth edition of the World Government Summit will be hosted at the Dubai Expo 2020 on March 29 and 30, 2022. This event coincides with the conclusion of the world fair.

The American Institute of Architects (AIA) , a fellowship of architects organization with a history of 164 years, awarded the title of the 'Most Iconic Pavilion' to the Indian pavilion at the Dubai Expo 2020.

The Indian pavilion at the Dubai Expo has turned into a delightful hotspot for an exceeding number of customers. In the span of just 43 days, the number of visitors has crossed 3,00,000.

The Dubai 2020 Expo is seeing a startling number of visitors, with the numbers topping 3.5 million in the first six weeks itself.

Pakistani Singer-songwriter Atif Aslam will take the Expo Jubilee Stage on November 17 at 9 PM.

At Expo 2020 Dubai, the Muslim World League unveiled an exhibition on the life of prophets.

An Indian Air Force (IAF) aircraft contingent, comprising its Sarang and Suryakiran aerobatics teams, will take part in the Dubai Air Show, which runs from November 14 to November 18.

Uber has teamed up with Mastercard, Expo 2020 Dubai's official payment technology partner to offer visitors discounted rides to the Expo venue. The offer is valid until March 31, 2022.

Jarsh-NIA AC, the world's first air-conditioned safety helmet for workers that can provide cooling up to 24 degrees Celsius was unveiled at India Pavilion.

On November 13, world-famous dancers will perform ballet and AR Rahman's all-female Firdaus Orchestra will reappear on November 16.

Tareq Ghosheh, chief events and entertainment officer at Expo 2020 Dubai said a spectacular lineup of activities has been planned for November, including concerts by jazz legend Steve Ross and Pakistani singing star Atif Aslam on November 11 and 17, respectively.

On November 9, France Pavilion started an exhibition to promote French Art de Vivre and will run till December 6, 2021. 

SAP, one of the world's largest enterprise software developers, unveiled its new innovation hub at Expo 2020 Dubai.

Mumbai City FC has announced Expo 2020 Dubai as its principal partner for the 2021-22 Indian Super League season.

Expo 2020 Dubai is offering half-price tickets for just Dh45 until November 30. The ticket features  ten 'Smart Queue Bookings,' which allow visitors to skip the queues at participating pavilions and attractions.

On 13 November 2021, World-famous athlete Usain Bolt will participate in a 1.45 kilometer family run at the Expo 2020 Dubai to raise money for charity.

India Pavilion has welcomed over 2,00,000 visitors as of November 3, with numerous industry and state-specific seminars to explore India's growth strategy.

The fourth Global Manufacturing and Industrialization Summit (GMIS) will be held in the UAE from November 22 to 23 at the Expo 2020 Dubai site.

The Expo World Choir, an ensemble of staff and volunteers from nearly 192 countries participating in the world fair, will perform a one-time concert at Jubilee Park on December 9.

The General Directorate of Residency and Foreigners Affairs (GDRFA) in Dubai distributed 3000 free Expo 2020 passports to travelers who arrived at Dubai Airport on 2 November 2021.

The India Pavilion and other Expo venues will host Diwali celebrations till Nov 6, 2021.

The Dubai Police band and Indian expat groups participated in the Diwali celebrations at the Expo 2020.

Saudi Arabia's Expo 2020 pavilion marked 500,000 visitors.

Deepavali Utsav-2021 has begun at 3pm on 29 October at the Dubai Expo 2020 site.

On November 6th, international cycling stars will participate in the first Giro d'Italia Criterium, a 30-lap short-format race hosted on a 2.1-kilometre circuit at the Expo 2020 Dubai site.

On 13th December, ABB will display the world's fastest electric car charger at Expo 2020 Dubai, coinciding with the company's ABB Day celebrations. 

The Dubai Shopping Festival's 27th edition will be held from December 15, 2021, to January 29, 2022, at the Expo 2020 site. This ultimate shopping bonanza will coincide with both Expo 2020 and the UAE's 50th Golden Jubilee celebrations.

In the first 25 days of Expo 2020 Dubai the India Pavilion attracted over 128,000 visitors.

The Department of Health (DoH) Abu Dhabi has developed a COVID-19 modelling tool to boost the safety of visitors during Expo 2020 Dubai.

The popular Arab singers Nancy Ajram and Ragheb Alama will co-headline the second Infinite Nights show on November 12, 2021.

Barceló Hotel Group is giving guests the chance to  take part in Expo 2020, by providing two free tickets when booking stays of four nights or more at any of its properties in the UAE.

Emirates Airline passengers can now undergo a free Covid-19 PCR test by producing Expo 2020 Dubai ticket.

Tickets for the Al Wasl Opera at Expo 2020 Dubai can be availed directly from Dubai Opera. The premiere show will run from 16 to 19 December 2021.

On October 30, Amr Diab, the Arab world's most popular and well-known musicians will perform an exclusive concert at Expo 2020 Dubai's Jubilee Stage.

Expo 2020 Dubai attracted 1.5 million visitors in the first 24 days.

Bayt.com, the Middle East's leading job site is providing its employees with two days of paid leave to attend Expo 2020 Dubai.

Sami Yusuf's second performance will take place on 23rd October at 8.30 pm under the Al Wasl Plaza's dome.

The all-female Firdaus Orchestra will perform at the Jubilee Stage at 7 p.m on 23 October 2021.

On 22nd October at  8.30 p.m., Sami Yusuf will perform an hour-long musical event titled Beyond the Stars at Al Wasl Plaza, he will be accompanied by musicians from all across the world.

On 22nd October at  6:15p.m, Hosny's Band will perform Arabic melodies mixed with western chords at the Jubilee Stage.

The Saudi Falcons and Al Fursan will perform another aerobatic show on 22nd October at 4 pm.

On 21 st October at 8.30 p.m., singer Ali Azmat and his band Junoon will perform at the Jubilee Stage to celebrate 50 years of Pakistan-UAE brotherhood.

AR Rahman's all-female 'Firdaus Orchestra' will perform at Dubai Expo 2020 at 7 pm on October 23 at the Jubilee Stage.

Emirates announced a special offer for Families travelling to Dubai during Expo 2020. The promotion is valid till November 6 and children between 2-11 years need to pay only 25% of the adult fare.

Researchers from Khalifa University collaborated with the Department of Health and the ADPHC to create an epidemiological modelling tool to improve visitor safety at Expo 2020 Dubai.

Guyana celebrated its National Day at the Expo 2020 Dubai.

From October 1 to October 18, a total of  771,477 people visited Expo 2020 Dubai.

Hotpack Global, the world's leading manufacturer of disposable food packaging products announced 3-day paid leave for its employees to visit the Expo 2020 Dubai.

SA has officially launched its campaign to attract foreign investment, a key part of President Cyril Ramaphosa's economic agenda, at the world largest trade show in Dubai.

 Italy Pavilion at Expo 2020 Dubai is all set to host the Leonardo #T-TeC Space contest, an activity aiming to promote technological innovation in the space industry. 

AirOwater, a product that makes drinking water from air was launched at the India pavilion at Expo 2020 Dubai.

Dr. Ahmad Belhoul, Israel's Minister of State for Entrepreneurship and Small and Medium Enterprises, inaugurated Israel's first-ever pavilion at Expo 2020 Dubai.

On Friday, the Saudi Pavilion at Expo 2020 Dubai set a new daily attendance record by attracting 23,000 guests in one day.

The EU and Switzerland is all set to organize a conference on the future of air quality at Dubai Expo 2020.

Senegal's National Day was commemorated at Expo 2020 Dubai with a unique and entertaining programme of music, dance, parades, and more.

The Spain pavilion at Expo 2020 Dubai hosted Spanish National Day celebration on 12 October Tuesday .

Taresh Eid Al Mansouri, Director-Widespread of Dubai Courtrooms, unveiled the 'Digital Litigation Program' at Expo 2020 Dubai during a meeting with the Governance Council.

The General Directorate of Residency and Foreigners Affairs (GDRFA) in Dubai distributed 5,000 free Expo Dubai 2020 tickets to GDRFA employees on Tuesday.

EMotorad, and India-based company is showcasing electric bikes at Expo 2020. The company will also exhibit its latest range of e-bike models that haven't been released yet.

The Russian pavilion at Dubai Expo is using an innovative facial recognition technology to demonstrate how video analytics will support smart cities of the future. In the pavilion, this technology is used to control crowds and analyze visitors' gender and age.

Expo 2020 Dubai saw a strong visitor turnout, despite the high temperature, with a total of 411,768 ticketed visits in the first ten days since the world's greatest show opened on October 1, organizers revealed on Monday.

STEM activities were conducted in the UK pavilion. The British University in Dubai (BUiD) in collaboration with Heriot-Watt University Dubai and University of Birmingham Dubai participated.

His Highness Sheikh Mohammed bin Rashid Al Maktoum, Vice-President and Prime Minister of the UAE and Ruler of Dubai, announced 6 day paid leave for Federal employees to visit the Dubai Expo 2020.

His Highness Sheikh Saud bin Rashid Al Mu'alla, Supreme Council Member and Ruler of Umm Al Quwain has announced eight-day paid leave for government employees in Umm Al Quwain to visit Expo 2020 Dubai.

His Highness Sheikh Saud bin Saqr Al Qasimi, Supreme Council Member and Ruler of Ras Al Khaimah has announced 6-day paid leave for government employees in Ras Al Khaimah to attend Expo 2020 Dubai.

Red Arrows, the aerobatic team of the UK's Royal Air Force (RAF) will perform a spectacular 20-minute air show on 8 October 2021 at 4 pm.

Bollywood actress Aishwarya Rai Bachchan addressed the stage at Expo 2020 Dubai on Tuesday and delivered a strong message: " It's time to stop turning a blind eye to street harassment that most women face.''

At Expo 2020 Dubai, Uganda signed $650m worth business deals in fields of renewable energy, transport, agriculture, mineral processing and manufacturing medical kits.

Sheikh Abdulaziz, Chairman of Ajman's Department of Tourism Development bought 1,000 Expo 2020 Dubai tickets for Ajman government employees at his own expense to encourage them to attend the Expo and develop their professional expertise.

GO FIRST (formerly known as GoAir) in association with TripFactory has launched special packages for customers visiting Dubai EXPO 2020.

Even after the opening of Dubai Expo 2020, the Afghanistan pavilion remains shut to visitors. It is unknown whether the pavilion would open in the upcoming days during the exhibition.

Aishwarya Rai Bachchan will take part in Dubai Expo 2020 on October 5 to promote the Stand Up Against Street Harassment initiative, sponsored by L'Oreal Paris.

The Ministry of Presidential Affairs has approved eight days of paid leave for their employees to visit Expo 2020 Dubai, from October 1, 2021, till March 31, 2022.

Sheikh Mohammed bin Zayed Al Nahyan, the Crown Prince of Abu Dhabi, paid a visit to the UAE pavilion at Expo 2020 Dubai on Sunday.

Qatar's pavilion at Expo 2020 Dubai was unveiled by HE Sultan bin Rashid Al-Khater, Undersecretary of the Ministry of Commerce and Industry.

Piyush Goyal, the Union Minister of Commerce and Industry, will unveil the India Pavilion at Expo 2020 Dubai on Friday at 6 p.m. Dubai time (4:30 PM IST).

The most awaited star-studded ceremony "Expo 2020 Dubai" opened on Thursday with Azan prayers.

Abu Dhabi's powerful Crown Prince Sheikh Mohammed bin Zayed Al Nahyan, Dubai ruler Sheikh Mohammed bin Rashid Al Maktoum, and a host of other dignitaries attended the spectacular opening ceremony.

Expo 2020 Dubai opening ceremony will feature 910 artists representing 64 nations including the UAE on a 360-degree rotating stage.

The opening ceremony of Expo 2020 Dubai will be live-streamed across 430 locations all around UAE, with screens set up in airports, hotels, malls, and other well-known landmarks.

Visitors from all over the world can watch the night's performances live on the virtual Expo website and Expo TV at 7:30 p.m. GST. It will be live-streamed on the company's website, YouTube channel, and Facebook page.

The fireworks display will take place on the evening of Friday 1 October, kicking off at 8.30 pm (local time), at Dubai Festival City, The Frame and The Pointe, Palm Jumeirah, with each presenting their own unique celebrations.

After a long gap of 4 years, Qatar is all set to take part in the Dubai Expo 2020 under the theme 'Qatar: The Future is Now.

For the first time in the UAE, Talabat has teamed with Terminus Group to introduce autonomous robots at Dubai Expo 2020 for safe, contactless and secure food delivery.

Dh95 October Pass has been released by Expo 2020 Dubai. Book before October 15th to avail this offer.

Etihad Airways is giving away free Expo 2020 Dubai tickets to all its passengers flying to Abu Dhabi from 1 October 2021 to 31 March 2022.

Noura bint Mohammed Al Kaabi, the UAE's Minister of Culture and Youth, has been appointed the commissioner-general of the UAE Pavilion at Expo 2020 Dubai.

The Dubai Government has announced 6 days of paid leave for government employees to visit Expo 2020. The leave can be availed anytime during the period of Dubai Expo 2020 i.e. from October 1, 2021  to March 31, 2022.

15 Indian states and 9 federal ministries have confirmed their participation in Dubai Expo 2020 via the India Pavilion.
Frequently Asked Questions (FAQ)
1. How can you take part in the Dubai Expo 2020?
The Middle East, Africa, and South Africa (MEASA) region's first-ever World Expo is set to take place in Dubai. The Dubai Expo, which had been scheduled to run from October 20, 2020, to April 10, 2021, will now commence on October 1, 2021, and last till March 31, 2022. At this time, participation is primarily through country pavilions, as all of the available spaces have been filled. To participate in Dubai Expo 2020, send a brief of your plan to the Country Manager and he will connect you to the respective Pavilion team.
2. What is an Expo Passport?
The Expo Passport is essentially a memento in the form of a passport that visitors can use to document their journey to Dubai Expo 2020. To record memories of their trip, visitors can fill their passports with stamps, and autographs.
3. Why is it called 'Expo 2020' when it's happening in 2021?
Most people are wondering why the Dubai Expo is named Dubai Expo 2020 although it is occurring in 2021. The unexpected strike of the Covid-19 pandemic is the reason for the postponement of Expo 2020 Dubai. The initial dates of the world expo were postponed by a year, however, the name remains the same: Expo 2020, not Dubai Expo 2021.
4. Should I produce vaccination proof or a PCR test result to enter the Expo site?
Visitors aged 18 and above must present proof of a COVID-19 vaccination recognized by their home country's government or a negative PCR test done within the previous 72 hours.
Non-vaccinated ticket holders who have not been tested within this time frame are allowed to use the testing facility located near the Expo 2020 site. It takes about four hours to obtain results. The PCR test will be provided free of charge to all visitors holding a valid Expo 2020 ticket.
5. Which items are prohibited at the Expo 2020 site?
The following items are prohibited from being carried into or near the Expo site:
Professional filming and photographic equipment with focal lengths more than 30 cm.

Food and beverages (except infant food and, special dietary items).

Any equipment that emits a laser beam, uses laser pointers, or strobe lights.

Noise-making devices (e.g. vuvuzelas, drums, whistles, horns).

Any objects suspected of being counterfeit which bear the Expo 2020 emblem, trade name, or other trademarks.

Unmanned aerial vehicles (UAVs) and drones.

Rigid poles and sticks.
6. Is there a dress code for Dubai Expo 2020?
There is no dress code for visitors. However, for the UAE's warm weather, any lightweight, casual and comfortable apparel will be perfect. It is better to avoid excessively tight or revealing clothes.
For more Dubai expo 2020 related FAQ's Visit: https://www.expo2020dubai.com/en/support/faq
Note: If you think any of the above is incorrect, please let us know and we will update, amend or make changes accordingly.
Disclaimer: GMI acknowledges that though we try to report accurately, we cannot verify the absolute facts of everything that has been represented on this infographic. The information represented is based on information researched from various sources on the internet. We are not liable for any errors, financial loss, or damages of any kind that may result from the use of, or reliance on, the information herein.
« An Ultimate Guide to ...