Posted in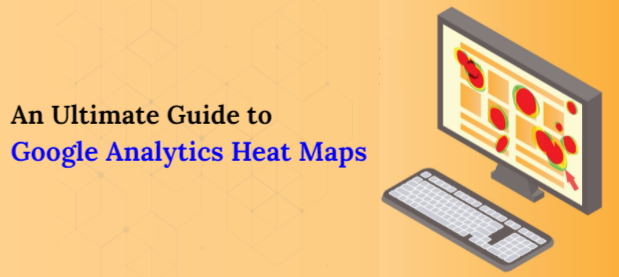 A Heatmap is a great tool for visualizing complex statistical data and understanding what users do on your website, where they click, how far they scroll, where they spend the majority of the time, what they look at or ignore. The ultimate way to measure how your users interact and make use of your website is through Heatmaps and session replays. Nowadays most websites use Heatmaps to make data sets comprehensible and actionable. Also, there are plenty of Heatmap service providers available in the market.
Let's dive deep into Heatmap and find how you can get started with it.
What is a Heatmap & What does it Show?
A heat map (or Heatmap) is a two-dimensional graphical representation of data where values are represented by colour. The variation in colour may be by hue or intensity and provides an immediate visual summary of information to the reader about how your users actually use your site at a glance. This means you can easily pinpoint elements of your website layout that perfectly serve their purpose and elements that deserve extra attention and care.
Heat Mapping software works by collecting data from a web page and displaying that data over the web page itself. By aggregating user behaviour, Heatmaps facilitate data analysis and identify trends and optimize for further engagement. Heatmaps are most commonly used to show user behaviour on specific web pages like where users have clicked on a page, how far they have scrolled down a page, what they look at or ignore. These data can be very useful for conversion rate optimization, thereby improving the user experience on their website.
What are the Different Types of Heatmaps?
There are several types of Heat Maps available:
Click maps
Scroll maps
Attention maps
Mouse move maps, etc.
1. Click maps
Click maps show you aggregate data of where the website visitors click with the mouse on desktop devices and tap their finger on mobile devices. The map is colour-coded to understand which elements have been clicked and tapped the most. The colour codes go like this – blue means fewer clicks; yellow indicates more clicks, and the most clicks are bright red spots. These colour codes may vary depending on the tool you have been using.
Example for click map: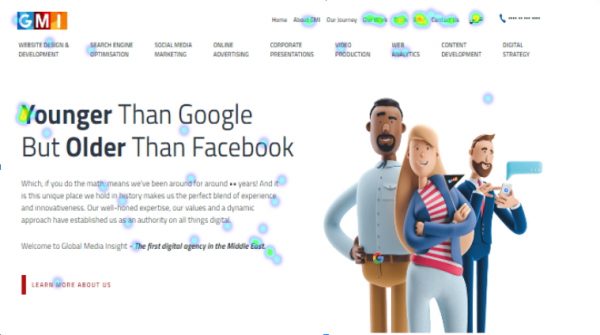 2. Scroll maps
Scroll maps show you how far people scroll down on a page: the redder the area, the more visitors saw it. This will help you to understand where users tend to drop off. Generally, the longer the page, the fewer people will scroll down to the bottom. This is normal and helps you to prioritize what you want people to pay attention to and put it higher.
Example for scroll map: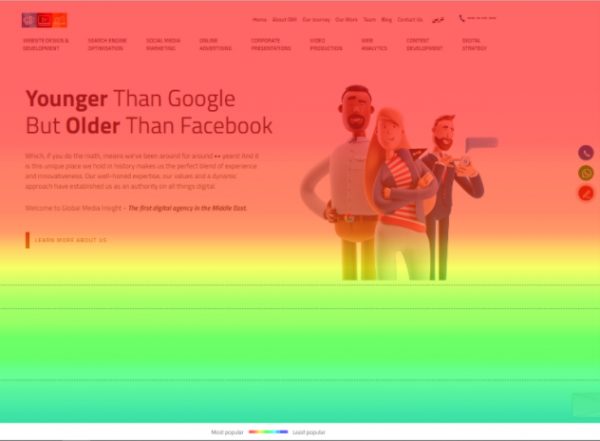 3. Attention maps
Attention Heatmaps are popularly used for optimizing web pages that have rich quality content. They show which areas of the page have been viewed the most by visitors, taking into account how far they scroll and how long they spend on the page. By watching the colour change, you will be able to modify your page content as per the choice of visitors. The hotter the activity, the hotter the colour. The cooler the colour gets, the less activity. When you analyze your website, notice if important elements are in areas that are cooler: indicating they're not getting as much attention. So you can easily identify the user's attention area and can move your important content or buttons into that area for getting more attention.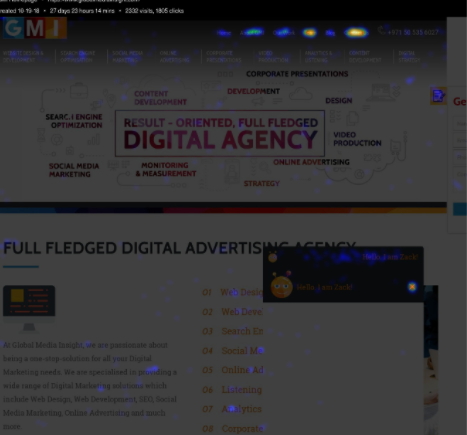 4. Mouse move maps
Mouse move maps track where users have clicked and moved their mouse on the screen. The mouse move Heatmap allows you to view an overall layout, where visitors are moving their cursor on a page while browsing. Once data begins aggregating, you will be able to view a Heatmap of mouse movements on a page. The areas which show the most clicks and mouse activity represent the most engaging parts of your website.
The reliability of mouse move maps data is a little questionable. Just because a user's mouse stayed on the headline for 5 minutes doesn't mean they're still reading the headline. Users aren't always looking at the exact spot where their mouse is. People might be looking at stuff that they don't hover over. They may also hover over things that get very little attention therefore, the heat map would be inaccurate.
What is Google Analytics Heatmap (In-Page Analytics) and How to Access it?
Google Analytics heat map is a visual representation of user data. It shows how a user behaves on your website. Looking at a heatmap, you'll come to know what attracts and engages your users such as the links they click on more frequently, the sections they mostly read, etc. The information you get from a heat map can be put to good use for improving user engagement and driving conversions on your website.
Google Analytics heatmap can be generated using Google Analytics data. There is a chrome extension for this purpose called page analytics.
GA has become the favourite web analytics platform for UAE, Saudi Arabia, the US and many other countries. One of the major advantages of GA is that by placing a small snippet of Google Analytics tracking code on your website, you can track most of the website metrics by default. Through its limitless features and data-driven graphs, GA has helped tons of enterprises to make ROI based decisions.
History of Google Analytics Heatmaps or In-Page Analytics
When it was first introduced in 2010, this feature was included directly in a Google Analytics report page. You were able to see your live website with click data superimposed over it right there in the context of the report. But starting with Internet Explorer 9 and relatively recent versions of Firefox and Chrome, browsers began blocking some forms of mixed content on secure HTTPS pages by default, to prevent certain kinds of malware and data-stealing attacks. As a result, most people will not be able to view the In-page visual data directly in Google Analytics.
Later then, Google Analytics removed the In-page analytics feature from the GA dashboard which now works through a Chrome extension. With the extension installed, log in to Google Analytics, and navigate to your site. Google will overlay your site's link data. Once you install the extension, you can view click data in the form of click maps.
View In-page Analytics Reports with Enhanced Link Attribution
An enhanced link attribution feature was introduced in 2012 to improve In-page analytics. The key purpose of this feature is to differentiate between multiple links on a single page that led to an identical location. If you have multiple links on the same page leading to the same destination, Google Analytics enhanced link attribution will show which link is getting more clicks.
To enable the enhanced link attribution,
→ Go to the Admin section of Google Analytics
→ Enable the "Use enhanced link attribution" icon under property settings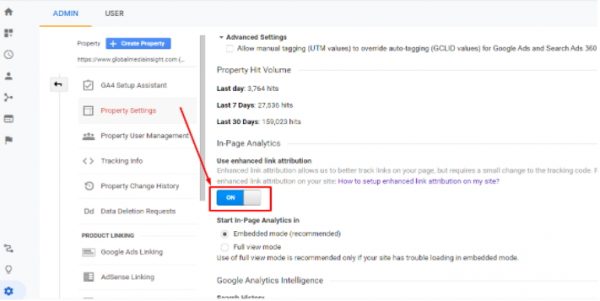 How to Install Page Analytics (Chrome Extension)?
The only way you will be able to access Google Analytics Heatmaps (In-page analytics) is via Chrome extension. Go to the Chrome web store and install the extension on your browser.

Once you install the extension, the Analytics extension first verifies if the page you are viewing is associated with the analytics account you are logged in with. If not, it will show an error message and can't fetch the data. Also, whenever you want to see the page analytics for a specific page or site, make sure you enable the In-page analytics extension by clicking on it. Only after that, you can view the click data in the form of click maps.
If you can't view any data, it might be because of one of the following reasons:
Logged into multiple Google accounts or the wrong Google account: Try logging out for all of your Google accounts and logging back into your main analytics account.
Couldn't find any Google Analytics tags on the page
You don't have access to the analytics data for this page
Features of Google Heatmap Analytics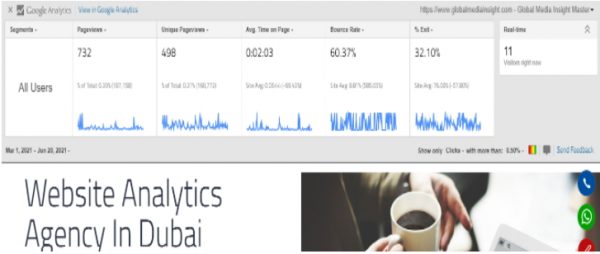 It gives an overview of metrics like page views, unique page views, average time on page, bounce rate, and exit percentage. It also displays the number of real-time visitors. These are the default metrics that are shown when the extension is turned on. Also, it has options to change the segments and date range.
– Segments
The best part about this particular extension is that you can change the segments. By clicking on the segment button, you can add more segments into your report and it will appear like the below image: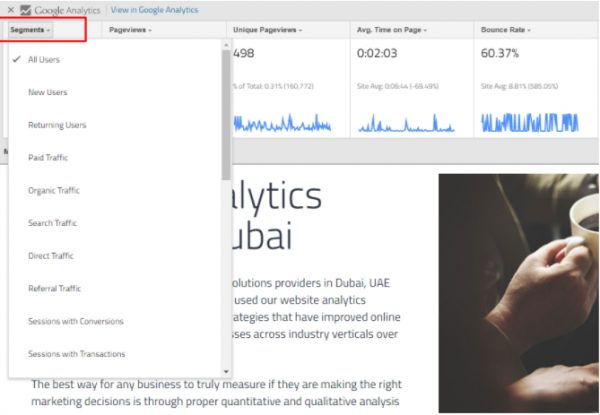 You can add up to 4 segments to your report.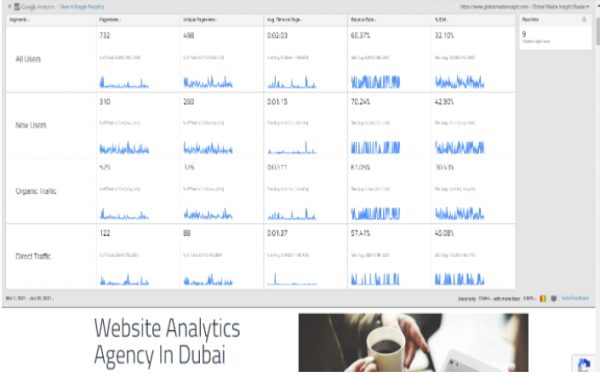 – Metrics
It provides an option to change the default metrics to the metrics that you want to see on the page.

– Select Date Range
The date range is the same as in Google Analytics. You can select from the predefined date ranges and can add comparison date ranges too.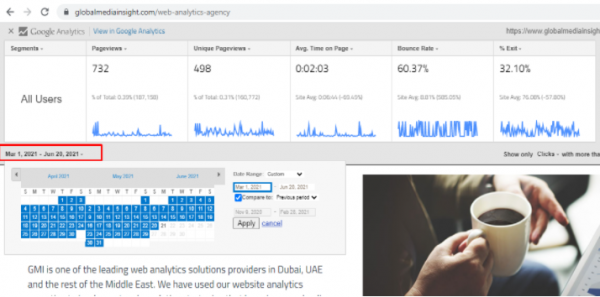 – Click Threshold
The Click threshold on the right bottom side of the In-Page analytics window shows bubbles displaying the percentage of clicks that are recorded from the areas containing links above a specified threshold. You can customize the clicks threshold between 0% and 10%.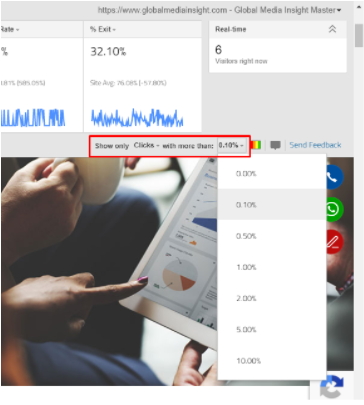 – Colour Icon
Choose the "Show colours" option to see the click data in the form of colours. Here we are selected to show the click data with more than a 1.00% click rate. The colour scaling use ranges from blue, green, orange to red. From this, we easily understand that the hotter areas (marked in red) are being clicked by the visitors more than the lighter areas (marked in blue).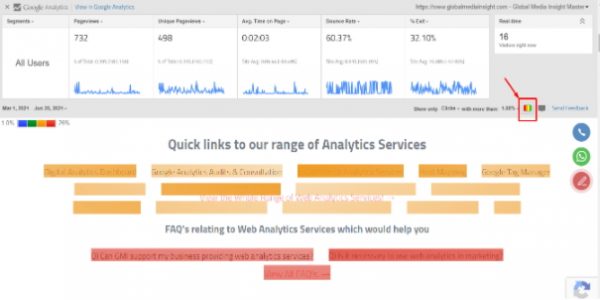 – Bubble Icon
You can choose to see the above data as small bubbles displaying click percentages. The map is the same as the above-mentioned colour map – the only difference is that here we can see the number of clicks and its percentage also.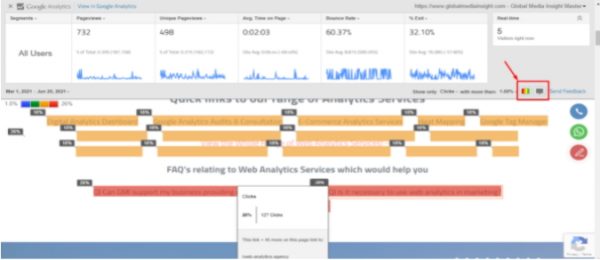 If you wish to see both the percentage of clicks and colour variation in the same map, enable both the icons together.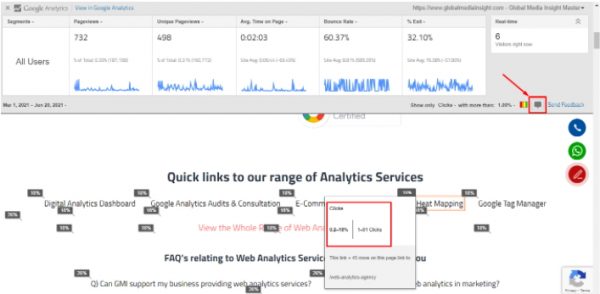 Using these two visualization types together, you can dive deep into GA data and can discover trends in user behaviour on your website pages. It also helps you to come up with data-backed solutions to fix experience compromising elements.
Page Analytics Extension by GA has one major drawback – it only creates click maps, and that too for the links on the web pages alone. Hence, if you plan on using the website Heatmaps as a primary tool for data visualization and analysis, you will have to compare the tools available in the market and finalize one which is best suited for your needs or you can reach out to our heat map service.
What are the Benefits of Using a Heat map on your Website?
1. Provides an instant overview of key web performance
There are several types of Heat Maps available. Although each of them serves different purposes, the ultimate result is the overview of web performance. A Click Heatmap reveals the clicking patterns of the users whereas the Scroll maps provide data about the scrolling patterns. Attention maps show which parts of your website are most engaging to users. Movement track mouse movements. Lastly, Geo Heat Maps reveal territories or countries where conversions are high and where they are not. In short, Heatmaps tell you at a glance what's working and what needs to be addressed.
2. Heatmaps are more visual
Compared to other analytics tools, a Heatmap is easier to understand and analyze even if you are not that familiar with analytics. Because it provides a visual approach to numeric values. The use of colour-coding is the best part of Heat Mapping tools. For example, a Heatmap usually overlays red and orange colours to the parts of your website that visitors interact with the most. Meanwhile, green and blue are used for elements that do not get the desired attention.
3. Makes it easier to learn from users and create user-friendly web design
Heatmaps help you understand what your audience is doing on your website, where they are clicking the most, which CTA/content is getting the most and least attention, where they spend the majority of the time, what they look at or ignore and more. These data can be used while optimizing or redesigning your website for a more user-friendly design. Combine Heatmaps and A/B testing, and your learning becomes predictive without being intrusive: You test future design choices before deploying them to a wider audience – and don't risk alienating your users
4. Help companies make data-driven choices that improve the bottom line
By helping companies make better web design choices that increase engagement and the conversions that lead to sales, Heatmaps enable decisions that drive business results. Landing page analysis using Heatmap can help you to reduce the bounce rate in Google Analytics which drives better campaign results. Ultimately, Heatmaps are all about improving the bottom line. Nowadays the widespread use of Heatmaps demonstrates that customers appreciate their ROI.
Top 5 Other Heatmap Tools for your Website
There are a number of Heatmap software available in the market. Here are the top 5 among them:
1. Microsoft Clarity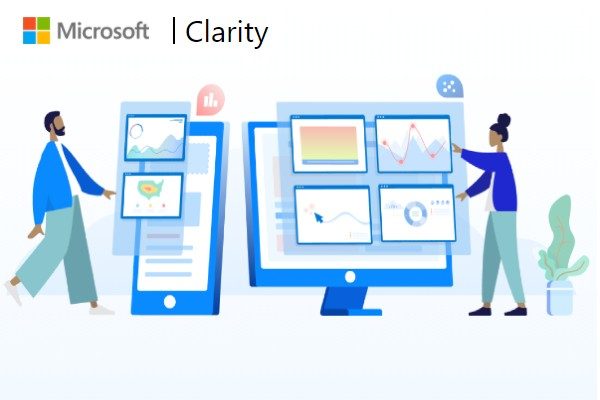 Microsoft Clarity is a free analytics tool developed by Microsoft and it has 3 key features: Sessions Playback, Heatmaps, and Insights Dashboard that will provide you with insights into how your users are interacting with a particular site. It offers Clickmaps and Scrollmaps besides the typical filters like OS, country, timeframe, browser, etc. Microsoft Clarity manages machine learning in identifying actions like 'excessive clicking', 'rage clicking', 'dead clicking' in your dashboard, Heatmaps, and records of sessions.
Pricing: Free of cost
2. Hotjar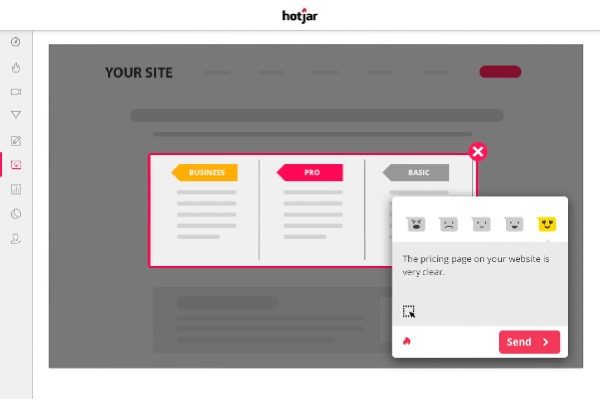 Hotjar is a powerful analytics and conversion optimization tool. They offer different types of Heatmaps like click, tap, scroll, and mouse movement Heatmaps. It combines Heatmaps, session recordings, form analytics, funnels, polls & surveys. With session recording and conversion funnels, you can discover and fix usability issues on your site. Hotar's reporting dashboard is very easy on the eye and user-friendly.
Pricing: Start from $39 per month. They also offer a limited free plan
3. Crazy Egg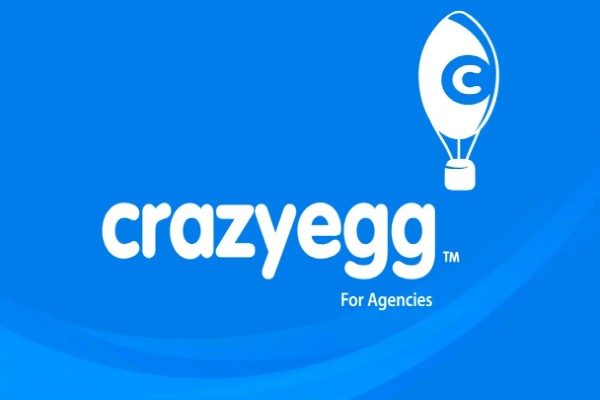 Crazy Egg is one of the most popular Heatmap tools available in the market today. It offers click, mouse cursor, scroll, and confetti Heatmaps. By using Crazy Egg, we can analyze where your visitors are coming from, what they click, and where they pause. Crazy Egg has an editor so you can make quick changes to your page. It integrates with Shopify, WordPress, and more.
Pricing: Start from $24 per month. They also offer a free trial.
4. Mouseflow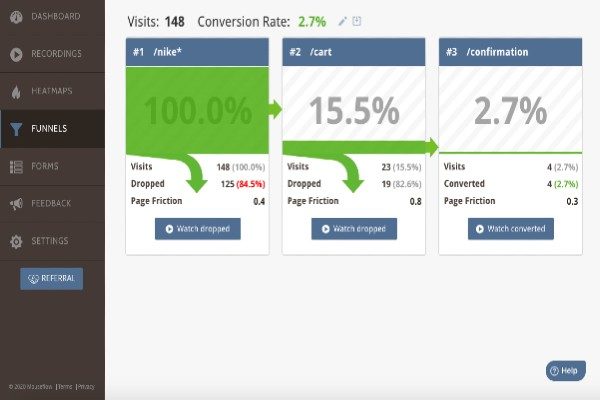 Mouseflow is another easy-to-use Heatmap tool. It offers click, scroll, movement, and attention Heatmaps. It also offers recording of website visitor activity and forms analytics, which allows you to see why users are abandoning your forms. In Mouseflow, you can add filters and segments like location, duration, traffic source, etc. to all your sessions and you could see which visitors are new or returning.
Pricing: Start from $24 per month. They also offer a limited free plan
5. Inspectlet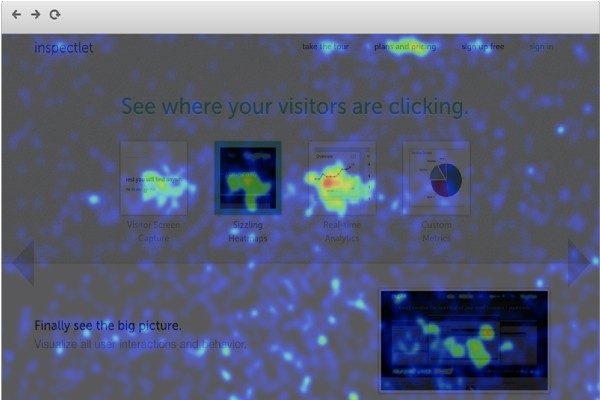 Inspectlet is a very powerful session recording and Heatmap service. It includes all three types of Heatmap tracking clicks, cursor movement, and scrolling. They also offer conversion funnel analytics with a very powerful filtering feature. Inspectlet works with AJAX, HTTPS, single-page websites.
Pricing: Start from $39 per month. They also offer a limited free plan
Conclusion
In short, Heatmaps are an effective way to visually identify business opportunities and weak points besides maximizing sales and distribution strategies. When used incorrectly, Heatmaps can be misleading. They can encourage analysts to make assumptions that may not be correct. It is important to remember that, as with other forms of quantitative data, Heatmaps can tell you what has happened on a page, but cannot tell you why that happened.
If you wish to have a group of professionals to guide you through the path of handling page analytics, reach out to our Google Analytics consulting services. Our analytics experts are here to guide you in making informed decisions for your ascending growth and prospects.
« YouTube User Statist ...
21 Latest Web Develo... »