What is DV360 Programmatic?
DV360 is Google's Demand Side Platform (DSP) that allows advertisers to bid and buy inventory from publishers or ad exchanges outside Google's network.
It is a single tool for planning campaigns, managing creatives, collecting audience data, buying inventory and measuring campaign performance. To put it simply, DV360 is used to buy inventory and optimize media campaigns to drive better performance.
What is the Difference Between Google Ads and DV360?
Compared to Google Display Ads, DV360 has superior features in terms of branding, lead generation, and e-commerce ads. One of DV360's main strengths is it offers a large-scale reach to over 80 exchanges. 
While Google Ads is a good option for regular advertising, DV360 comes with extensive audience buying capabilities that enable advertisers to appear on premium or well-known sites. Unlike Google Ads, DV360 integrates multiple features like Campaign Manager, Google's ad-serving technology, and Studio, Google's creative workflow tool.
Why is DV360, Google Programmatic Option Superior?
Google DV360 is the largest demand-side platform (DSP) in the world. With a wide range of inventory for marketers, DV360 has all the tools to maximize the efficiency of ad spend. Moreover, Google owns Google Search, YouTube, and Gmail, and all of which have a humongous amount of user data. This gives you access to an array of valuable data like audience behavior, content consumption, surfing habits, etc.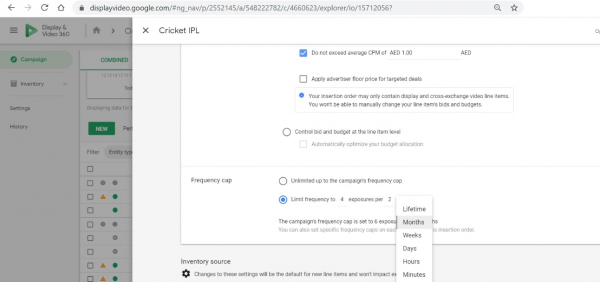 Data Superiority
With detailed insights, DV360 helps you target the most appropriate audience – thus reaching potential clients/consumers for your business/brand. No other programmatic Ad platform has access to this kind of data.
Large Inventory
DV360 has got 80+ ad exchanges in its offering further multiplying the reach. This makes it a far superior alternative to Google Display Ads. DV360 offers 50 times more availability of banner impressions than what Google Display can ever have.
Premium Inventory
Google Display already has access to banner inventory from Gulf News, Khaleej Times, The National – UAE's top English News publications. DV360's available inventory is 50 fold more.
Branding
Generally, the success of branding campaigns is measured with various metrics like reach & the frequency cap. With a large number of websites available through DV360, branding campaigns get great bandwidth.
What is Frequency Cap in DV360?
Frequency Cap is the number of times a banner ad is seen within a stipulated duration. With DV360, the Frequency Cap is controlled at the Account Level, Insertion Order Level & Line item level. The number of times the banner ad can be seen by a prospective consumer or lead can be limited in terms of the number of impressions within the number of minutes/hours/days/weeks/months/lifetime. In other words, depending on the specific line item of Insertion Order and the value of the lead for each product/service, the frequency can be specifically increased or decreased.
Keyword Targeting in DV360
DV360 offers multiple targeting options. Besides having access to Google's own audience data, DV360 has access to third-party data providers, which will help to target more people at the right time.
You can target people based on demography, interests, geography and remarketing lists. Also, DV360 allows you to target custom audiences, who are looking to purchase a similar product.
Moreover, DV360 has an exclusive targeting option called contextual targeting where you can choose to target or exclude users by the online environment they are browsing on (app, mobile, laptop).
When is DV360 a Bad Idea?
First of all, DV360 is a bit more complicated than Google Ads. Sometimes, it can be confusing and complex to navigate. Another downside is that the advertiser needs to have a particular monthly media spend threshold. In Google Display, there is no such threshold. Also, DV360's support is not up to the mark.
Conclusion
With Google Ads, you only pay when a user clicks on an ad – it's that simple. It is the best option for small and medium-sized businesses. At the same time, go for DV360 if you need large-scale reach. With its extensive audience buying capabilities and consolidated features, DV360 can help your business reach newer heights.
(Visited 128 times, 1 visits today)