Posted in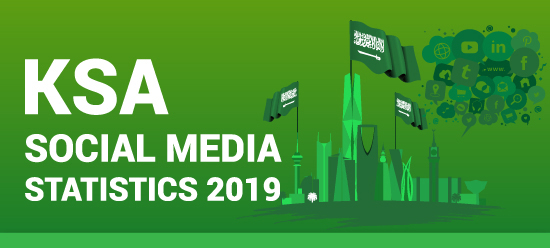 Social media has come to play a decisive role in the rapidly transforming Saudi society. Saudi Arabia continues to be a social media powerhouse, being one of the biggest national markets for Snapchat and YouTube in the world. The global rise in social media amounts to 13% annually and Saudi Arabia leads the race among other nations with an exponential annual growth rate of 32%.
Crown Prince Mohammad bin Salman mandated the Vision 2030, the long term model for the ambitious and progressive development of Saudi Arabia. This has led to economic, social and cultural diversification with the works in progress on several giga-projects, which are designed to be places of inspiration, discovery and fruitful engagements for the millennial generation. The plan also aims to include women in the workforce and several far-reaching changes which have caused a ripple effect on Saudi society which is mirrored on social media platforms.
To make sense of all the social media stats, you need to know what is relevant for you. From online demographics to influencers and the best performing platforms, we have listed out who's online and what they are doing while online.
Social Media Usage Statistics of Saudi Arabia : 2019 Infographics


Click to copy the code below to display this Image on your Blog or Website
Social Media in The Kingdom 
| | | |
| --- | --- | --- |
| Total population of Saudi Arabia | 33.85 million | 100% |
| Internet users in Saudi Arabia | 30.26 million | 89.39% |
| Active social media users | 23 million | 67.95% |
| Active users accessing social medias from mobile devices only | 16 million | 47.27% |
Saudi Arabia currently has a total population of 33.85 million. Of that population, 23 million or 68% are active social media users. Saudi youth make up to 75% of the total UAE population. This majority has been the game changers which has thrust Saudi Arabia to the top position on the global social media charts.
Today, Saudi Arabia has the largest social media presence in the world. With 43.80 million mobile subscribers, mobile penetration stands at 129% of the total population. The major reason for the high number of active social media users is due to the high rate of smartphone ownership. With more than 84% of the country living in urbanized areas, with super-fast internet connections, it comes as no surprise that the active social media users stand at 23 million, an incredible 67.95% of the population. According to reports from Hoot Suite and We are Social, Saudis are the largest group of active users on Instagram, Twitter, and Snapchat in the region.  The average time a Saudi spends on social media via any device is 2 hours and 50 mins daily.
Most Popular Social Network Platforms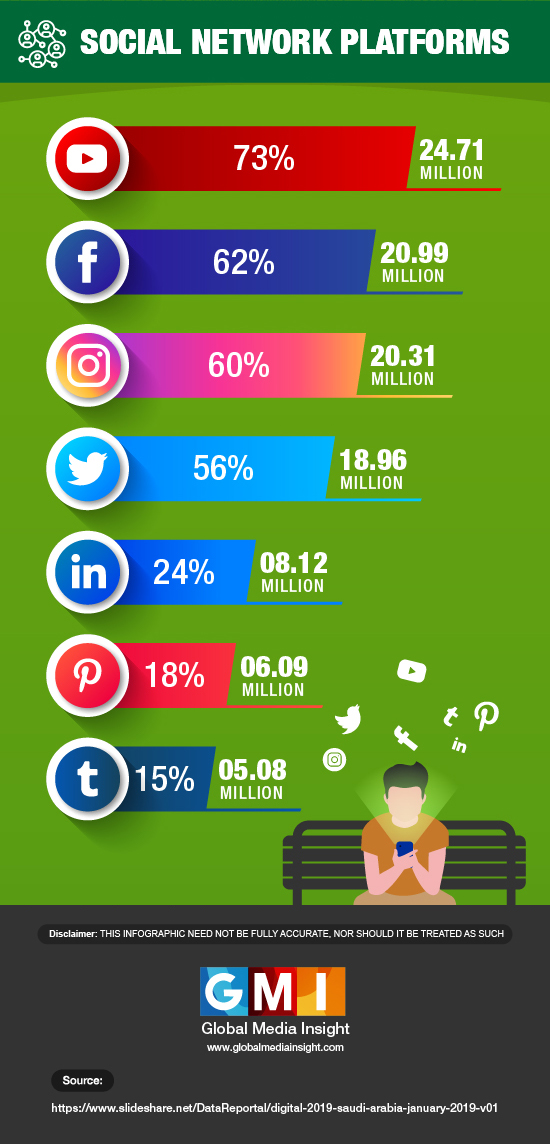 | | | |
| --- | --- | --- |
| Social Media Platform | Users (in million) | Percentage% |
| YouTube | 24.71 | 73 |
| Facebook | 20.99 | 62 |
| Instagram | 20.31 | 60 |
| Twitter | 18.96 | 56 |
| LinkedIn | 8.12 | 24 |
| Pinterest | 6.09 | 18 |
| Tumblr | 5.08 | 15 |
As with the digital world, video content reigns in the sphere of online media consumption, especially in the Arab world. Millennials in the MENA region spend over three hours per day on online video, even surpassing time spent on messaging apps and games.
Think With Google MENA, an online resource from Google with data, analysis and insights on the digital world in the MENA region, came out with a report in March 2019. The report throws light on the online trends present among the younger generation in the Arab world and has revealed the pre-eminence of video content among millennials in the Arab world. With 68% of people in Saudi Arabia and the UAE consuming video through digital rather than TV, YouTube tops the list of social channels with 24.71 million viewers, which is a whopping 73% of the total social media users.
YouTube is The Rising Star
When it comes to dedicated YouTube fans, Saudi Arabian fans dominate. The Gulf country is the biggest user of the video-sharing platform per capita globally and YouTube is actually one of the most popular brands in Saudi Arabia.
The most popular Saudi YouTuber is Mohamed Moshaya, with a total of 7 billion views on his channel, according to Social Bakers. Moshaya calls himself as the "largest family vlogger in the Middle East". Think With Google MENA emphasized the fact that Middle Eastern millennials are parents and YouTube is a big part of the family experience. In fact, over 90% of mothers watch popular videos like Baby Shark on YouTube with their kids every day. In the region, over 40% of fathers turn to YouTube for guidance and young moms and dads unwind at the end of the day by watching YouTube comedies.
The Rest of The Social Pack
YouTube is closely followed by Facebook and Instagram. Facebook is still slightly ahead of Instagram with 20.9 million, but it wouldn't be a big surprise to see Instagram overtake as the year rolls on.  Mohamad al-Arefe is the most followed Saudi-based page on Facebook while religious education TV channel Khawatir is second. The top 5 industries on Facebook are Retail, Airlines, FMCG, Automotive, and Finance.
Instagram's user base has grown to 20.3 million active users in 2019. The Los Angeles-based model, Roz who calls herself "the first female model from Saudi Arabia" is the most popular account in the Kingdom, with an incredible 10 million follower base.
There are 18.96 million Saudis on Twitter and that's 56% of the social media reach. The most engaging Tweet in 2019 was from @KingSalman.
With 8.2 million LinkedIn users are in Saudi Arabia, it makes up 24% of the social media pie.
Video streaming and messenger apps dominate the mobile activity. It's unsurprising then, that the platforms with the highest penetration across the Kingdom of Saudi Arabia are YouTube and WhatsApp.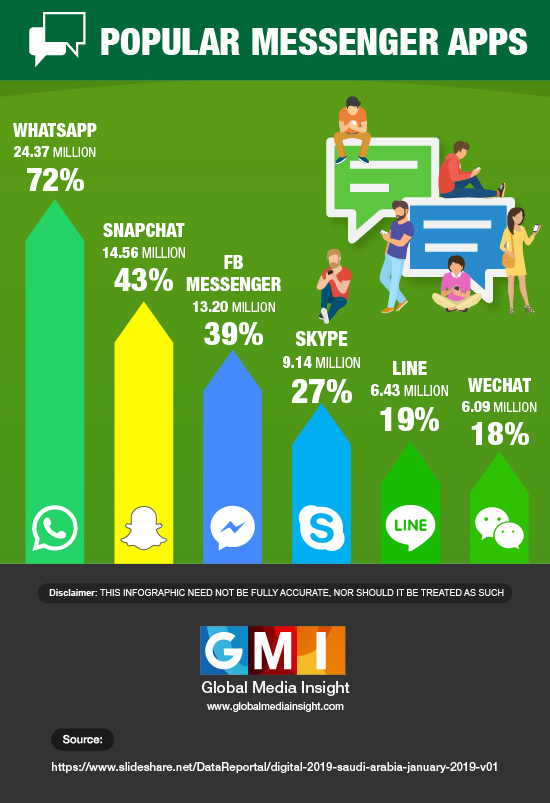 | | | |
| --- | --- | --- |
| App | Users (in million) | |
| Whatsapp | 24.37 | 72 |
| Snapchat | 14.56 | 43 |
| FB Messenger | 13.20 | 39 |
| Skype | 9.14 | 27 |
| Line | 6.43 | 19 |
| Wechat | 6.09 | 18 |
Free messaging services beats paid messaging services any day. And for a country like KSA, where some traditional and conventional rules still apply, messaging peers through messaging giants like WhatsApp and FB Messenger have gained popularity owing to it being free as well.
Saudi Arabia leads the world in Snapchat and currently has the world's largest monthly active Snapchat audience, with 14.56 m users. However, since the end of 2018, there's been a sharp drop of 15% in active Snapchat users.
What's in Store?
All data point to the fact that millennials and Gen Z-ers are the ones who will call the shots by influencing decisions and changes. Understanding their behavioral patterns will help marketers add value to their life through the rightly targeted services and products. Your brand should speak to this Saudi generation using the content they enjoy.
Looking for ways to reach Saudi Arabia's social media savvy millennial and Gen Z generations with high-purchasing power? GMI has helped formulate the social media strategy for the Middle East and GCC region for some of the world's biggest brands. Get in touch with our team and we help your brand take on uniquely crafted digital strategies that are sure to reach your target group.
Disclaimer: GMI acknowledges that though we try to report accurately, we cannot verify the absolute facts of everything that has been represented on this infographic. The information represented is based on information researched from various sources on the internet. We are not liable for any errors, financial loss, or damages of any kind that may result from the use of, or reliance on, the information herein.
Reference URL: We Are Social Blog
« Top 3 Business Group ...
Dubai Expo 2020 Fact... »