Posted in


There are only very few countries in the world that have gone through economic, cultural and social transitions as dramatic as Saudi Arabia. What was, during the 1960s, a predominantly nomadic culture, is now 95 percent settled down, with 80 percent of the population living in urban areas. The Saudi way of life is also renewed, majorly with regards to technology and communication.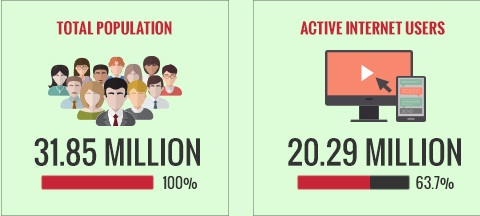 In this evolved Saudi Arabia, social media has become a major force. Today, the country has the highest penetration of Twitter users in the world, and their per-capita consumption of YouTube is the highest in the world. To better understand this impressive growth, let's take a look at a few figures below
Social Media Infographics 2016

Click to copy the code below to display this Image on your Blog or Website
Going Mobile
With its significantly youthful population embracing newer technologies with great enthusiasm, the widespread acceptance of smartphones and the advancements in mobile internet technology are the major driving forces behind the rise of social media in the country.
Over the past year, while the number of people accessing the web through laptops and desktops went down by 17 percent, the number of people using their smartphones for internet rose by 19 percent. Of the 11 million active social media accounts in KSA, 10 million are being accessed via mobile phones.
Social Players- Top Active Social Network Platforms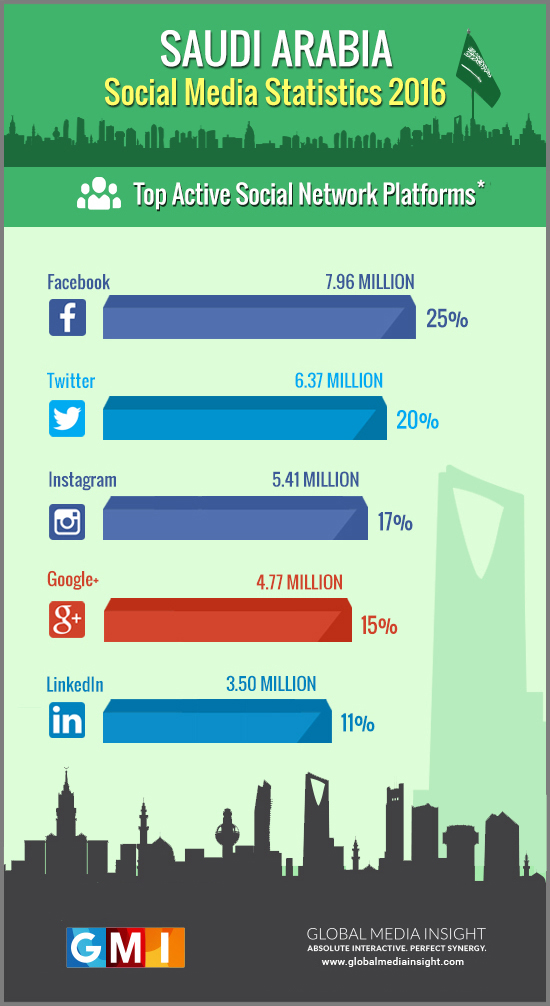 Among social media networks Facebook has maintained its top position, increasing its share over last year, both in numbers and percentage of users. Twitter also has witnessed a slight growth, to achieve 20 percent of the market share. Google+ had held its ground with 15 percent, but has gone down in rankings, mainly due to the rise of the popular photo sharing app, Instagram, which has witnessed the largest growth among social media networks to become the third most popular platform in the country, after Facebook and Twitter, with 17 percent of the market share and 5.41 million users.
Digital Chatter – Top Active Social Chat Apps & Messengers
Messaging platforms have displayed a series of high-impact growths this past year. WhatsApp has maintained its lead as the number one player among messengers and chat apps and has increased its market presence to about 27 percent, with a user base of 8.59 million.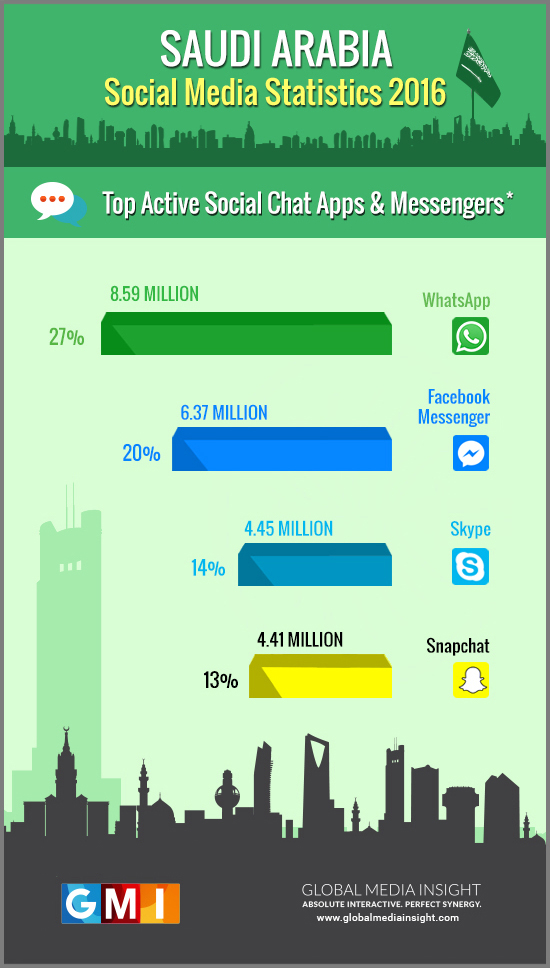 Facebook Messenger, at second place, has also seen significant increase in popularity, rising from 15 percent of social media market share in 2014 to 20 percent in 2015. But the major upstart in the Saudi Arabian social media messenger scene is Snapchat. Almost non-existent in the statistics last year, it has made its mark this year by grabbing 13 percent of the user base.
What's in Store
Even though Saudi Arabia is one of the most populous and richest nations in the Middle East, its internet penetration remains at a better than average 64% and its social media penetration is at a meager 34.53 percent. It is evident that the country has a lot of hidden potential.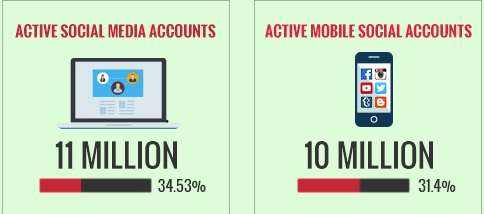 country would motivate the people to leave behind their conservative way of life or embrace it further, it would be a fallacy to ignore the immediate effects it has brought. People are more connected to what is happening in the world and there is a broader sense of transparency in governance, facilitated by a freer flow of information and curiosity. Even those in power, the long-reticent aristocrats of the Saudi Royal Family, have taken to Twitter and Facebook to connect better with their subjects and share their side of the story.
With its history, population and lifestyle, Saudi Arabia is surely a fascinating case study for social media observers.
If you are an individual or a business looking to connect better with your clients in Saudi Arabia or elsewhere, through the ever changing sphere of Social Media, we, at Global Media Insight, can help you out. With over 14 years of experience in digital technologies and social and digital markets, we excel at driving engagement by optimizing your business's reachability and connections. Get in touch with GMI to establish effective and robust social media strategies that span platforms and channel
Reference URL: We Are Social Blog
« Saudi Arabia Faceboo ...
1 Billion Users: Wha... »