Facebook marketing can prove to be an effective social media strategy in Saudi Arabia in the coming days. With about 82% market share*, you can reach out to almost half of the country's population without too much effort.
The statistics here offer some interesting insights into the demographics and whereabouts of Facebook users and can help you streamline your marketing communications and connect with new customers.
Men vs Women
Facebook leads the social media game in Saudi Arabia with 15 M users and that is roughly half of the country's total population. Although the platform is yet to achieve gender parity, we cannot ignore the fact that the number of women users is rising phenomenally. In 2020, their figures stand at 11,700,000 (78%) male users and 3,300,000 (22%) female users.

In a land that has remained conservative for decades, 3,300,000 women Facebook users seems like heralding an era of modernisation, thanks to the measures taken by the Crown Prince Mohammad bin Salman to empower women.
Age-Wise Breakdown
Facebook in Saudi Arabia is a favourite of people across all age groups. As with all other social networking sites, Facebook also has got the biggest user base in the 25-34 age bracket. Around 7,683,000 users fall into this category.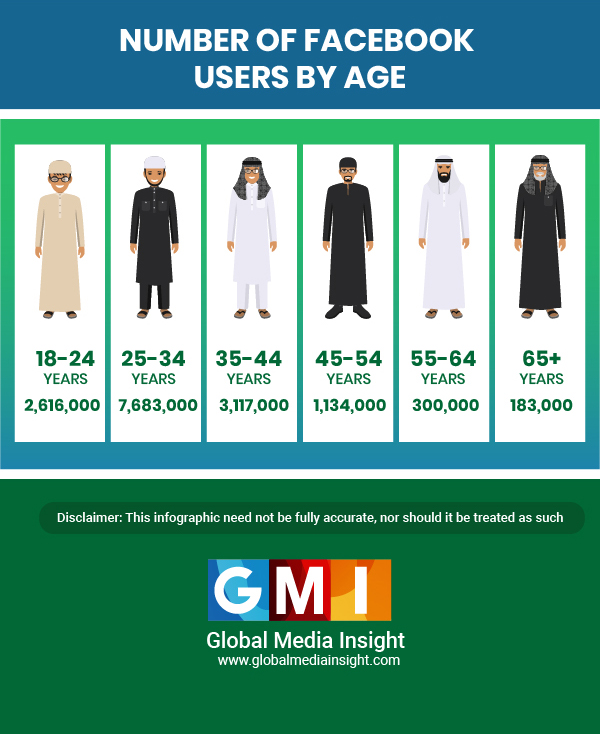 The second place is claimed by the 35-44 age category with 3,117,000 users. The age brackets of 18-24 years and 45-54 years make the third and fourth positions with 2,616,000 users and 1,134,000 users, respectively. Finally, the last two places are occupied by 55-64 and 65+ age groups with a mere six-digit number i.e., 300,000 and 183,000 respectively.
City-Wise Breakdown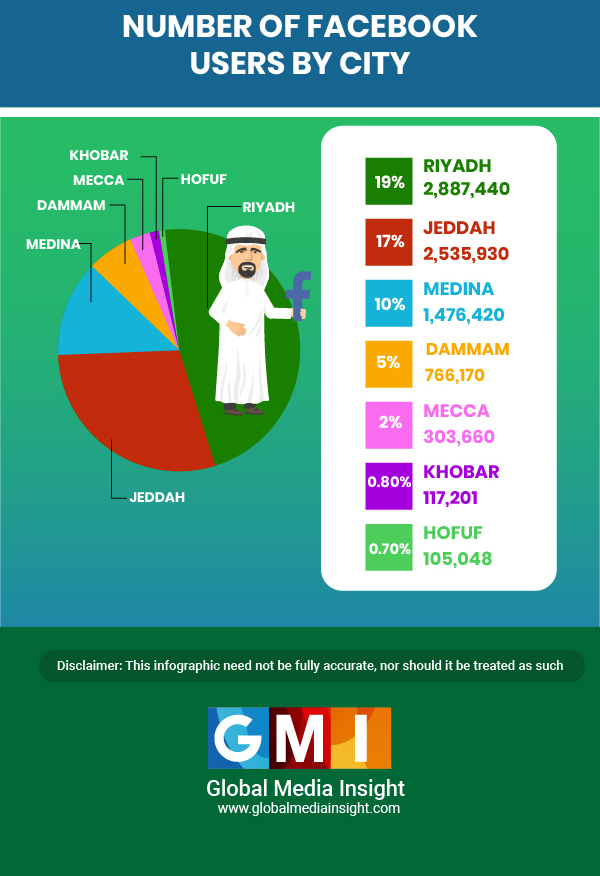 Of all the places in Saudi Arabia, seven cities have been found with the highest number of Facebook users. Among them the user-concentration is high in three cities Riyadh, Jeddah and Medina with 2,887,440 (19%), 2,535,930 (17%) and 1,476,420 (10%) respectively. The other four places namely Dammam, Mecca, Khobar and Hofuf together contribute to only 9% with 1,292,079 users.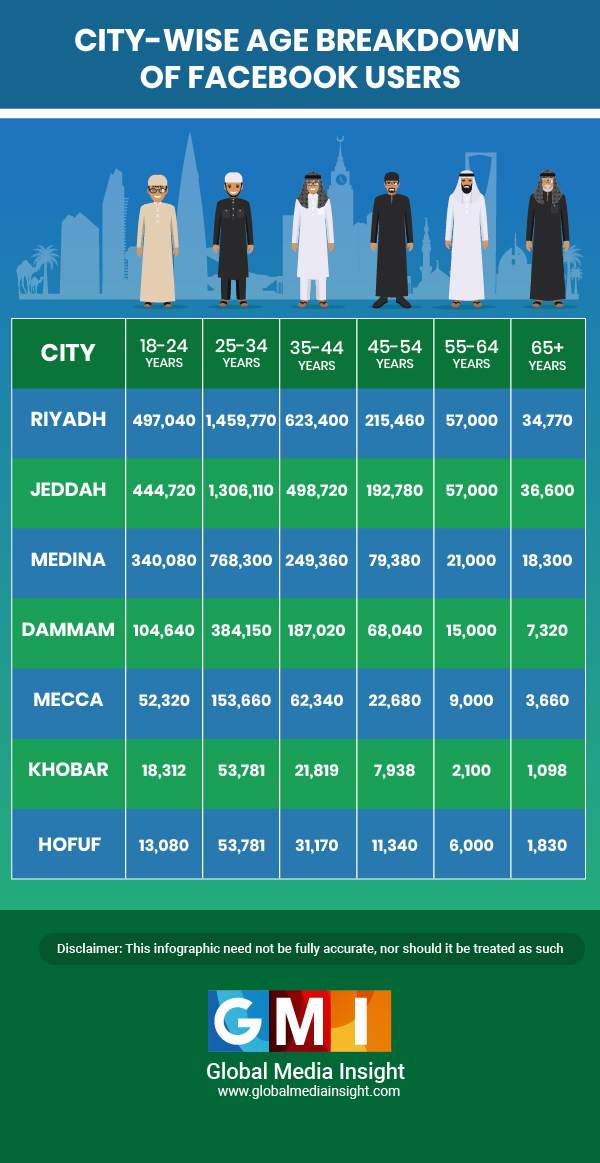 Now, let's analyse the age-wise distribution of Facebook users in these cities. Taking the seven cities into account, the 25-34 age group still leads with the highest user-base with 4,179,552 users in total. Take a look at the above infographics to learn more about user-age-breakdown by city.

Desktop vs Mobile
Just as in the US or UAE, Facebook is more frequently accessed on a mobile phone than a desktop in KSA. This is evident from the statistics above. About 87% of users engage on Facebook via Android devices, 10% via iOS devices and 2% via mobile web. Whereas only a negligible 0.80% of users follow the age-old tradition of using Desktop to log on to Facebook.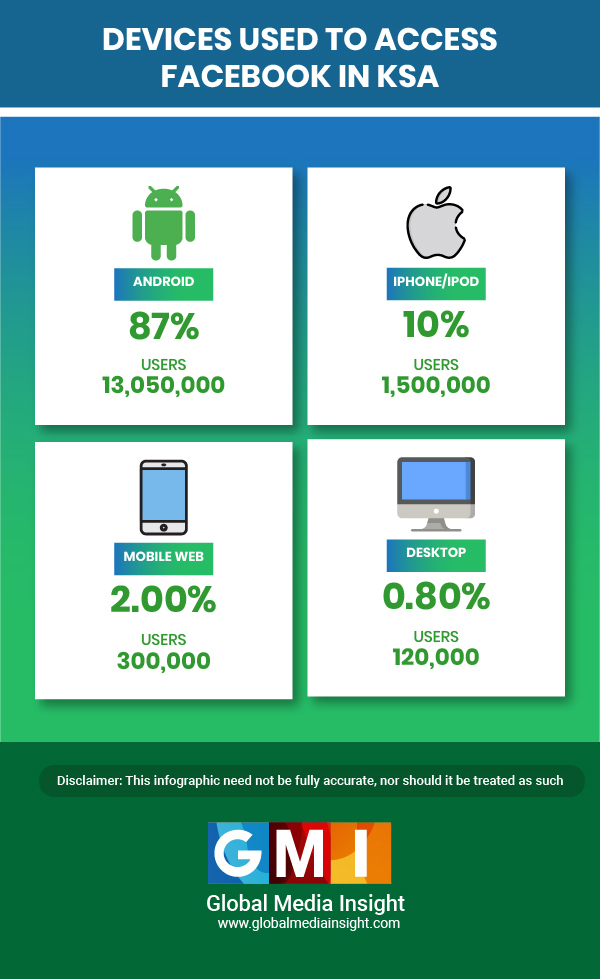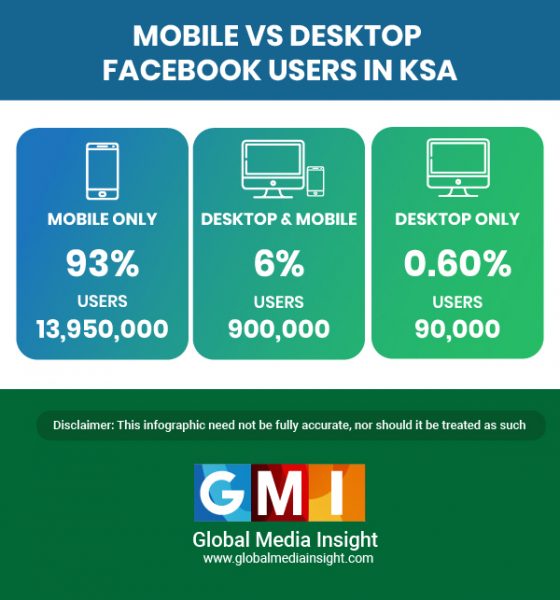 If we calculate the number on the basis of devices, about 93% (13,950,000) of users are mobile-only users. While 6% of users use both mobile and desktop and 0.60% stick to desktop alone to connect with their friends on Facebook.
These are some of the key statistics that every marketer should know before using Facebook as a marketing tool in KSA. Facebook lets you post messages as well as run targeted ad campaigns for your brand/products. So, incorporating Facebook into your marketing strategy, if done in the right way can definitely reap you benefits.
If you are planning to hire a social media marketing agency for your company, then you are at the right place. Global Media Insight has a dedicated social media team for Facebook marketing communication and ad campaigns that can offer you the best service to connect with your customers and drive sales. Global Media Insight is a 20-year-old digital marketing agency led by professionals in various verticals. Our social media team has a great breadth of experience and knowledge in social media marketing and managing accounts. Get in touch with our team to discuss your social media requirements.
(Visited 233 times, 3 visits today)