Life without social media is hard to imagine – not only in the UAE but across the world. Checking WhatsApp and watching YouTube have become almost a habit now. Not to mention, it was, in fact, these platforms that kept us going during the pandemic. Such is the importance of social media to us. And for brands, they have much greater significance. They help them connect with customers in different parts of the world and generate revenue through brand awareness and marketing.
On that note, let's take a look at the UAE's Social Media Statistics in 2022.
UAE Social Media Statistics (Key Takeaways)
98.99% of the total UAE population use social media.
99% of the total UAE population are internet users.
UAE's total population in 2022 is 10.08 million.
People spend an average of 3 hours and 4 minutes per day on social media.
With 8.08 million users, WhatsApp is the most popular messenger app in the UAE.
53% of the UAE's internet users use social media to connect with friends and relatives
WhatsApp, Facebook, and Instagram are the top three social media platforms among UAE internet users.
59.70% of UAE's internet users use TikTok
UAE Social Media Statistics 2022: Infographics

Social Media Users in the UAE 2022
Social Media Users in UAE in 2022 represents the number of people who use either one or more social media platforms. To put things in perspective, the total population and total internet users are also given as background information.
Total internet users amount to 9.979 million.
Including Businesses, there are 10.68 million active Social Media Users.
The average growth in active social media users is 8.2%.

Social Media Time Spent 2022
Today in 2022, people have started spending more time on the internet and social media. It could be because of the emergence of new platforms like TikTok and various other factors like YouTube addiction and good quality content. As of the latest reports, people in the UAE spend an average of 1 hour and 12 minute more on the internet these days than in 2021. And there is an increase of 9 minute in daily social media usage in 2022 than in 2021.
The UAE spend an average of 8 hours 36 minutes per day on the Internet.
Their daily social media usage is 3 hours 04 minutes in 2022.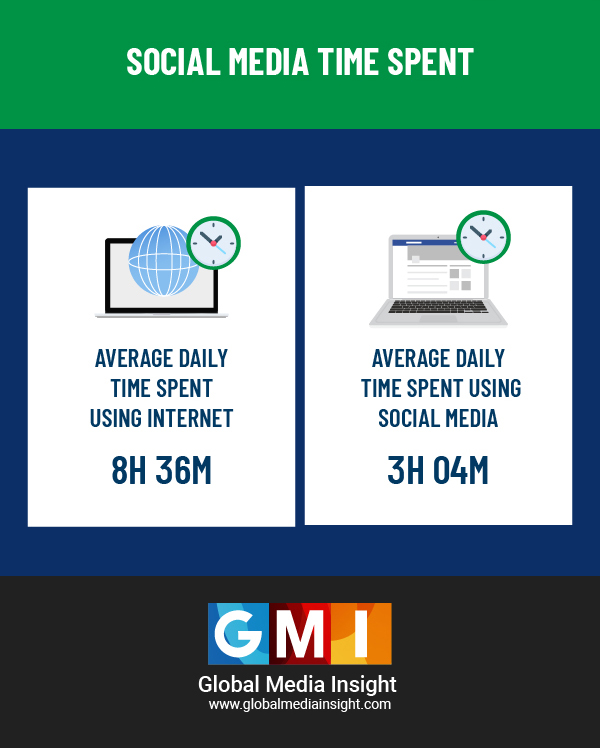 Popular Social Media Platforms in the UAE 2022
| | | |
| --- | --- | --- |
| Social Media Platforms | Users (Percentage) | Users (Million) |
| YouTube | 87.4% | 8.72 |
| Facebook | 81.6% | 8.14 |
| Instagram | 77.5% | 7.73 |
| Facebook Messenger | 65.3% | 6.52 |
| TikTok | 59.7% | 5.96 |
| Twitter | 51.7% | 5.16 |
| LinkedIn | 44.9% | 4.48 |
| Snapchat | 39.1% | 3.90 |
| Telegram | 39.0% | 3.89 |
| Pinterest | 29.4% | 2.93 |
UAE has embraced social media much like other developed countries. Everyone, from the common man to the UAE government, is aware of the significance and reach of these platforms. Among all platforms put together, YouTube has the highest number of users in 2022. However, in just a few years, TikTok has acquired more than half the internet users.
In 2022, the YouTube users 8.72 million (87.4% of the total internet users).
Facebook comes in second with 8.14 million users, representing 81.6% of the total internet users.
Instagram ranks third with 7.73 million users, representing 77.5% of the internet users.
Other popular social media platforms include the popular chat app Facebook Messenger (6.52 million users i.e. 65.3%), the short videos platform, TikTok (5.96 million i.e. 59.7%), short messaging service, Twitter (5.16 million i.e. 51.7%), the job marketplace, LinkedIn (4.48 million users i.e. 44.9%), the instant messaging app, Snapchat (3.90 million users i.e. 39.1%), cloud-based fast messaging service, Telegram (3.89 million i.e. 39%) and image sharing site, Pinterest (2.93 million i.e. 29.4%).

Social Media User Growth in UAE (Jan 2014 – Jan 2022)
| | |
| --- | --- |
| Year | Users (in Million) |
| Jan 2022 | 10.68 |
| Jan 2021 | 9.84 |
| Jan 2020 | 9.73 |
| Jan 2019 | 9.52 |
| Jan 2018 | 9.38 |
| Jan 2017 | 9.20 |
| Jan 2016 | 6.30 |
| Jan 2015 | 5.40 |
| Jan 2014 | 4.40 |
Social media platforms help people in many ways, from reconnecting with old friends to expanding one's professional network. So it is not surprising that social media usage has increased steadily over the last decade in the UAE and across the world. From January 2014 to 2022, 6.28 million new users have started using social media. And most notable growth happened in 2017. Around 2.9 million new users were added to the user list in just one year and the reason could be TikTok.
In January 2017, 9.20 million people used social media in the UAE. The figure rose to 9.73 million in 2020 and 10.68 million by the first quarter of 2022.
There has been a steady growth in the number of social media users over the last decade.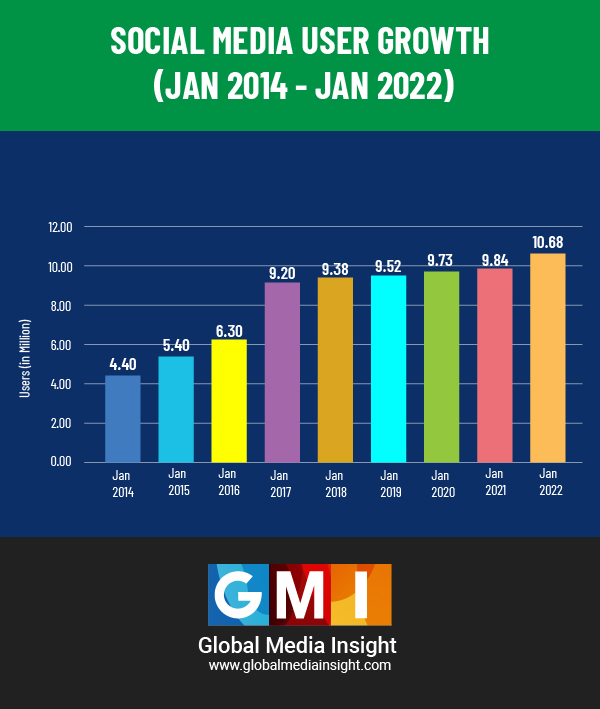 Popular Messenger Apps in the UAE 2022
| | | |
| --- | --- | --- |
| Messenger Apps | Users (Percentage) | Users (in Million) |
| WhatsApp | 80.2% | 8.08 |
| FB Messenger | 64.4% | 6.49 |
| TikTok | 42.4% | 4.27 |
| Skype | 33.6% | 3.39 |
| Snapchat | 33.4% | 3.37 |
| WeChat | 24.1% | 2.43 |
| Viber | 20.7% | 2.09 |
It must be noted that messenger apps are becoming more popular than some social media platforms. For example, WhatsApp has the highest user base in the UAE with 80.20% of the internet users using it. Messenger apps not only help people to chat with their loved ones instantly but also benefit businesses in myriads of ways. Today, most businesses have started using messenger apps like WhatsApp and Telegram to talk directly with their customers.
WhatsApp users in 2022 UAE have touched the 8.08 million mark.
Facebook Messenger comes in second with 6.49 million users, representing 64.40% of the internet user population.
TikTok is the third most popular messenger app in the UAE and has 4.27 million users.
Other popular messengers app in UAE are Skype, Snapchat, WeChat, and Viber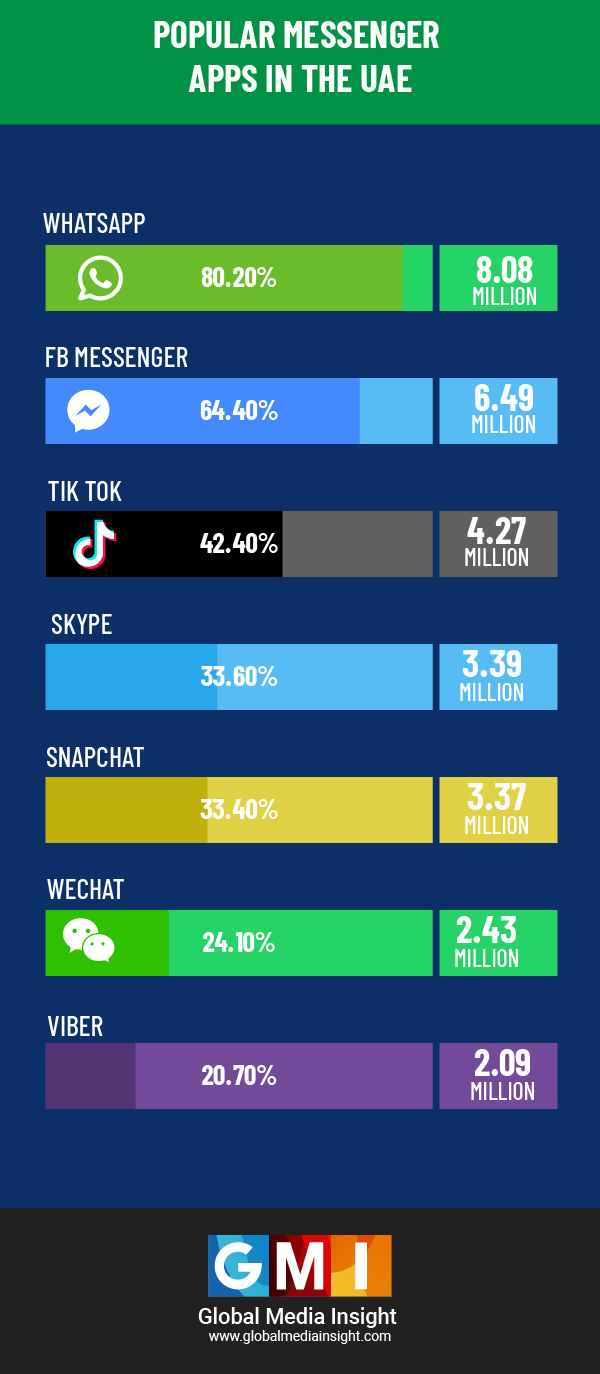 Social Media Advertising Audience Profile in UAE 2022
The Social Media Advertising Audience Profile 2022 gives you an idea of whether it is still profitable to advertise on the three most dominant social platforms i.e., Facebook, Instagram and Facebook Messenger. Businesses based in the UAE or hoping to expand into the UAE can use this information to plan their advertising budget for 2022.
When it comes to the gender ratio, the male social media audience accounts for 68.1%, while the female audience makes up 31.9%
When we examine the advertising audience by age and gender, we can see that the 25-34 age group has the highest share, with males accounting for 30% and females, 13.8%. The second position is secured by the 35-44 age group, where males make up 16.7% of the population and females, 8%. The age group 18-24 years holds the third-highest percentage, with males accounting for 12.4% and females, 5.7%.

UAE's Favorite Social Media Platforms in 2022
This is based on a survey conducted in the first quarter of 2022 among UAE internet users between the ages 16 and 64.
WhatsApp comes first in the survey of the most popular social media platform, with 29.5% votes
23.5% of users prefer Facebook to other platforms
Instagram is the third most popular social media platform. 17.5 percent of users voted for it.

Reasons for Using Social Media in 2022
Social media gives its users access to a world of professional opportunities, as well as a range of entertainment options. Here is a survey conducted among UAE internet users aged 16 to 64 that explains why people log in to various social platforms in 2022.
53.4% of internet users say that they use social media to keep in touch with their friends and family.
34% of respondents say it is to fill their spare time that they log in to social media.
33.7% access social media to read the latest news stories.

Top Social Media Influencers in the UAE 2022
An interesting outcome of the growth of social media platforms has been the rise of the 'influencers,' as well as the influence they have had on social and cultural norms. According to a recent study, three out of four people in the UAE follow influencers. Of these, 29% follow health and fitness influencers. So global brands are setting aside a major portion of their marketing budget to partner with influencers. Today, influencers are present in every realm including entertainment, lifestyle, food, fashion and beauty.
Among all the social media platforms, Instagram has emerged as a solid platform for brands. Let us look at the biggest influencers in the UAE:
Haifa Beseisso – @flywithhaifa : A TV presenter who is passionate about several things including travel, cross-cultural interactions etc.
Zahra Abdalla – @cookingwithzahra : She juggles many roles including TV chef and Sudanese-Iranian author.
Wael Abualteen – @waelalteen : His travel feeds are unmissable.
Fazza – @faz3 : Sheikh Hamdan bin Mohammed bin Rashid Al Maktoum, the crown prince of Dubai is known for his posts on travel, adventure, falcons etc.
Milli Midwood – @millimidwood : A digital editor at Harper's Bazaar Arabia she is also an NMC-licensed lifestyle blogger.
Social Media Trends in the UAE 2022
Social media platforms have evolved into one of the most effective ways for marketers and businesses to build fan bases for their brands. In this regard, several social media trends have risen to prominence in the year 2022. Let's look at some of these:
1. TikTok
A platform for short videos, Tik-Tok deserves more than a passing mention. It has surpassed all expectations in terms of popularity and reach in a short span. With the introduction of the e-commerce feature, the app now also allows its users to shop directly on the platform. This makes Tik-Tok a revolutionary social media app and a must-have in every business's marketing strategy for 2022.
2. Short Videos
Short videos are the in thing these days, thanks to the growing popularity of Instagram reels and YouTube shorts. Since users now prefer short videos, businesses must start focusing on producing short video content if they want to remain relevant.
3. Organic Engagement
Continuous engagement is required for any brand to maintain a loyal customer base. Using social media platforms with a well-defined strategy and goals can help brands create high-quality content and pique their audience's interest. They should create a strong bond with their audience by replying to their comments, answering their questions, etc.
4. VR and AR
Since the pandemic, Virtual Reality and Augmented Reality have made their way into social media platforms. People are now looking for new ways to interact meaningfully with their favorite brands virtually. This is where AR and VR come in handy. Therefore, marketers should definitely think about leveraging these technologies.
(You can continue reading about the UAE Social Media Statistics for 2021 in the blog below.)
UAE Social Media Statistics 2021 : Infographics

Social Media Users in the UAE

According to the latest statistics, a whopping 98.98% of the UAE population remain active on social media. This means that in 2021, an eyeball popping 9.84 million people come online on social media almost every day out of a population of 9.94 million people. In 2021, UAE saw a 1.6% annual growth in internet users. The usage of social media recorded a 0.0% Unchange from the previous year.
Mobile social media usage has been booming in the country. 9.12 million users access social media through their mobile devices. That is 99% of the population of the country. The 2020 usage statistics show that the number of mobile social media users in the country recorded a 10.6% growth with more than 932,000 new users added last year. Falling smartphone costs and easy availability of cutting edge technology are the major reasons for this boom.
Popular Social Media Platforms in the UAE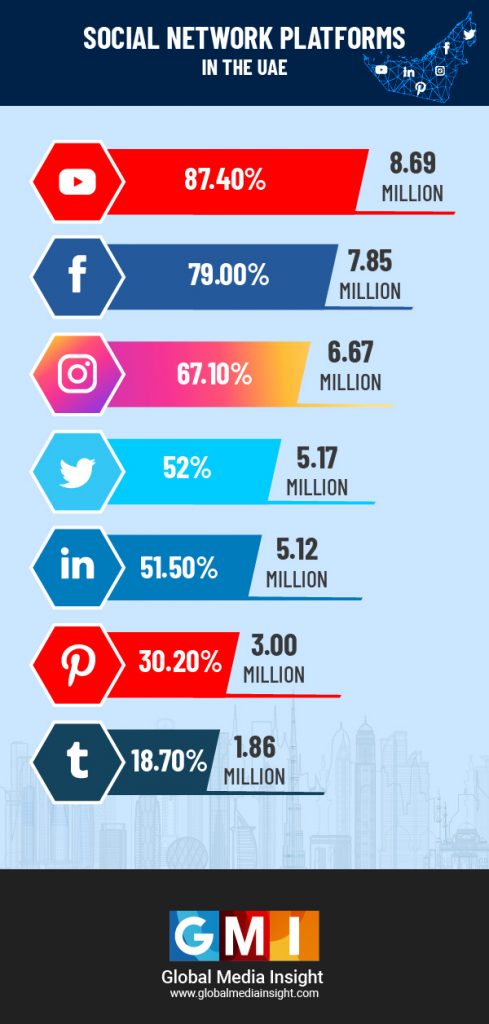 UAE Facebook & YouTube Users 2021
YouTube is the most popular social media platform in 2021 with 7.89 million users. Almost 79% of the UAE's population has profiles on Facebook while YouTube's penetration also stands at 87.40%.
Facebook has found favor among the commercial entities, the political class as well as the masses of the country. The latest statistics for 2021 show that, with 7.85 million users, Facebook is poised to remain a potent force for many years to come. Several popular brands use their Facebook profiles to reach out to fans and provide them unique offers and messages.
Facebook platform with 7.85 million users, faces stiff competition from Instagram. A very large percentage of Instagram's 6.67 million users are young people, especially teenagers.
A few other social media platforms that are popular in the UAE are Twitter (52% penetration), LinkedIn (51.50% penetration), Pinterest (30.20% penetration) and Tumblr (18.70% penetration).
Popular Social Networks in the UAE
| | |
| --- | --- |
| Social Network Platforms | Active Users |
| YouTube | 8.65 million |
| Facebook | 7.77 million |
| Instagram | 6.68 million |
| Twitter | 5.21 million |
| LinkedIn | 4.42 million |
| Pinterest | 2.46 million |
| Tumblr | 1.97 million |
Popular Messenger Apps in the UAE

Predictably WhatsApp is the most popular chat app in the UAE. WhatsApp has 7.97 million users in the UAE, which is 80.20% of the country's total population. FB Messenger, with 6.40 million users and 64.40% penetration among the UAE population, is second. Despite frequent disruptions in service, Skype remains third in popularity with 3.34 million users, while Snapchat, which is really popular among teenagers, has 3.32 million users. Fifth in the list of 2020 social media chat apps is WeChat with 2.40 million users.
| | |
| --- | --- |
| Popular Messenger Apps | Active Users |
| Whatsapp | 7.97 million |
| FB Messenger | 6.40 million |
| Skype | 3.34 million |
| SnapChat | 3.32 million |
| WeChat | 2.40 million |
| Tik Tok | 4.21 million |
| Viber | 2.06 million |
Social Media Advertising Audience Profile

The Future of Social Media in the UAE
From being a force for connecting people, social media has now evolved into a major advertising medium for brands to connect with their customers. Social groups play a massive role in connecting people with similar interests and they can also serve to motivate people to improve themselves. Facebook communities are also playing increasing roles in ever-transforming global geopolitics.
If you are looking for an SEO Agency in Dubai to improve your organic reach or looking for an entry into the world of social media or that perfect boost to your social media campaign, then Global Media Insight is the perfect choice for you. Our 20 years of experience in the digital field has given us unmatched expertise in social media and what makes it tick. Our social experts are adept at curating the perfect message for your brand that can resonate with exactly the kind of audience that you are looking to reach. Get in touch with us today for a tailor-made social strategy that is perfect for you.
Disclaimer: GMI acknowledges that though we try to report accurately, we cannot verify the absolute facts of everything that has been represented on this infographic. The information represented is based on information researched from various sources on the internet. We are not liable for any errors, financial loss, or damages of any kind that may result from the use of, or reliance on, the information herein.
(Visited 55 times, 2 visits today)