We use the internet for shopping, travel, entertainment and a variety of other reasons. But, it took us a pandemic to realize its value. It was the internet that helped us resume our work and classes. It helped us get over our loneliness and meet people online when we were trapped inside homes. In fact, it was a true lifesaver. We depended much on it; across the globe, internet consumption doubled at this time. Now the pandemic has passed, but our internet usage is still at an all-time high. But, how far has it penetrated the lives of the UAE people? Let's look at the Internet Statistics for the UAE in 2022.
Key Points UAE Internet Statistics 2022
9.98 million people in the UAE are internet users in 2022, which represents 99.01% of the total population.
UAE's smartphone users make up a total of 9.80 million; they spend around 4 hours and 35 minutes on the internet.
UAE's average internet speed in 2022 is 198 Mbps (broadband) and 267 Mbps (mobile data).
58.51% of internet consumption is through mobile.
Google Chrome has the highest market share in 2022 UAE with 66.04% web traffic.
The most popular search engine in UAE is Google, social media platform is WhatsApp and news website is Khaleej Times.
UAE Internet Statistics

UAE Internet Usage Statistics 2022
Almost all of us use the internet in some way, especially now that 4G and 5G are available and most utility services, like shopping and cab service, have gone online. In 2022, more than 99 percent of the people in UAE have access to the internet. For better understanding, let's give some context.
There are 9.80 million smartphone users and 9.31 million mobile internet users in the UAE today.
An average user spends 8 hours and 36 minutes on the internet per day: mobile users (4 hrs. 35 minutes) and desktop users (4 hrs. and 01 minute).

Average Internet Connection Speed in the UAE
Internet usage is highly dependent on network speed; if your network is slow, you won't use it much. Speed determines the number and type of activities you perform on the internet and the number of gadgets you connect simultaneously. According to the latest reports:
Average Broadband Internet Speed in the UAE is 198 Mbps
Average Speed of Mobile Internet Connection is 267 Mbps
This reveals that in one year the network speed for broadband and mobile data increased by 67.06% and 207.71% respectively. This could be the result of the developmental works undertaken across the nation on account of Expo 2020 Dubai that took place in October 2021.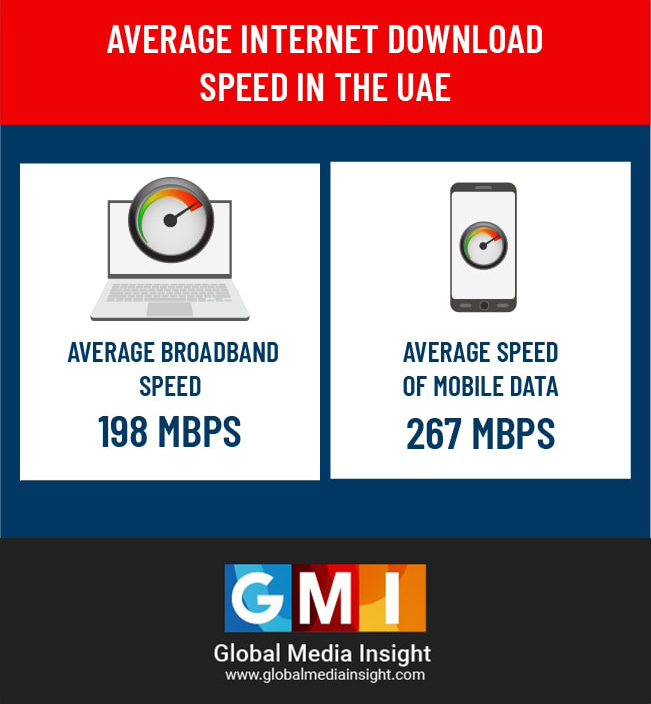 Web Traffic Across Devices in the UAE 2022
People nowadays use many devices to browse the web, including desktops, laptops, smartphones, and tablets. Here we are going to look at the share of web traffic on each device in 2022 UAE.
As has been the case for several years, mobile phones account for more than 50% of the UAE's total web traffic. 58.51% of the UAE's web traffic comes from mobile devices in 2022.
Together, laptops and desktops make up 39.51% of the total web traffic.
Tablets produce 1.95 percent of website traffic.
This time, there is a 2% drop in mobile-generated web traffic compared to 2021. However, web traffic from laptops and desktops has increased by 2% in 2022 compared to the previous year.
Devices Preferred by UAE Internet Users in 2022
Due to the convenience they offer, mobile devices come as the first choice for browsing the internet across the world. The trend remains the same in the UAE as well.
In 2022 UAE, 63.55% of internet users prefer mobile phones to access the internet.
Desktop internet users are declining year after year, with only 34.73% of users using it in 2022.
Only 1.72% users like to browse the web on tablets.
Mobile internet usage has increased by 7.25% between 2021 and 2022.
Desktop and tablet internet usages have decreased by 6.76% and 0.50% respectively in 2022 compared to 2021.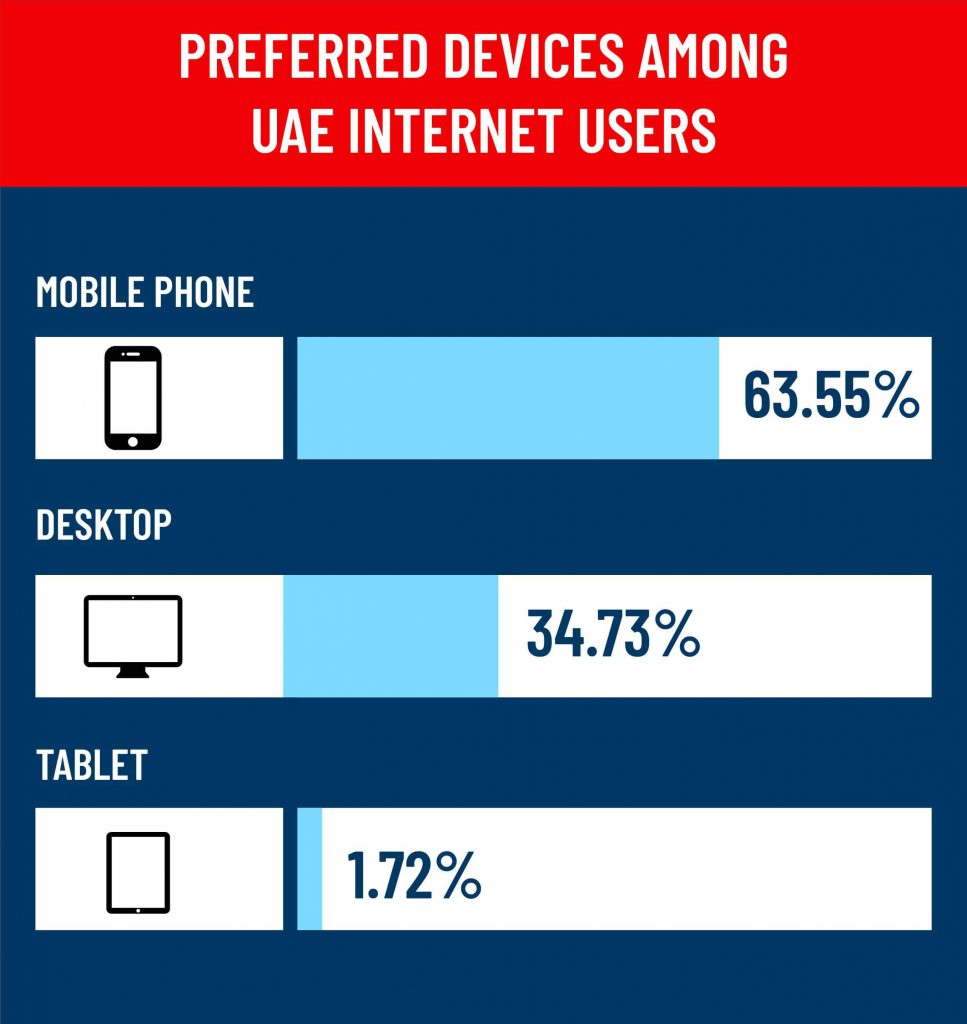 Internet Users Over Time (2012 – 2022)
| | |
| --- | --- |
| Year | Users (in Million) |
| 2022 | 9.98M |
| 2021 | 9.89M |
| 2020 | 9.73M |
| 2019 | 9.55M |
| 2018 | 9.06M |
| 2017 | 8.54M |
| 2016 | 8.43M |
| 2015 | 8.35M |
| 2014 | 8.10M |
| 2013 | 7.79M |
| 2012 | 7.05M |
As a tech-savvy country with easy access to the internet, UAE has seen a tremendous increase in the number of internet users over the past decade. In 2012, the number of UAE internet users stood at mere 7.05 million, which then rose to 8.54 million in 2017 and reached 9.89 million in 2021.
Today, in 2022, approximately 99.01% of the UAE's population uses the internet, which amounts to 9.98 million people.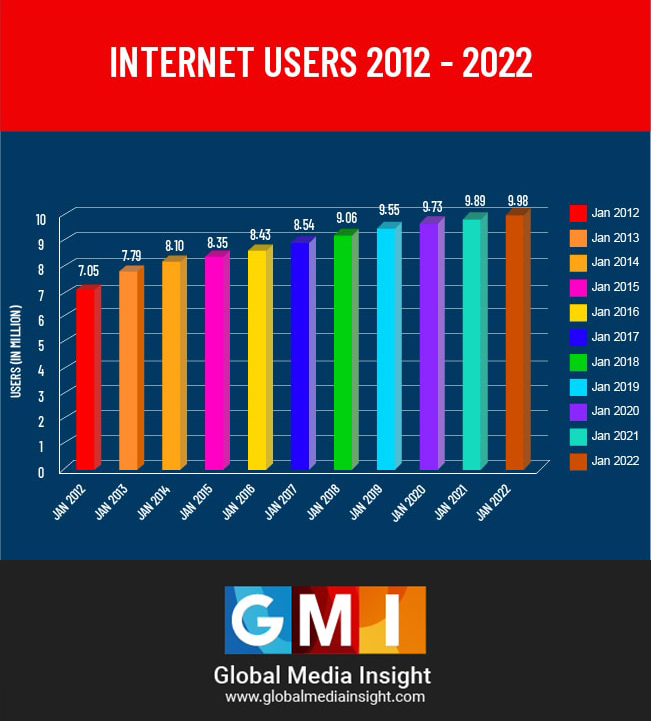 Share of Web Traffic by Browser
Popularity of browsers keeps changing. If it was Internet Explorer that was widely used to access the internet back in the 2000s, today it is Google Chrome. Even browser preferences vary with desktops and mobile phones. Here let's look at the 2022 rankings of different browsers in the UAE (All devices combined).
Google's Chrome has the lion's share of web traffic with 66.04% in 2022, which makes it the most popular browser in the UAE. This has been consistently the same for several years.
With 18.52% market share, Safari comes in second followed by UC Browser (5.56%) and Microsoft Edge (3.12%). Microsoft Edge is the new avatar of erstwhile Internet Explorer.
It is interesting to note that Microsoft Edge has gained 0.42% more web traffic in 2022 than in 2021, pushing Samsung Internet to fourth place.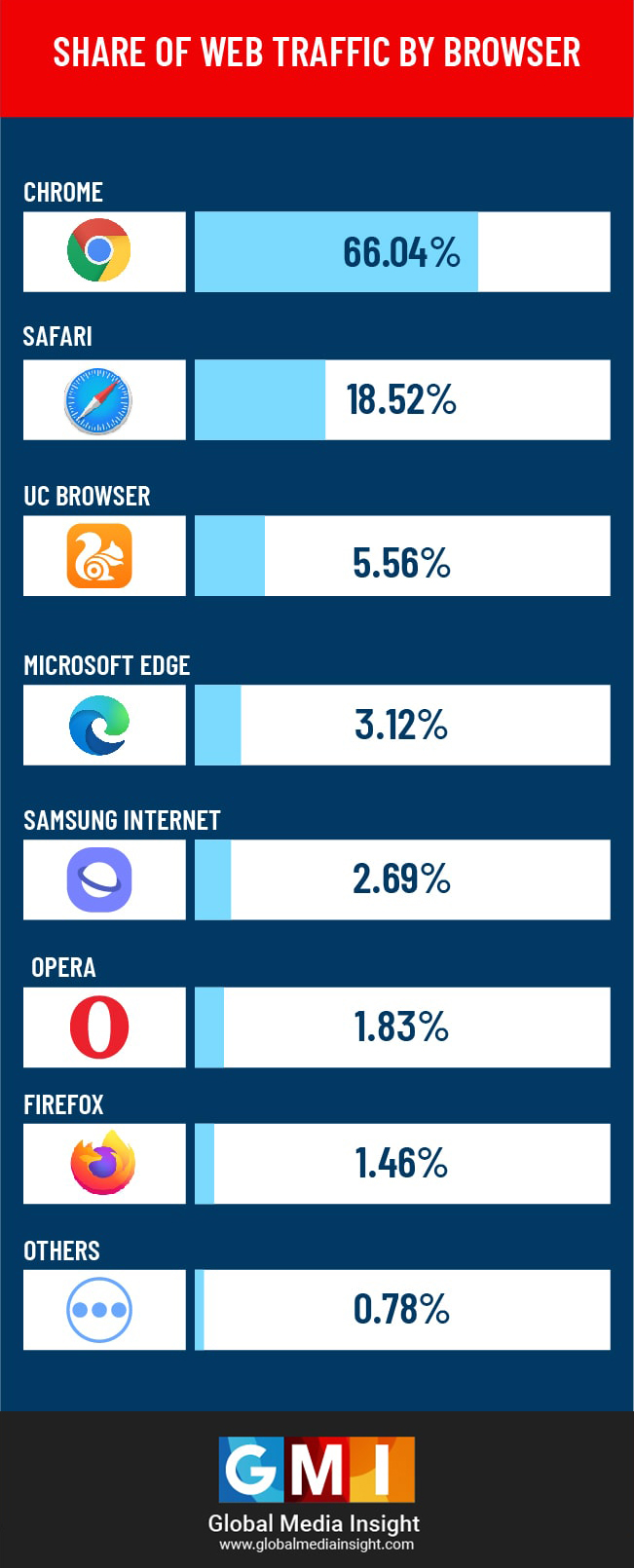 Top Websites in the UAE
Now, let's take a look at the most popular websites in the UAE in 2022. We've picked the top three websites from each of the three main categories: search engines, social media platforms, and news portals. (The websites are listed in the descending order of their popularity.)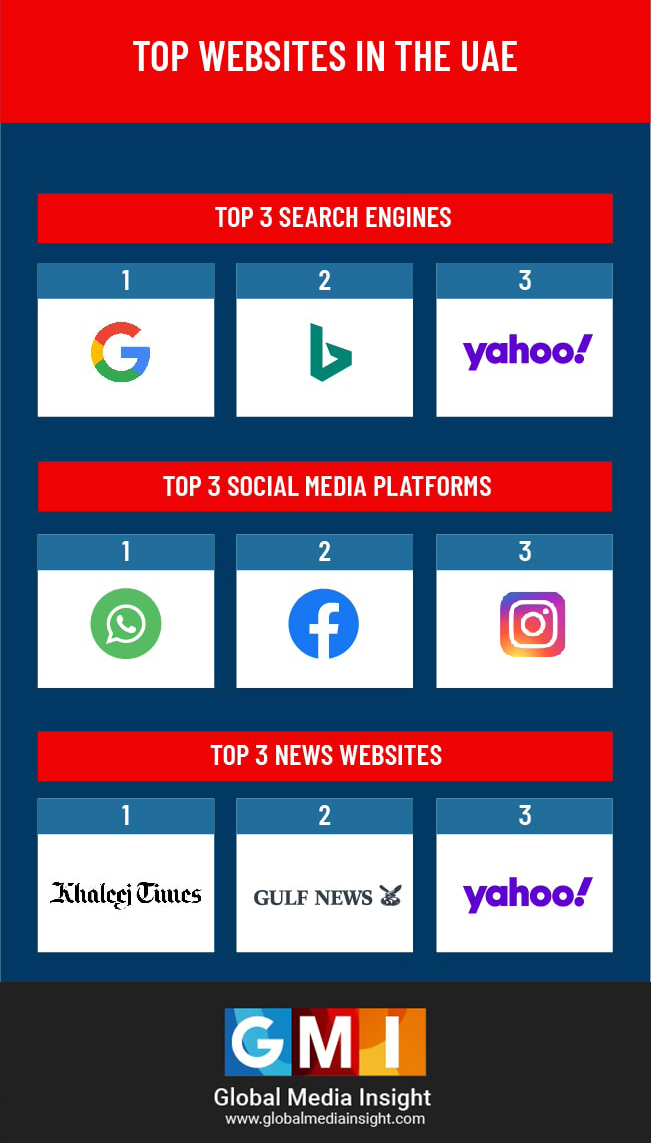 10 Main Reasons for Using the Internet
This is a survey conducted among the UAE's internet users aged 16-64 to find out their reasons for using the internet. They were given 10 reasons, which they have prioritized based on their usage.
'Looking up information' and 'connecting with friends and relatives' each has 65.30% votes.
55.20% say they get online for entertainment reasons: to watch videos, etc.
Another 55% say they use the internet to follow news and current affairs.
Other reasons include (in the order of priority) researching DIYs, finding new ideas, researching brands, learning and education, researching places for travel, and filling up free time.
(You can read about the UAE internet statistics for 2021 below.)

Internet Users in the United Arab Emirates
Internet penetration in the UAE is 99%
9.26 million people use mobile devices to access the internet, which is around 93% of the population.
On average, people in the UAE between the age group of 16 to 64 spend 7.5 hours every day using the internet.
Daily time daily internet users in the age of 16 to 64 spend about 3 hours on social media sites.
There are 9.89 million active social media users in the UAE.

Devices Preferred By Emiratis to Access the Internet
Online marketing has great scope in the UAE due to the high number of mobile internet users. So, any new and innovative apps looking to enter this market will have a large user base. As a result, the last few years witnessed an increased focus on the digital service sector.
A whopping 9.26 million UAE citizens are active mobile internet users.
Both hardware and software sectors are ripe with opportunities.
The increased innovation in the hardware field led to the rise of super-fast internet connections, which boosted social media usage.
People prefer to access social media on their phones, reflecting on the trend of increased smartphone usage.
The massive increase in mobile internet usage can be attributed to the availability of 4G at lower price plans.
56% of users connect to the internet using smartphones, 41.48% use computers and 2.22% use tablets.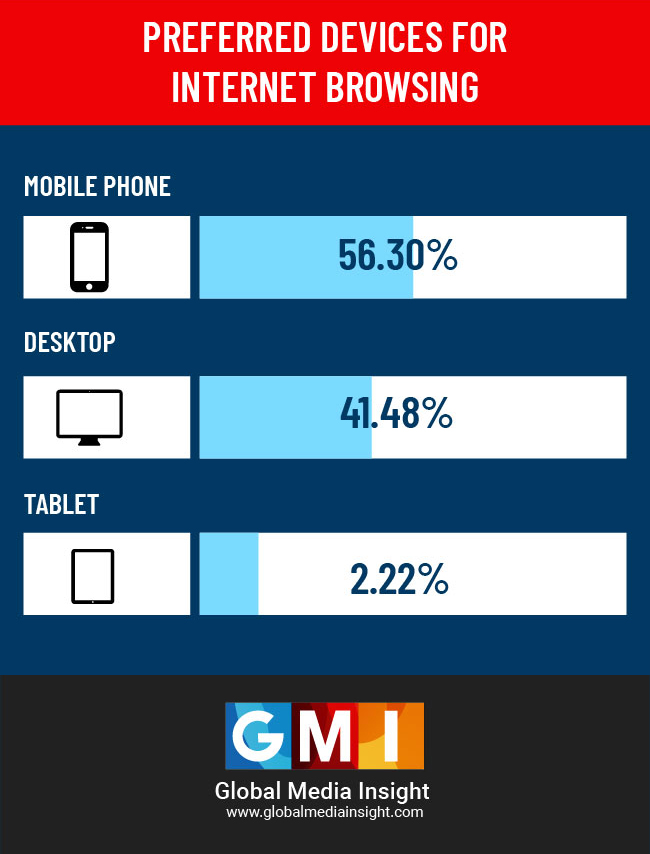 Average Internet Connection Speed in the UAE
The most preferred mode of connecting to the internet in UAE is smartphones, with more than 56% users.
A reason for this could be the high-speed mobile internet connections. The avg. mobile internet speeds come close to 90 Mbps, which competes with avg. broadband speed of 100 Mbps.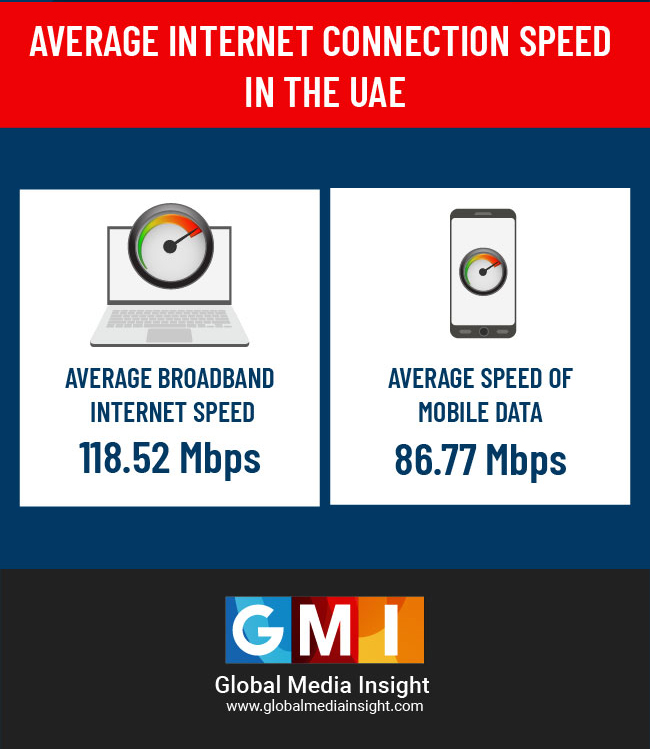 Frequency of Internet Usage
93% of Emiratis access the internet at least once a day.
6% use the internet once a week.
1% of people use it only once a month.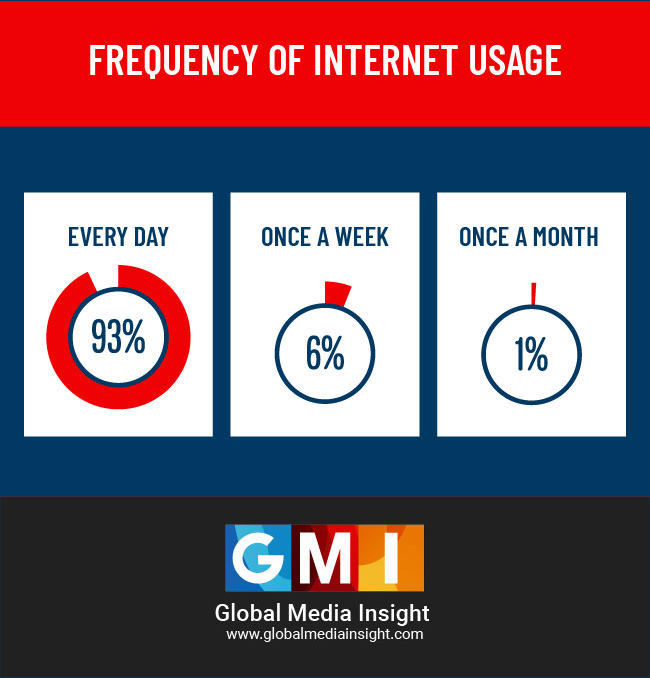 Top Websites in the United Arab Emirates
Top 3 Search Engines
Google is the most used search engine in the UAE and is used by 95% of people. The search engine giant is followed by Bing and Yahoo with very low market shares.
Top 3 Social Media Platforms
While almost 99% of the population of the UAE are active social media users, Facebook is the most popular platform, closely followed by Instagram and Twitter in the second and third places respectively.
Top 3 Shopping Portals
Covid-19 has given a major boost to online shopping in the UAE. While the global giant Amazon tops the list of the top three shopping portals in the country, Noon ranks second and Carefree holds the third spot.
Top 3 Video Platforms
UAE has a rapidly growing list of online video platforms. Among them, YouTube is used by most people, while Netflix and Dailymotion secures second and third spots.
Top 3 News Websites
There is stiff competition in the UAE's media industry. At the same time, Khaleejtimes holds the top spot as an undisputed leader. Gulfnews and Yahoo News occupy the remaining two spots.
Share of Web Traffic by Browser
| | |
| --- | --- |
| Browser | Percentage |
| Chrome | 64.00% |
| Safari | 19.40% |
| Samsung Internet | 3.60% |
| Microsoft Edge | 2.70% |
| Opera | 2.20% |
| Firefox | 1.60% |
| Internet Explorer | 0.50% |
| Other | 6.00% |
Google Chrome has the most traffic – a whopping 64%.
Safari browser, which comes second only has 19.40% traffic.
Samsung Internet comes third with a mere 3.60% traffic.
Microsoft Edge, Opera, and Firefox have almost 2% traffic each.
Internet Explorer has less than one per cent traffic.
Top 5 Monthly Online Content Activities of UAE Users (16 – 64 yrs)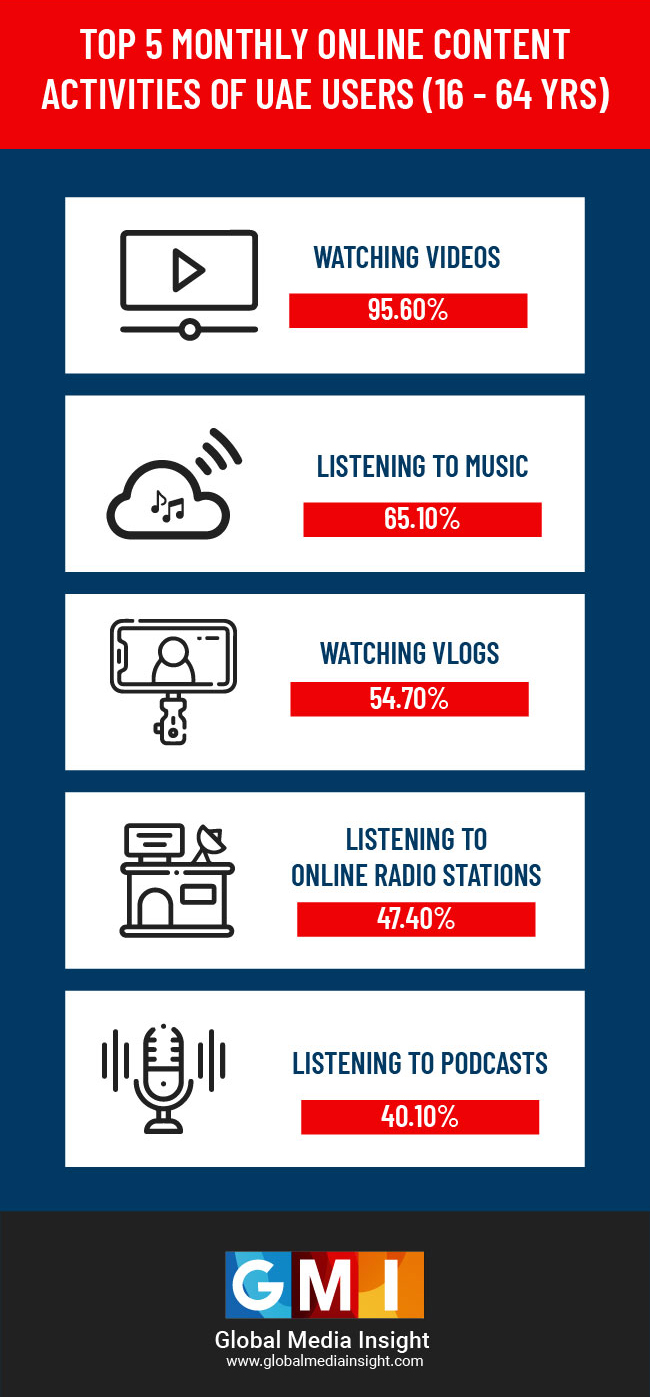 95.60% of Emiratis in the age group of 16 to 64 watch videos online.
65.10% users in the group stream music online.
54.70% people in this age group watch vlogs.
47.40% listen to online radio stations.
40.10% of the group listen to or watch podcasts.
Conclusion
The UAE is one of the countries that has the highest internet penetration rate. We saw that the country has high internet speeds, and most of its citizens are active users. When the pandemic forced everything to go online, the UAE was fast to adapt to changing trends. While more than 99% of the Emiratis are internet users in 2021, let's look forward to how the internet will be an influence in the coming years.
(Visited 109 times, 1 visits today)