If you're a business owner, chances are you're using social media for marketing campaigns and Google Analytics to measure the traffic from your posts. Analytics, by default, will show the sources of your traffic at a particular time – whether it's from Facebook, Twitter, online search or referrals from other websites.
But what if you want to dig deeper? That is, you don't just want to see traffic numbers from Facebook, but whether that traffic is coming from a link in a particular post or comment. Then you need to start using custom UTM parameters for all social media links that point to your website, whether they are organic or paid.
What are UTM Parameters?
UTM parameters are unique tags added to a URL. When someone clicks on a link with UTM parameters, those tags are sent to Analytics and tracked. You can add five types of parameters to the link:
utm_source: The campaign source, such as channel, site, publisher, etc. that is sending traffic to your website. Eg. social, google, email
utm_medium: The campaign medium, like email, cost-per-click or a social channel.
Eg. facebook, newsletter, cpc
utm_campaign: The campaign name, used to identify a particular promotion or product campaign. Eg. spring_sale, clothing_discount
utm_term: The paid keywords for a search campaign. If you want to track traffic from a specific post or comment, you can use descriptors like user_comment or july_19th_tweet
utm_content: This is used to differentiate between links, ads or posts.
The first parameter is required while the last four are optional. For greater accuracy, we recommend using all five parameters.
How to Add UTM Parameters to Your Link
The simplest way to add UTM parameters to your link is to use the Campaign URL Builder. Just fill in the fields, and the campaign URL generates automatically.

This is the regular social media post link:
nestle-family.com/nestle150/english/story10.aspx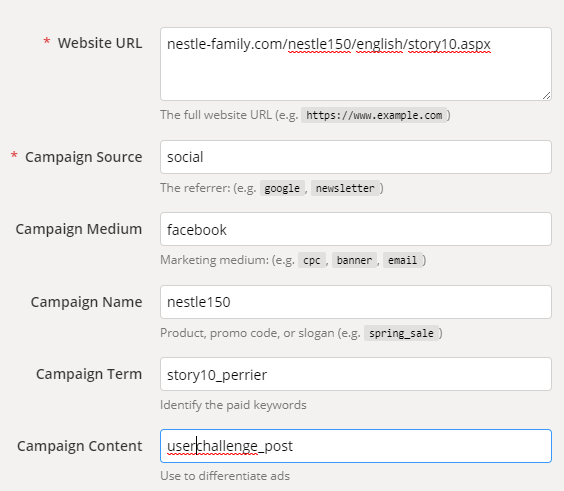 The resulting link will look something like this:

To shorten this link, click on the Convert URL to Short Link button. The final link will look like this:

Benefits of Using UTM Parameters in Social Media Links:
Accurate Data
Instead of a general overview of traffic from different sources, you can use UTM parameters to judge which links, CTAs, posts and activities are the most effective at driving traffic.
Time-Saver
Tracking each post through UTM will save a lot of time and effort because the alternative is to manually scroll down the timeline and sift through hundreds of posts.
A/B Testing
UTM parameters are a great tool for A/B testing your strategy. For example, you may think that posts with images always perform better, but is that true for your business audience? By sharing two posts tagged with the proper parameters, you can test the validity of your assumptions.
Performance Comparison
You can use UTM parameters to compare the performance of posts over time and spot the ones that pulled in the most traffic. You can then assess why these posts performed so well, and test your conclusions in future campaigns.
Measuring ROI
By adding UTM parameters to your social media links, you get data that demonstrates the value and impact of your social media efforts on online users, website traffic and lead generation. You can also get a clear picture of the ROI for specific campaigns.
Refining Your Future Strategy
You can measure the impact of different social media channels and discover where you're getting the most value for your money. This information can help you decide where to focus your marketing efforts and make the best use of your budget.
Most brands don't use UTM parameters even now. But, if you're a brand that uses social media for marketing purposes, it's always good to implement UTM parameters into your campaigns because it gives you a better understanding of how well your campaigns are performing.
Learn more best practices that will help you stay ahead of the game. Our Google-certified analytics expertise supports the leading global brands in the UAE, Middle East and India. Talk to our digital analysts today.
(Visited 204 times, 1 visits today)