People look upto Doctors having a Wikipedia page. They are held in high esteem. Everyone knows that it's not possible for anyone to aspire for a Wikipedia page. The multiple layers of editors make it impossible for ordinary mortals to get a Wikipedia page. More than 95% of Wikipedia page publication requests are declined.
Not surprising that among all online publications, Wikipedia is recognized as one having the highest authority. The esteem value is a cut above the rest. With influence, one can get a press report. But not so for a Wikipedia page.
Wikipedia is an online encyclopedia with multiple layers of editors, managing it with an extremely strict content protocol. This is available in more than 275 languages and includes more than 32 million articles.
It is the top source of healthcare information for patients and doctors. For specific conditions, fifty percent of healthcare professionals use Wikipedia for information. It is the only source of accessible health information in many parts of the world.
Doctors in Dubai having a Wikipedia Page
Few Of the Doctors from Dubai, as well as UAE having Wikipedia Page, are listed below:
(Note this is not an exhaustive list)
Few Of the Doctors from Kerala having Wikipedia Page are listed below:
(Note this is not an exhaustive list)
World-Renowned Doctors across the globe
We all know that there is a better chance for a healthier society. The government in each country has appointed doctors so that people don't have to compromise when it comes to well-being.
Most doctors have extra expertise in one type of treatment or another. There are hundreds of medical practices and specialties. Here is a partial list from some of the world-renowned doctors:
Oncologists
| | | |
| --- | --- | --- |
| Name | Organization | Nationality |
| James Bearden III | Gibbs Cancer Center & Research Institute in Spartanburg | American |
| William S. Dalton | CEO and Center Director of the H. Lee Moffitt Cancer Center and Research Institute at the University of South Florida | American |
| Ezekiel Emanuel | Vice Provost for Global Initiatives at the University of Pennsylvania | American |
| Pramod Kumar Julka | Director-Oncology Daycare Centre at Max Healthcare, New Delhi | Indian |
| Jitendra Kumar Singh | Ex-director of Mahavir Cancer Institute & Research Centre | Indian |
Pediatricians
| | | |
| --- | --- | --- |
| Name | Organization | Nationality |
| Richard Goldbloom | University professor, and the fifth chancellor of Dalhousie University | Canadian |
| Sam Hawgood | Professor, and the tenth chancellor of the University of California, San Francisco. | Australian |
| Martin Elliott | Co-Medical Director at Great Ormond Street Hospital, Professor of Paediatric Cardiothoracic Surgery at University College London | British |
| Alireza Marandi | Professor of Pediatrics and Neonatology at Shahid Beheshti University. | Iranian |
| Holger Lode | Director of the Center of Pediatrics and Adolescent Medicine in Greifswald. | German |
Neurosurgeons
| | | |
| --- | --- | --- |
| Name | Organization | Nationality |
| Alim Louis Benabid | Neurosurgeon and member of the French Academy of Sciences | French Algerian |
| Henry Marsh | A pioneer of neurosurgical advances in Ukraine. | Australian |
| Ivar Mendez | Chairman of Surgery at the University of Saskatchewan and the Unified Head of Surgery for the Province of Saskatchewan. | Bolivian |
| Dirk De Ridder | Neurological Foundation Professor of Neurosurgery at the University of Otago in Dunedin, New Zealand. | Belgian |
| P. S. Ramani | The senior neuro spinal surgeon at Lilavati Hospital, Mumbai | Indian |
Dermatologists
| | | |
| --- | --- | --- |
| Name | Organization | Nationality |
| Leslie Baumann | CEO of the Baumann Cosmetic and Research Institute. | American |
| Ronald P. Rapini | Chair of the Department of Dermatology at the University of Texas Health Science Center at Houston | American |
| Venkataram Mysore | Venkataram Mysore is a dermatologist, dermatopathologist, and hair transplant surgeon from Bangalore. | Indian |
| Ibrahim Al Hoqail | Founding Dean of the Faculty of Medicine at King Fahd Medica | Saudi Arabia |
| Fernando Alfageme | Associate Professor at the Autonomous University of Madrid | Spain |
Anatomists
| | | |
| --- | --- | --- |
| Name | Organization | Nationality |
| Jonathan Leo | Professor of Anatomy at Lincoln Memorial University in Harrogate, Tennessee | American |
| Joy Reidenberg | Comparative Anatomist in the TV science documentary series Inside Nature's Giants. | American |
| Peter Dangerfield | Clinical Anatomist at the University of Liverpool [1] and a professor at Staffordshire University. | British |
| Gaya Prasad Pal | Anatomist, Professor and the director of Modern Institute of Medical Sciences, Indore | Indian |
| Beno?t Lengel? | Chief Professor of the Chair of Human Anatomy at UCLouvain (Brussels Woluwe campus) | Belgium |
Characteristics of a Doctor's Wikipedia Page
On Wikipedia, the first section presents the article in more common and more convenient terms with a brief introduction, and the infobox sums the main facts. Below is an example of the structure of a Doctor's Wikipedia article page should look like.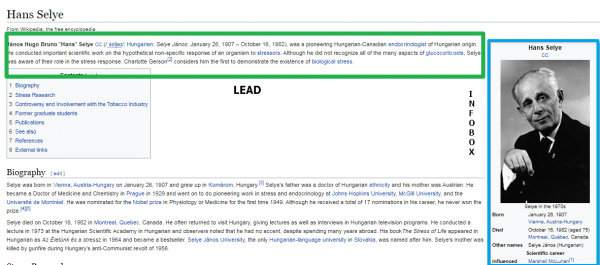 It shows an article with the Lead part (green lines) and the Infobox (blue lines), followed by the start of the main content and table of contents, which is usually divided into many sections. The content may be followed by references, external links, and footers including categories.
Title and Description

It should contain an appropriate Description and Title which effectively describes the Doctor in a nutshell.
Article Criteria
It should be concise and the article should be understandable to wide readers.
The content should not be made from original research and contains no plagiarism.
The article can be illustrated with multimedia such as Images, Videos, and Audio. Make sure the video should be appropriate for the topic.
History and Milestones
It can include the history and major milestones of a doctor's career path and other accomplishments.
Galleries and Awards
Sharing the awards and recognition a Doctor has received during the service period.
Should Doctors go for Wikipedia Page
In a crowded competitive market place, where money generates publicity, where budgets determine the digital advertising reach you can achieve, Wikipedia page remains distinct. The strict editorial practices mean although many try, only a few succeed in getting the Wikipedia page accepted.
When studying Wikipedia pages of Doctors, it's noticed that some of the Dr?s pages are excellent & are updated periodically. This is the way it should be. At the other end of the spectrum, we have Doctor?s Wikipedia pages that have editor's remarks. These are generally due to incorrect content policies & practices followed. The Wikipedia pages with remarks speak of poor management & quality.
During the last 20 years, we have been offering Digital Marketing services, which includes Wikipedia page publishing and page management. Should you be aspiring for a Wikipedia page, or you feel that a Doctor's friend of yours has served humanity well, covered well in the media & wish to have a Wikipedia page for him or her let us know. We shall make a study and let you know if the Doctor has the potential for a page or not.
Sharing is caring!
(Visited 187 times, 1 visits today)