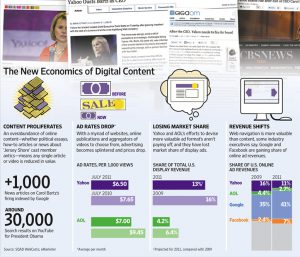 Until a few years, scales guaranteed profits. For sites like Yahoo, MSN & others in the Middle East, the reach was supposed to guarantee advertising revenue. But the situation is changing. The pace of change is faster in the West, but in Middle East change is gathering momentum.
Today, advertisers have access to many alternate options which provide access to a larger digital audience through in numerous small time publishers. Aggregates of these small publishers like Google adwords provide a similar or greater reach of online audience, which was earlier possible only for old time digital heavy weights like Yahoo & MSN. While Google (1998) has just entered teens is 13, Yahoo(1994) & MSN(1995) are 17 & 16 respectively. The banner advert rates for the Google network in numerous portals is only a fraction of that of the big portals like Yahoo (Maktoob) & MSN (Arabia) & the like. Thus digitally savvy companies which keep a tab on ROI are increasingly opting for Google adwords networks & cost effective search advertising through Google adwords.
At a global level, due to the impact of the hurricane of change hitting the digital media, Yahoo Chief Executive Carol Bartz got sacked. The obvious reason being the decreasing revenue of Yahoo. The revenue from from online advertising revenue is becoming difficult with every passing year for big time publishers. The market forces are impacting the value chain. As more information & more web pages are created, the value keeps decreasing. A few years ago only a few well established online publishers existed. But with exploding number of online publishers brought in by various social media channels, the number of web pages/web content is increasing at a awesome rate. Thus with more of supply, the inherent value is crashing.
Although the big publishers have innovative ad formats, larger & targeted ads, the value that the discerning big time advertisers are prepared to pay is decreasing. But the irony is that search engines (Google) which point to the online publishers are experiencing revenue growth. So is the case of Facebook. It used to be told that "Content is King", but Rishad Tobaccowala of Vivaki, the digital-media unit of Publicis Groupe SA, differs, adding that, "Most people make money pointing to content, not creating, curating or collecting content." Yahoo and AOL, who can be called pioneers are losing to Facebook and Google, both of which are helping point the way to pertinent or interesting material.
Apparently while digital advertising is projected to grow by 20% in 2011 in US reaching 31.3 billion, the share of Yahoo & AOL will be down to 11% & 2.7% from 16.1% & 4.4% two years ago in 2009.
Read related services offered by us :
Online Advertising Service | Search Engine Optimization
(Visited 126 times, 1 visits today)