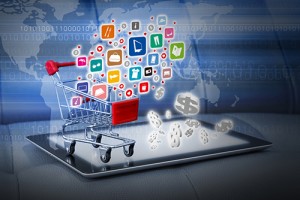 E-Commerce also known as Electronic Marketing has evolved over the years with the boom of new technology. This is why E-commerce store owners are constantly on their toes figuring out what works best for their brand.
Here are a few of the latest trends in the e-commerce industry.
The rise and impact of Mobile shopping
Over the years we have seen a surge in the use of mobile phones. Now people use them not only to text or communicate but also to shop.

As the Kissmetrics blog reported, one-third of all e-commerce purchases were made on a smartphone during the holiday shopping season in 2013. It is interesting to note that 78% of mobile searches for local business information result in a purchase.
What this means is that Mobile friendly e-commerce stores are the need of the hour. Websites needs to be optimized and suitable touch control options need to be built-in for a seamless experience. The use of e-commerce mobile applications is also on the rise.
Automation in marketing
Automation marketing in e-commerce is not only about Email marketing, but can be extended to customized landing pages, tailor-made discounts and promotions, easily- accessible shopping carts, as well as related and recommended products.
Automated recommendations are determined by analyzing the shopping history of the customer.
Usage of great content
Content plays a very important role in e-commerce. A user not only wants to view the product but also checks for additional information about the product. This would include specifications, helpful videos, rich images and reviews.
Another aspect to be considered is personalization. Personalized content gives the customer instant solutions and makes them feel that they are being valued. This directly increases sales and builds trust and loyalty.
Customer data analysis through algorithms
A major challenge faced by ecommerce stores in terms of personalization and automation is – identification of customer segmentation and patterns of buying. This can be determined with the usage of algorithms.
The precision of data returned by algorithms however depends on the quality and size of data. It might work against small ecommerce businesses.
Flash Sales
Though it is an old concept, it cannot be ignored. It has become a habit and an expectation for online customers, especially during special occasions. Giving huge discounts and shorter time frames actually pushes the customer to make a purchase online.
Better Shipping
Shipping options in ecommerce are definitely evolving. The concept of 'crowd sourced deliverers' is the new trend. Large retailers have also experimented with drones to deliver products.
Specialized services remain the most reliable and fastest modes of delivery.
Online retailers need to be upbeat with the new trends as customers are spoilt for choices and switching to other brands takes no time.
If you are looking for ways to give your e-commerce website the right boost, get in touch with us today. We are Global Media Insight;a full-fledged digital advertising agency in UAE. Our tech-savvy teams of professionals are always ready to design or develop the best digital strategies to suit your e-commerce related requirements the best. Give us a shout or drop us a line and we'll get back to you very soon.

(Visited 25 times, 1 visits today)