How will you track a user who visits your website first and then uses your mobile app to make a purchase? It's not possible with Universal Analytics, but you can certainly do it with Google Analytics 4 (GA4).
Google Analytics 4 is not an update to Universal Analytics, but rather a brand-new way of doing analytics that is geared toward the future. Here, we'll get to know it a little better.
Table of Content
History of Google Analytics
When it comes to web analytics, Google Analytics is king. Google Analytics began its journey in 2005 following the acquisition of Urchin software. Since then it has rolled out four free versions: Classic Google Analytics, Universal Analytics (analytics.js), Universal Analytics (gtag.js) and the latest Google Analytics 4 in 2020.
Urchin was replaced by Classic Google Analytics in 2008. And as time went on, businesses needed a platform that could handle their growing needs, including data import, custom dimensions/metrics, eCommerce tracking, etc. As a result, Universal Analytics (UA) was unveiled in 2013. Even though it received an update in 2017, UA lagged behind in the mobile tracking feature. Consequently, GA4 was created to address this issue. Learn more about the history of Google Analytics tracking code.
What is Google Analytics 4 (GA4)?
Google Analytics 4 is the most recent and advanced version of Google Analytics. GA4 had been in the making for several years and was in the beta version for over a year (2019-20). In October 2020, it ditched its beta tag "App+Web", assuming the new name Google Analytics 4 (GA4).
How does Google Analytics 4 (GA4) work?
Google Analytics 4 uses a different data model. Goals, for example, are session-based in Universal Analytics but event-based in GA4.
Another pertinent feature of GA4 is that it doesn't rely heavily on cookies, as the majority of users choose not to share their information while browsing, making tracking difficult. Therefore, GA4 generates reports using machine learning and other protocols. Also, GA4 doesn't log IP addresses, which makes it compliant with the latest GDPR laws and privacy regulations.
GA4 streamlines the tracking process by consolidating App and Web data into a single property.
Key Features of Google Analytics 4
GA4 has many improvements over its predecessor, UA, and was developed specifically to meet the needs of web analytics in a cookie-free, privacy-conscious world. Some of GA4's most interesting features are:
1. Smarter Insights with Machine Learning
In its latest GA4 property, Google Analytics uses machine learning in reporting and analysis tools to make the data meaningful and actionable. Its predictive modeling capabilities can be beneficial to marketers to predict outcomes based on data trends such as churn rate, demand rates, etc., thereby driving the ROI.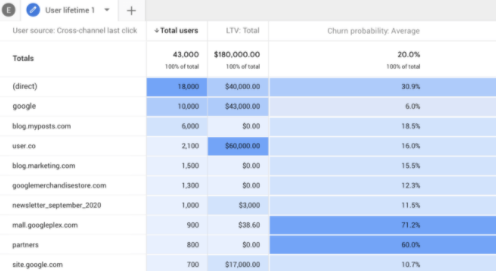 2. Measurement Model
Google Analytics is no longer session based. GA4 has moved away from the notion of the session and focuses on users and events(pageviews, scrolls, etc..); it uses an event-based model, which is more user-centric.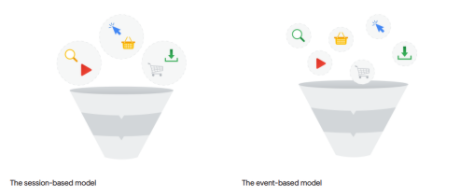 3. More Data Control
With data privacy being one of the most talked-about topics in the past few years, GA4 has rolled out three features that could help the advertiser comply with data regulations such as GDPR and CCPA.
1. To control the collection, retention, and sharing of data.
2. To choose whether to use data collected for ad personalization.
3. To delete data from the analytics property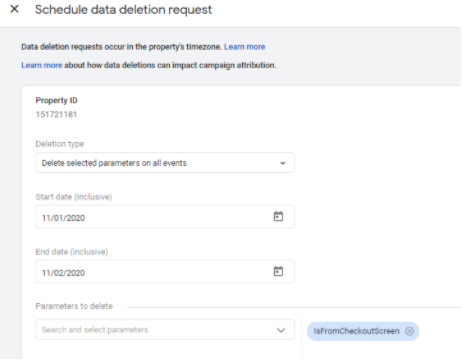 4. Enhanced Measurement
Google Analytics 4 rolls out automatic tracking with its enhanced measurement feature. It ensures that many of the common user interactions like a scroll, outbound clicks, video engagement will be automatically reported by simply toggling on a button (only pageviews were tracked by default in UA).

5. BigQuery Export
GA4 comes with a free integration to Google BigQuery. It is the first time a standard Google Analytics account would have the BigQuery integration, as this was previously available only on GA360. BigQuery integration would open up endless customization to the data, be it predictive analytics or machine learning models, along with data warehousing.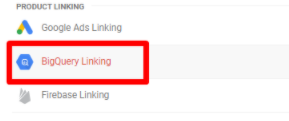 Benefits of Google Analytics 4 (GA4)
GA4 is quite advanced in terms of configuration and features, and it provides many advantages to its users in addition to free implementation. Some of the key benefits of GA4 are:
1. Track App+Web
GA4 is different from Universal Analytics (UA) in that it lets you track the performance of both a website and an app, individually and together. Using the same GA property to collect data from both a website and an app can make analysis much easier, saving time and money.
2. Designed for the cookie-less world
As a result of GDPR laws and privacy enhancements, tracking users with cookies is going to become impossible. With machine learning and predictive metrics, GA4 lets you track users even if they don't consent to cookies. As browsers have begun to block cookies, this could prove to be increasingly useful.
3. Track user journey across platforms
Instead of sessions, GA4 puts more focus on users and user interactions. This makes it easier for you to track how users move through your website and/or app. With User ID tracking, GA4 can also help you track users as they engage with your content across devices and platforms.
4. In-depth reports
Google Analytics 4 tracks user behaviors as separate events. So you can have a better understanding of your users. In other words, GA4 users can lay their hands on more detailed reports and insights as opposed to the generalized data offered by Universal Analytics.
5. Gain control over data
With Google Analytics 4, you can have more say over your data, thanks to its customisation feature. You can build your own dashboards to monitor the metrics that matter most to your company. Using Google Data Studio, you can also design your own unique data visualizations.
6. Access to BigQuery
Not only is GA4 free, but it also lets you connect to BigQuery for free. Earlier, this privilege was only offered to paid UA (GA 360) users. BigQuery is a data warehouse. By integrating Google Analytics 4 with BigQuery, you can manage your data better, provided you know SQL.
Difference between Google Analytics 4 and Universal Analytics
Google Analytics 4 is not an update to Universal Analytics. Instead, it is a whole new way of doing analytics. So, when compared to UA, it is very different in many ways. Here are a few differences.
Particulars
Google Analytics 4 (GA4)
Universal Analytics (UA)
Tracking
User behavior is tracked as events. Every metric including Pageviews, Transactions, Timing, etc. are events in GA4.
User behavior is tracked in the form of sessions
Reporting
Only main reports are shown. If you want specific reports, you have to go to the analysis tab*.

*An Analysis Hub gives access to additional tools/reports for analysis like pathing and ad-hoc funnels. This feature was previously available on GA360.

Most reports have a set format with limited customization options.
Set up
Makes use of a single property and data stream. The same measurement ID is used for tracking user transactions on websites, Android and iOS.
Makes use of a property and view set-up
Data limit
Data expires after 14 months, based on manual configuration.
There is no expiration date on your data.
BigQuery Integration
Everyone can use BigQuery
Only premium users have access to stream data on BigQuery.
Enhanced Measurement
Without changing or configuring the GTM container, you can track additional interactions. This auto-tracking feature is called enhanced measurement.
Only Pageviews can be tracked, for additional interactions on your report, you have to use additional event tracking.
For more details, check this out
Should you upgrade to GA4?
Yes, it is wise to make the switch now. Google announced in an official statement that it will cease processing hits in Universal Analytics on July 1, 2023. So, if you begin using GA4 now, you will get the hang of it and be able to obtain some historical data.
Google Analytics 4 (GA4) Implementation Process
Here's the step-by-step guide to implementing Google Analytics 4. This guide is intended for Universal Analytics users who want to try out GA4.
The steps for implementing GA4 are pretty simple. There is a 'GA4 Setup Assistant' to help you through the process.
Start by signing in to Google Analytics, then navigate to the Admin tab. You'll find 'GA4 Setup Assistant' right under 'Property.'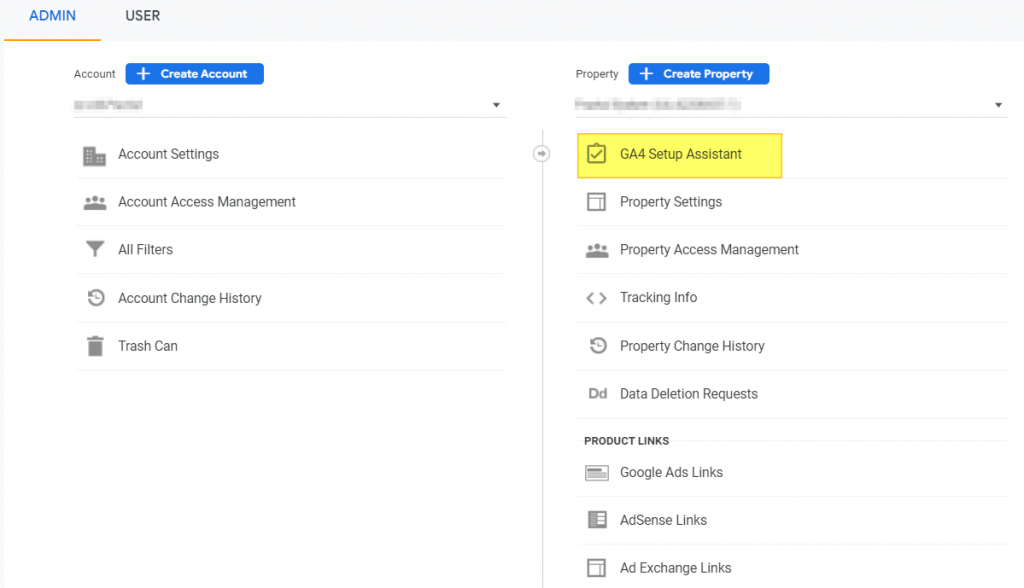 Simply click on it. Either of the following two screens will appear.
1) If you already have a GA4 account, your screen will look like this:
2)If you are new to the process, you'll see this screen: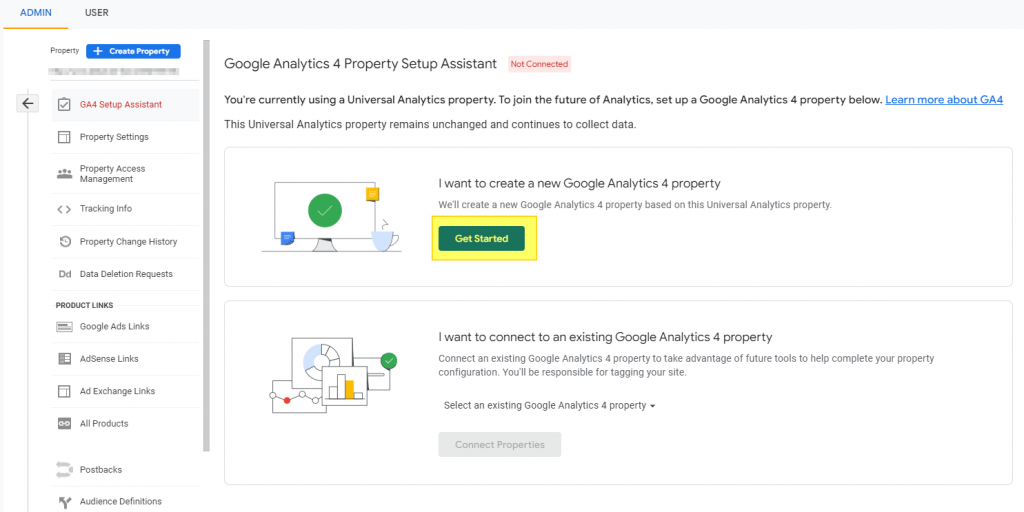 If you are a new user, you'll see two options on the screen: create a new GA4 property or connect to an existing one.
To create a new property, click 'Get Started' and the following wizard will pop up.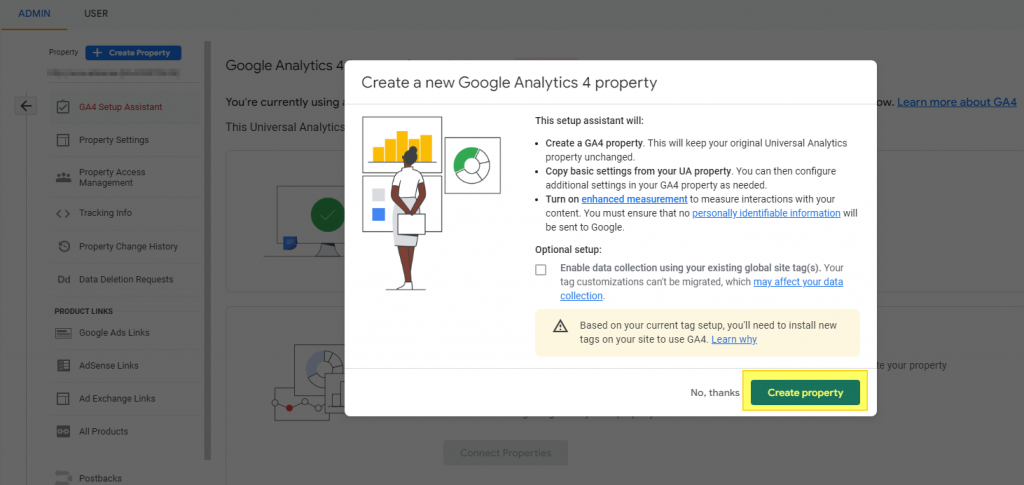 In this wizard, you have the option to check the "Enable data collection using your existing tags" box. This will migrate your current Google tags to the new GA4 property. However, as Google points out, migration does not apply to tag customizations.
Note: this option is only available for gtag.js (global site tag). For older implementations, such as analytics.js, new tags must be added.
Don't worry about your UA property settings. It won't be affected by this setup process.
Now, simply click 'Create property,' and your new GA4 property will be created.
In addition to creating a new GA4 property, the setup wizard will perform the following:
It will copy your existing UA property's name, website URL, currency, and time zone settings.
It will also generate a connected site tag between your existing UA property and the new GA4 property. But, for this to happen you must have checked the box. Also, you must be using gtag.js.
Additionally, a link will be established between your UA and GA4 properties. And the Setup Assistant will be available in your GA4 property to assist you in moving configurations from the UA property to the GA4 property.
Additionally, enhanced measurements will be activated on your new GA4 property.
Once the setup wizard is complete, you will be automatically redirected to the setup assistant in your new GA4 property. You'll also see a message at the top reading "You have successfully connected your properties." See below.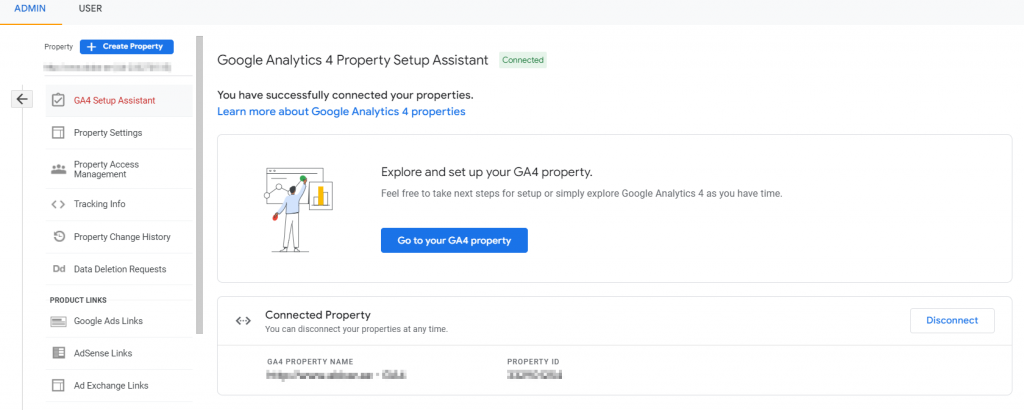 If you had checked the "Enable data collection using your existing tags" box, you are through with setup now. However, you may have to wait up to 30 mins for the data to show up in your new GA4 property.
If your existing tags are useless, you must implement the new GA4 gtag.js tag on your website. Remember, you don't have to change your old UA tag because data will be collected until July 1, 2023.
Find your new GA4 tag in Data Streams. To get there, navigate to Admin > Property > Data Streams in your new GA4 property.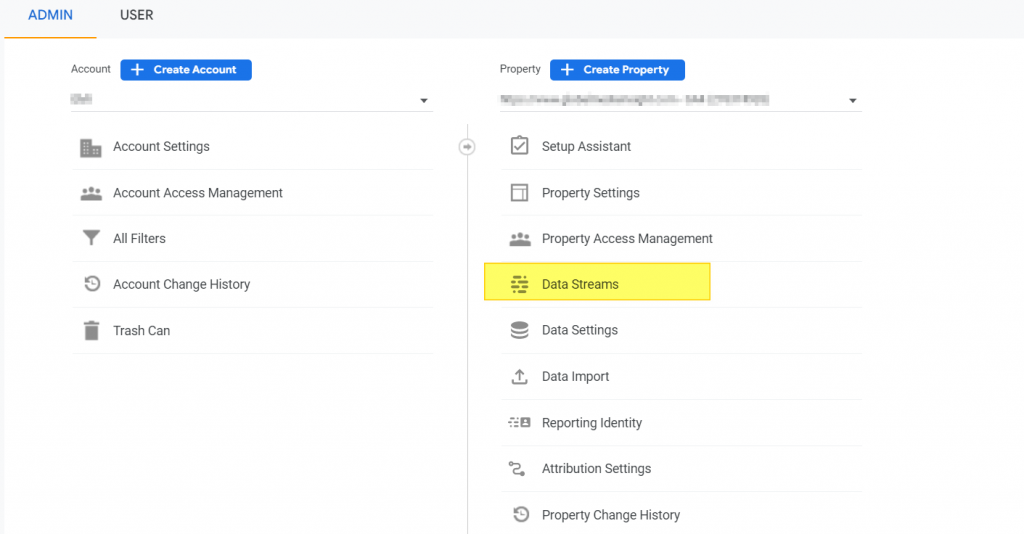 All of the data streams connected to the property are displayed here. Since no data is collected, you will see the message, "No data received in past 48 hours."

Select Web and click the arrow to the right of the data stream. You can find Tagging Instructions here:
1) Global site tag (gtag.js), which you can add directly to your website.
2) Using Google Tag Manager (GTM).
You can choose whichever option is comfortable for you.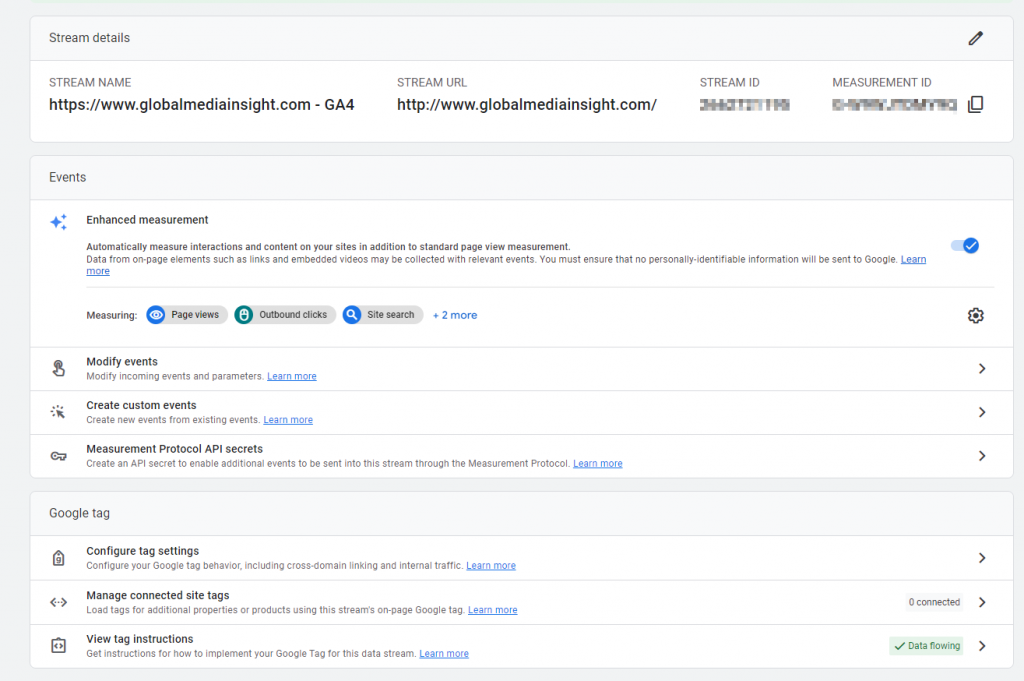 GA4 Implementation using Global site tag (gtag.js)
If you prefer direct implementation of gtag.js on your website, below is the tag to use. You may require assistance from your developer.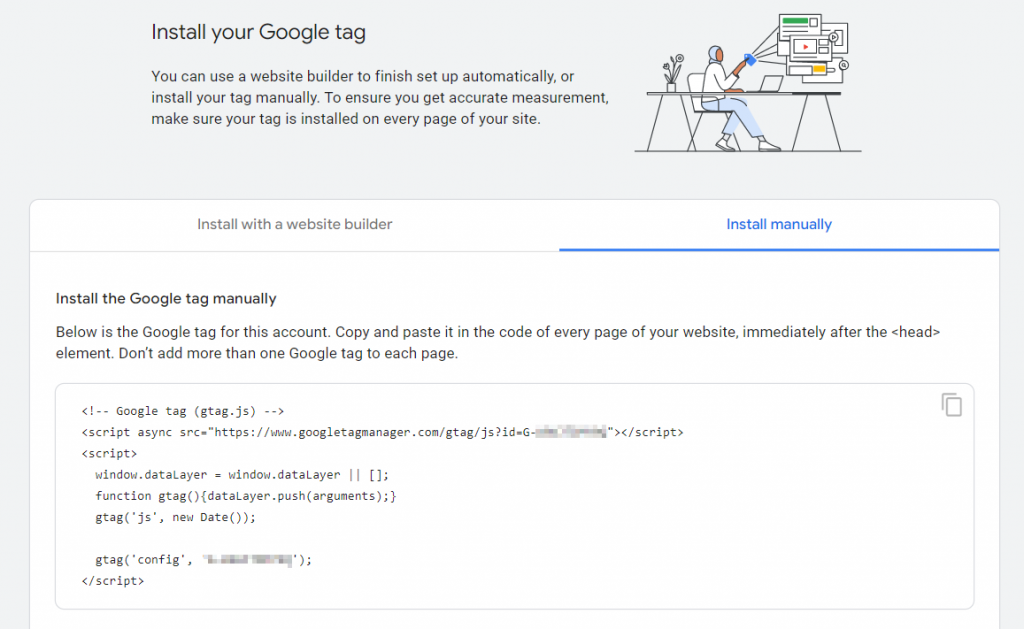 GA4 Implementation using Google Tag Manager (GTM)
On the other hand, if you are using GTM, you must first create a GA4 Configuration tag. Add your Measurement ID to the tag and configure the Triggering to fire on All Pages.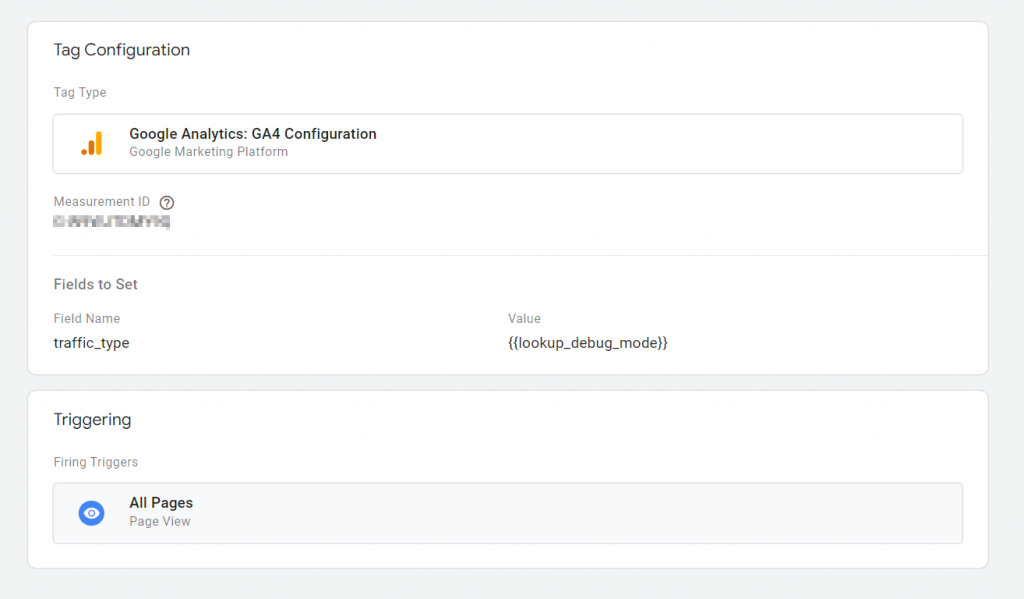 Your initial GA4 setup is now complete and the Data Streams will begin collecting data.

Google Analytics 4 will be replacing Universal Analytics on July 1, 2023. So, now is the time to start using it. Implement it right away. Most successful companies have already made the switch. If you are having trouble migrating and would like help from a Google Analytics 4 certified consultant, feel free to contact us. The digital marketing team at Global Media Insight can help you every step of the way, whether you're using WordPress, Magento, or some other platform. We have offered GA4 consulting services, training, and even assistance with GA4 implementation to many of our clients in Dubai, UAE. If you're looking to use GA4 to its fullest potential, don't hesitate to call us.
(Visited 240 times, 2 visits today)