The capital city of UAE shows all its pride when it comes to tourism. Abu Dhabi is a grand blend of magnificent culture and modern architecture – it has everything from historical monuments to the best theme parks in the world.
With a rich history dating back to 3000 B.C., Abu Dhabi has preserved the unique Arabian culture unlike any other Emirate. At the same time, it has evolved into a megacity with all the glitz and glamour one would expect.
Let's look into some interesting stats and facts which make the city one of the most popular tourist destinations in the Middle East.
The Cosmopolitan Tourist Destination
According to the Department of Culture and Tourism, Abu Dhabi, the number of international visitors to the Emirate in 2019 was around 11.35 million. This was a huge 10.5% increase over 2018.
The capital city has more than 168 hotel establishments offering 26000+ rooms.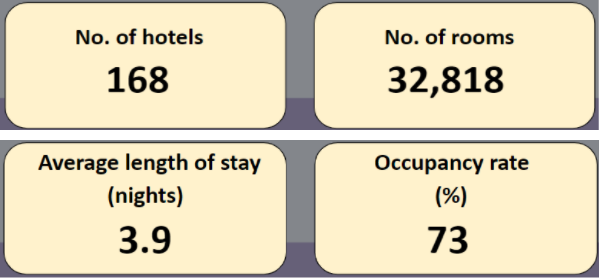 Major Tourist Attractions in Abu Dhabi
Sheikh Zayed Grand Mosque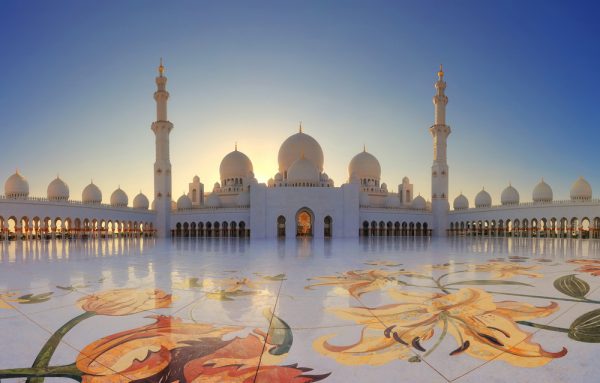 This architectural marvel is unique in many ways. The grand mosque has an open-door policy, attracting visitors from around the world. Being one the largest mosques in the world, and the largest in Abu Dhabi, the Sheikh Zayed Grand Mosque can welcome up to 55,000 visitors every day. The mosque is famous for its marble domes, amethyst & jasper-embedded columns, gold plated chandeliers, reflective pools and an iconic prayer hall.
Yas Island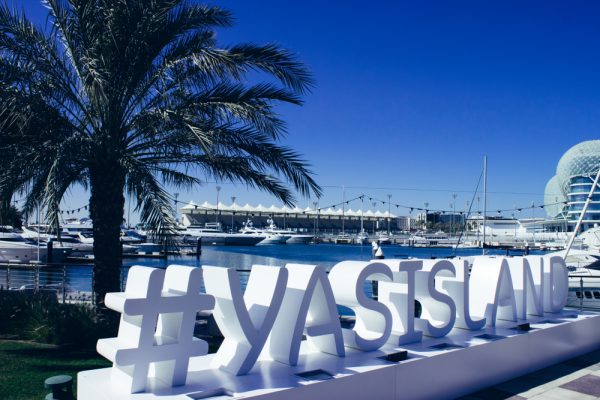 Yas Island could be called a complete entertainment hub. It is a family-friendly landmark with stretches of sandy beaches. The island is also home to the Yas Marina Circuit, where Formula One racing takes place every year. Furthermore, Yas Island has several theme parks, top luxury hotels, an impressive shopping mall and much more. Yas Island is just a 15-minute drive from Abu Dhabi International Airport.
Louvre Abu Dhabi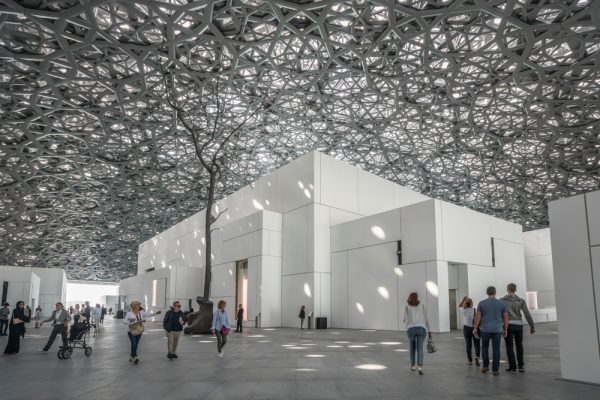 The Louvre Abu Dhabi is an art lover's dream. It is the largest art museum in the Arabian peninsula, covering an area of 24,000 square meters. Artworks from across the world are showcased at the museum, with a focus on works of cultural and sociological significance. The museum is considered one of the modern wonders of the world for displaying different civilisations in the same space.
Ferrari World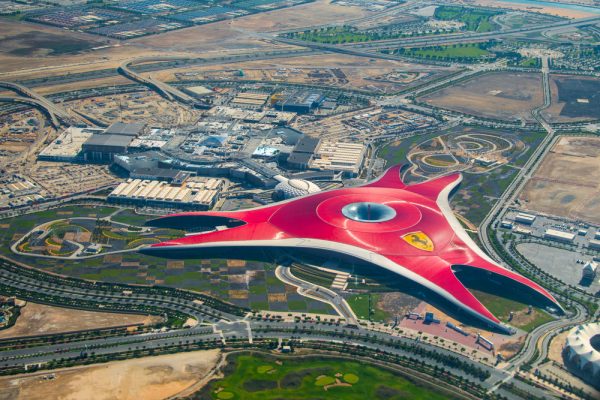 Ferrari World is a popular amusement park on Yas Island, Abu Dhabi. It is the world's first Ferrari-branded theme park, hosting exhilarating rides, shopping, dining, live shows, and family-friendly attractions. The park is your ultimate destination if excitement for the entire family is what you seek. Ferrari World is also home to the world's fastest roller-coaster, the Formula Rossa, which goes from 0 to 240km/h in 4.9 seconds, soaring heights of 52 metres!
Observation Deck at 300
As its name suggests, the Observation Deck is located 300 meters above the ground. This is the highest vantage point of the UAE capital that offers an uninterrupted, panoramic view of the city while enjoying exclusive tea blends and freshly ground coffee from the cafe. The entrance fee is AED 95.
Mangrove National Park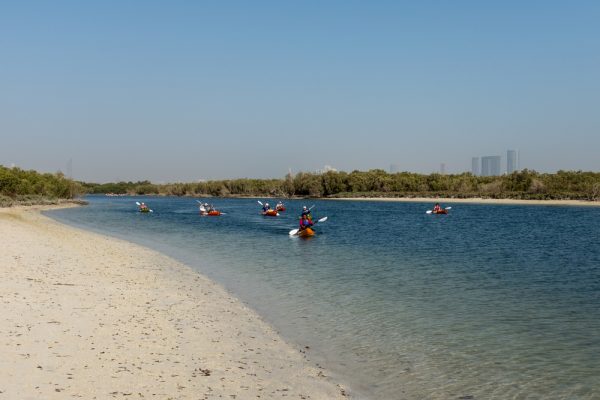 The Mangrove National Park is a great place for a family outing, birdwatching, photography, etc. This beautiful park is one of Abu Dhabi's most important ecological assets and constitutes about 75% of mangrove forest. You can explore this beautiful park by kayaking. A 2-hour kayak tour costs approximately AED 160.
Corniche Beach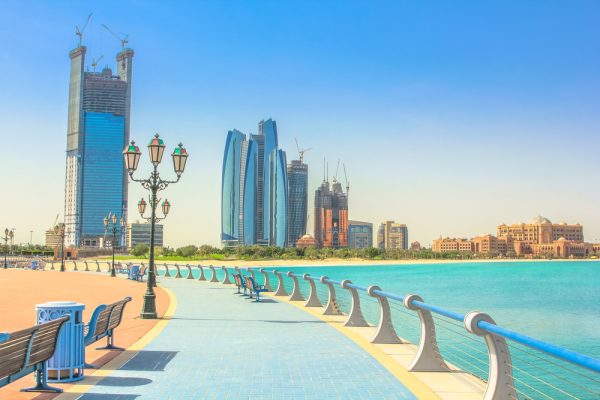 This popular beach destination is 8 kilometeres long and extends along the Corniche Road. The beach is famous for its spotless landscape and unique services like multiple sports facilities, a library, etc. Corniche Beach has perfect white sandy stretches and holds the Blue Flag status – the international eco-label for beaches with clean and safe water.
Khalifa Park
This amazing park was built on a budget of 50 million dollars. Khalifa Park has its own museum, play park, train, aquarium, and more. It is a perfect spot for family get-togethers. Other interesting attractions of the park include an open auditorium, canals, fountains, mini waterfalls, kids' play spaces, etc.
Top Source Markets
India is the largest source market for Abu Dhabi tourism 4,49,574 visitors in 2019. Other non-UAE countries top the list include China, UK, the USA, and Egypt.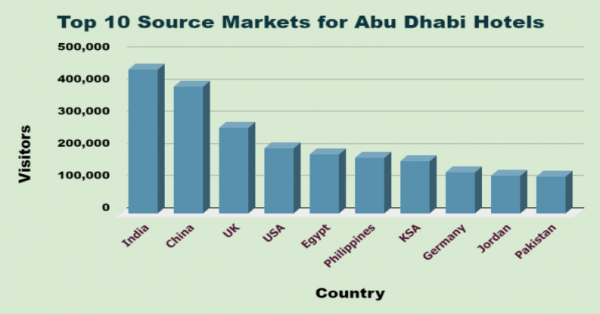 Covid-safe Travel Guidelines
Abu Dhabi is fully ready to welcome visitors following proper guidelines for Covid safety. Here are the procedures the Abu Dhabi government follows to keep travellers safe:
Visitors from countries belonging to the green list will be exempt from quarantine and can enter their preferred destinations after a Covid test. (The list is effective from 25 April 2021, and is subject to change with Covid-19 developments).
Travellers from countries outside the green list can still travel to Abu Dhabi following the latest protocols and guidelines.
Travellers should present a valid negative PCR test received within 96 hours before their departure.
You should take a PCR test on day six if you are staying for six days or more, and on day 12 if you are staying for 12 days or more.
Read Etihad's Wellness Guide to minimise risks and ensure a safe journey.
In Conclusion
Abu Dhabi saw a rapid growth in visitor count in the last 20 years, thanks to the government's prioritization of tourism and culture. Being home to an array of high-end accommodation, iconic structures, and world-class adventure parks, the Emirate is one of the most preferred travel destinations. At the same time, authorities are planning to further expand offerings by developing new segments like medical tourism, ecotourism, cruise tourism, and more.
(Visited 314 times, 1 visits today)