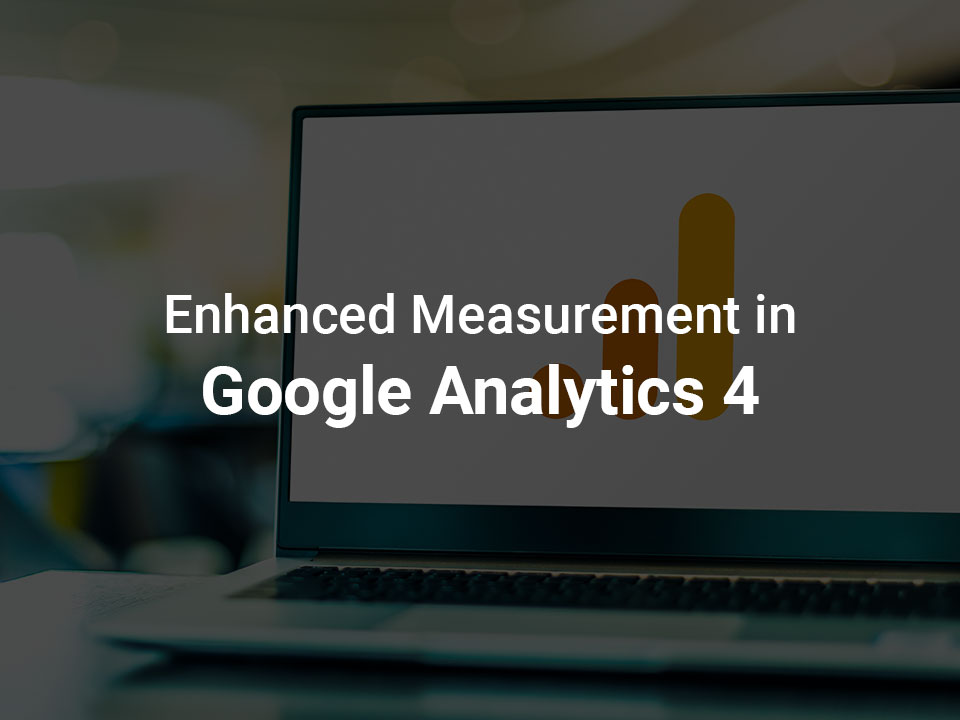 When Universal Analytics is installed on a website (without any additional configurations), the only user interaction that is tracked automatically is Pageviews. If you want to track any other interactions on your website, you'd have to implement additional event tracking with the help of a developer or with Google Tag Manager. Improving the ease of use, Google Analytics 4 (GA4) offers more innovative interactions that could be tracked without changing the website's code or configuring a GTM container. This suite of auto-tracking features is named "Enhanced Measurement".
While Google Analytics 4 (GA4) allows you to track many of the common interactions automatically, you will still need to implement a group of recommended or custom events to get the most out of the latest Analytics. Nevertheless, the enhanced measurement is a welcome addition for those who require only basic event tracking on their website.
How to Enable Enhanced Measurement Event Tracking?
Step 1 : Login to your Google Analytics 4 account and click on "Admin" (bottom left)
Step 2: Clicks on the "Data Streams" under the property section
Step 3: Click on the "Web" data stream.
Note: You can enable enhanced measurement only on webstream data.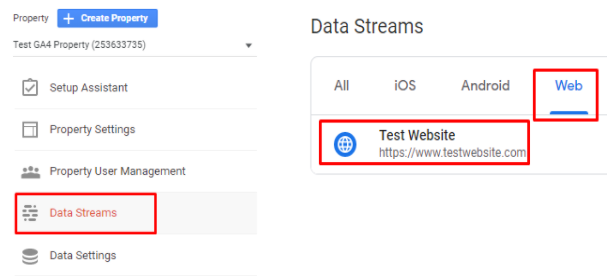 Step 4: Toggle on the switch to enable Enhanced measurement.
What are the Enhanced Measurement Event Types?
When you implement the base tracking code of Google Analytics 4 (GA4) on your website and enable enhanced measurement, the following events are automatically collected.
Page view (page_view)
Scrolls (scroll)
Outbound clicks (outbound)
Site search (view_search_results)
Video engagement (video_start, video_progress, video_complete)
File downloads (file_download)
Pageviews
Page view tracking is automatically enabled via Enhanced Measurement – you can't disable it. GA4 is now also capable of tracking History Change events (when the URL changes without the page reloading). These are very common in SPAs (Single Page Applications). However, you can decide if you need to track page views based on "browse history events".

It will capture scroll events each time a visitor gets to the bottom of a page. If you need to track additional thresholds (like 25%, 50%, 75% etc.), you can't do that in Enhanced Measurement. For that, you have to set up scroll tracking with Google Tag Manager.
Outbound Clicks
When a visitor clicks a link on your website and that link redirects the visitor to another domain, this is considered as an outbound link click. Tracking outbound link clicks is very relevant and useful for any business, make sure to enable it! It ensures both marketers, as well as, analysts can gain insights on which external domains or links are most interesting for visitors landed on their website.
Also, you can find out which links are clicked most often before visitors leave your website. This is a beneficial feature for those running an Affiliate website and promoting external products. Outbound click events will happen by default for all links leading away from the current domain. Links to domains configured for cross-domain tracking (in Tagging Settings) won't trigger outbound click events.
Site Search
The Site Search functionality triggers an event each time a user performs a site search in the website and the page loads with the URL containing a query parameter, such as q, s, search, query or keyword. But if you want, you can include more of them (up to 10 parameters).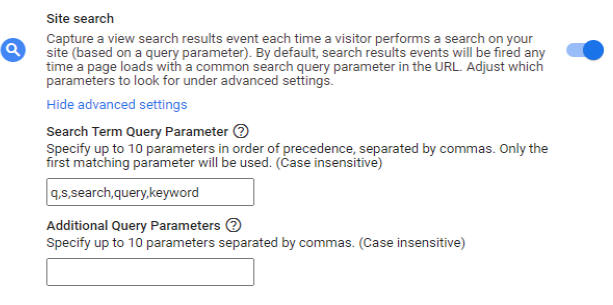 Video Engagement
Enhanced Measurement allows you to track interactions of the embedded YouTube video on your website and send events to GA4. Please note that this feature only works for embedded YouTube videos that have JS API support enabled. For other video types, you need to find other solutions via GTM.
Here are the events that are automatically captured with video:
video_start. Sent when a user starts watching an embedded video on your site.
video_progress. When a user reaches a particular video threshold (10%, 25%, 50%, 75%).
video_complete. When a user reaches the end of the video.
File Downloads
This event (file_download) is sent to GA4 each time a link is clicked with a common document, compressed file, application, video, or audio extension – i.e., if the link opens/downloads a file. This option is very useful as it takes away manual efforts in tracking a wide range of files including document, text, presentation, compressed file, video, and audio.
Supported file extensions: .pdf, .xls, .xlsx, .doc, .docx, .txt, .rtf, .csv, .exe, .key, .pps, .ppt, .pptx, .7z, .pkg, .rar, .gz, .zip, .avi, .mov, .mp4, .mpe, .mpeg, .wmv, .mid, .midi, .mp3, .wav, .wma.
Note that if you want to track downloads from any other extension other than listed above, you will have to implement it via Google Tag Manager.
If you don't want any of these enhanced measurement events to be tracked, you have an option to disable all or any of the events by going to Admin–>Data Stream (under property)–> Setting (in the Enhanced Measurement section).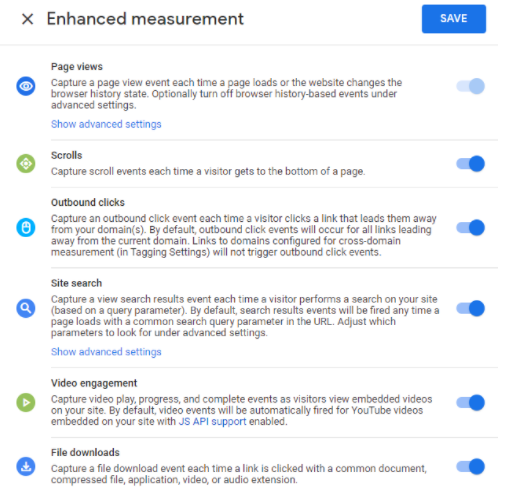 Enhanced Measurement is a nice little time-saver when it comes to configuring events in Google Analytics 4 (GA4), especially for the file download tracking, outbound link clicks, and site search tracking. Even though the Enhanced Measurement system helps you to track basic events on your website, you still need a GTM expert to dig more into GA4. So if you or your company has Google Analytics Enhanced Measurement customization needs (app+website) that go beyond the basics, please feel free to contact us.
Sharing is caring!